Units Of The Week

5 Old Freehold But Spacious Condos Above 2,300 Sqft
Stacked
February 2, 2023

11

min read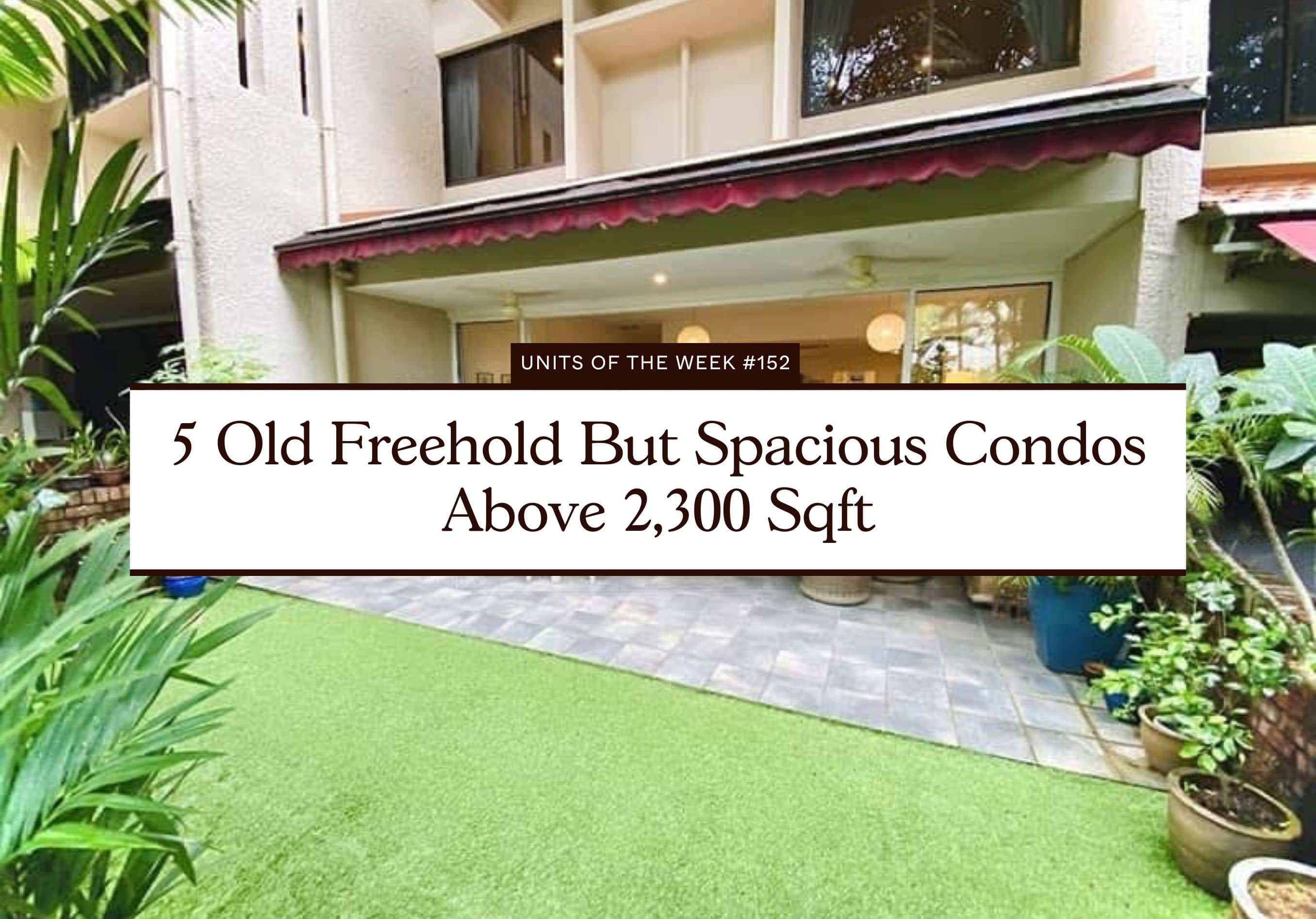 11
min read
As land prices and construction costs continue to skyrocket in Singapore, it's no surprise that new launch units in Singapore have shrunk in size.
For example, most new 2-bedroom units are around 6-700 square feet in size. Compare this to older developments like Queens, where a 2-bedroom unit can be as big as 915 square feet. This makes it a lot more usable, with a yard, utility, and even a separate living area.
And this is one of the main reasons why resale condos are increasingly coveted for their spacious rooms and generous unit layouts. For multi-gen families living under a roof, finding adequate space to accommodate everyone comfortably is no simple feat.
This week, we've shortlisted 5 spacious condos that are sized above 2,300 square feet that would be great for multi-gen living. Plus, they are freehold too!
Missed last week? You can view the previous issue here.
You can also join our free weekly newsletter so you stay up to date on our latest curations weekly.
Now let's get on with the list of curated units this week!

1

Palisades
$4,000,000
| | |
| --- | --- |
| Attribute | Info |
| Address | 294 Bukit Panjang Road 118635 |
| Tenure | Freehold |
| Size | 4,047 sqft |
| $PSF | $988.39 PSF |
| Developer | Palisades Development Pte Ltd |
| TOP | 1985 |
Why I like it
Starting with the biggest unit out of the list, this is a four-room duplex unit that spans over 4,000 square feet and features 4 spacious rooms, 3 bathrooms, big common spaces, and a huge roof terrace. While I definitely agree that the size itself is impressive, I was pleasantly surprised by many other charming elements of this home.

For one, it has a one-of-a-kind funicular lift that takes the residents to their homes (you definitely won't be seeing this anywhere else). Due to the shape of the development, the living room and roof terrace of this unit feature a unique high-arched ceiling that adds an artistic touch to the environment.

It's also interesting to see how the previous owners have maximised the amount of natural lighting in the house too. By installing glass panels in the double-volume ceiling bathrooms, more light can enter the space and elevate the ambience of the unit. Riding on the same theme, multiple large glass panels and doors can be seen throughout the unit.

For those who enjoy having a great view from the comfort of their homes, this development is shrouded in greenery and owners can relish the stunning seaside views of West Coast Park from their roof terrace.

In terms of location, the nearest MRT station is Haw Par Villa (Circle line), which is about an eight-minute walk away.

Pasir Panjang Wholesale Centre is located just across the street for food options and quick grocery runs. Alternatively, Viva Vista Shopping Mall is about a 3-minute drive away.

However, the biggest draw would be its vicinity to NUS, which is located just 1km away.

– Ryan

2

Mount Faber Lodge
$3,880,000
| | |
| --- | --- |
| Attribute | Info |
| Address | 27 Mount Faber Road 099200 |
| Tenure | Freehold |
| Size | 2,594 sqft |
| $PSF | $1,495.76 PSF |
| Developer | Wan Li Trading Pte Ltd |
| TOP | 1983 |
Why I like it
For those who are looking for a unique environment to call home, this unit is located on a hilly topography right beside Mount Faber Park (as its name suggests). Although surrounded by hilly greens, its location is more accessible than one might presume.

Harbourfront MRT (North-East line, Circle line) is about a 10-minute walk away, which grants residents access to VivoCity (Singapore's biggest shopping mall) for some of the best dining, shopping, and grocery options available on our island.

Alternatively, Seah Im Food Centre and Harbourfront Centre are also located nearby. For those familiar with the location, Sentosa is another big attraction.

This unit is a 3-bedroom mansionette sized at 2,594 square feet with three bathrooms and a huge living and dining space. The lower floor is designed to host the common spaces and the upper floor is for the bedrooms for maximum privacy.

One obvious standout feature of this unit is the various floor-to-ceiling arched windows that can be found throughout the house, bedrooms and, bathrooms. Those who like a brightly lit home would enjoy this unit. The previous owners have focused on amplifying the beauty of these arched windows with glass doors and brightly-coloured walls, bringing more light into the space.

I also like that the master bedroom is spacious enough to accommodate a study room, which can also be converted into a walk-in cabinet or vanity space for future owners.

Last but not least, the red brick-clad building facade is inspired by the iconic UK red brick homes, which is a unique touch that makes living at Mount Faber Lodge special.

– Druce

3

Sommerville Park
$4,900,000
| | |
| --- | --- |
| Attribute | Info |
| Address | 99 Farrer Drive 259293 |
| Tenure | Freehold |
| Size | 2,325 sqft |
| $PSF | $2,107.53 PSF |
| Developer | Sommerville Properties Pte Ltd |
| TOP | 1978 |
Why I like it
This ground-floor mansionette has a size of 2,325 square feet and consists of three spacious bedrooms, three bathrooms, a huge living and dining area and of course, a beautiful backyard patio. For those looking to experience living in a landed estate while enjoying condo facilities, Sommerville Park might be a suitable choice for you. 

The common spaces are found on the lower floor and the bedrooms are on the upper level for more privacy. On the lower floor, the outdoor area is seamlessly connected with the living room and is separated by a sliding glass door, which makes the lower floor of the unit feel well-ventilated, bright and spacious. The bedrooms are well-sized and have squarish layouts to maximise space usage. 

Key landmarks in the vicinity would be the UNESCO heritage Botanic Gardens, which offers residents a serene and green living environment, and popular schools like Nanyang Primary School and St Margaret's Secondary School. 

Walking to Farrer Road MRT station (Circle line) is conveniently under 10 minutes from the back gate, which also leads residents to Empress Road Market and Food Centre for affordable dining and grocery options.

See our full review of Sommerville Park here.

– Reuben

4

Elizabeth Heights
$5,680,000
| | |
| --- | --- |
| Attribute | Info |
| Address | 57 Cairnhill Road 229668 |
| Tenure | Freehold |
| Size | 2,573 sqft |
| $PSF | $2,207.54 PSF |
| Developer | Victory Realty Co. Pte Ltd |
| TOP | 1985 |
Why I like it
Situated on a high-floor within the prestigious Cairnhill neighbourhood, this mansionette offers great city views of the neighbourhood. However, its charm really falls in its spacious layouts and huge bedrooms, which is a rare find in Singapore's city centre. This 2,537 square feet unit comes with four spacious bedrooms, a huge living space, a helper's room, and a terrace area.

Like most mansionettes, the upper floor has been allocated to the bedrooms and the lower floor consists of the common areas like the living, dining, kitchen, and terrace space.

Regarding the space, I do like that there's a balcony and terrace that is connected to the living area, which would be a great way to bring more light and better ventilation into the space. Having a designated helper room is also a great addition for those who employ one.

Another point that I appreciate about this unit is that all rooms are ensuite. Not only is this great for multi-gen living, but it also gives each occupant their own privacy. However, it should be noted that two of the common bedrooms share one of the bathrooms.

The master bedroom is also uniquely spacious and comes with its own balcony. The previous owners have chosen to place a lounge corner in the room and a small study area, which shows just how generously-sized this room is.

As for transport, Newton MRT (Downtown and North-South line) is about a nine-minute walk away, whereas Orchard MRT and Somerset MRT take about 15 minutes to walk there. Although its location is fairly central, it's still away from the hustle and bustle, which is important for those who are sensitive to noise and crowds.

Anglo-Chinese School (Junior) is 1km away, making it a great option for young families looking to send their children to the school.

– Stanley

5

Pepys Hill Condo
$4,700,000
| | |
| --- | --- |
| Attribute | Info |
| Address | 19 Pepys Road 118450 |
| Tenure | Freehold |
| Size | 2,993 sqft |
| $PSF | $1,507 PSF |
| Developer | Oasis Development Pte Ltd |
| TOP | 1988 |
Why I like it
Sized at 2,993 square feet, this huge unit in Pepys Hill Condo has several charming points – one being the huge balcony that spans across the entire length of the house.

Its uniqueness comes from the fact that it is accessible from the living, dining, study area and master bedroom, which gives the house a seamless and connected environment. The outdoor space is separated by a sliding glass door, which is effective in bringing more natural light and fresh air into the space. This unit comes with three spacious bedrooms and a huge study area, which can be converted into a fourth bedroom if necessary.

Furthermore, all bedrooms are ensuite, which is a great plus point for huge families living under a roof. Although it must be said, two bedrooms do share one of the bathrooms. The master bedroom is generously sized with a walk-in wardrobe and a spacious bathroom that has a his-and-hers sink.

My favourite part of the unit is probably the open-concept kitchen that comes with a huge island table right smack in the middle of the space. It comes fully furnished with a hood, hob and sink, which is great for those who host or cook often.

Its location is rather pleasant too. It is located a seven-minute walk away from Pasir Panjang MRT Station (Circle line) and is a short walk to Hort Park and Kent Ridge Park, making the environment peaceful and green. Residents can walk to Pasir Panjang Food Centre for affordable local delights, or patronise some of the cafes and restaurants along West Coast Highway.

– Sean