Property Picks
5 Interesting 3 Bedroom New Launch Condo Layouts In 2023
Ryan J
May 25, 2023

6

min read
6
min read
New launches have gotten more creative with their layouts lately, and the keyword seems to be flexibility. 2+1 layouts, with optional studies (or studies that could reasonably be turned into bedrooms), are becoming more common. At the same time, space-efficient dumbbell layouts and creative configurations feature prominently in new launches: an essential component in a market where every square foot is pricey.
Here are some of the most interesting layouts we've seen so far from new launch condos in 2023:
1. Reserve Residences Type C8/C8P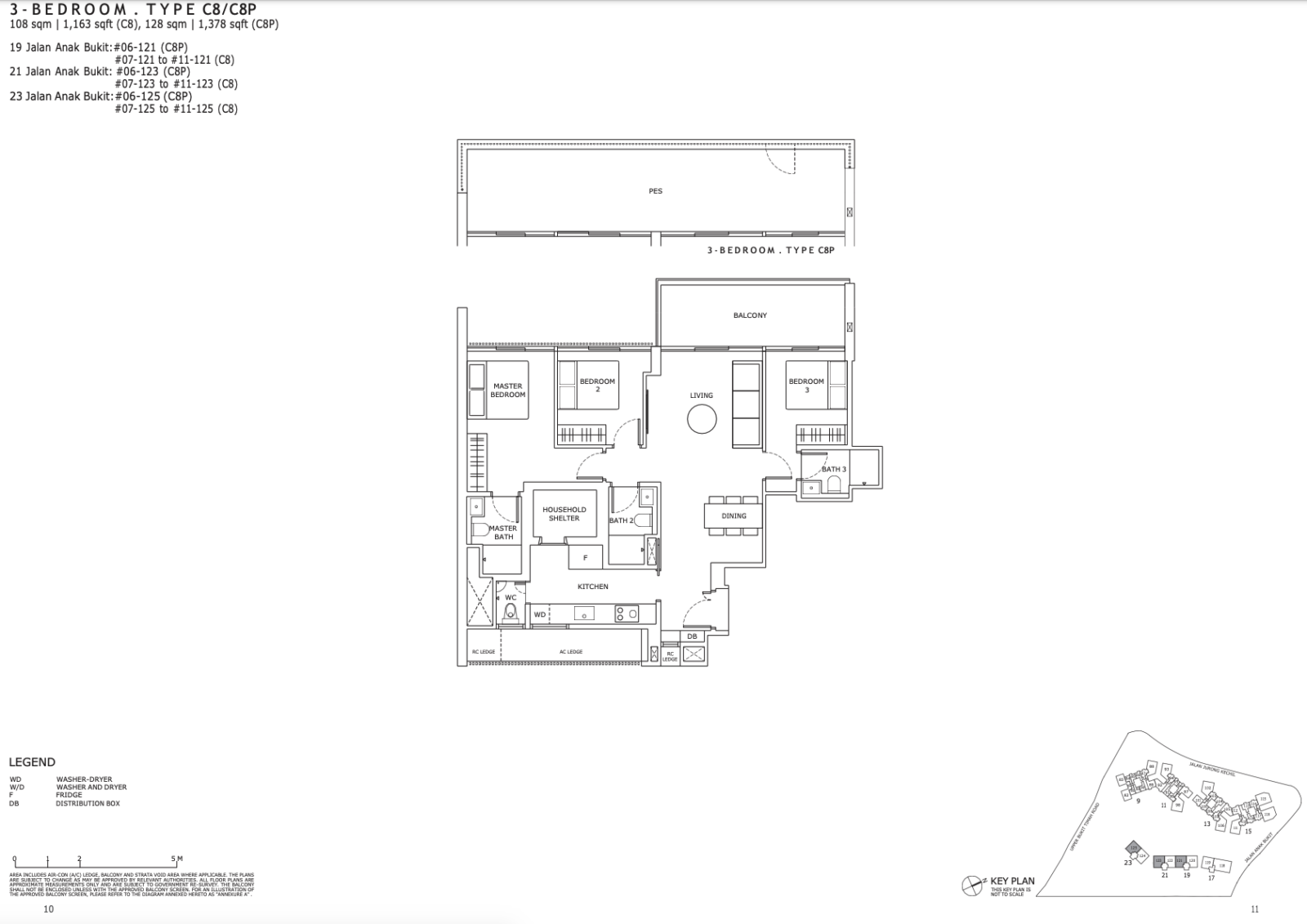 Most three-bedders these days don't come with a junior master bedroom, let alone one with an en-suite bathroom. This is usually reserved for the bigger 4 and 5-bedders, or perhaps very large 3-bedroom units. As such, this layout is a suitable option for those who need more privacy for grandparents or older children.
This unit also can come with a Private Enclosed Space (PES), but this is either a pro or a con depending on your perspective – we know some homeowners dislike paying for the extra square footage, whilst others enjoy the added room.
The layout is quite efficient, with the living/dining area acting as the connecting space between the bedrooms and the kitchen – this minimises the need for additional corridor spaces. Unlike many such dumbbell layouts, the main door doesn't open directly into the middle of the living room; some homeowners will appreciate the added sense of privacy from this.
We also notice the wall of the living room is slightly recessed to provide a bit more room, which certainly helps width-wise.
One downside here is the lack of a service yard in the kitchen, and the main windows aren't as well-ventilated (the windows of these units face the highway, so the developers have opted for noise mitigation as a priority over airflow).
2. Reserve Residences Type C2/C2A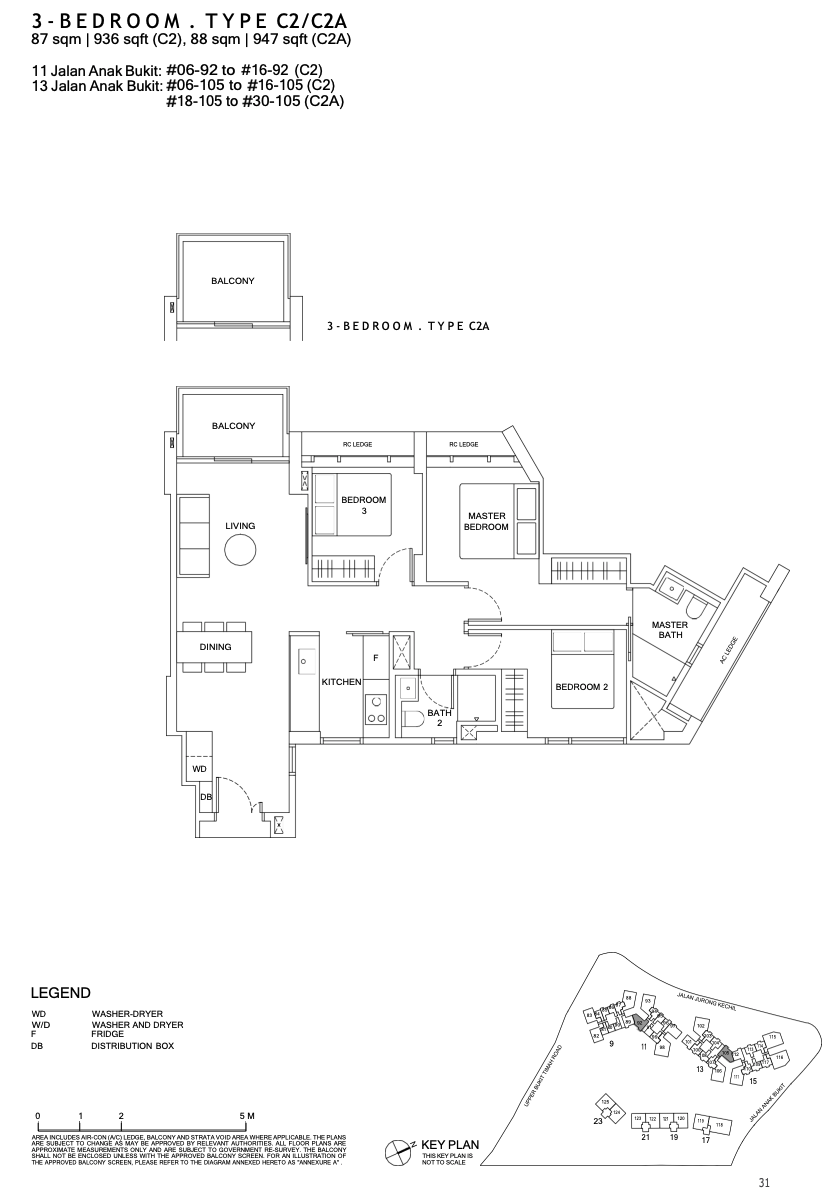 If you're one of those looking at Reserve Residences, you'd likely be a little overwhelmed with the variety of different floor plans.
This particular three-bedder unit is quite compact and thus won't be winning any awards for its size, but what's interesting is its unique twist on the master bedroom/bathroom. The wardrobe is tucked into one side of the corridor (leading to the master bathroom) and is almost like a walk-in wardrobe, and locating the master bathroom further away – facing the air-con ledge – helps to keep it ventilated.
The kitchen has good natural ventilation, and serious home cooks will appreciate the room for cabinetry/countertops on both sides. There's a good natural flow of light overall, coming from the direction of the balcony and bedroom windows.
3. Giverny Residences Type B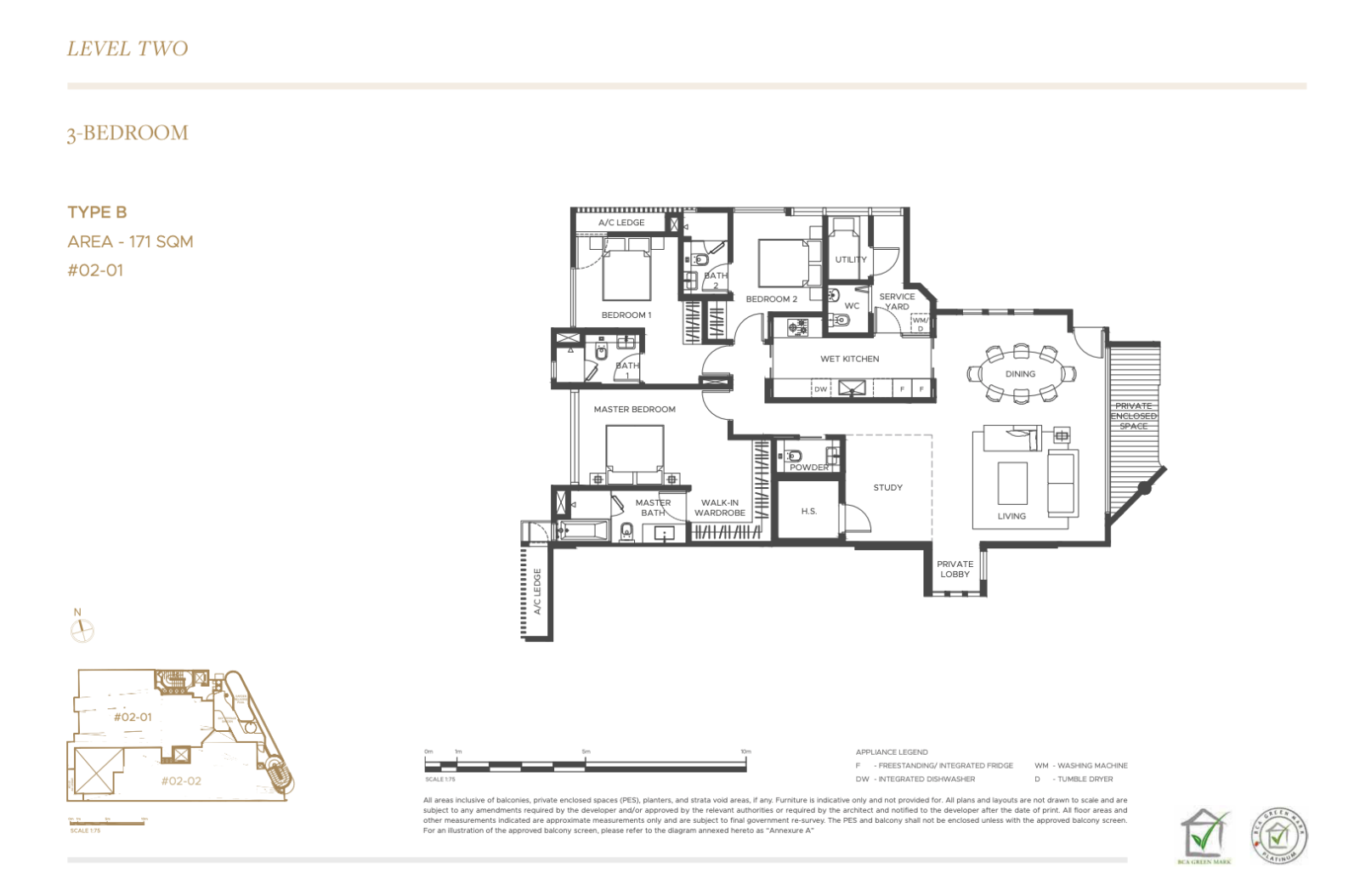 If you haven't heard of Giverny Residences, it's because it's a boutique development that has only six units. This was a former 10,245 sq. ft. freehold site along Robin Road (right across from Robin Residences).
It's a very interesting project, given that with just six units they have invested in a landscape architect, and celebrity designer Peter Tay for the interiors of the units (he's known for his signature reflective ceiling).
The layout above is the second smallest of the six, and it's as unique as the overall project itself.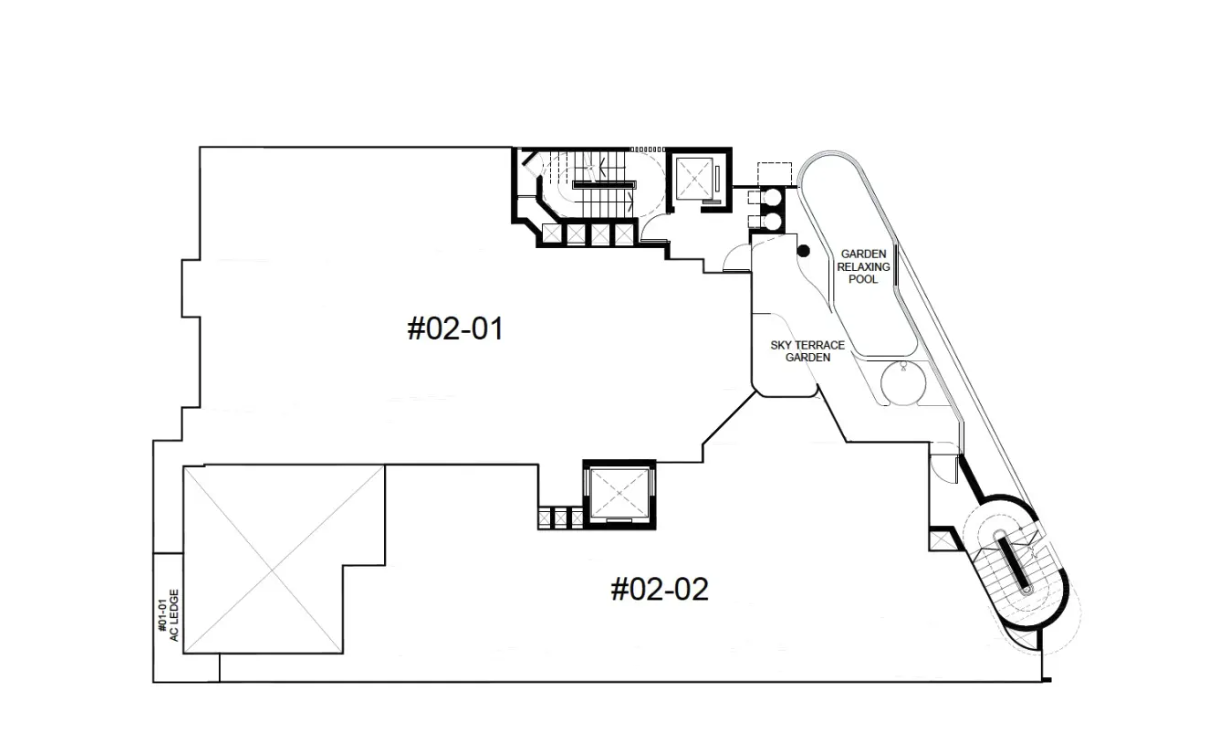 Note that, beyond the PES, there's a sky terrace garden and a pool right outside the unit. The unit offers a view overlooking the pool, and this is for the exclusive use of the residents (if not, there are only a total of six units at any rate) so no one else is going to be using it.
As this is focused on the luxury market, there is a built-in walk-in wardrobe for the master bedroom and a sizeable service yard for the kitchen. The utility room is ostensibly big enough to be a bedroom for a domestic helper, and the kitchen makes functional use of the connecting space between the living room and bedrooms. Every bedroom is also en-suite here, and are all practical with natural ventilation for each.
There's a rare powder room in this layout, and sufficient flexibility to build an added study.
4. The Continuum Type C9G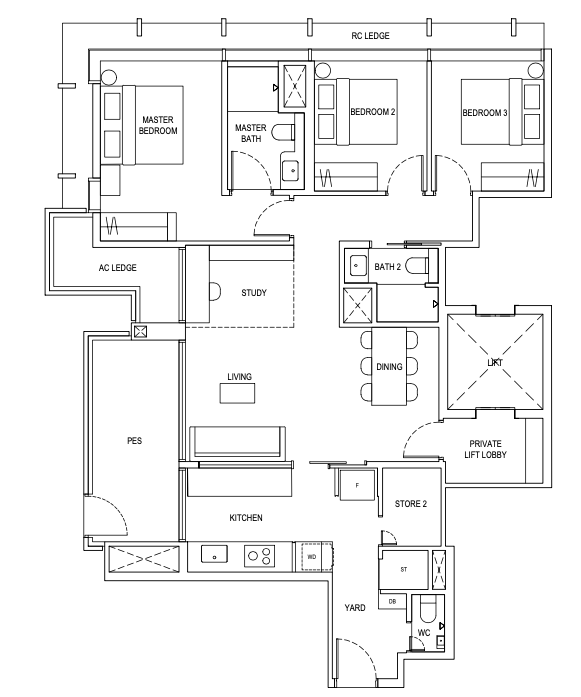 This layout checks all the boxes that we tend to look for in family living: there's a service yard in the kitchen, a store/utility, plus a dedicated store, and sufficient flexibility to add a study (or just have a bigger living room if you don't want it). The yard space isn't an open one, but there's still good natural ventilation for the kitchen because it is connected to the balcony.
As an interesting addition, a glass panel visually opens up the space to the kitchen, making the overall space look bigger.
There's no wasted corridor space, with each room effectively flowing and connecting to the next. This layout is similar to what we've seen in Ki Residences, which isn't surprising as it's by the same developer (Hoi Hup).
If we have complaints, it's just that you may need a smaller sofa, to avoid obstructing the kitchen entrance. The common bathroom may also be considered a bit small by some homeowners.
5. Sceneca Residence Type B3S/B3S-E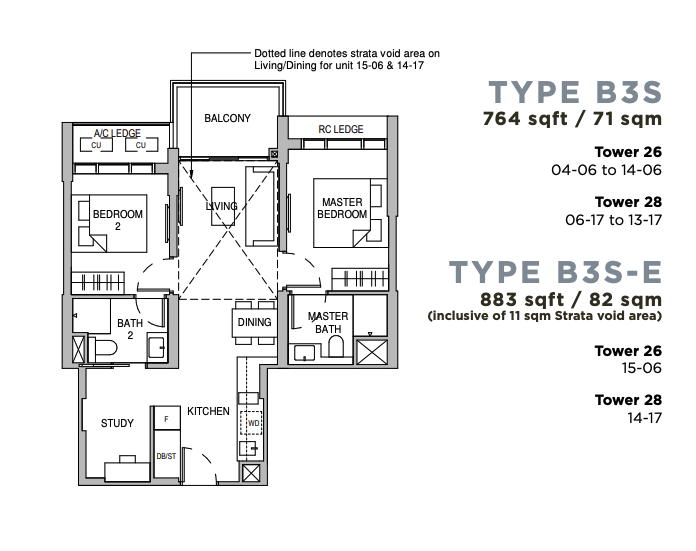 At 764 sq. ft. or 883 sq. ft. (inclusive of void space for B3S-E), this unit is actually a 2-bedder + study. But you could actually sneak it in as a 3 bedder, albeit with the study being converted into a small bedroom instead.
This isn't possible in most 2 bedroom + study units as the study area is often next to the common bedroom and would block the entrance if used as a private bedroom. That said, this isn't an entirely perfect option either, as by doing so you wouldn't have a proper entrance to the bathroom when guests come over.
In keeping with the efficiency, note the Jack-and-Jill bathroom (Bath 2) that opens into both the bedroom and study.
If your biggest priority is budget, and need to make up for the lack of sheer square footage, this could still be an unconventional option.
We'll be on the lookout for other interesting or great layouts, so follow us on Stacked for updates. You can also check out our in-depth reviews of new and resale condos alike, in the Singapore property market.