Units Of The Week

5 Most Affordable Just MOP 4-Room HDB Units Under $570,000
Stacked
January 12, 2023

9

min read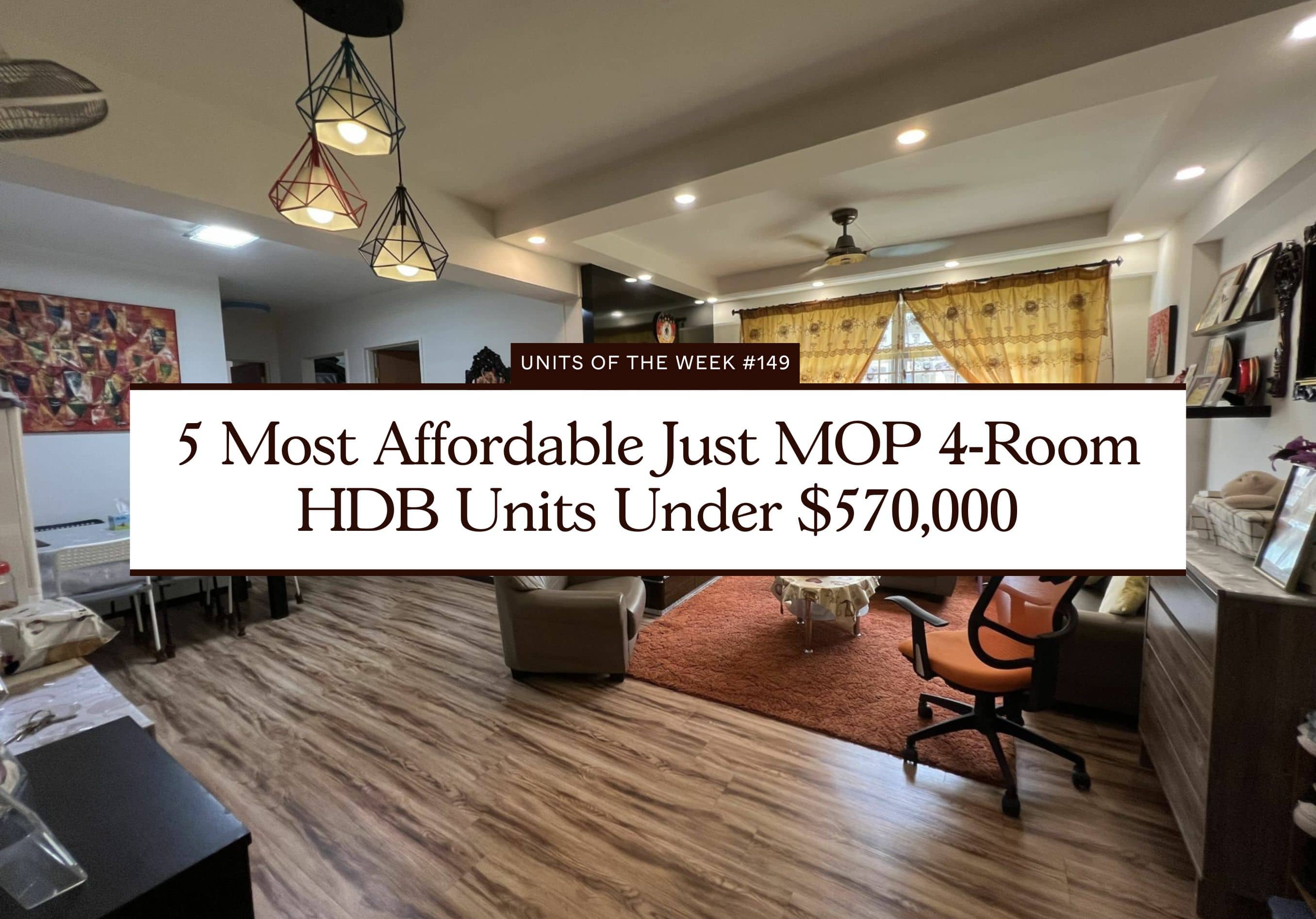 Despite the promises of more BTOs being launched in 2023, some people still can't afford the long wait times. For those who still want as new a flat as possible and are time-sensitive, recently-MOP units are the way to go. 
This week, we managed to shortlist 5 units that offer the best of both worlds. These flats have recently hit MOP and are one of the most affordable flats around (of course, don't be expecting too much in terms of their location).
Missed last week's list? You can view the previous issue here. 
You can also join our free weekly newsletter so you stay up to date on our latest curations weekly.
Now let's get on with the list of curated units this week!

1

675C Fern Grove @ Yishun
$520,000
| | |
| --- | --- |
| Address: | 675C Yishun Avenue 4 763675 |
| Tenure: | 99-year Leasehold |
| Size: | 1,000 sqft |
| $PSF: | $520.00 PSF |
| Developer: | HDB |
| TOP: | 2020 |
Why I like it
When it comes to more affordable units, the location is usually not the best (that's to say no direct amenities or transport links available within walking distance), but this 4-room flat in Yishun might just kinda tick both checkboxes off. 

While it's about a 15-minute walking distance to Khatib MRT Station (North-South line), its neighbourhood offers superb variety of amenities. 

Just directly below the block, coffee shops and a Sheng Siong Supermarket can be found for affordable dining and grocery options. Additionally, Wisteria Mall is just a 3-minute walk away for more food and lifestyle options (you can find a NTUC FairPrice Finest, KFC, Coffee Bean, amongst others). It's also a family-friendly neighbourhood with several schools in its vicinity, including Northland Primary School, Naval Base Primary School and Orchid Park Primary School. I also like that there are plenty of green spaces within the neighbourhood as well, including Rockridge Park @ Yishun and Nee Soon Town Council Playground. 

This 4-room HDB 1,000 square feet unit has a spacious layout with 3 bedrooms and 2 bathrooms, and is considerably private, facing the quiet greenery. The kitchen is spacious, which gives future owners the possibility to do up more cabinets for more storage. 

– Ryan

2

574A Woodlands Drive 16
$528,000
| | |
| --- | --- |
| Address: | 574A Woodlands Drive 16 731574 |
| Tenure: | 99-year Leasehold |
| Size: | 1,000 sqft |
| $PSF: | $528.00 PSF |
| Developer: | HDB |
| TOP: | 2018 |
Why I like it
Being in a mature estate, this unit in Woodlands has a good balance in terms of neighbourhood amenities. With the recent commencement of Woodlands South MRT Station (Thomson-East Coast line), its nearest MRT station is now just a brisk 6-minute walk away. 

There's also Vista Park in close proximity for those who like to get a bit of daily exercise, with a notable indoor basketball court that you don't see in many other places. 

There are ample coffee shops just located downstairs the block for affordable and convenient dining options. You can also find a Sheng Siong Supermarket downstairs. Otherwise, Vista Point is a quick 5-minute walk away for more dining and shopping alternatives (there's a Giant supermarket and a McDonald's). 

This unit is 1,000 square feet with 3 bedrooms and 2 bathrooms. One plus point is that it is able to adapt to growing needs as most of the walls are able to be hacked down and reconfigure the layout if necessary. But even so, its current layout seems efficient with most of the space fully utilised. 

Rooms are also good-sized and able to fit in a queen-sized bed, wardrobe and desk comfortably, which most would find useful.

– Druce

3

509A Yishun Avenue 4
$540,000
| | |
| --- | --- |
| Address: | 509A Yishun Avenue 4 761509 |
| Tenure: | 99-year Leasehold |
| Size: | 1,000 sqft |
| $PSF: | $540.00 PSF |
| Developer: | HDB |
| TOP: | 2018 |
Why I like it
At 1,000 square feet, this unit has 3 bedrooms and 2 bathrooms with a squarish layout. The rooms are spacious and good sized and is able to accommodate a desk, bed and cabinet without any issue. 

While I appreciate those plus points, this unit's biggest draw is probably its unblocked views of Seletar Reservoir. It's also in the North-South direction, so afternoon sunlight throughout the day would not be very intense. On the topic of renovation, there's not much built-in fixtures (apart from the kitchen cabinets), which would make it easy to spruce up the space without incurring much demolition costs. 

Coincidentally, its location is very near to Ryan's pick at Fern Grove. Its nearest MRT Station is also at Khatib (North-South line) and is within a 15-minute walking distance. There are several coffee shops and a U Star Supermarket located right below the block for access to convenient amenities, though Wisteria Mall is also another alternative and is a 7-minute walk away. 

Orchid Park Secondary School and Naval Base Primary School are located right across the street, with other schools like Chung Cheng High School (Yishun) and Northland Primary School a further walk away. 

However, I think nature lovers would find this environment the most attractive. It's located right across Lower Seletar Reservoir Park for daily walks in one of Singapore's best nature paths. 

– Reuben

4

115C Canberra Walk
$560,000
| | |
| --- | --- |
| Address: | 115C Canberra Walk 753115 |
| Tenure: | 99-year Leasehold |
| Size: | 1,000 sqft |
| $PSF: | $560.00 PSF |
| Developer: | HDB |
| TOP: | 2018 |
Why I like it
Be it location, price, views or surrounding amenities, this unit in Canberra is a rather great choice. At 1,000 square feet, this unit offers 3 good-sized bedrooms and 2 bathrooms in a squarish layout. It is a corner unit and great for those who like their privacy as there are no corridor windows. 

One thing I noticed from studying its floorplan is that the household shelter is tucked away in the kitchen to create a more spacious living area – which is a plus point in my opinion. From the unit, unblocked views of Sungei Simpang Kanan can be enjoyed from certain angles of  the house, which means that it is a good distance away from neighbouring blocks. 

Location wise, Canberra MRT Station (North-South line) and Canberra Plaza is located just a 5-minute walk away for convenient access to food, shopping, groceries and transportation options. Alternatively, there are many eateries located just below the block. 

There are also many pockets of green spaces nearby, with Simpang Kiri Park Connector just a short walk away. 

– Stanley

5

659B Punggol East
$560,888
| | |
| --- | --- |
| Address: | 659B Punggol East 822659 |
| Tenure: | 99-year Leasehold |
| Size: | 1,000 sqft |
| $PSF: | $560.89 PSF |
| Developer: | HDB |
| TOP: | 2018 |
Why I like it
This corner unit located in Punggol is sized at 1,000 square feet and offers 3 bedrooms and 2 bathrooms. There are also several corners in the unit that are rather tastefully renovated and future owners can consider keeping it. The open-kitchen concept gives the space a more dynamic touch and allows more light to flow through which makes the space feel larger. 

The location itself is not the best when it comes to Punggo, but the nearest station is Kadaloor LRT (about 3 stops away from Punggol MRT Station on the North-East line) which is about a 5-minute walking distance away. There are many interesting amenities nearby the block, such as Rivera Prawning and PAR Golf Range nearby. Waterway Primary School is located directly across the street, which might be great for young families. 

For quick dining and grocery options, there are eateries directly below the block and a supermarket near Kadaloor LRT. 

Once again, this location would probably appeal most to nature lovers since it is a stone throw away from Punggol Promenade Nature Walk, which is connected to Coney Island and Lorong Halus Wetland Park. 

– Sean