Units Of The Week
5 Most Affordable 5-Room HDB Flats in Central Singapore Under $780K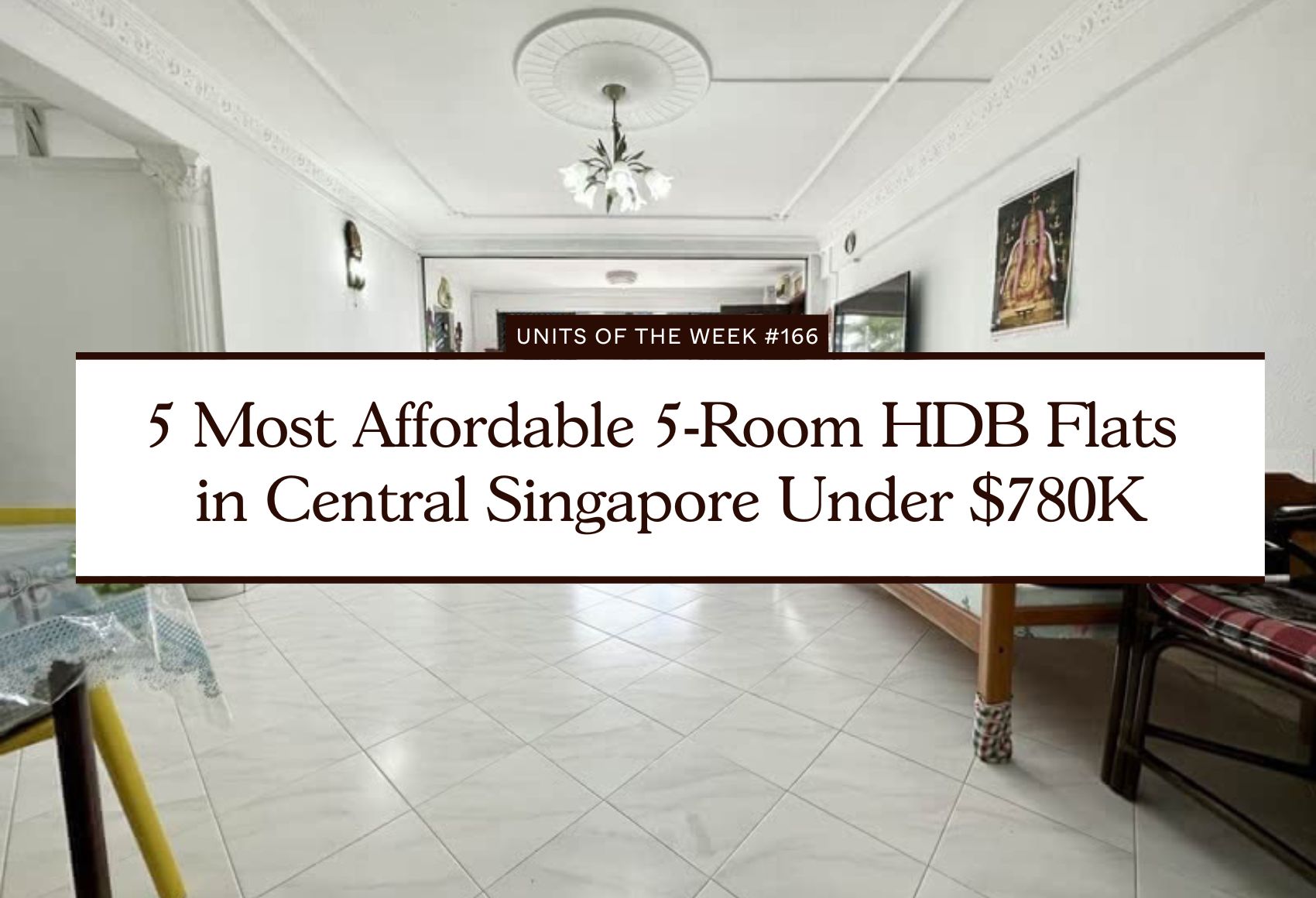 7
min read
This week, we have narrowed down five 5-room HDB units located in central locations (like Bishan and Toa Payoh) under $780,000 that might be a practical choice for those who are in need of space and working with a tighter budget, but want to stay in a relatively central area.
Missed last week? You can view the previous issue here.
You can also join our free weekly newsletter so you stay up to date on our latest curations weekly.
Now let's get on with the list of curated units this week!

1

114 Depot Road
$780,000
| | |
| --- | --- |
| Attribute | Info |
| Address | 114 Depot Road 100114 |
| Tenure | 99-year Leasehold |
| Size | 1,259 sqft |
| $PSF | $619.54 PSF |
| Developer | HDB |
| TOP | 1976 |
Why I like it
This point-block corner unit is a good choice for families who enjoy being close to nature and appreciate their privacy.

Sized at a generous 1,259 square feet, it has a functional layout with efficient rooms to suit most families' needs. It comes with three bedrooms, a helper room and a store room, which is great for those who are living with a helper and can do with an additional room.

While there used to be a dining area in the unit, the previous owners have converted it into a walk-in wardrobe and study area and combined it with the master bedroom.

Furthermore, this unit has full-height glass panels in the living room, making it bright and well-ventilated. Design-wise, this unit leans more towards the carpentry-light side, which is great for future owners who are looking to renovate the space.

I also like that this development is located in a quiet neighbourhood, making it a peaceful environment to come home to.

Within a 5-minute walk, there are plenty of amenities nearby. This includes Depot Heights Shopping Centre, which has a variety of food options and a supermarket. Those that are willing to travel out a bit further would find landmarks like Queensway Shopping Centre, IKEA Alexandra, Anchorpoint Shopping Centre, and even Vivo City to be nearby.

Currently, Labrador Park MRT (Circle line) is the closest station at around a 20-minute walk away, though there's the option to take a bus.

For those who like to be near nature spots, it is located right next to Telok Blangah Hill Park and is connected to Hort Park, Kent Ridge Park and Mount Faber Park.

Schools are aplenty nearby for those with schooling children too. Blangah Rise Primary, Gan Eng Seng Primary and ISS International School are some institutions located within a 10-minute walk.

– Ryan

2

74 Telok Blangah Heights
$728,000
| | |
| --- | --- |
| Attribute | Info |
| Address | 74 Telok Blangah Heights 100074 |
| Tenure | 99-year Leasehold |
| Size | 1,257 sqft |
| $PSF | $579.16 PSF |
| Developer | HDB |
| TOP | 1977 |
Why I like it
With three good-sized bedrooms, two bathrooms and a balcony to enjoy the views, this unit is sized at 1,257 square feet.

Apart from its spacious layout, I appreciate that it has a point-block arrangement to give the homeowners more privacy. Furthermore, the common area faces the South, making it bright and windy but not affected by the afternoon sun. Also, it is still in quite a good condition, so there may be less costs involved for renovation.

Seeing that it is located in a largely green neighbourhood, the area feels quiet and cosy, which is relaxing to come home to. While Telok Blangah Hill Park is located a short walk away, there are other parks nearby, including Hort Park, Kent Ridge Park and Mount Faber Park.

It is within a 10-minute walk to Telok Blangah MRT Station (Circle line), which also has many eateries nearby. Telok Blangah Market and Food Centre and a handful of other eateries are located in the neighbouring blocks.

Last but not least, Blangah Rise Primary School is nearby for families with young schooling children.

– Druce

3

39 Cambridge Road
$750,000
| | |
| --- | --- |
| Attribute | Info |
| Address | 39 Cambridge Road 210039 |
| Tenure | 99-year Leasehold |
| Size | 1,292 sqft |
| $PSF | $580.50 PSF |
| Developer | HDB |
| TOP | 1997 |
Why I like it
Sized at 1,292 square feet, this unit has a very peculiar layout that may attract a niche audience.

To make up for the slanted layout, one good thing about this unit is that the living and dining areas are nicely segregated. The small balcony can also be considered as an extended part of the living room, making the unit feel more spacious.

To me, the highlight of this unit is its central location and the amenities within the neighbourhood. For one, it's just across the street from Pek Kio Market and Food Centre for a wide variety of affordable dining options and grocery options.

Located just a 15-minute walk from Farrer Park MRT (North-East line) and City Square Mall, residents also have the option to walk over to Novena MRT Station instead (North-South line), which is within a 16-minute walk. As such, malls like Velocity, Square 2 and United Square are conveniently close by.

For families with kids, this block is within a 7-minute walk to the popular St. Joseph's Institution Junior.

– Reuben

4

141 Bishan Street 12
$776,888
| | |
| --- | --- |
| Attribute | Info |
| Address | 141 Bishan Street 12 570141 |
| Tenure | 99-year Leasehold |
| Size | 1,313 SQFT |
| $PSF | $591.69 PSF |
| Developer | HDB |
| TOP | 1987 |
Why I like it
For those in need of space and who prefer a functional layout, this 1,313 square feet apartment located in Bishan has four bedrooms and two bathrooms to suit most growing needs. This is a corner unit with a North-South orientation, making it great for those who like a private and brightly-lit apartment.

This unit has been largely untouched and comes in its original condition, which means that less hacking is required for those looking to renovate the space. Furthermore, the no-frills layout offers four good-sized rooms that are able to fit a double bed with ample walking space left.

It is around a 10-minute walk away from Bishan MRT (Circle and North-South line) or Braddell MRT and Junction 8, which offers residents a wide array of food options and grocery options. Otherwise, it's also a short walk to Block 151A, which has a wet market and several eateries.

Lastly, Pei Chun Public School, Guanyang Primary School and Guanyang Secondary School are located within 1km, making it a convenient option for families with young children.

– Stanley

5

50 Lorong 5 Toa Payoh
$760,000
| | |
| --- | --- |
| Attribute | Info |
| Address | 50 Lorong 5 Toa Payoh 310050 |
| Tenure | 99-year Leasehold |
| Size | 1,323 sqft |
| $PSF | $574.45 PSF |
| Developer | HDB |
| TOP | 1992 |
Why I like it
Bright and airy with plenty of big windows, this unit is slightly larger than the average at 1,323 square feet with a practical dumbbell layout.

It has four bedrooms, two bathrooms, a huge living area and a balcony, making it great for larger families. On the same note, for those who prefer a bigger living space, there is the option to level out the balcony. The kitchen is also spacious and squarish with plenty of storage space to stow away clutter.

Its location is also considered to be quite convenient and amenities are quite wide in variety. Braddell MRT Station (Circle line) is under a 15-minute walk away which is not the nearest, but it's within walking distance of four different markets and food centres, including Block 93 Toa Payoh Lorong 4, Kim Keat Palm, Toa Payoh Vista and Toa Payoh Lorong 8.

Pei Chun Public School is also located just one street away, which would be great for parents with schooling children.

– Sean