Units Of The Week
5 Most Affordable 4-Room HDB Flats In Central Singapore Under $525K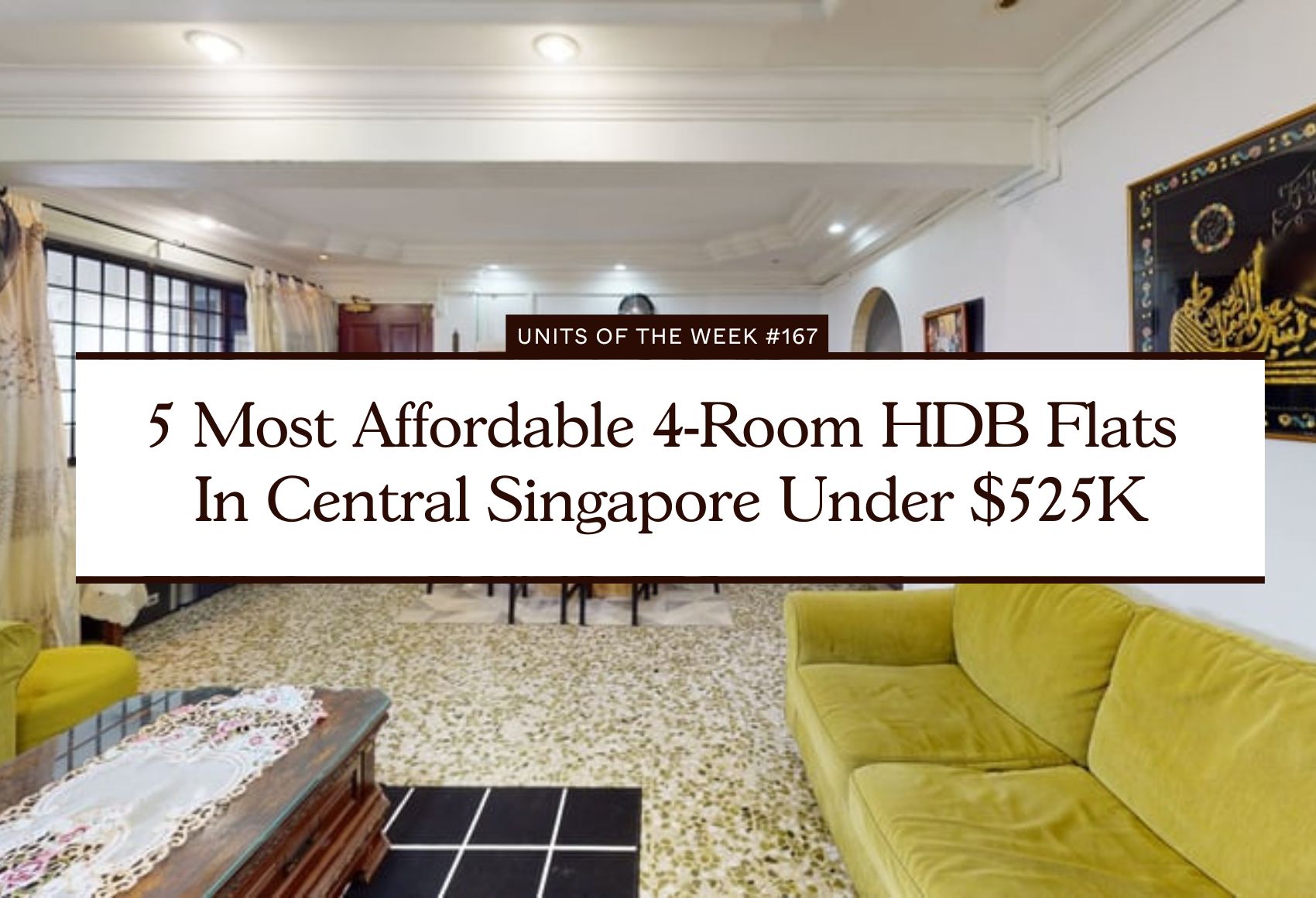 7
min read
We recently showcased the most affordable 5-room HDB units in central locations in Singapore.
This week, it's time to look at the most popular variant, the 4-Room HDB. Likewise, these units are located in central locations to find the sweet spot between an affordable price and a convenient location.
Missed last week? You can view the previous issue here.
You can also join our free weekly newsletter so you stay up to date on our latest curations weekly.
Now let's get on with the list of curated units this week!

1

202 Toa Payoh North
$465,000
| | |
| --- | --- |
| Attribute | Info |
| Address | 202 Toa Payoh North 310202 |
| Tenure | 99-year Leasehold |
| Size | 936 SQFT |
| $PSF | $496.79 PSF |
| Developer | HDB |
| TOP | 1973 |
Why I like it
Located within the vibrant Toa Payoh neighbourhood, this unit is great for families looking for a wide variety of neighbourhood amenities, near an MRT station and a functional layout to call home.

It has three bedrooms, a utility room and two bathrooms and is sized at 936 square feet, which is within reasonable expectations.

Most walls within this unit are non-structural, which is great for those who are looking to hack and reconfigure the space according to their own needs. Since it's located on a high floor, the long windows are a great addition to the space, since it does a great job in filtering in loads of natural light and improve the ventilation of the unit.

As a door-to-door unit, it's great for those who really prioritise having a private space since there's only one other neighbour.

Location wise, it's around a 5-minute walk to Braddell MRT Station, which is located on the North-South line. For those looking for convenient and affordable food and grocery options nearby, it's within walking distance to three different markets and food centres.

Last but not least, for families with children, it's within a 1km walk to the popular Pei Chun Public School.

– Ryan

2

168A Queensway
$499,000
| | |
| --- | --- |
| Attribute | Info |
| Address | 168A Queensway 140168 |
| Tenure | 99-year Leasehold |
| Size | 904 SQFT |
| $PSF | $551.99 PSF |
| Developer | HDB |
| TOP | 1973 |
Why I like it
Sized at 904 square feet, this unit stands out in it's slight curvature in its layout, making the unit feel slightly bigger and it does enjoy (current) unblocked views of the neighbourhood. This unfortunately would not be as nice in the future, with the upcoming Queen's Arc and Canopy BTO flats taking the once flat green space.

For those who are serious about cooking, there is the option to create a dry and wet kitchen space with the current L-Shape design. This is further complemented by a spacious living and dining area, which can comfortably accommodate a dining set that fits up to 8.

Located just under a 12-minute walk to Queenstown MRT (East-West line), there's plenty of neighbourhood facilities nearby for residents to enjoy. IKEA Alexandra, Queensway Shopping Centre and Anchorage are nearby for those who'd like to have shopping options within a walking distance. It's also near the famous Alexandra Village Food Centre and Mei Chin Road Market to pick up a wide variety of delicious local bites.

Nature lovers would also appreciate it being a short walk to the Rail Corridor.

– Druce

3

145 Bishan Street 11
$508,000
| | |
| --- | --- |
| Attribute | Info |
| Address | 145 Bishan Street 11 570145 |
| Tenure | 99-year Leasehold |
| Size | 904 SQFT |
| $PSF | $561.95 PSF |
| Developer | HDB |
| TOP | 1986 |
Why I like it
At an average size of 904 square feet for a 4-room flat, this unit has three bedrooms and two bathrooms with a functional floor plan.

While this apartment previously had a store room, the previous owners chose to hack it down to create a bigger kitchen.

It is located about a 14-minute walk to Bishan MRT (Circle and North-South line) and Junction 8, so it's not the most convenient to the MRT, but residents have the option to head to the wet market and eateries located right below the block for more affordable and convenient food and grocery options.

For families within schooling children, there are many popular schools nearby, including Pei Chun Public School, St. Gabriel's Primary School, Raffles Girls' School, Raffles Institution and Beatty Secondary School.

– Reuben

4

23B Queen's Close
$525,000
| | |
| --- | --- |
| Attribute | Info |
| Address | 23B Queen's Close 141023 |
| Tenure | 99-year Leasehold |
| Size | 958 SQFT |
| $PSF | $548.02 PSF |
| Developer | HDB |
| TOP | 1972 |
Why I like it
Located in the highly sought-after Queenstown neighbourhood, this unit is sized at 958 square feet and has three bedrooms, a utility room and a bathroom.

Apart from the functional layout, this unit is located on a high floor and is able to enjoy unblocked views of the city and great amounts of natural light and ventilation. Furthermore, it is a door-to-door unit, which is great for those who like a private space to call home.

The Queenstown neighbourhood has also been largely loved by its mature amenities. Located around a 10-minute walk to Queenstown MRT station (East-West line), it's also nearby food centres like Mei Ling Market for fast and cheap bites.

Otherwise, Anchorage, IKEA Alexandra, Queensway Shopping Centre and Margaret Drive Hawker Centre are nearby for those who like to have a variety of options.

Generally, the neighbourhood isn't too overcrowded, and is considered to be quite a peaceful enclave despite its central location.

– Stanley

5

101 Henderson Crescent
$498,000
| | |
| --- | --- |
| Attribute | Info |
| Address | 101 Henderson Crescent 150101 |
| Tenure | 99-year Leasehold |
| Size | 797 SQFT |
| $PSF | $624.84 PSF |
| Developer | HDB |
| TOP | 1970 |
Why I like it
Taking a look at its layout, this unit is sized at 797 square feet with three bedrooms and one bathroom, which is certainly on the small side.

Apart from the functional space, I like that it's in a move-in friendly condition in a neutral colour scheme. Not only does it save a huge chunk on renovation costs, the current design is easy to match and largely palatable for most folks.

Apart from being under a 10-minute walk to Redhill MRT Station (East-West line), residents also have the option to take a 15-minute walk to Tiong Bahru MRT Station (East-West line) to enjoy some of Singapore's best cafes and Tiong Bahru Plaza. Alternatively, Redhill Market and Redhill Food Centre are also located nearby.

For those who like to be near green spaces, it's a short walk to Alexandra Park Connector, which leads to the Singapore River.

That said, do note that the opposite side (in front of Principal Garden) is a BTO site so expect construction noise over the next few years.

– Sean