Units Of The Week

5 Huge HDB Units Above 1,700 Sqft For Multi-Gen Living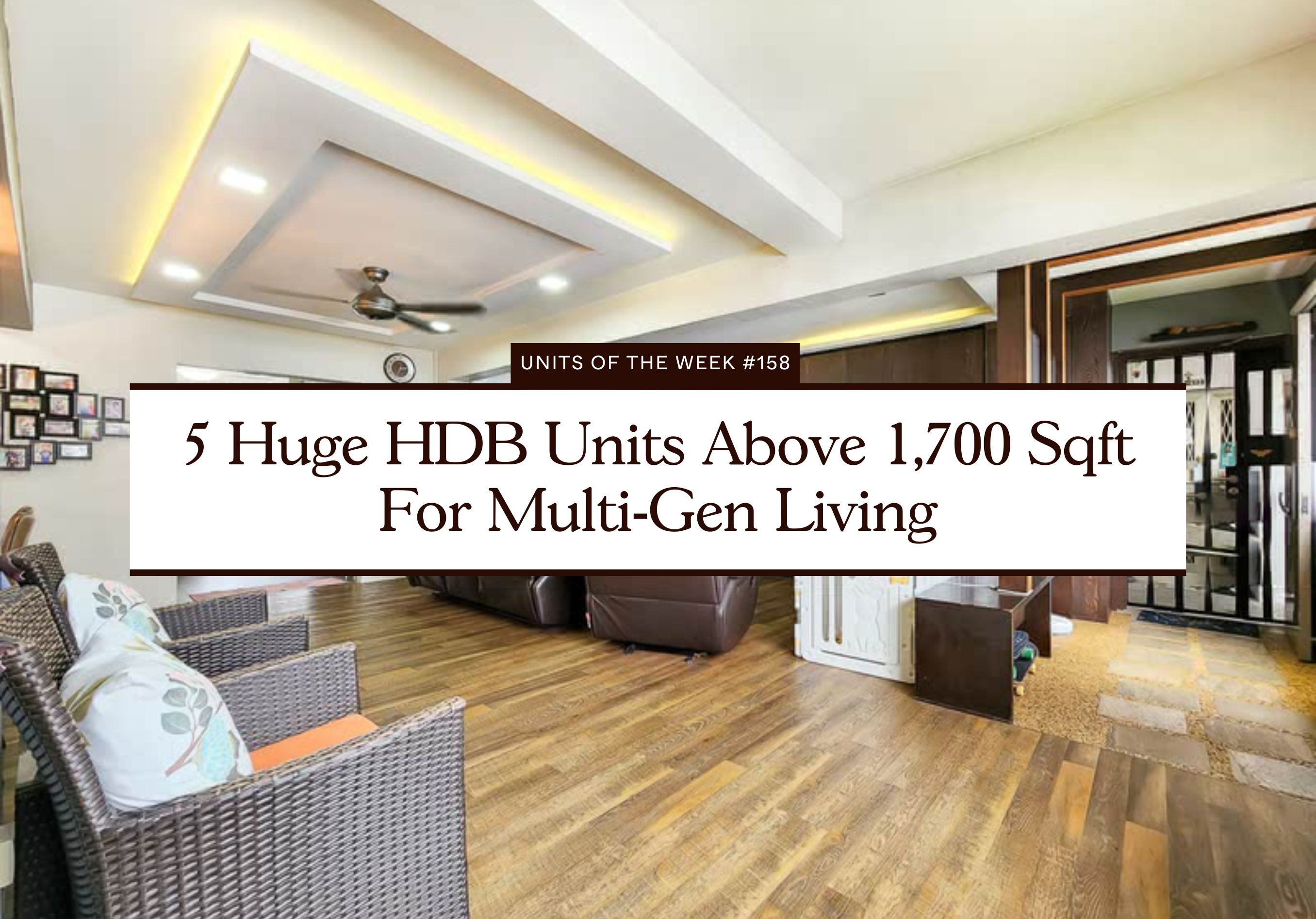 10
min read
Despite their age, many of these huge resale HDB flats are still commanding a premium, plainly because of their mature location (which conveniently comes with more amenities) and their rare size (especially when compared with the BTO scene).
And so this week, we've pick out five spacious flats that are above 1,700 square feet with a budget ranging from $950,000 to less than $1.2M.
Missed last week? You can view the previous issue here.
You can also join our free weekly newsletter so you stay up to date on our latest curations weekly.
Now let's get on with the list of curated units this week!

1

411 Woodlands Street 41
$955,000
| | |
| --- | --- |
| Attribute | Info |
| Address | 411 Woodlands Street 41 73041 |
| Tenure | 99-year Leasehold |
| Size | 1,905 sqft |
| $PSF | $501.31 PSF |
| Developer | HDB |
| TOP | 1995 |
Why I like it
This jumbo-sized unit located in the North of Singapore is 1,905 square feet that offer a functional living space, especially for multi-gen families. It comes with three bedrooms, a study room, a family room, two bathrooms, two balconies and a spacious living and dining area.

Apart from its impressive size, the layout of the flat is very squarish and efficient to minimise any space wastage. Furthermore, all the bedrooms are spacious enough to comfortably accommodate a double-sized bed, wardrobe and study area. It's also noted that the master bedroom is really big, and it is able to comfortably accommodate a walk-in wardrobe, a dressing room and a study corner.

While the previous owners opted to have a family room and a study room, these spaces could easily be converted into two extra bedrooms for the next homeowners. What I appreciate about this unit is that it can be adapted to a homeowner's growing needs without compromising much on the functionality or design of the space.

Last but not least, this unit is located on a high floor and at the end of the corridor, which makes it more private. Owing to the balcony and extensive windows, there's also ample natural light and great ventilation within the apartment, making it a comfortable space to live in. The unit has also been recently renovated, making it move-in friendly.

When looking at its location, there's a wide variety of amenities within walking distance. Right across the block is Fuchun Community Club, which has several dining options, such as Mr Teh Tarik Makan House and an S-11 Coffee Shop. There's also a Sheng Siong Supermarket and FairPrice nearby for convenient grocery runs.

Marsiling MRT Station (North-South line) is located a brisk six-minute walk away, making public transportation very convenient. Marsiling Mall is also within a 7-minute walk away for shopping options.

With its mature location, comes a wide variety of amenities within walking distance. For one, Marsiling Primary School, Marsiling Secondary School and Singapore American School are located nearby. There are also plenty of pockets of greenery surrounding the area with Bukit Timah Saddle Club (which unfortunately has recently moved out), Marsiling Park and Mandai Park located nearby.

– Ryan

2

548 Jurong West Street 42
$950,000
| | |
| --- | --- |
| Attribute | Info |
| Address | 548 Jurong West Street 42 640548 |
| Tenure | 99-year Leasehold |
| Size | 1,712 sqft |
| $PSF | $554.91 PSF |
| Developer | HDB |
| TOP | 1984 |
Why I like it
An executive mansionette spanning across 1,712 square feet with four bedrooms and two bathrooms, this unit is a suitable choice for families that are looking for more space.

Executive maisonette's are prized for their privacy, as such, the lower floor is catered for the family to gather, whereas the upper floor has all four bedrooms for resting and personal use.

One thing I appreciate about the space is its practical layout design. Upon entering the unit, a spacious entry area perfect for shoe storage welcomes the guests. Furthermore, the placement of the dry kitchen is very functional in serving as a space to put down heavy groceries upon entering the unit. The way the common area is designed is also great for those who like more privacy.

To further maximise the amount of natural light in the space, the previous owners made good use of glass (as seen in the wet kitchen and yard area) to improve ventilation and allow more natural light into the space. This unit has also been recently renovated, making it great for those who are looking for move-in-ready homes.

Its location is rather convenient too. Located right beside Corporation MRT Station (Jurong Region Line), residents would be able to enjoy more convenient public transportation in 2027 when it officially commences. However, do note that the current nearest MRT station is at Lakeside MRT (East-West line), which is a kilometre walk away.

There are plenty of neighbourhood amenities within the vicinity, including a Sheng Siong Supermarket and coffee shop located right across the block. Otherwise, a short walk down to Jurong West Avenue 1 has a wide variety of heartland amenities, such as multiple coffee shops, a KFC and a barber shop.

While this could be a pro or a con, Jurong Junior College is located right across the street and Rulang Primary School is a short walk away.

– Druce

3

664 Yishun Avenue 4
$1,050,000
| | |
| --- | --- |
| Attribute | Info |
| Address | 664 Yishun Avenue 4 760664 |
| Tenure | 99-year Leasehold |
| Size | 1,765 sqft |
| $PSF | $594.90 PSF |
| Developer | HDB |
| TOP | 1986 |
Why I like it
Located just three minutes walk away from Wisteria Mall, this unit is a jumbo flat that is sized at 1,765 square feet. It has five bedrooms and three bathrooms, of which two bedrooms are ensuite.

Apart from the good-sized bedrooms that can comfortably fit a double-sized bed and wardrobe, this unit has a squarish layout with an efficient floor plan to minimize any wastage of space. The living and dining areas are also spacious enough to accommodate a big family.

As for the location, the nearest MRT station is currently Khatib MRT (North-South line), which is around a 10-minute walk away. There are also plenty of eateries nearby at coffee shops under the neighbouring HDB blocks. Alternatively, Wisteria Mall has a greater variety of food options (KFC, Coffeebean etc) and an NTUC Fairprice Finest.

There are many schools within the vicinity, including Northland Primary School and Northbrooks Secondary School, making it a good location for young families with schooling children.

Another point worth noting. It's close to Yishun Park which is a massive green space, as well as Safra Yishun that has a McDonald's.

– Reuben

4

808 Woodlands Street 81
$1,050,000
| | |
| --- | --- |
| Attribute | Info |
| Address | 808 Woodlands Street 81 730808 |
| Tenure | 99-year Leasehold |
| Size | 2,066 sqft |
| $PSF | $508.23 PSF |
| Developer | HDB |
| TOP | 1994 |
Why I like it
With a squarish unit layout, this massive apartment located in Woodlands is sized at 2,066 square feet. It has five bedrooms, three bathrooms, a deep kitchen and a huge living and dining area. Originally a 4-room flat combined with a 3-room flat, what makes this unit stand out is that the original owners retained its separate features instead of combining both flats together. There are two kitchens and two master bedrooms, making it perfect for two families who want to stay together but still retain some form of privacy. The most unique part is undoubtedly having two separate entryways into each of the units with only one main entrance.

Furthermore, it is a corner unit which means that there are fewer neighbours walking past the unit.

When looking at its location, it is located directly opposite Republic Polytechnic, which makes it great for those who have children looking to pursue their tertiary education nearby. There are several spots where residents can find dining and grocery options too, including Woodlands North Plaza and Causeway Point.

Outdoor lovers would also appreciate the location as it is a short walk away to Admiralty Park, which is also connected to Woodlands Waterfront.

The nearest MRT station is located at either Woodlands North (Thomson-East Coast line) or Woodlands MRT Station (North-South and Thomson-East Coast line), both around a 10-minute walk away.

– Stanley

5

820 Woodlands Street 82
$1,188,888
| | |
| --- | --- |
| Attribute | Info |
| Address | 820 Woodlands Street 82 730820 |
| Tenure | 99-year Leasehold |
| Size | 1,905 sqft |
| $PSF | $624.09 PSF |
| Developer | HDB |
| TOP | 1995 |
Why I like it
Located near Stanley's pick, this unit is a jumbo flat that is move-in friendly. Sized at 1,905 square feet, it has 5 bedrooms, making it suitable for families who have the need for more rooms. While it's tough to maintain privacy in a big family, this unit is designed in such a way that all the bedrooms are tucked at both ends of the house, with a curtain separating the rooms from the common areas.

Despite the many number of rooms, there's still ample amount of common areas for gatherings. Seeing that it is located on a high floor, the unit has great ventilation and just the right amount of natural light to create a cosy ambience.

Located just an eight-minute walk away from Woodlands MRT (North-South and Thomson-East Coast line) and Causeway Point, access to public transportation, shopping, dining and grocery options is convenient. Alternatively, Woodlands North Plaza is located just across the street for more variety and convenience.

There are also many schools nearby, including Qihua Primary School, Riverside Secondary School, Evergreen Secondary School and Republic Polytechnic.

– Sean