Units Of The Week
5 Freehold Homes With A Private Pool Under $2.1 Million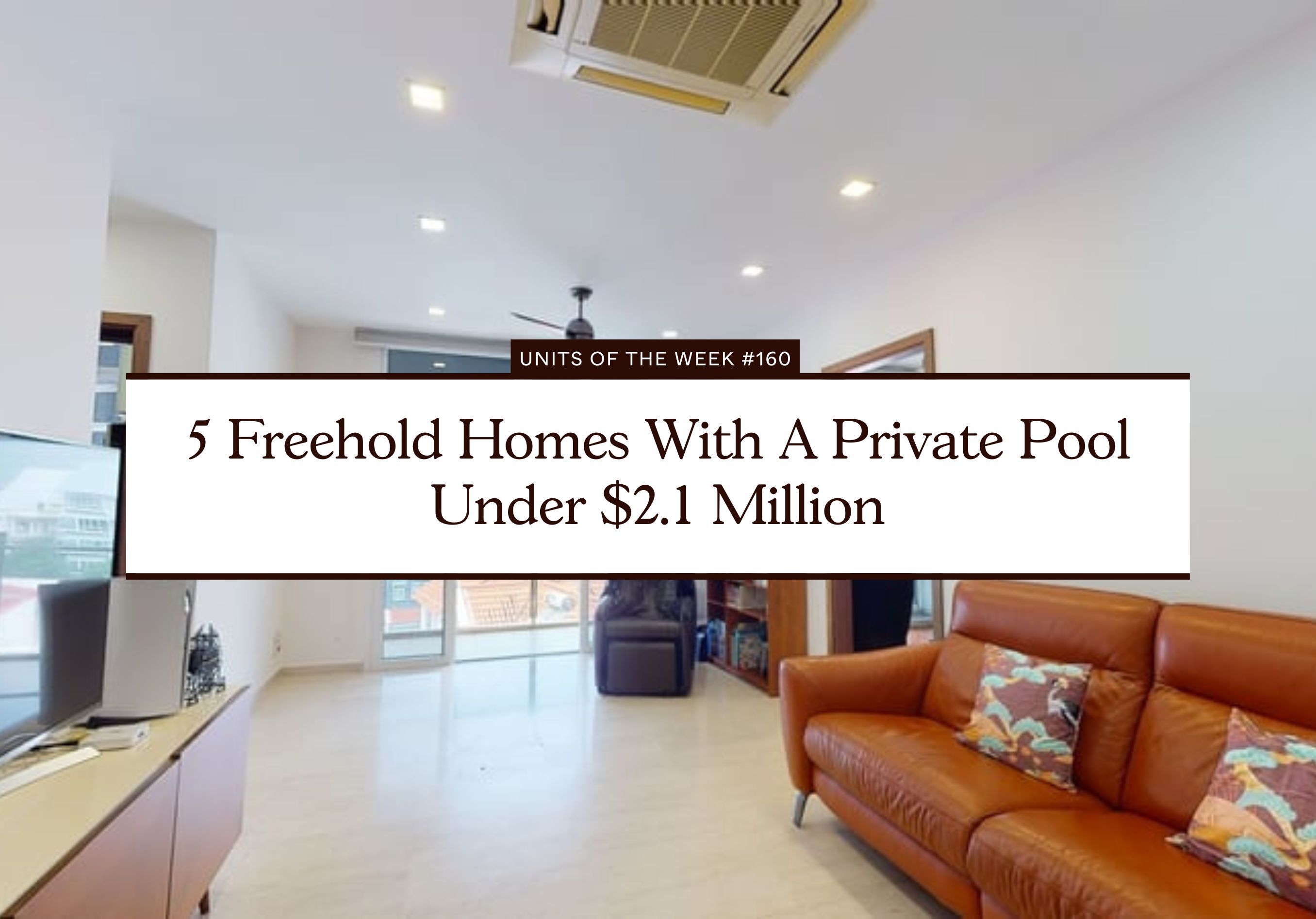 10
min read
When choosing a home, homeowners usually already have an inkling to what they are looking for.
Be it a stunning sea view, a tranquil environment, or even a loft-style design, these attributes make one unit stand out from the others and a unique space to proudly call 'home'.
This week, we venture to the East of Singapore to take a look at five freehold apartments that come with their own private pool.
Not only does it make the apartment more unique, but it also provides homeowners with an opportunity to enjoy a cooling dip in private.
If having a pool accessible from your home is something you'd enjoy, here are some more affordable freehold choices that have a private pool.
Missed last week? You can view the previous issue here.
You can also join our free weekly newsletter so you stay up to date on our latest curations weekly.
Now let's get on with the list of curated units this week!

1

Tropics @ Haigsville
$1,700,000
| | |
| --- | --- |
| Attribute | Info |
| Address | 3 Haigsville Drive 438702 |
| Tenure | Freehold |
| Size | 1,140 sqft |
| $PSF | $1,419.23 PSF |
| Developer | TS Development Pte Ltd |
| TOP | 2009 |
Why I like it
This ground floor unit located in between the Tanjong Katong and Siglap neighbourhood spans across 1,140 square feet and has three bedrooms and two bathrooms.

Apart from a small pool located right beside a small patio (the perfect nook for a coffee and to read!), what makes this apartment stand out is its high ceilings and huge window panes. Considering that this is a ground-floor unit, these features come in handy to allow more natural light in and brighten up the space while ensuring good ventilation in the apartment.

It's great that you have a private pool too as this is a tiny development of just 11 units, so there isn't much in way of facilities.

Thankfully, it is facing a more quiet part of the development, which means that homeowners will get to enjoy more privacy as compared to a busier-facing unit. Seeing that there's plenty of green landscaping surrounding the unit, it does give you a feel of living on a landed property.

While it is around a 14-minute walk away from Dakota MRT Station (Circle line), there are plenty of bus services nearby.

One of the main draws of living in the area is also definitely in its lifestyle offerings and amenities. There are many dining options within its vicinity, including KINEX, City Plaza, Haigh Road Market & Food Centre, Geylang Serai Market & Food Centre, and of course the vibrant restaurants and cafes situated within the charming Joo Chiat shophouses.

There are also many great schools within the neighbourhood, with Tanjong Katong Girls' School, Tanjong Katong Secondary School, Chung Cheng High School (Main) and Dunman High School on its list.

– Ryan

2

Espira Suites
$1,680,000
| | |
| --- | --- |
| Attribute | Info |
| Address | 99A Lorong H Telok Kurau 426121 |
| Tenure | Freehold |
| Size | 1,206 sqft |
| $PSF | $1,393.03 PSF |
| Developer | World Class Property (Telok Kurau) Pte Ltd |
| TOP | 2012 |
Why I like it
While the residential blocks at Espira Suites are only four storeys high, this penthouse unit offers a great mix of views, tranquility and a private pool.

Spanning across 1,206 square feet, this unit occupies 2 floors. The master bedroom and pool is located on the upper floor, while the lower floor originally has the common bedroom, living space and kitchen.

To fully utilise the living area on the lower floor, the previous home owners chose to hack down the common bedroom and create a larger living and dining area instead. The end result is a spacious living area that is perfect to host guests and a master bedroom and stunning pool on the upper floor for better privacy.

For those homeowners sensitive to noise, this unit faces a quiet and tranquil part of the neighbourhood and does not have any direct afternoon sun. Those who are serious about their pools might also be pleased to note that it has a salt water system and the pervious owner have done up a small outdoor shower area for a convenient rinse after a gentle dip.

The views from this unit is rather nice, too. Seeing that this neighbourhood mainly has low-rise houses, homeowners get to enjoy unblocked views of the Siglap and East Coast landed enclave.

Kembangan MRT Station is a quick 6-minute walk away along Siglap Park Connector, and there are plenty of amenities in this vibrant neighbourhood. For one, there's plenty of food and cafe options along Changi Road and Frankle Avenue, though residents can choose to venture further out to East Coast Road where the night life is.

– Druce

3

Heritage East
$2,080,000
| | |
| --- | --- |
| Attribute | Info |
| Address | 453 East Coast Road 429026 |
| Tenure | Freehold |
| Size | 1,432 sqft |
| $PSF | $1,452.51 PSF |
| Developer | World Class Property (EastCoast) Pte Ltd |
| TOP | 2013 |
Why I like it
For those who love penthouse living, this unit in Heritage East spans across 1,432 square feet and two floors. It has three bedrooms, two bathrooms and of course, a private pool accompanied with an outdoor terrace.

Due to its dumbbell layout, the lower floor of the apartment has a more efficient use of space, which is particularly important since it accommodates two common bedrooms, the living space and kitchen. Furthermore, it has a lengthy balcony that extends from the living space to the common rooms to further elongate the space. With the glass sliding doors at the balcony, there's plenty of natural light filtering into the unit and to brighten the space.

As for the rest of the space, the master bedroom and private pool is located on the upper floor. While Heritage East is a low-rise development, the view from the penthouse is quite enjoyable. It has unblocked views of the landed enclave opposite the development.

Other than its size, the location is great to accomodate growing families. There are a number of schools nearby, including Tao Nan School, St. Patrick's School, CHIJ Katong Primary, CHIJ Katong Convent, Ngee Ann Primary and Pat's Schoolhouse.

There are plenty of lifestyle offerings in the neighbourhood within a walking distance too. I12 Katong, Parkway Parade, Katong V are some options to pick up groceries nearby. There are plenty of cafes and restaurants within the malls and in the nearby shophouses as well. The neighbourhood also needs no introduction to its excellent cafe scene.

In terms of connectivity, the upcoming Marine Terrace MRT Station that is stipulated to commence in 2024 would be a huge game changer for the neighbourhood.

– Reuben

4

Smart Suites
$1,490,000
| | |
| --- | --- |
| Attribute | Info |
| Address | 302 Sims Avenue 387516 |
| Tenure | Freehold |
| Size | 1,162 sqft |
| $PSF | $1,282.27 PSF |
| Developer | Distinct Home (Sims) Pte Ltd |
| TOP | 2014 |
Why I like it
Located just a four-minute walk away from Aljunied MRT Station, this penthouse unit in Smart Suites is a great option for those who like to be near eateries, grocery marts and public transportation. (The name is a bit of a strange one, however).

Sized at 1,162 square feet, this two storey apartment has three bedrooms, three bathrooms and a private pool that is connected to the shared pool of the development.

What makes this apartment stand out is that all three bedrooms are ensuite, and tucked in separate corners of the unit, which grants more privacy to the residents. Sized slightly bigger than the common bedrooms, the master bedroom comes with an alcove that is able to accommodate either a study or dressing area.

It's interesting to note that certain parts of the upper level has a higher ceiling height as compared to the lower floor, due to the pitched roof. Other than the private pool, its these design characteristics that make this unit slightly more interesting.

Apart from its vicinity to Sims Vista Market and Food Centre for affordable food and grocery options, the area is generally well-known for its variety of Mainland Chinese restaurants and other local delights that can be found in the various shophouses.

The neighbourhood's skyline is also rather interesting, especially with Geylang's dynamic shophouses and other low-rise buildings within the neighbourhood.

– Stanley

5

Suites @ Eunos
$1,590,000
| | |
| --- | --- |
| Attribute | Info |
| Address | 1 Jalan Yasin 417958 |
| Tenure | Freehold |
| Size | 1,109 sqft |
| $PSF | $1,433.72 PSF |
| Developer | Macly Capital Pte Ltd |
| TOP | 2014 |
Why I like it
Another two-storey penthouse unit on the list, this unit is 1,109 square feet with two bedrooms, two bathrooms and a private pool. Both of the bedrooms are ensuite, making it great for small families who enjoys a little more privacy.

Those who enjoy bright apartments would also appreciate this unit. The lower floors have full height glass sliding windows along the balcony to allow plenty of natural light into the space, and is complemented with high ceiling heights to further elongate the unit.

The bathrooms are also nicely sized and comes with big window panels, making it great for natural ventilation and unexpected spots to enjoy the beautiful views of its surroundings. On the same note, this unit has unblocked views of the landed enclave and HDB of the Eunos neighbourhood.

As for the location, Suites @ Eunos is located just across of Eunos MRT Station and Eunos Crescent Market & Food Centre, making it convenient to commute and pick up food or groceries.

– Sean