Units Of The Week

5 Exquisitely Designed & Spacious Condo Units Above 2,000 Sqft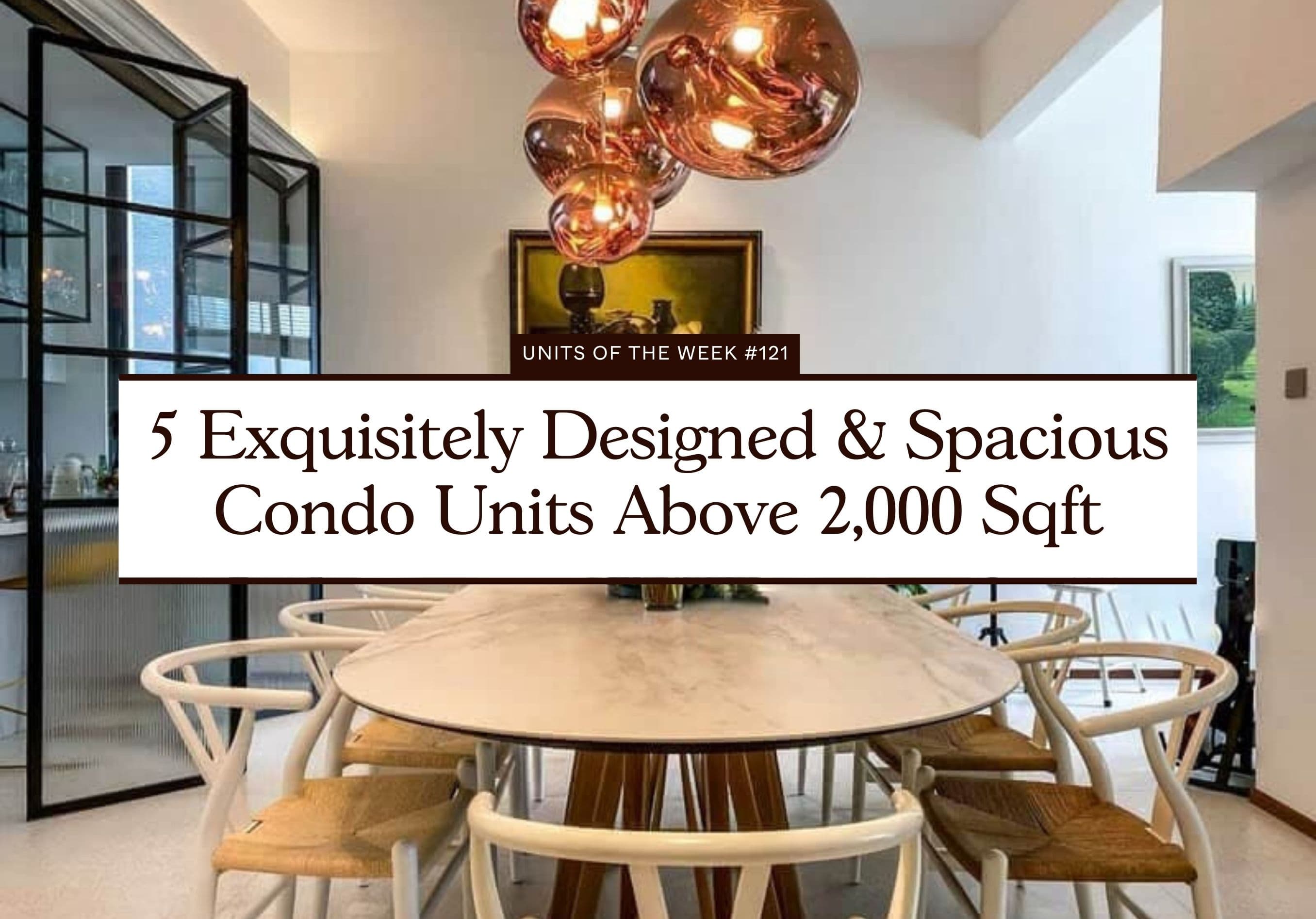 This week, we showcase 5 condo units that are extremely generous in size (they are all above 2,000 square feet) and are very well-designed too. While design can be a very subjective thing, what we really like about these is that they look good but also exhibit a really homely and cosy feel about them too.
Missed last week? You can view the previous issue here.
You can also join our free weekly newsletter so you stay up to date on our latest curations weekly.
Now let's get on with the list of curated units this week!

1

Hillcrest Arcadia
$3,580,000
| | |
| --- | --- |
| Address: | 257 Arcadia Road 289851 |
| Tenure: | 99-year Leasehold |
| Size: | 2,486 sqft |
| $PSF: | $1,440.06 PSF |
| Developer: | San Ken Hillcrest Pte Ltd |
| TOP: | 1980 |
Why I like it
I think this could be one of the most stunning views that I've seen in recent months. That unblocked greenery view from the balcony is a real treat, and it really doesn't even feel like you are in Singapore. Sure, sky-high city views and waterfront views are always nice, but there's always something about a lush greenery view that really tickles the senses.

This is a 5 bedroom penthouse that is sized at 2,486 square feet. The living and dining area is really expansive due to the 4.5 metre high ceilings (and that gorgeous view). It was designed by K2LD Architects, so the entire space has a timeless quality about it. Hillcrest Arcadia is never going to be the most accessible spot, but the views that you get from here could be worth it for someone who drives.

– Ryan

2

The Arcadia (Arcadia Gardens)
$4,800,000
| | |
| --- | --- |
| Address: | 235 Arcadia Road 289843 |
| Tenure: | 99-year Leasehold |
| Size: | 3,757 sqft |
| $PSF: | $1,277.62 PSF |
| Developer: | Arcadia Gardens Pte Ltd |
| TOP: | 1983 |
Why I like it
Set next to Hillcrest Arcadia, The Arcadia is quite unlike most developments in Singapore. For one, its design is really unique, and the large units here (yeah they're really big), are a huge draw for those looking for space like a landed home, but want the facilities and security from a condo development. Just like Hillcrest Arcadia, this condo is definitely one for those who drive, and the big unit sizes does mean that prices here will be inaccessible for most.

This unit is an extremely large 3,757 square feet 4 bedroom 4 bathroom unit. It's done up really lavishly, and not for someone who prefers a more understated approach. The balcony has a ton of space, and the bedrooms here are so sizeable that the beds look almost small in comparison.

– Druce

3

The Holland Collection
$6,800,000
| | |
| --- | --- |
| Address: | 53 Holland Road 258859 |
| Tenure: | 99-year Leasehold |
| Size: | 3,079 sqft |
| $PSF: | $2,208.51 PSF |
| Developer: | Lippo Group |
| TOP: | 2011 |
Why I like it
Set along Holland Road, this boutique development has just 26 units. It is freehold though, but because the plot of land is small, the pool does end up as a less of a private spot as all of the units are surrounding it. Still, there's no doubting its exclusivity here.

It is a 4 bedroom unit with a size of 3,079 square feet. I really like the high ceilings in the living room, with the feature wall behind the TV done up in like a library format – which is really interesting. The roof deck is also done up impeccably, and serves as a really quiet and private spot to have a glass of wine after dinner, or to entertain your guests over the weekend.

– Reuben

4

Tanglin Hill Condo
$6,300,000
| | |
| --- | --- |
| Address: | 10 Tanglin Rise 247992 |
| Tenure: | Freehold |
| Size: | 2,884 sqft |
| $PSF: | $2,184.47 PSF |
| Developer: | Cosmopolitan Development Pte Ltd |
| TOP: | 1982 |
Why I like it
Tanglin Hill Condo is an old one, having been built in 1982. It occupies a rather large and central but in a quiet spot along Tanglin Rise. It has just 52 units, and like developments of its time, features really spacious units as well.

This one in particular is a 4 bedroom 4 bathroom unit that comes in at a size of 2,884 square feet. Perhaps its not one for those with elderly, as there are stairs within the unit to traverse. It is very tastefully done up, not overly so, as it still has a very homely quality about it. The dining area does stand out with the lovely suspended lights hanging above.

– Stanley

5

Grange Infinite
$5,750,000
| | |
| --- | --- |
| Address: | 27 Grange Road 239700 |
| Tenure: | Freehold |
| Size: | 2,088 sqft |
| $PSF: | $2,753.83 PSF |
| Developer: | CEL Development Pte Ltd |
| TOP: | 2011 |
Why I like it
Grange Infinite hasn't enjoyed the best of a resale performance since its launch in 2011. It still does look modern, and with just 68 units is as exclusive as they come. It's location is also very central, and you are just a short walk away from the main shopping belt at Orchard, yet among a "less busy" spot.

This is a rather huge 2,088 square feet 3 bedroom unit. There is a private lift of course, and the balcony area opens up towards a view of Orchard. The living and dining is a more than reasonable amount of space, which is flanked by a lovely dry kitchen island counter that is really long. For those who love to cook and prep in view of their guests, this will be a really nice spot.

– Sean