Units Of The Week

5 Duplex Condo Units With Stylish Spiral Staircases
Stacked
February 24, 2022

8

min read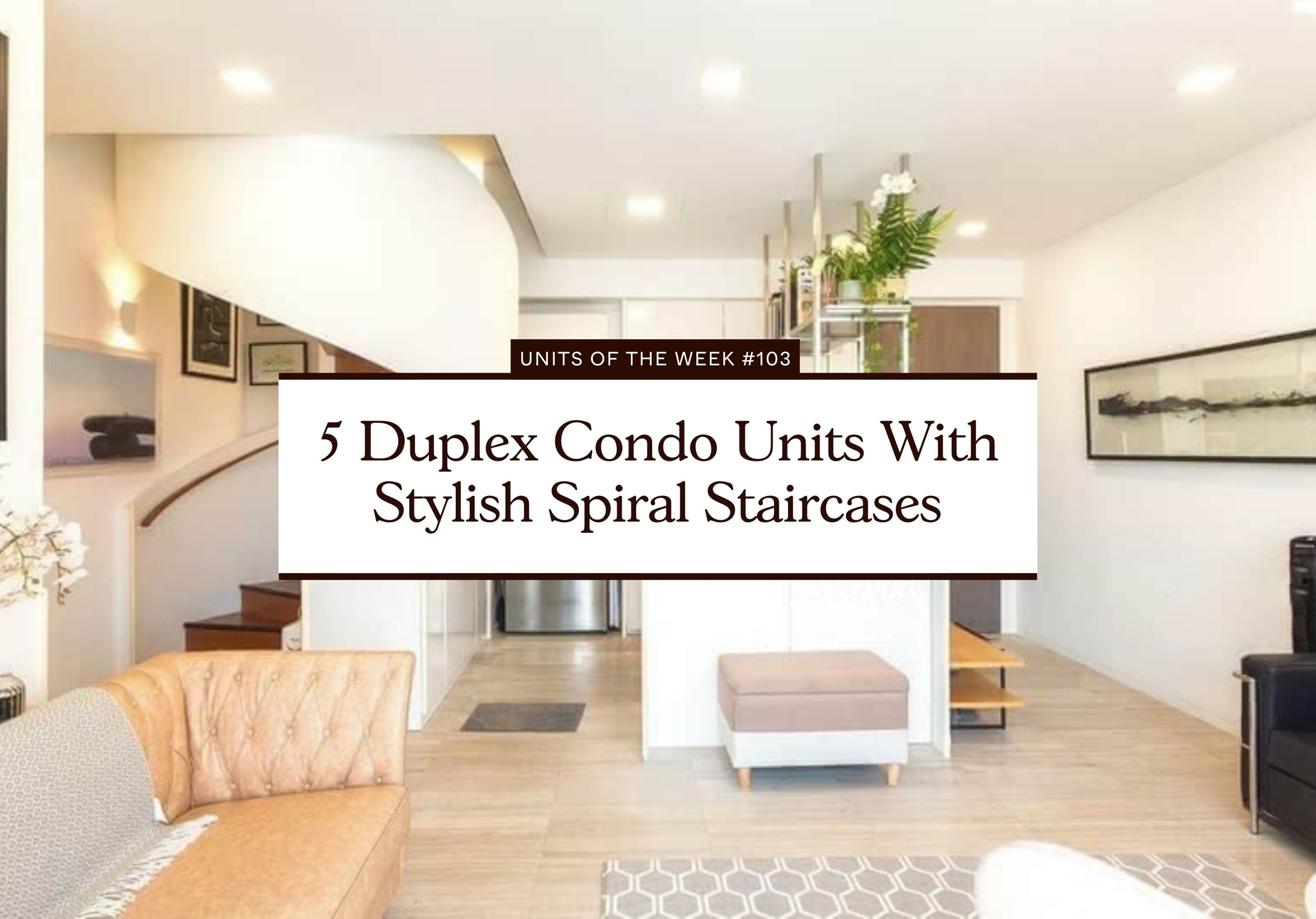 We recently featured a stunning duplex penthouse unit with a spiral staircase in the East.
It's certainly a unique feature to have in a house, and when done right, it serves as a great focal point to draw your attention as you enter the space.
It isn't a common feature to find in a house (also because you obviously need to have 2 levels), but it does make more sense than a regular staircase that takes up more space. So for those looking for such a feature, here are 5 units that have them, with varying prices too.
Missed last week? You can view the previous issue here.
You can also join our free weekly newsletter so you stay up to date on our latest curations weekly.
Now let's get on with the list of curated units this week!

1

Seletar Park Residence
$1,680,000
| | |
| --- | --- |
| Address: | Seletar Park Residence |
| Tenure: | 99-year Leasehold |
| Size: | 1,507 sqft |
| $PSF: | $1,114.80 PSF |
| Developer: | Asplenium Land Pte. Ltd. |
| TOP: | 2015 |
Why I like it
Seletar Park Residence, in my opinion, is the best looking condo in this part of Singapore. Unsurprisingly, it's designed by SCDA Architects, the same firm behind overseas sites like Alila, and Soori High Line in New York.

In terms of its actual location, it's not bad as long as you drive as it isn't near an MRT. You are next to Greenwich V which is a small mall, but you have your usual suspects like a Cold Storage, Coffee Bean, and even the quintessential Singaporean favourite, bubble tea.

This unit is a 2 bedroom penthouse that is sized at 1,507 square feet. It may sound big on paper, but the open terrace on the second level does take up a significant amount of space. As with the theme of this week's UOTW, the spiral staircase that takes you up to the second floor is a very sleek addition indeed.

– Ryan

2

Yong An Park
$7,499,413
| | |
| --- | --- |
| Address: | Yong An Park |
| Tenure: | Freehold |
| Size: | 3,605 sqft |
| $PSF: | $2,080.28 PSF |
| Developer: | Riverview Development Pte Ltd |
| TOP: | 1986 |
Why I like it
Yong An Park sits on a massive plot of land in an enviable location. It's freehold, and has just 288 units. As such, the units here are as spacious as you are going to get in a condo development, with the smallest starting at just over 1,000 sq ft. It's also a short walk to the revamped Great World City shopping centre, and the upcoming MRT station on the Thomson East Coast line will be located just outside, so it's very convenient too.

This is a 3,605 square feet penthouse unit with 4 bedrooms and 3 bathrooms, so yes, it's very spacious indeed. The spiral staircase here does look pretty old school, but as seen in the video in our introduction, this can be done up to look more modern and sleek as well. Other than the high ceilings that you get in the living area, another good point is that you have bedrooms on both floors, which does make this a bit more elderly friendly in the future.

– Druce

3

The Urbanite
$1,850,000
| | |
| --- | --- |
| Address: | The Urbanite |
| Tenure: | 99-year Leasehold |
| Size: | 1,227 sqft |
| $PSF: | $1,507.74 PSF |
| Developer: | Hertford Development Pte Ltd |
| TOP: | 2014 |
Why I like it
The Urbanite is a small condo development located in the Farrer Park area that probably most people won't know about. It has just 46 units and like most projects there, is a freehold one. As with most boutique projects, it has limited land size so don't expect too much in terms of facilities. Connectivity wise, Farrer Park MRT station on the North East Line is about a 10-minute walk away, and you are also close to numerous food options in the area.

This unit is a 3 bedroom penthouse at 1,227 square feet. It opens right up into the unit, but the open kitchen is probably not so ideal for families. There's also a bomb shelter, and a balcony that is located next to common bedroom 2, so this is certainly one for those that are more lifestyle driven than from a practical perspective. The spiral staircase here takes you up to the second floor, where you'll find the master bedroom along with the roof terrace.

– Reuben

4

Envio
$2,040,000
| | |
| --- | --- |
| Address: | Envio |
| Tenure: | Freehold |
| Size: | 1,475 sqft |
| $PSF: | $1,383.05 PSF |
| Developer: | JCP Investments Pte Ltd |
| TOP: | 2012 |
Why I like it
Envio is a tiny development located along Joo Chiat, so it's within walking distance to a ton of food options. Joo Chiat offers a really vibrant lifestyle, and has been getting increasingly popular for both locals and expats as a energetic place to live in. Although it isn't the closest to the MRT station, with Kembangan MRT about a 11-minute walk away.

It's a freehold development, but has just 24 units so facilities wise will be understandably tight. This is a penthouse unit, with 1,475 square feet for a 2 bedroom 2 bathroom layout. As with most penthouses, a big bulk of the space will go to outdoor areas. That said, ziptrak has been installed in these areas, which does make it a lot more usable even during a hot day.

– Stanley

5

The Morningside
$6,980,000
| | |
| --- | --- |
| Address: | The Morningside |
| Tenure: | Freehold |
| Size: | 3,518 sqft |
| $PSF: | $1,984.08 PSF |
| Developer: | Hong Leong Holdings Ltd |
| TOP: | 1993 |
Why I like it
The Morningside doesn't have the prettiest exterior, which isn't really a surprise as it is pretty dated already (it was built in 1993). Like Yong An Park, it will benefit from the upcoming Thomson East Coast line, although it actually already is decently located where MRT access is concerned, with Somerset MRT station about a 10-minute walk away.

It's a freehold development with just 79 units. Despite so few units, this is a full-featured development, which comes with the usual suspects like a swimming pool and a tennis court. As with most that would come with a spiral staircase, this penthouse unit is a rather huge one. At 3,518 square feet for a 4 bedroom unit, interior space is a luxury here, along with the high ceilings in the living area. The bedrooms here are very spacious too, which is always a upside in today's context.

Admittedly, the spiral staircase here does look dated, so if you are looking for something more modern, you will have to invest in a proper renovation of the space.

– Sean