Units Of The Week

5 Cheapest 3-Bedroom Units Under $1.2 Million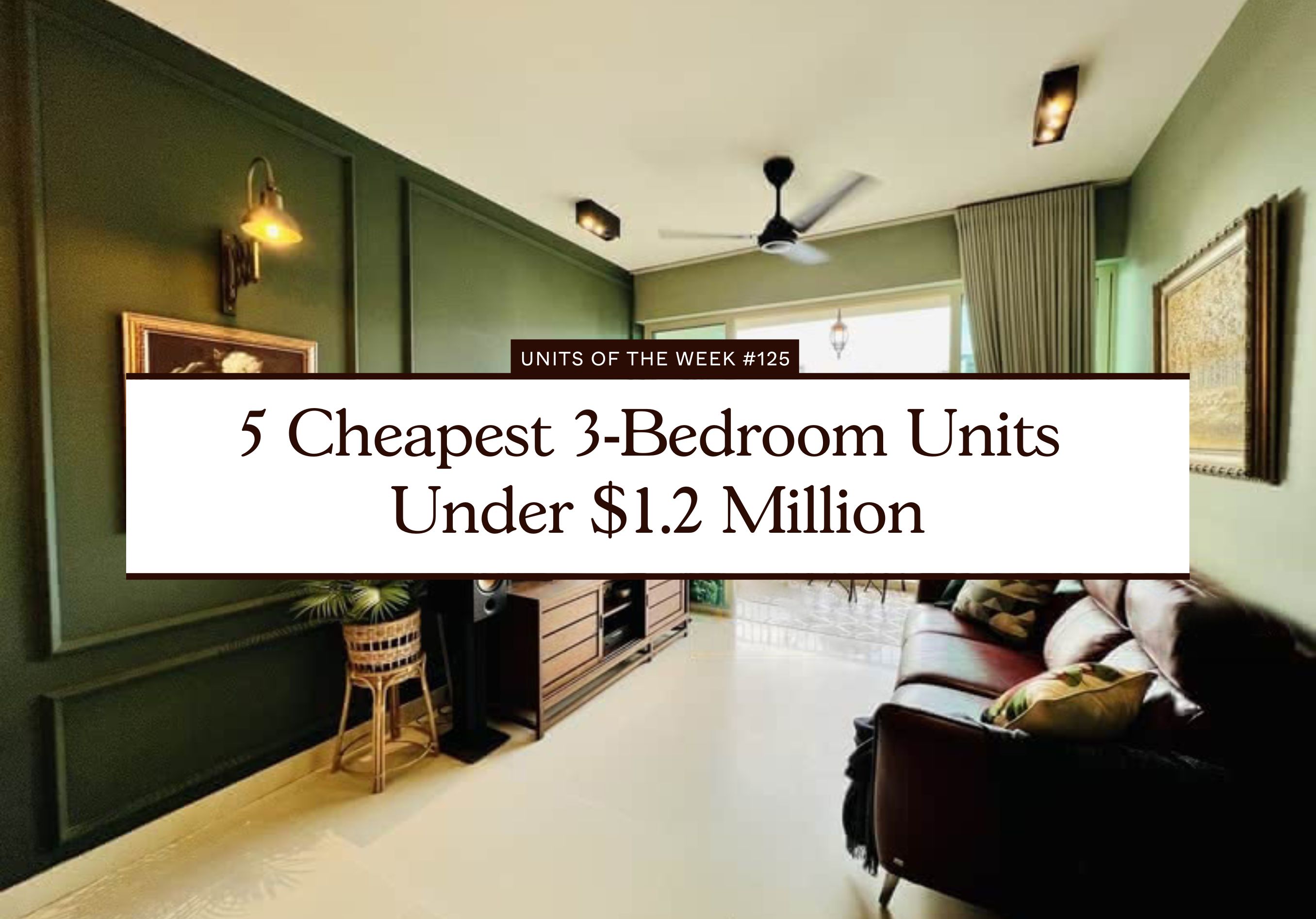 While we looked at some freehold 3-bedroom units at a price point of under $1.5 million last week, there is also a crowd that is less concerned about the lease and more price conscious.
As such this week, we take a look at some 3-bedroom units that are leasehold and under a more affordable $1.2 million price point. And as you might expect, these are located in the less central areas, and neither are they very close to an MRT station as well.
Missed last week? You can view the previous issue here.
You can also join our free weekly newsletter so you stay up to date on our latest curations weekly.
Now let's get on with the list of curated units this week!

1

The Vales
$1,200,000
| | |
| --- | --- |
| Address: | 85 Anchorvale Crescent 544627 |
| Tenure: | 99-year Leasehold |
| Size: | 904 sqft |
| $PSF: | $1,327.43 PSF |
| Developer: | Anchorvale Residences Pte. Ltd |
| TOP: | 2017 |
Why I like it
The Vales is an Executive Condominium located in Sengkang. It is a nearer walk than you might think to the MRT station, at just about an 8 minute walk. If you are lazy you can also take the LRT as it is just one stop away to the MRT station and located right outside the development. It has 517 total units, which is considered a decent size in today's context.

The unit itself is a 904 square feet 3 bedroom, which is a little compact to say the least. You do have an enclosed kitchen, but no yard or utility room to speak of. At the very least, the space is nicely renovated, so you'd be able to save on costs here. Do also note that Ola EC is still currently being built next door so you will have some construction noise to contend with. Behind The Vales is also an zoned education, which as of now is not utilised yet.

– Ryan

2

Watercolours
$1,190,000
| | |
| --- | --- |
| Address: | 33 Pasir Ris Link 518154 |
| Tenure: | 99-year Leasehold |
| Size: | 1,001 sqft |
| $PSF: | $1,188.81 PSF |
| Developer: | HUGE Development Pte Ltd |
| TOP: | 2016 |
Why I like it
Watercolour is an executive condominium located in the Pasir Ris area. It was completed in 2016, and with 416 units it is quite a good size if you don't want to live in a development that is too crowded. While you are smack in the middle of a couple of other developments, it does offer a full-featured facility list with a swimming pool and tennis court.

The unit itself is a 3-bedroom 1,001 square feet space, which is a decent size. You do have an enclosed kitchen, a small yard, and a household shelter that can double up as a helper's room or storage. Another highlight is the balcony at the master bedroom as well (although for those who prefer interior space, this wouldn't be one for you!). But with the Ziptrak installed here this would certainly make it more useful.

It is nicely done up too, with a nice shade of green in the living room (though it's not for everyone), and the result is a classic yet modern look.

– Druce

3

The Palette
$1,200,000
| | |
| --- | --- |
| Address: | 113 Pasir Ris Grove 518171 |
| Tenure: | 99-year Leasehold |
| Size: | 893 sqft |
| $PSF: | $1,343.78 PSF |
| Developer: | City Developments Limited |
| TOP: | 2016 |
Why I like it
The Palette is part of the enclave of 5 developments that have been all developed by the same developer, CDL. It was built in 2016, and some may consider it to be a little dense with over 800 units (892, to be exact). But with that it does come with a wealth of facilities, with a big swimming lap pool and 3 club houses and 2 courts.

You can also walk to Pasir Ris MRT, where you'll find the existing White Sands Mall, with the Pasir Ris 8 and Pasir Ris Mall additions to look forward to in the future.

The unit is a 3-bedroom that offers 893 square feet of space. Not everyone will like that it has bay windows and planters, and there isn't a yard or utility room here either. That said, the space is done up really well. It sports a modern design and the rooms have adopted a platform to house the bed, which does mask the bay windows well too.

– Reuben

4

The Florida
$1,200,000
| | |
| --- | --- |
| Address: | 78 Hougang Avenue 7 534260 |
| Tenure: | 99-year Leasehold |
| Size: | 1,217 sqft |
| $PSF: | $986.03 PSF |
| Developer: | City Developments Limited |
| TOP: | 2000 |
<
Why I like it
The Florida is a leasehold condo located in the Upper Serangoon region. It is getting on in age, having been built in the year 2000. There's 496 units here, and it offers full facilities such as a swimming pool, gym, and tennis court. You don't have the direct river views here, as there is Rio Vista in front of you to contend with. That said, because this unit is located on a high floor you do get sweeping views of your surroundings. And just like many of the developments here, the walk to Hougang MRT may be a little too far if you had to do it daily.

As with older developments, this unit is a great size at 1,217 square feet for a 3 bedroom 2 bathroom unit (there is an added WC at the back). This means that you have a good sized living area, along with a kitchen and full yard and utility room too. It does offer quite a quirky decor too, with breeze blocks forming part of the kitchen counter, and suspended open bulbs as part of the lighting for the living room.

– Stanley

5

The Santorini
$1,150,000
| | |
| --- | --- |
| Address: | 27 Tampines Street 86 528570 |
| Tenure: | 99-year Leasehold |
| Size: | 915 sqft |
| $PSF: | $1,256.83 PSF |
| Developer: | MCC Land (Singapore) Pte Ltd |
| TOP: | 2018 |
Why I like it
The Santorini is one of the condos located along the Tampines Quarry. You do have a range of neighbours all located in the same row here (The Alps Residences, The Tapestry, and Q Bay Residences, to name a few). As with the other developments here, you are not within walking distance to an MRT station.

This is a 3 bedroom 2 bathroom unit (although one room was hacked to form a bigger living area). It's got quite a standard layout, although at 915 square feet it's definitely on the compact side of things.

– Sean