Units Of The Week

5 Biggest And Cheapest 5-Room HDB Units Above 1,400 Sqft
Stacked
November 24, 2022

9

min read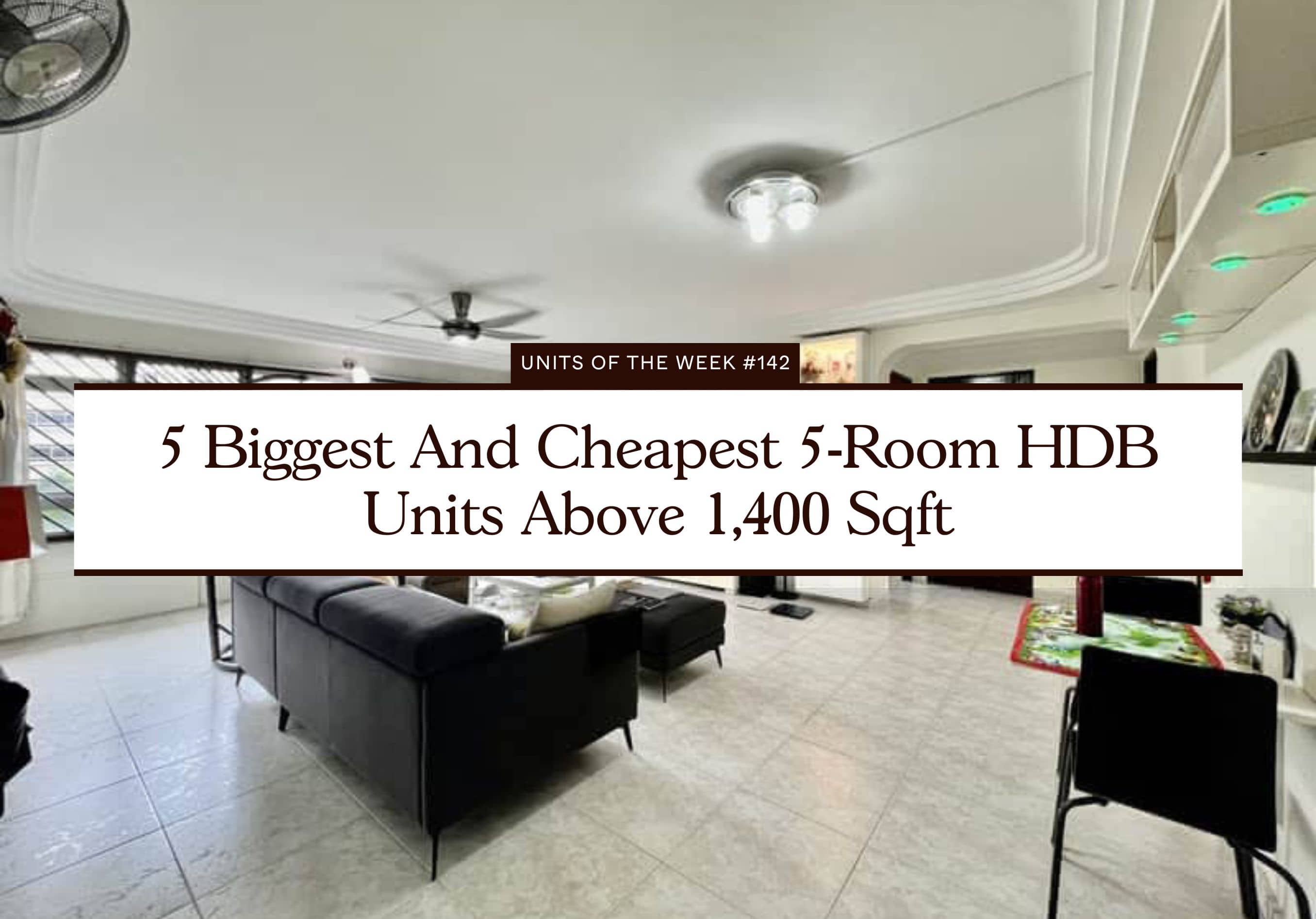 While it's not for everyone, multi-gen living works very well when the conditions are right. You get to spend quality time with your parents, there's help when needed to take care of the kids, and there are also economies of scale when it comes to food, transport, etc.
The problem is, finding a big enough home can be prohibitive in terms of costs. Obviously, a jumbo flat is the most ideal, but these are in demand due to how rare they are now, and can cost a pretty penny.
So for those looking for a big enough space but are on a more limited budget, here are some of the biggest and cheapest (per square foot pricing, of course) 5-Room HDB flats in the market as of late. 
Missed last week? You can view the previous issue here.
You can also join our free weekly newsletter so you stay up to date on our latest curations weekly.
Now let's get on with the list of curated units this week!

1

553 Choa Chu Kang North 6
$680,000
| | |
| --- | --- |
| Address: | 553 Choa Chu Kang North 6 680553 |
| Tenure: | 99-year Leasehold |
| Size: | 1,507 sqft |
| $PSF: | $433.12 PSF |
| Developer: | Housing & Development Board (HDB) |
| TOP: | 1994 |
Why I like it
For those on the hunt for a spacious HDB flat, Choa Chu Kang is a pretty good spot to start your search. 

This unit has a good size of 1,507 square feet, with its layout being 3 bedrooms, 1 study room and 2 bathrooms.

Apart from the squarish layouts, what I like about this unit is that it has a long living room and marble flooring! Amenities are also a huge plus, with Yew Tee MRT (on the North-South Line) and Yew Tee Mall being very close by for your shopping and dining needs. It's also just across Yew Tee Park and Limbang Wet Market for affordable groceries. 

This could be a good or bad thing depending on your situation, but De La Salle Primary School is located right next door to this flat. You are also situated just on the outskirts of Mowbray and Kranji Camp, which may not be of use to you but given it's low lying and mostly covered in thick greenery, you don't feel the area is as dense as other parts of town.

– Ryan

2

228 Pasir Ris Street 21
$648,888
| | |
| --- | --- |
| Address: | 228 Pasir Ris Street 21 510228 |
| Tenure: | 99-year Leasehold |
| Size: | 1,475 sqft |
| $PSF: | $439.92 PSF |
| Developer: | Housing & Development Board (HDB) |
| TOP: | 1992 |
Why I like it
Sized at 1,475 square feet, this huge flat is definitely perfect for families who require a bigger space. It has 3 bedrooms, 1 study room and 2 bathrooms – which is useful for multi-gen living.

This unit also has a very squarish layout and I like that it is located at the corridor end, which means more privacy for the occupants.

I'd say that its location is pretty great too. It is a short 5-minute walk from Sea Shell Park, several coffee shops for convenient and affordable dining, Pasir Ris Polyclinic and Giant Supermarket. It's also rather near to E!Hub (about a 10-minute walk) and Loyang Point (15-minute walk). 

While it's not technically near an MRT station now (the nearest is at Pasir Ris MRT Station), the upcoming Pasir Ris East MRT station would definitely be useful in the future. You are also just across Pasir Ris Primary School, so for families this would be another helpful draw.

– Druce

3

211 Petir Road
$598,000
| | |
| --- | --- |
| Address: | 211 Petir Road 670211 |
| Tenure: | 99-year Leasehold |
| Size: | 1,474 sqft |
| $PSF: | $405.70 PSF |
| Developer: | Housing & Development Board (HDB) |
| TOP: | 1987 |
Why I like it
This point-block unit at Petir Road is a good 1,474 sqft, making it a superb choice for folks that require a bigger space. You have 3 bedrooms, 1 study room, along with 2 bathrooms, though you also would have the liberty to knock down a wall or two to create a bigger living space.

This is also a corner unit, which means that there's more privacy for the occupants – something we'll appreciate in the long run when having to share the space with many people.

This unit would be especially appealing to nature lovers, seeing that it is basically surrounded by the extensive Bukit Panjang Park (Bukit Panjang Butterfly Garden) and Chestnut Nature Park. In terms of amenities, residents can pop by HAO mart to pick up groceries. Alternatively, you could also take a 9-minute walk to Bangkit Market to do grocery shopping and dine at Bukit Panjang Hawker Centre and Market and Kim San Leng Food Centre. For shopping, Hillion Mall is located nearby.

Pending LRT Station is around 10-minute walk away, which is one of the issues of living in this area. The nearest Cashew MRT Station on the Downtown line takes about a 20-minute walk.

There is also the upcoming Dairy Farm Residences to look forward to, as there will be commercial units here.

– Reuben

4

680 Choa Chu Kang Crescent
$640,000
| | |
| --- | --- |
| Address: | 680 Choa Chu Kang Crescent 680680 |
| Tenure: | 99-year Leasehold |
| Size: | 1,550 sqft |
| $PSF: | $412.90 PSF |
| Developer: | Housing & Development Board (HDB) |
| TOP: | 1998 |
Why I like it
Featuring another unit in Choa Chu Kang (it's not far down from Reuben's pick), this massive 1,550 square foot unit has very spacious and bright rooms. The current layout consists of 4 bedrooms, 2 bathrooms and a superbly spacious living room – making it the perfect spot for family get-togethers and multi-gen living.

With that being said, I really like the interesting shape of the balcony that has a curved nook to it – seems like great potential to create a unique spot in your home. This unit is also located in the corner, which means more privacy for its occupants. 

With regards to its location, it's around a 13-minute walk to Yew Tee MRT and Yew Tee Mall for shopping and dining. For more nearby and affordable dining options, V6 Food Court is located just a 3-minute walk away. There are a variety of schools in its vicinity too, making this unit perfect for young families raising children.

– Stanley

5

291 Yishun Street 22
$640,000
| | |
| --- | --- |
| Address: | 291 Yishun Street 22 |
| Tenure: | 99-year Leasehold |
| Size: | 1,431 sqft |
| $PSF: | $447.24 PSF |
| Developer: | Housing & Development Board (HDB) |
| TOP: | 1985 |
Why I like it
Located in Yishun, this apartment is sized at 1,431 square feet and comes with a spacious living area and huge kitchen. 

Originally, this unit came with 4 bedrooms and a study room, but the previous owner decided to combine 1 of the rooms with the living area and make it into a dining space instead. 

Future owners can choose to rebuild the 5th room or go along with the spacious living area.

The problem with Yishun is typically the proximity to the MRT station (especially those on the outskirts). So in terms of amenities this unit is actually not in a bad spot. Yishun MRT station (North-South line), Yishun bus interchange and the gigantic Northpoint City is located within a 13-minute walk away. Northpoint City is a brilliant addition to the area (there's even a Don Don Donki now).

Otherwise, there are also a neighbourhood market with multiple grocery stores, supermarkets and wet market located just right below the block. 

– Sean