Units Of The Week
5 Affordable Freehold 4 Bedroom Homes Under $2 Million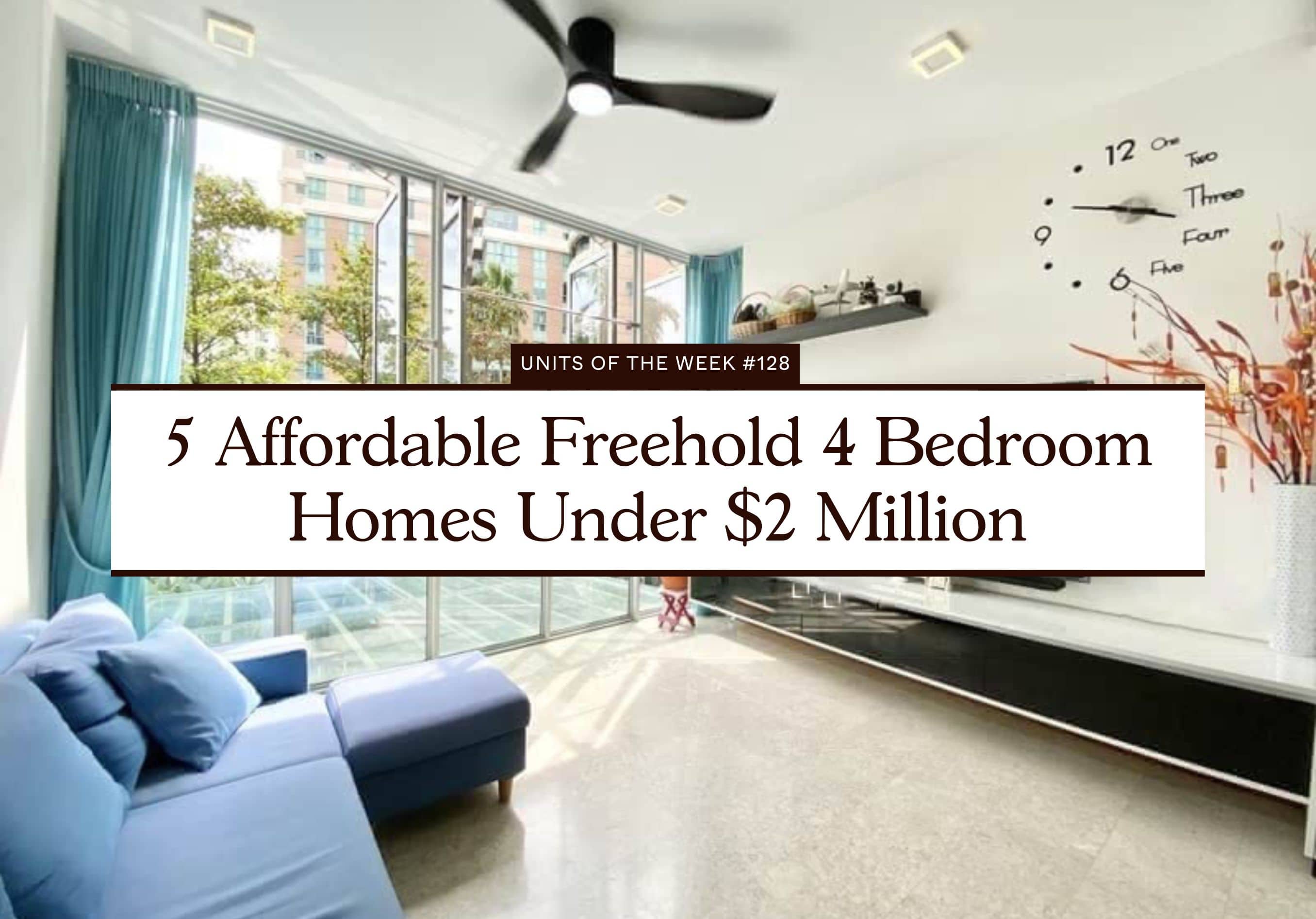 7
min read
It's the time of the week again, where we show some of the more interesting units that we've come across. Given that the freehold 3 bedroom units were so popular, we figured that looking for 4 bedroom freehold units should be equally as well-received. And so without further ado, here are 5 freehold 4 bedroom units that are priced at or under $2 million.
Missed last week? You can view the previous issue here.
You can also join our free weekly newsletter so you stay up to date on our latest curations weekly.
Now let's get on with the list of curated units this week!

1

Changi Court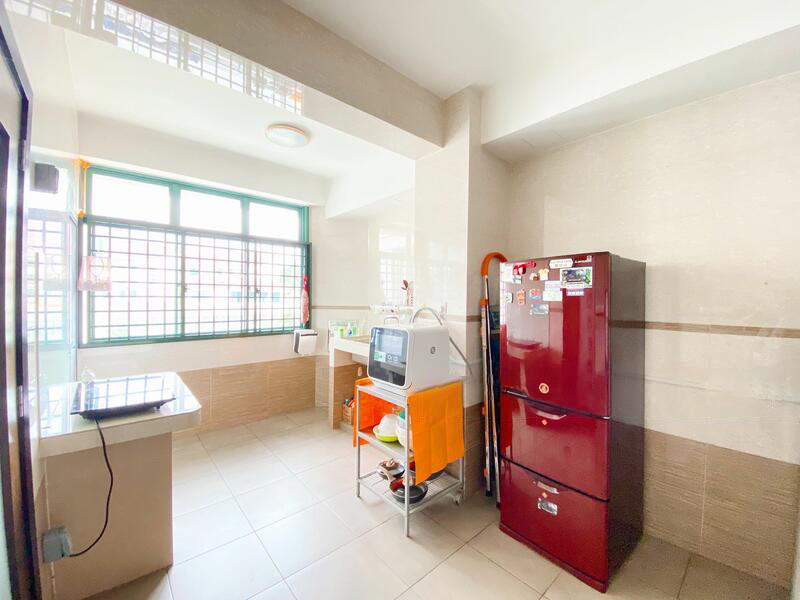 $1,700,000
| | |
| --- | --- |
| Address: | 700 Upper Changi Road East 486830 |
| Tenure: | Freeehold |
| Size: | 1,389 sqft |
| $PSF: | $1,223.90 PSF |
| Developer: | Allgreen Properties Ltd |
| TOP: | 1997 |
Why I like it
This isn't the first time we've covered a unit at Changi Court, and neither would it be the last given that it is actually quite attractive despite it's dated outlook. For those of you who don't know, it's a 3-minute walk to Upper Changi MRT station on the Downtown line – and the best part is that it is fully sheltered as well.

In terms of malls it is about a 15-minute walk to Eastpoint mall, where you do have quite a wide array of food options, supermarket, and lifestyle needs.

This unit itself is not a bad size for a 4-bedroom unit at 1,389 square feet. Out of the 4 bedrooms, 2 are ensuite as well so there won't be a fight for the bathroom here (unlike some new launches today). As with older developments, the layout is regularly shaped, with the living and dining area segregated. You also have a yard and utility, with the current owner using the yard as a wet kitchen. The drawback? There's no balcony here if you are one that enjoys the outdoors.

– Ryan

2

Trilive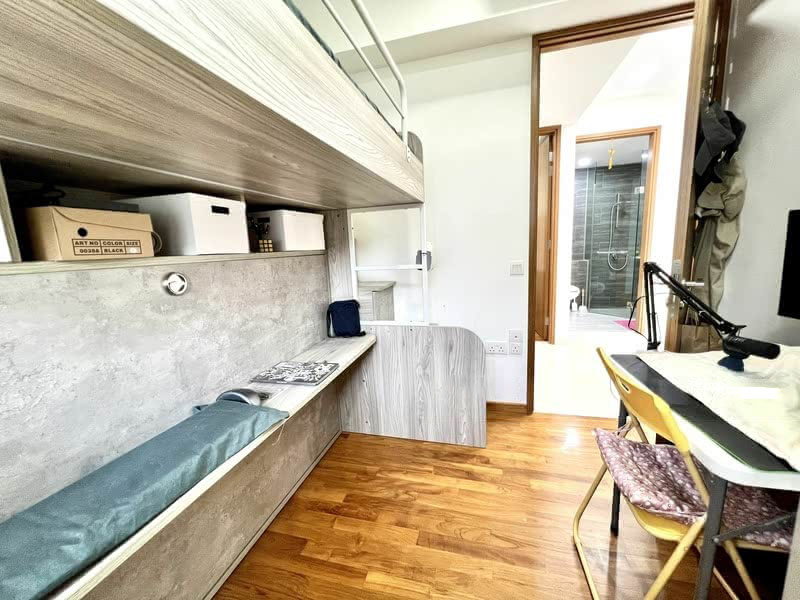 $1,950,000
| | |
| --- | --- |
| Address: | 111 Tampines Road 535133 |
| Tenure: | Freehold |
| Size: | 1,163 sqft |
| $PSF: | $1,676.70 PSF |
| Developer: | RH Tampines Pte Ltd |
| TOP: | 2018 |
Why I like it
Trilive is a still considered new project, having obtained its TOP in 2018. It's got just 222 units (and 2 shops), and what's unique is that you do have quite a big selection of dual key units here.

As it is still quite new, the unit itself wouldn't require major renovations unless you want to revamp the place. This is a dual key unit so you have the option of renting out the separate unit while maintaining your privacy. Or if you have grown up kids that wish to have their own space, they can also stay in the suite room (or even yourself, for that matter). The current owner has also made good use of the balcony by shifting their dining table there so the living area is alot more spacious. It's worth noting that one of the bedroom is smaller and can likely only fit a single bed. There is no yard area so laundry may have to be hung dry in the balcony if you prefer to air dry your clothes.

Location wise, you are about 9 minutes walk away from Kovan MRT, Kovan Heartland Mall, and 209 Kovan Market & Food Centre. There's a lot of food in the area, and quite a number do open quite late at night as well. For school going children, you are within 1km to Holy Innocents' Primary, one of the more popular schools in D19.

– Druce

3

Ris Grandeur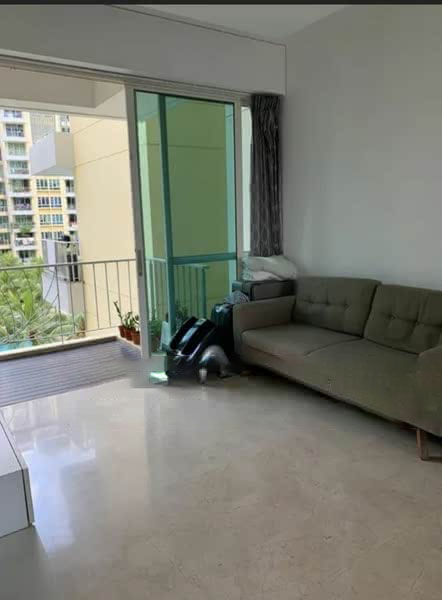 $1,900,000
| | |
| --- | --- |
| Address: | 23 Elias Road 519930 |
| Tenure: | Freehold |
| Size: | 1,539 sqft |
| $PSF: | $1,234.57 PSF |
| Developer: | CPL Tampines Pte Ltd |
| TOP: | 2006 |
Why I like it
Ris Grandeur is currently about a 16 min walk to Pasir Ris MRT and White Sands – so some may not consider this within walking distance. That said, you do have a bus stop outside the development with feeder buses that will take you to the MRT station. There is the future Tampines North MRT station on the CRL to look forward to which is nearer at about 800m.

It is considered a mid-sized project with 453 units, and has the benefit of being freehold as well. The landscaping here is known for its tropical resort vibe with the palm trees, and the huge pools too. It's located next to the park connector that leads to Pasir Ris park and beach – great for those who love the outdoors.

The unit itself is pretty sizeable on paper for a 4 bedroom unit at 1,539 square feet. It's got quite a differentiated layout too, with the kitchen cutting a lonely figure from the rest of the house. There are 2 different balconies for the living and dining area, which allows more natural light and ventilation into the unit. The master bedroom also has a bathtub, which is great for those who are looking out for it. Of course, the biggest drawback here is that there are bay windows and planter boxes too, so the unit may not feel like its exact size on paper.

– Reuben

4

Hillvista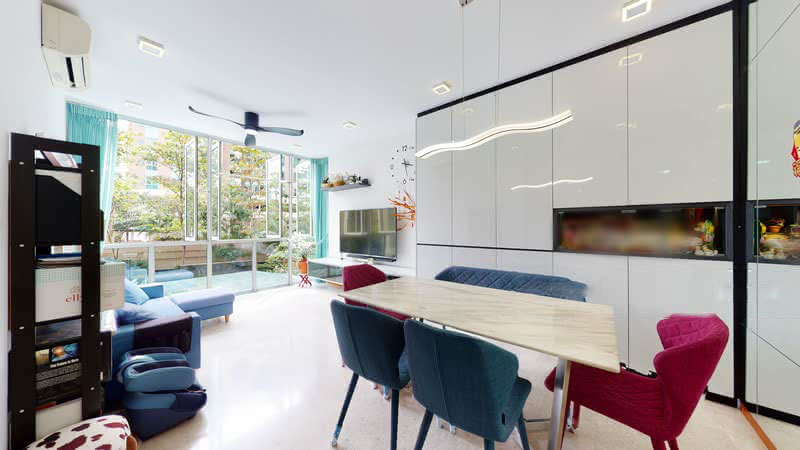 $2,000,000
| | |
| --- | --- |
| Address: | 1 Elizabeth Drive 669743 |
| Tenure: | Freehold |
| Size: | 1,292 sqft |
| $PSF: | $1,547.99 PSF |
| Developer: | Beauty World Properties Pte Ltd |
| TOP: | 2010 |
Why I like it
There are a lot of residential options in this area, and Hillvista is one of those that's closer to the MRT station, at about an 8-minute walk to Hillview MRT on the Downtown line. You are also a short walk to Hillv2, with a supermarket and various food options. If that's not enough, you can also head to The Rail Mall nearby or look forward to the upcoming Dairy Farm Residences as that will also have some commercial shops.

Most people look at this area for the greenery, and it's close to the rail corridor and a handful of nature parks – a plus point for nature lovers.

The layout is mostly efficient, and at 1,292 square feet for 4 bedrooms is considered decent. You are in the company of just 127 freehold units here too, so it's less crowded for sure. The living and dining area is okay in size, and the full length mirror here does help to give the illusion of a bigger space. The layout has been altered to create a wet and dry kitchen – so the dry kitchen is open concept which makes the space appear larger too.

It does come with a yard, utility room, and WC although you do have bay windows here and no balcony to speak of.

– Stanley

5

Kai Fook Mansion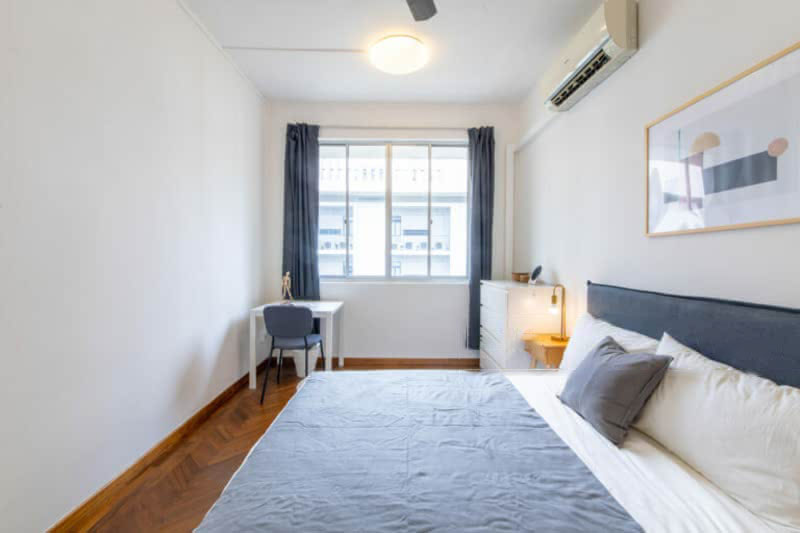 $1,945,000
| | |
| --- | --- |
| Address: | 10 Kim Tian Road 169248 |
| Tenure: | Freehold |
| Size: | 1,032 sqft |
| $PSF: | $1,884.69 PSF |
| Developer: | Unknown Developer |
| TOP: | 1993 |
Why I like it
As you can probably tell by the name, Kai Fook Mansion is an old one – it was completed in 1993. It's got a fantastic location, just 4-minutes walk to Tiong Bahru MRT and Tiong Bahru Plaza. Tiong Bahru Plaza is pretty bustling too, you have an NTUC Finest and various food options (fast food and the like). For something more local, it's also a short walk to Tiong Bahru Market and the other hipster cafes.

This is a walk up apartment, and has no facilities. The downsides are apparent, but this does mean maintenance should be kept low. It does have a nice rooftop space.

One benefit is that the unit is done up well and simply with neutral tones, so its easy to add on any minimal reno if needed. A potential drawback here is that the living room and kitchen has no windows so might be dark and might limit the ventilation in the house. But for most, I reckon the location should more than make up for it.

– Sean