Buying
26 Upcoming New Launch Condos To Wait For In 2023 (One Will Be The Tallest In Singapore)
Ryan J
August 7, 2023

9

min read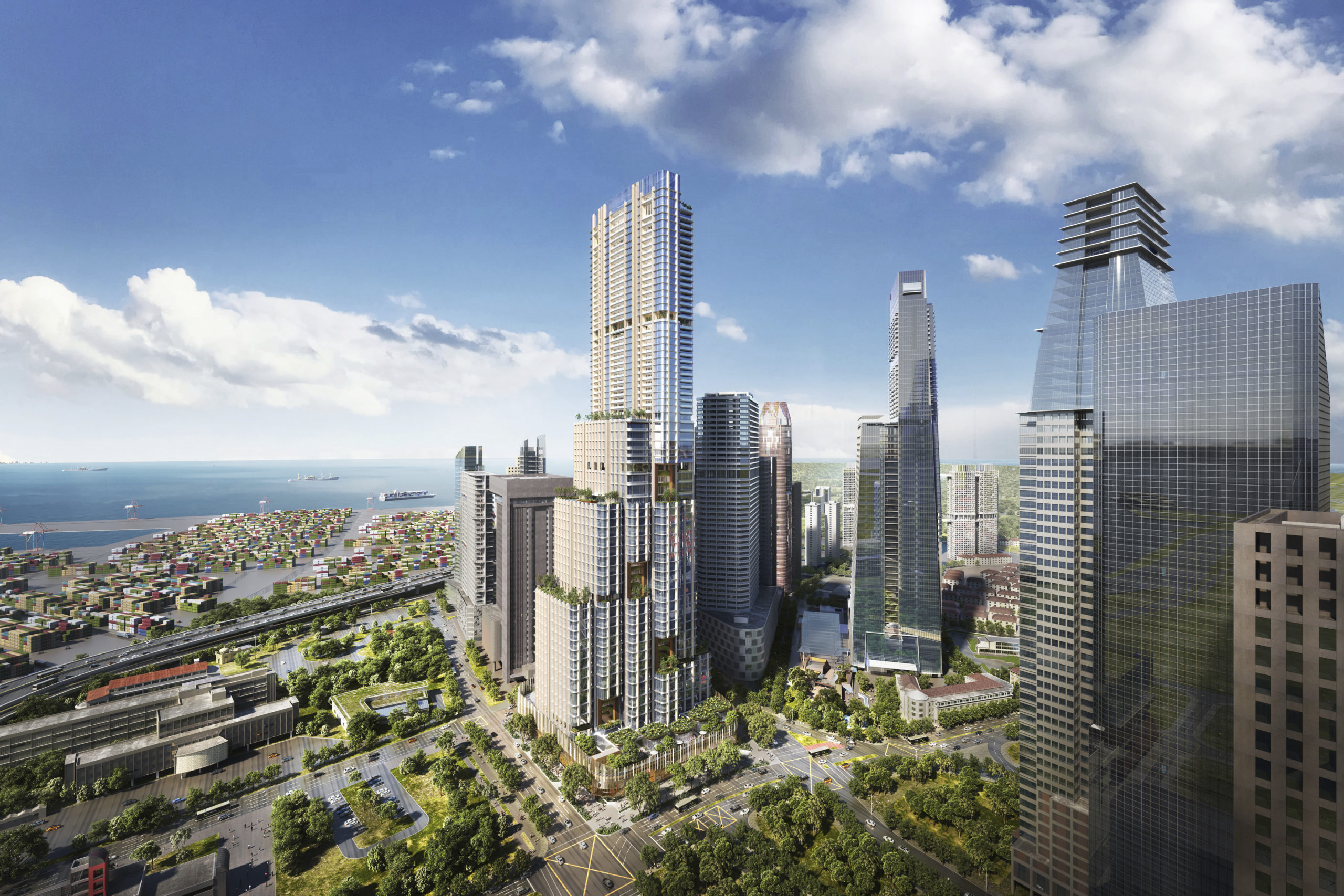 9
min read
As we cross beyond the second half of 2023, things are looking up on the buyer's side. More new homes are being completed, and the uptick in prices has begun to moderate somewhat. There has been a spread of new launches in recent months, and unlike the first few years of the pandemic, they aren't selling out the majority of their units on the first weekend.
For those still waiting, here are the possible new launch properties to wait for in 2H 2023 (so far at least):
| | | | | | |
| --- | --- | --- | --- | --- | --- |
| Project | Developer | Address | Tenure | Estimated No of Units | Site Area |
| Newport Residences (D2) | CDL | 80 Anson Road | FH | 246 | 57,942 sf |
| Skywaters Residences (D2) | Perennial Holdings, Alibaba Singapore, Chip Eng Sing, Sing Haiyi Group and Haiyi Group | 8 Shenton Way | 99 Years | 200 | 118,230 sf |
| Marina View Residences (D1) | IOI Properties Group | Marina View | 99 Years | 905 | 84,110 sf |
| The Hillshore (D5) | Faxtor Capital and Hong How Group | 292 Pasir Panjang Road | FH | 59 | 45,742 sf |
| The Hills @ One North | Kingsford Development | Slim Barracks Rise | 99 Years | 140 | 63,901 sf |
| Gilstead Road (D11) | Kheng Leong | 32 & 34 Gilstead Road | FH | 56 | 43,457 sf |
| 21 Anderson (D10) | Kheng Leong | 21 Anderson Road | FH | 34 | 73,712 sf |
| Former La Ville (D15) | ZACD Group & Hong How Group | Tanjong Rhu Road | FH | 102 | 47,012 sf |
| Bukit Timah and Duke's Road (D10) | Hillcrest Investment (an affiliate of Royal Golden Eagle) | 551-553 Bukit Timah Road & 6-8 Duke's Road | FH | 40 | 16,479 sf |
| Former Watten Estate Condo (D11) | UOL and Sing Land Group | 36 Shelford Road | FH | 170 | 220,241 sf |
| Lentor Hill Road (D26) | TID (Joint Venture between Hong Leong Group and Mitsui Fudosan) | Lentor Hill Road | 99 Years | 265 | 116,455 sf |
| Former Woo Mon Chew Court (D15) | Hillcrest Investment (an affiliate of Royal Golden Eagle) | Woo Mon Chew Road | FH | | 7,510 sf |
| Former Haig Road Flats (D15) | Nanshan Group | 173-183 Haig Road | FH | 35 | 27,389 sf |
| Former Mount Emily Road (D9) | ZACD Group | 2,4,6 Mount Emily Road | FH | 16 | 5,549 sf |
| Former Euro Asia Apartments (D12) | KSH Holdings, H10 Holdings, SLB Development | 1037 Serangoon Road | FH | 172 | 56,476 sf |
| Former East Court (D15) | Macly Group | Koon Seng Road | FH | 19 | 13,351 sf |
| Former Jansen Mansions (D19) | Macly Group | 25 Jansen Road | 999 Years | 19 | 16,592 sf |
| Former Park View Mansions (D22) | CEL Development, Singhaiyi Group and TK 189 Development (KSH Holdings & Ho Lee Group) | 9A Yuan Ching Road | 99 Years | 440 | 191,974 sf |
| Bukit Timah Link (D21) | Bukit Sembawang Estates | Bukit Timah Link | 99 Years | 160 | 49,663 sf |
| Kassia (D17) | Hong Leong, CDL and TID | Flora Drive | 99 Years | 276 | |
| Hillview Rise GLS (D23) | Far East Organisation & Sekisui Group | Hillview Rise | 99 Years | 335 | 110,868 sf |
| Former Peace Centre & Peace Mansion (D9) | CEL Development, Singhaiyi Group and KSH Holdings | Sophia Road | 99 Years | 240 | 76,618 sf |
| Dunearn Road (D21) | Tuan Sing Holdings | 870 Dunearn Road | FH | | 17,140 sf |
| Lentor Central (D26) | United Engineers Ltd, Soilbuild Group Holdings & China Communications Constructions Co | Lentor Central | 99 Years | 470 | 144,713 sf |
| Keppel Bay Plot 6 (D4) | Keppel Land | Keppel Bay | 99 Years | 86 | |
| Bukit Batok West Ave 5 (D23) | CDL | Bukit Batok West Ave 5 | 99 Years | 495 | 178,680 sf |
What's coming up in 2H 2023?
Based on what we have so far, the condos coming up (or at least the named ones that are confirmed) include:
1. J'Den
Location: 2 Jurong East Central 1 (District 22)
Developer: CapitaLand
Lease: 99-years
Possible TOP: 2028
Number of units: 368
J'Den is probably the most anticipated launch on the West side right now. This is CapitaLand's redevelopment of the former JCube mall, which itself was a CapitaLand mall (yesterday 10 pm was the last day of operations).
This is considered a huge plus for the commercial side of this mixed-use project: CapitaLand was already running the mall here previously, and Westgate (just across the road) is also a CapitaLand mall. As it's all under the same developer, it's expected that CapitaLand can properly co-ordinate the tenant mix, to ensure the shops, restaurants, etc. in J'Den will complement rather than overlap with Westgate.
In terms of location, this is about as convenient as you can possibly get for a Jurong property. Jurong MRT station (EWL, JRL) and bus interchange, along with JEM mall, are right across the road.
This is not going to be the quietest or traffic-free location, as it's at the very hub of Jurong East; and it's likely to get even busier in coming years, as the Jurong Lake District continues to develop. This is also compounded by the presence of Ng Teng Fong Hospital nearby.
We would expect either landlords or singles/young couples as the main buyer demographic. Landlords, in particular, will like the presence of Ng Teng Fong, as hospitals tend to have a lot of foreign healthcare workers. Besides, there is also the 6.8 hectare White site that combines 3 plots of land linking Jurong East MRT interchange station and the future Jurong Lake District station of the Cross Island Line. This massive site will provide about 1.615 million sq. ft. of office space, 1,760 residential units, and 75,000 sqm GFA of either retail/hospital/community use as well. In short, lots of future redevelopment, and upside for the area (along with rental demand).
(Ps. Some buyers may have taboos about being so close to the hospital. One realtor anonymously told us the "curse of Jem" is sometimes attributed to bad feng shui, from being near the hospital. They're hopeful the same superstitions won't crop up during the sales phases.)
This will be just a singular 40-storey block comprising 368 units with a sky garden. There will be commercial units at the first storey, childcare at the second, and the clubhouse, swimming pool, and other facilities will be found at the third storey.
Given how popular J Gateway was at launch, this is likely to be much anticipated. With resale prices there averaging around $1,900 psf already, and LakeGarden Residences at a less convenient location already at $2,120 average psf – you can expect that this will not be cheap.
2. Former Watten Estate
Location: 36 Shelford Road (District 11)
Developer: UOL/SingLand
Lease: Freehold
Possible TOP: 2026
Number of units: 170
Given its location and the developer's previous reputation with MeyerHouse and 15 Holland Hill, the new development at Watten Estate is going to be much in the same vein.
Both were ultra luxury projects with larger than average new launch sizes, private lifts (and even lift lobbies) for all units, and had a strong focus on landscaping (so you generally have a clearer idea at what's to come).
Watten Estate is a landed housing enclave, so the project here will have a good degree of privacy and exclusivity. Like most landed housing estates though, it's a bit far from other amenities. You are quite near to an MRT station: the closest MRT station is Tan Kah Kee (DTL) which is roughly about a 9-minute walk.
We'll reserve on judgement on how walkable this is as it's not an entirely level walk, it does slope a little upwards if you are walking home. Nevertheless at such price points, this is unlikely going to matter much to buyers here.
The nearest mall, which does have an NTUC FairPrice, is Coronation Plaza, which is across the busy Dunearn and Bukit Timah Road.
In any case, the whole point of low density living is to be away from such busy areas, so we don't think future buyers will see this is a huge downside.
This redevelopment will certainly attract families, as one of its strong suits is the distance to reputable schools. The former Watten Estate was within the one-kilometre Home School Distance of several prestigious institutions, including:
· Raffles Girls' Primary (530 metres)
· National Junior College (800 metres)
· Hwa Chong Institution (830 metres)
· St. Margaret's Secondary (970 metres)
3. Marina View Residence
Location: Marina View (District 1)
Developer: IOI Properties
Lease: 99-years
Possible TOP: 2026
Number of units: 905
This is a mixed-use project (approx 905 residential units, 540 hotel rooms, and 21,528 sq. ft. commercial space), and one that will be closely watched thanks to it being a sole bid for this GLS site at $1.508 billion or $1,370 psf. The last bid at Marina Bay (which was won by Kingsford Huray) was at $1,402 psf, but this wasn't keenly contested either.
Read this next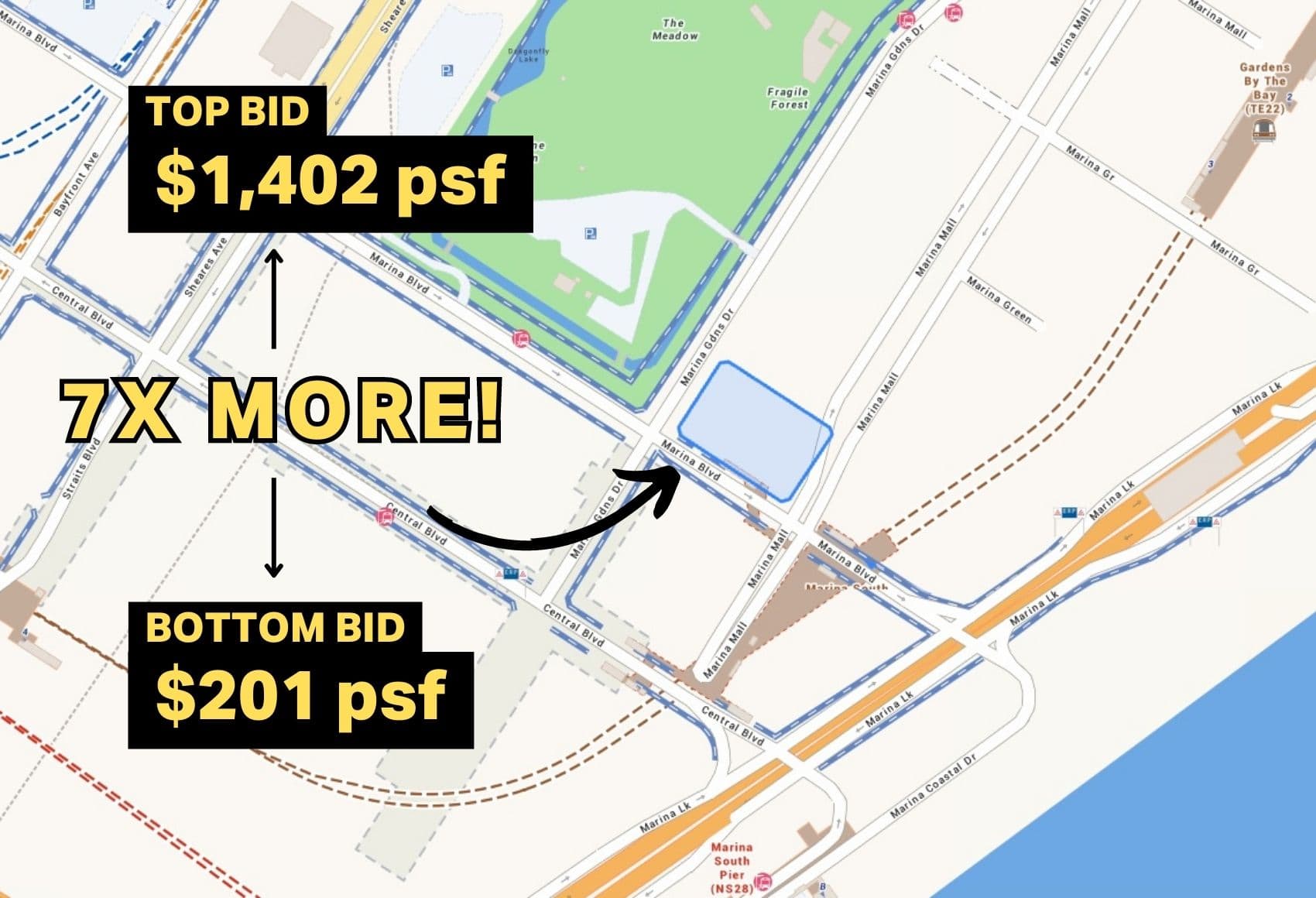 Read this next
by Stacked
The location on Shenton Way (this project is just across from the Shenton Way MRT station on the TEL) is historically popular among foreigners; and the market will be watching to see if the current 60 per cent ABSD rate has truly driven off foreign investment.
The accessibility of this project is one of the best we've seen for 2023. Besides Shenton Way MRT, it's in walking distance to Downtown MRT (DTL), Tanjong Pagar MRT (EWL), and potentially Marina Bay MRT (NSL, CCL).
Being so close to the heart of the CBD, this project will be highly rentable, and to a more affluent crowd of foreign workers to boot. This is a good place to stay for finance industry workers, given all the banks and SGX being nearby.
This is unlikely to be chosen by families at this point though, as there are no schools nearby, and a distinct lack of play spaces. The CBD area is also, despite aggressive reforms, still rather dead during weekends. There is definite plans in the works for the CBD to be a work/live/play area (see TMW Maxwell), and the whole of the Marina Bay area yet to be fully redeveloped – so this would change in the future.
4. Newport Residences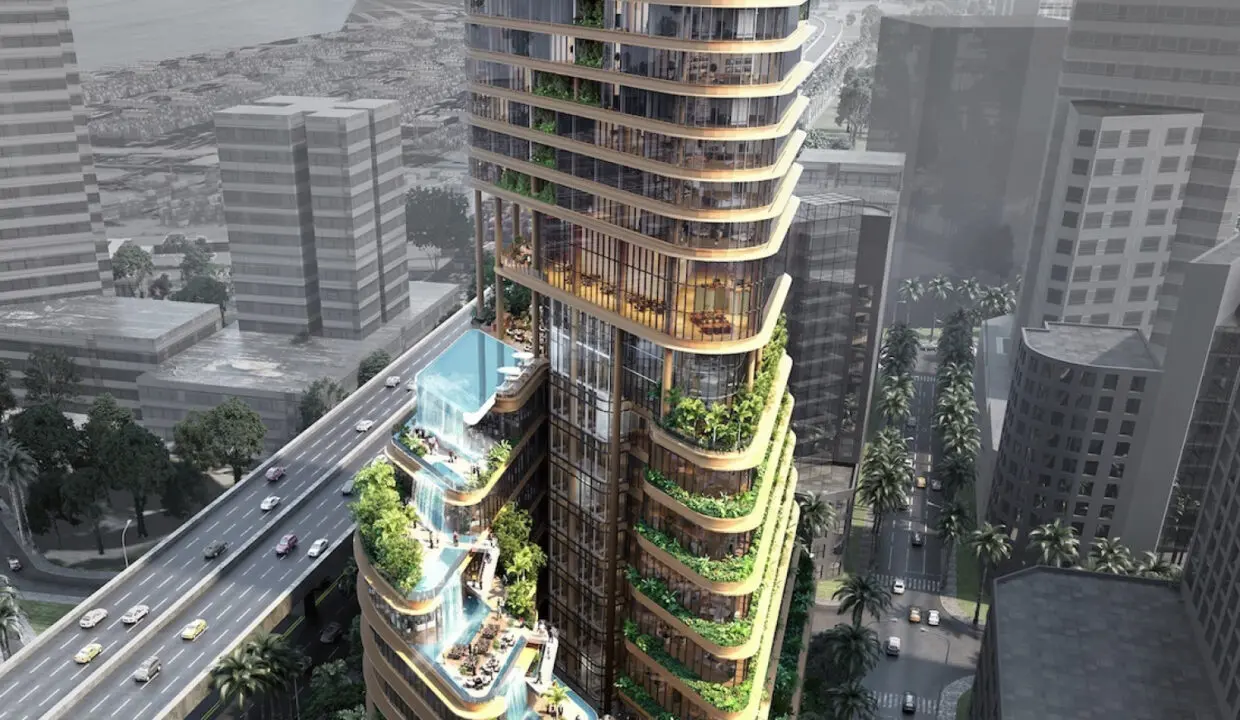 Location: 80 Anson Road (District 2)
Developer: Hong Leong Properties Pte. Ltd.
Lease: 99-years
Possible TOP: 2027
Number of units: 246
Newport Residences was one of the casualties from the April 2023 cooling measures, as the preview was pushed back to a later time – it's clear that there were expectations for a lot of interest from foreign buyers.
Newport Residences will be a high-rise luxury development of just 246 units, and word on the ground was that prices would be beyond $3,000 psf. It will grant walking access to two train lines by the time its built. Besides the existing Tanjong Pagar MRT (EWL), which we estimate to be a seven to eight-minute walk, the Prince Edward Road MRT (CCL) will be up by 2026. This might be even closer, at around five to six minutes.
This project will appeal to those working within the Tanjong Pagar area, which is already rich in amenities. The 100AM mall, which is just across the road, has a Don Don Donki in addition to a Watsons and an NTUC FairPrice. Just across the street from 100 AM is Tanjong Pagar Plaza, which is the market and hawker centre for the area. Guoco Tower is close by too, where you can find even more restaurant options.
This area has also become known for its slew of Japanese restaurants; we're not sure when this happened exactly (it's been that way a few years now), but take a walk from 100 AM to Tanjong Pagar MRT and you'll see plenty.
There will be a mix of 1 to 4 bedroom units, and one of the bigger selling points is that it is freehold – unlike its closer new condos like One Bernam or Marina View Residence.
This project has a more direct competitor in the form of Skywaters Residences (see below).
5. The Hill @ One North
Location: Slim Barracks Rise (District 5)
Developer: Kingsford Development Pte. Ltd.
Lease: 99-years
Possible TOP: 2026
Number of units: 140
This project is located next to One-North Park, and an estimated eight to nine minutes from Fusionopolis. The One-North MRT station (CCL) is also located here. The Hill @ One North is the development of the Slim Barracks Rise (Parcel B) site, which was awarded at $162.4 million, or $1,210.10 psf ppr.
Note that Fusionopolis itself is a good amenity, with a Cold Storage and a Watsons, as well as lots of food options. But you can also walk to Buona Vista MRT (EWL, CCL), where The Star Vista is the major mall for this area (if you haven't been there's a surprising amount of food options, along with a Cold Storage).
If you take the train one stop in the other direction, you'll be at Holland Village MRT (CCL), which is the other main appeal of living here. This is a recreation and dining hub, and one of Singapore's identity nodes.
This project will appeal to those who work in the One-North tech and media hub, which stretches from the MediaCorp campus nearby, to the JTC launch pad for start-ups (across the road from Fusionopolis).
There's also not too much competition for prospective tenants, as the residential developments in the immediate vicinty are not very big. The nearby One-North Eden has only 165 units, and One-North Residences has only 405 units. There's also the upcoming Blossoms by the Park which is just next door, and Rochester Residences as further competition.
(Note: one investor we spoke to disagrees on that assessment, pointing out that the mega-development Normanton Park is just a few bus-stops away from Fusionopolis. They may have a point there).
6. Skywaters Residences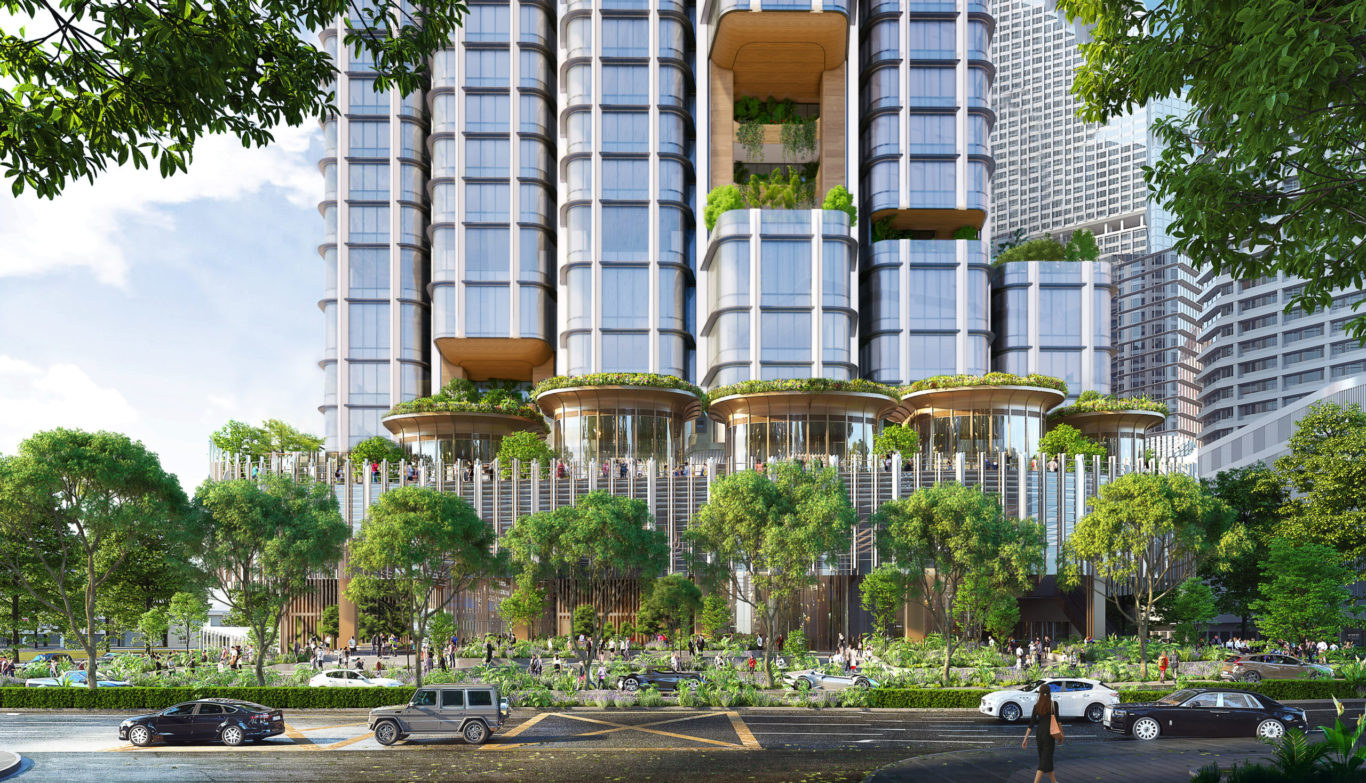 Location: 1 Prince Edward Road (District 1)
Developer: Alibaba Singapore/Consortium led by Perennial Holdings
Lease: 99-years
Possible TOP: 2026
Number of units: 215
This project is a close new launch competitor to Newport (see above).
Although it isn't freehold, it can boast one major trophy point – it is set to be the tallest building in Singapore with a height of 305 metres and 63 storeys. This will likely house the highest super penthouse unit in Singapore, eclipsing the former highest one at Wallich Residence (284 metres). There will be a mix of retail, restaurants, offices, and a hotel.
The tower itself is inspired by bamboo forests, with a champagne-coloured terracotta and bamboo as the facade. There will be 7 landscaped garden terraces (one for the hotel, and three for the residential levels).
Skywaters Residences boasts a closer proximity to Tanjong Pagar MRT station (EWL), at probably less than five minutes. It's also smaller, but we hesitate to add that means more privacy. It may not, as this project is next to busy Anson Road, and is between the AXA Tower and International Plaza. That's never going to be the most private or quiet place in Singapore, although it is a highly convenient one.
The other locational advantages are quite similar to Newport for now, so we'll have to wait for other features – such as facilities and layout – to better distinguish these two projects.
For now, this would be the pick of those who want to be closer to the MRT station, and who don't mind being in the middle of a few looming buildings (or just living in the highest building in Singapore).
For more information and in-depth reviews of these projects, follow us on Stacked. We'll keep you updated on the Singapore private property market.