Buying
20 Most Profitable Old Freehold Condos In The Last 10 Years (Average $500k Profits)
Ryan J
August 28, 2023

< 1

min read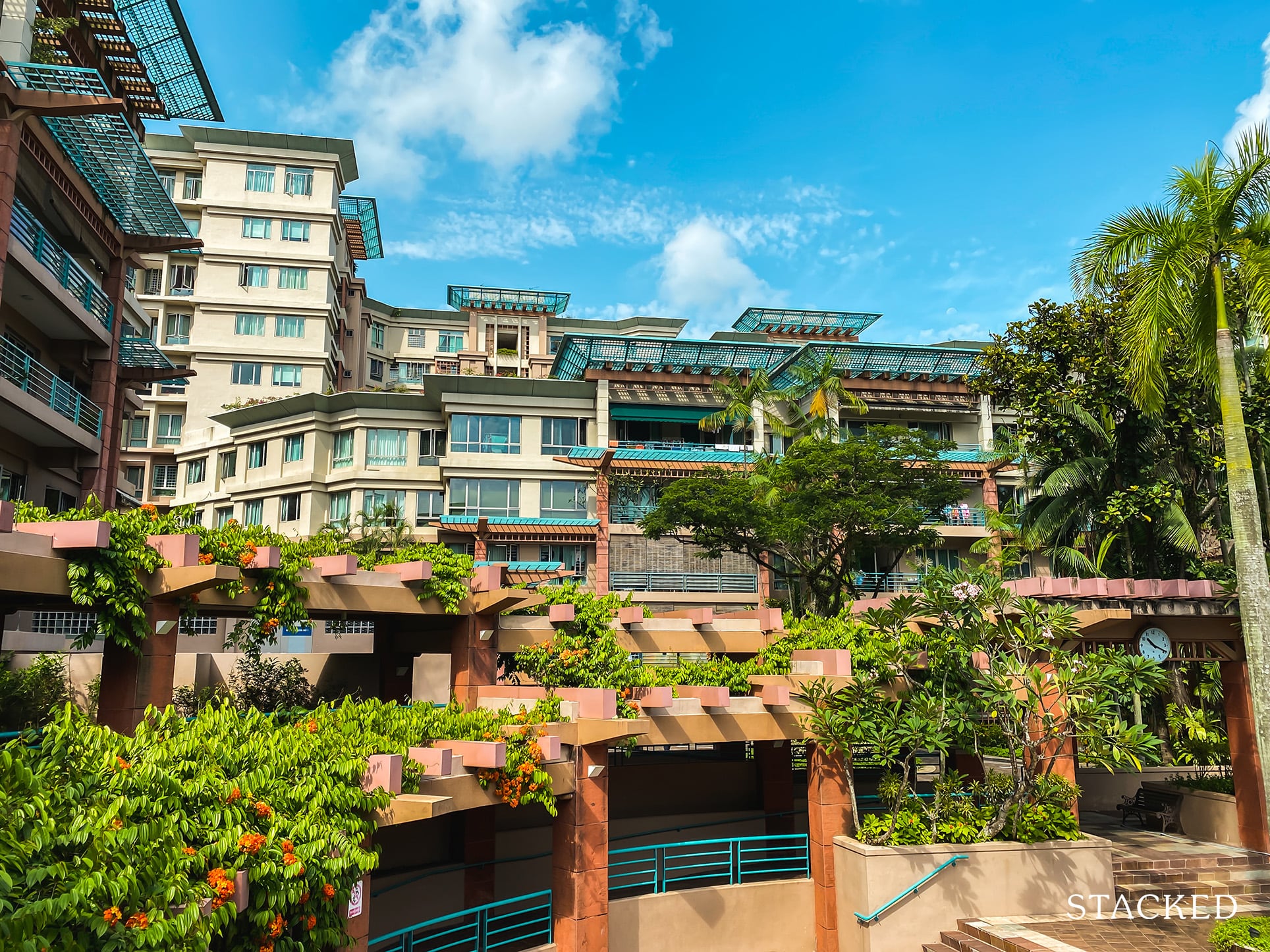 < 1
min read
Real estate is often touted as a sound investment, but the reality is that not all properties appreciate at the same rate. For those seeking stability and growth in their investment, certain freehold condos in Singapore have consistently delivered. Between the years 2013 to 2023, there were some standout projects that defied market fluctuations and proved their worth.
In this article, we will focus on freehold condos that have seen no losing transactions in this ten-year span. We've narrowed our list to projects with at least 10 transactions, to ensure a decent sample size for our analysis. Here are some of the most profitable freehold options over the past decade:
Freehold condos that haven't seen a losing transaction between 2013 to 2023
Only projects with at least 10 transactions were considered for the following lease.
| | | | | | | |
| --- | --- | --- | --- | --- | --- | --- |
| Rank | Projects | District | Completion | Buy-Sell Tnx Vol | Avg Gains ($) | Avg Gains (%) |
| 1 | BOTANIC GARDENS VIEW | 10 | 1970 | 5 | $945,000 | 43% |
| 2 | THE ATRIA AT MEYER | 15 | 1996 | 5 | $900,000 | 40% |
| 3 | CLEMENTI PARK | 21 | 1985 | 12 | $612,342 | 35% |
| 4 | COUNTRY PARK CONDOMINIUM | 16 | 2003 | 6 | $474,833 | 33% |
| 5 | SIGNATURE PARK | 21 | 1998 | 21 | $450,105 | 33% |
| 6 | THE ANCHORAGE | 3 | 1997 | 10 | $523,000 | 31% |
| 7 | HUME PARK I | 21 | 1995 | 5 | $372,600 | 31% |
| 8 | PARC PALAIS | 21 | 1999 | 11 | $400,545 | 31% |
| 9 | THE SEA VIEW | 15 | 2008 | 16 | $624,243 | 31% |
| 10 | MONTEREY PARK CONDOMINIUM | 5 | 2005 | 7 | $508,400 | 31% |
| 11 | THE ESTA | 15 | 2008 | 13 | $600,485 | 31% |
| 12 | HILLBROOKS | 23 | 1999 | 10 | $370,720 | 30% |
| 13 | CHELSEA LODGE | 15 | 2000 | 6 | $320,667 | 29% |
| 14 | MAPLE WOODS | 21 | 1997 | 11 | $539,273 | 29% |
| 15 | BELMOND GREEN | 10 | 2004 | 13 | $524,538 | 29% |
| 16 | THE SUMMIT | 16 | 1992 | 6 | $369,685 | 29% |
| 17 | CASHEW HEIGHTS CONDOMINIUM | 23 | 1992 | 6 | $450,481 | 29% |
| 18 | THE WATERSIDE | 15 | 1992 | 5 | $736,000 | 29% |
| 19 | ONE FORT | 15 | 2005 | 5 | $410,940 | 29% |
| 20 | EASTERN LAGOON | 15 | 1985 | 9 | $305,022 | 28% |
Source: URA. Period from 2013 – 2023.
Interesting projects from the list:
1. Clementi Park
Location: 115 Sunset Way (District 21)
Developer: CDL
TOP: 1986
Number of units: 489
Clementi Park is in the love-it-or-hate-it area of Sunset Way. Despite Clementi being a mature neighbourhood, this particular corner of it has remained rather isolated. However, that's also the reason some people absolutely love it.
Sunset Way is quite an under-the-radar foodie haven, one that's especially treasured by the hipster crowd, and those who like eccentric/odd artisanal cafes. It's also a low-density area, with barely any traffic. For those who like privacy and quiet, Clementi Park is an affordable alternative to places like Bukit Timah.
The last transaction, in July 2023, was a 904 sq. ft. unit at a mere $1.25 million (around $1,382 psf), impressive in the current booming market.
The sheer size and spaciousness of this condo are hard to overstate. It's a whopping 973,984 sq. ft., shared between just 489 units; and it's possible to find one-bedders here that reach 1,000+ sq. ft. Coupled with recent interest in larger and cheaper homes (mainly from HDB upgraders), it's not hard to see why Clementi Park is seeing strong gains.
One of the most unique features is the huge hill in the middle of the project, which doubles as park space for residents. There's also an amphitheater here, and it's ideal for families as there's proper green space for walks, picnics, children to run around, etc. This sort of feature is likely impossible in a newer condo, with their small land plots.
That said, Clementi Park is still inaccessible by public transport, which is why the condo still has a shuttle bus. That, or you have to be ready to drive or use PHVs often.
Nevertheless, Clementi Park has been a solid purchase for those who've bought even as recently as 2017. These owners have made more than a million in profits, at an annualised rate of over 8 per cent!
2. Monterey Park Condominium
Location: 23 West Coast Rise (District 5)
Developer: CDL
TOP: 2005
Number of units: 280
Like Clementi Park above, Monterey Park is another option for low-density living. This project is in a quiet, low-traffic area, and surrounding residences are mainly landed or low-rise. Monterey Park also faces the Pandan Reservoir, giving most units a greenery/waterfront view.
The low unit count also works in the project's favour. There are only 280 units, so there's a good sense of privacy. Most of the units are also on the larger side, by today's standards (mostly 1,360 + sq. ft.) The last transaction here, in March 2023, was for a 1,367 sq. ft. unit at $2.17 million – a bit high for some HDB upgraders, but you'd get the space you pay for.
Monterey Park also has a number of schools within one kilometre, including Qifa Primary (around nine minutes on foot), Nan Hua Primary, and Clementi Primary School. For those looking for older children, Tanglin Secondary, Commonwealth Secondary, and Clementi Town Secondary are nearby too. When you add this to the green space and quiet, it's easy to see the family appeal of this project.
Accessibility is also not as bad as it seems on maps. While there's no MRT station nearby, there is a bus stop on West Coast Road that's just five minutes from Monterey Park. This stop has services that can take you to Jurong East, Hougang, or other hub areas. There is Pandan Reservoir MRT station on the Jurong Region Line that will be up in the future, but this is still quite a walk away at Pandan Gardens.
There is a lack of across-the-road amenities too, so expect to travel out for most needs. In any case, most people looking to buy in this location will be for a relative peace and quiet anyway.
If anything, owners here will be a happy bunch, as there have been 142 profitable transactions so far (and just one loss of a minimal $43k). Even a recent purchase in 2019 has made a cool half a million, having resold it in January 2023 this year.
3. The Sea View
Location: 29 Amber Road (District 15)
Developer: Mer Vue Developments Pte. Ltd.
TOP: 2008
Number of units: 546
The Sea View stands to benefit from the TEL line, with two nearby stations being completed this year. Tanjong Katong MRT and Marine Parade MRT are certainly within walking distance, and you are about equidistant between both (probably depending on which block you live in).
The Sea View is also a few minutes walk to the Katong/Joo Chiat lifestyle area, where you'll find malls like i12 Katong and Parkway Parade; there are also a good number of children's enrichment/tuition services clustered here, and the area is especially known for its many private music schools.
There are more supermarkets than any resident could possibly need in this area: you can find NTUC and Cold Storage at the nearby Parkway Parade mall, and another Cold Storage at i12 Katong. There are also several small minimarts scattered along East Coast Road.
With the longstanding accessibility issue of public transport now addressed, we can see landlords taking a renewed interest; this particular neighbourhood has a large expatriate enclave, making The Sea View a good rental prospect.
As you'd expect from the location, and recent pick-up in prices, The Sea View is not a cheap condo despite its age. Its 1,400 to 1,500+ sq. ft. units can transact for over $3.5 million, putting it beyond the reach of most first-time buyers or HDB upgraders. But it is a very convenient part of the east to stay in, for those who can afford it.
Do note there is one issue for drivers though: the roundabout leading to Parkway Parade isn't well-liked, and the roads can be frustratingly packed on weekends.
A standout transaction so far has been a 1,410 sq. ft. unit that was purchased in Jan 2017 and resold in May 2023 for a profit of $1.62 million.
4. The Summit
Location: 451 Upper East Coast Road (District 16)
Developer: Ban Hin Leong
TOP: 1992
Number of units: 242
As old as The Summit is, its freehold nature and location means that it is one that is likely to hold value well, thanks to upcoming developments in the Bayshore area. This location was mentioned during the National Day Rally as the spot for Plus-category flats: With a new mall and the MRT station nearby, this area will be the heart of Bayshore; and this is as good as the government declaring the area a hotspot. However, do note that the residential plots surrounding Bayshore MRT are at a plot ratio of 3.5, so this could block views in the future depending on the new developments.
The Summit used to have terrible accessibility, with residents needing to use the bus to get to Tanah Merah MRT. However, Bayshore MRT (TEL) will be up and running sometime this year, so there's finally access to a train station. This is just around a six-minute walk.
Surrounding properties in the Lucky Heights area are mostly landed – so this area is quite private and serene. But we don't know if this atmosphere can be preserved, given the huge changes to come. Do note there are already three large condos at the nearby Bayshore Road (Bayshore Park, Costa Del Sol, and The Bayshore) – and adding HDB flats nearby will likely add to traffic and noise.
The Summit is barely affordable to HDB upgraders right now, with transactions of 1,200+ sq. ft. units just breaking the $2 million mark (for higher floors). It's unlikely to stay this way for long too, given the pace of changes in Bayshore.
It also has good redevelopment potential, with just 242 units on a freehold plot of 323,271 sq. ft. Plus, maintenance is a plus point, as it has been repainted recently, and major works done to maintain the swimming pool.
As an added plus, do note there's a huge preschool (Alphabet Playhouse) just across the road, and the famous Hua Yu Wee Chinese restaurant is also around this area.
The most recent profitable transaction was one that was bought in Oct 2019, and resold just 3 years later in Oct 2022 at a profit of $513,000.
5. One Fort
Location: 1 Fort Road (District 15)
Developer: CES-Fort Pte. Ltd.
TOP: 2005
Number of units: 79
We would consider One Fort to be almost a boutique project, as it has just 79 units. The uptick in price isn't just due to exclusivity though. This once inaccessible condo will benefit from Katong Park MRT Station (TEL), which is only about a five-minute walk. This is just two train stops away from the Katong lifestyle hub (close to The Sea View in point 3).
Families will notice that Dunman High is within walking distance (roughly eight minutes), while Broadrick Secondary and Chung Cheng are both within the one kilometre-enrolment distance.
Dunman High is also across the road from Singapore Swimming Club, so members may find One Fort convenient (but not as much as Waterside, which is right next to the club).
One Fort also has more nearby amenities than a first glance suggests. If you walk around six minutes toward Jalan Batu Park (along Mountbatten Road), you'll be within a well-developed HDB enclave. There's a hawker centre here, as well as a small NTUC outlet and a minimart. For more heavy-duty shopping, however, you'll need to travel out.
We would look for a higher floor unit here, as One Fort is a bit close to a busy road.
While there hasn't been a transaction at One Fort for a year, the last notable transaction was a 1,227 sq. ft. unit bought in September 2017 and sold in July 2022 for a profit of $870,000.
For more interesting properties, and in-depth reviews of new and resale condos, follow us on Stacked. We'll keep you updated on the recent trends and news in the Singapore property market.