Property Picks
20 Cheapest Executive Condos In Singapore In 2023 (From $754 PSF)
Ryan J
May 20, 2023

4

min read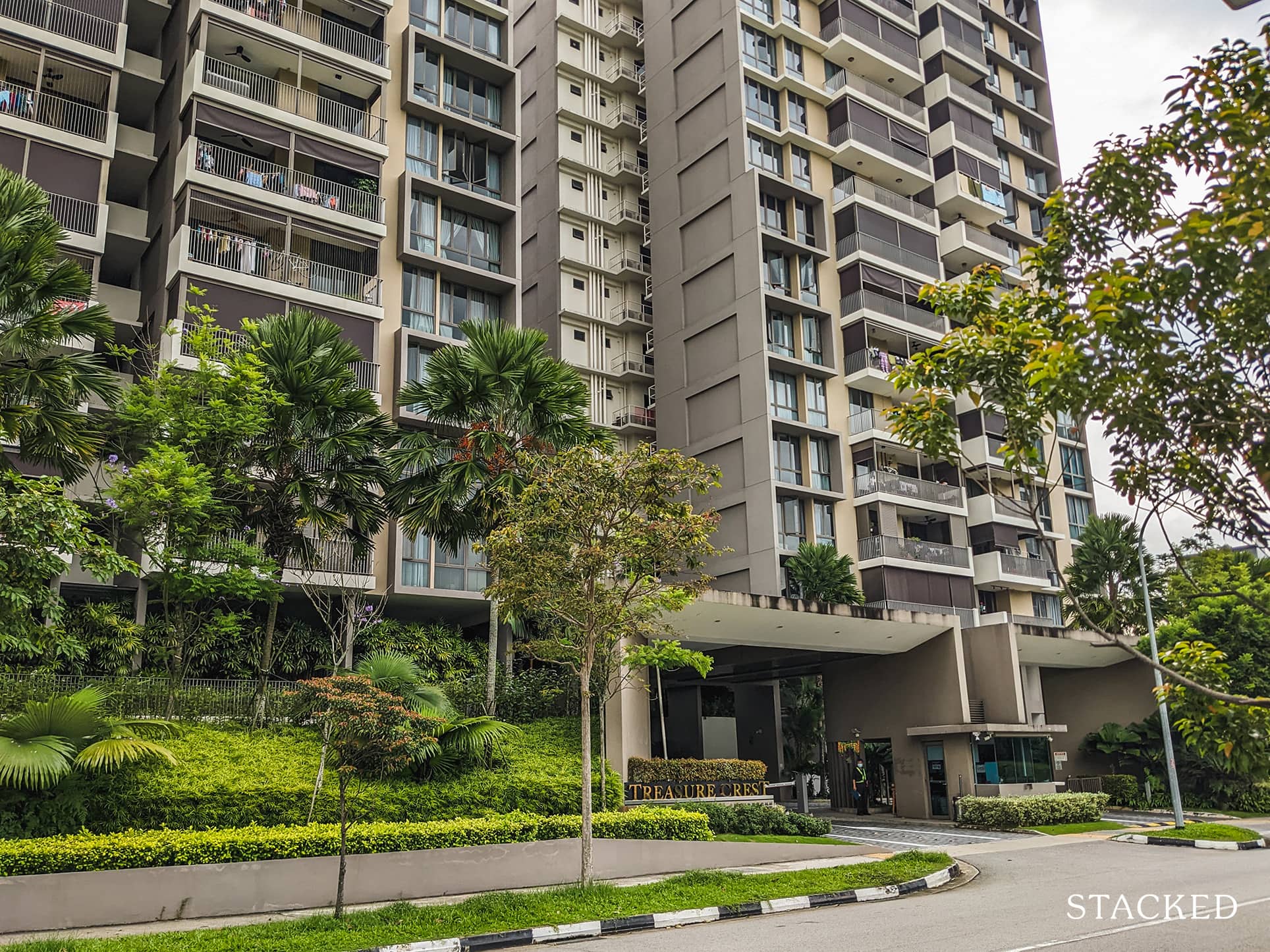 4
min read
Resale condos, and in particular resale ECs, have been on the minds of buyers in 2023. It's not surprising, given the combination of high-priced new launches, and the lack of upfront ABSD for upgraders (if you buy an EC before selling your flat, you still don't need to pay ABSD) and generally lower prices given their leasehold nature and location. For those willing to consider these properties, we've picked out the most affordable to date:
Most affordable resale EC prices:
| | | | | | |
| --- | --- | --- | --- | --- | --- |
| PROJECT | District | Planning Area | Completed Year | Avg Unit Price ($ PSF) | Avg Transacted Price ($) |
| NORTHOAKS | 25 | Woodlands | 2000 | $762 | $1,032,749 |
| WOODSVALE | 25 | Woodlands | 2000 | $768 | $1,009,115 |
| THE FLORAVALE | 22 | Jurong West | 2000 | $800 | $1,147,342 |
| LILYDALE | 27 | Yishun | 2003 | $807 | $985,085 |
| SUMMERDALE | 22 | Jurong West | 2000 | $820 | $1,094,062 |
| WINDERMERE | 23 | Choa Chu Kang | 1999 | $829 | $1,199,190 |
| CHESTERVALE | 23 | Bukit Panjang | 1999 | $843 | $1,233,114 |
| YEW MEI GREEN | 23 | Choa Chu Kang | 2000 | $857 | $1,150,027 |
| LA CASA | 25 | Woodlands | 2008 | $892 | $1,023,371 |
| EASTVALE | 18 | Pasir Ris | 1999 | $892 | $1,136,086 |
| WHITEWATER | 18 | Pasir Ris | 2005 | $901 | $1,046,585 |
| PINEVALE | 18 | Tampines | 1999 | $903 | $1,215,667 |
| THE ESPARIS | 18 | Pasir Ris | 2005 | $906 | $1,245,250 |
| SIMEI GREEN CONDOMINIUM | 18 | Tampines | 1999 | $910 | $1,090,990 |
| THE FLORIDA | 19 | Hougang | 2000 | $911 | $1,232,061 |
| THE QUINTET | 23 | Choa Chu Kang | 2006 | $913 | $1,295,543 |
| WESTMERE | 22 | Jurong East | 1999 | $926 | $1,117,000 |
| THE CANOPY | 27 | Yishun | 2014 | $934 | $1,010,606 |
| THE RIVERVALE | 19 | Sengkang | 2000 | $938 | $1,217,667 |
| THE EDEN AT TAMPINES | 18 | Tampines | 2003 | $953 | $1,138,520 |
Source: URA
Note that there's no upfront ABSD payable for ECs, if you're upgrading from an HDB flat. You can buy your EC first and then sell your flat within six months.
The five-year Minimum Occupancy Period (MOP) doesn't apply to resale EC buyers, so you can sell or rent out the whole unit right away (although the Sellers Stamp Duty still applies if you sell the unit within the first three years).
Most affordable ECs on the list
Northoaks
Woodsvale
The Floravale
Lilydale
Summerdale
1. NorthOaks
Location: 20 Woodlands Crescent (District 25)
Developer: Hong Leong Holdings Pte. Ltd.
Lease: 99-years
TOP: 2000
Number of units: 720
NorthOaks was completed back in 2000, so this is a fully privatised EC. The low cost is likely due to a cluster of comparable projects nearby (e.g., Northwave and Woodsvale below), and the distance to the MRT station.
You can walk to Admiralty MRT station (NSL) from NorthOaks, but it's not as close as some listings advertise. It's somewhere in the vicinity of a 12-minute walk. If that's too far, you can use the bus to get to the MRT (bus 969, a few minutes walk from the condo, will connect to the station).
Nonetheless, we'd consider this good as most ECs are much further from the MRT.
NorthOaks is also quite far from major retail centres, but it does share some day-to-day amenities with the HDB flats nearby. There is, for instance, a Sheng Siong near Woodlands Pasture II, and a preschool at Woodlands Block 688C; these are within walking distance.
This is a good project for those who also enjoy quiet HDB areas, and prefer not to have a noisy MRT station or mall right next door (although you are located right next to an industrial area).
This project is next to Woodsvale, below.
2. Woodsvale
Location: 1 Woodlands Drive (District 25)
Developer: CapitaLand
Lease: 99-years
TOP: 2000
Number of units: 696
Woodsvale is next to NorthOaks (above), but it has one distinct advantage: it's a bit closer to Admiralty MRT station, and probably shaves about three to four minutes off the walking time (about nine to 10 minutes).
Other than that, the two are quite comparable in terms of location, price, and unit sizes – so it will come down to personal preference over layouts. Even the facilities are largely comparable, though Woodsvale doesn't have squash courts.
Some units do border the Woodlands Crescent Park, so you do have better unblocked views and an overall better location here.
3. The Floravale
Location: 218 Westwood Avenue (District 22)
Developer: CapitaLand/Pidemco Land
Lease: 99-years
TOP: 2000
Number of units: 754
The low prices at The Floravale are due to accessibility issues, but this is likely to be resolved in 2026. Once the Jurong Region Line starts up in 2026, it will include Gek Poh MRT station – based on available plans, this seems to be within close walking distance of Floravale.
Gek Poh will connect to Jurong East in three stops, including one change of train at Boon Lay. This will provide decent access to Singapore's "second CBD" in the west.
For now, however, you'll be reliant on bus 181 and 185 to get around; so transport is not especially convenient.
Fortunately, the surrounding HDB area provides a lot of amenities. Gek Poh Shopping Centre (an HDB-run mall) provides a food court and some other eateries; and you'll find the usual minimarts and convenience outlets among the HDB blocks. There's also a Sheng Siong if you walk a bit further toward Jalan Bahar.
For the time being, this is a better condo for those who own a car.
This development is also known for its bigger-than-average units. Most notably, its 3+1 room configurations go up to a huge 2,303 sq.ft. (although much of it is due to a large patio), and this development also has 4-bedders reaching up to 2,746 sq. ft.
4. Lilydale
Location: 550 Yishun Avenue 6 (District 27)
Developer: CapitaLand
Lease: 99-years
TOP: 2003
Number of units: 319
Don't let the low prices fool you, Lilydale has been an absolute goldmine for many owners. We recall that back in December 2001, at the time developer sales started, this EC averaged a mere $353 psf!
Lilydale benefits from proximity to the Yishun HDB blocks, and the immediate area is quite well-developed. Yishun Ring Road is home to a small HDB shopping centre (Yishun Mall), as well as an NTUC FairPrice and a Giant. Toward Block 428A, you'll fund the Yishun Park Hawker Centre. All of this is within walking distance of Lilydale. You are also right next to Nee Soon East Park, which is good for those looking for some green respite.
The buses right outside the condo connect to Yishun Interchange, where you'll find the large and popular Northpoint Mall and NSL train station.
The only drawback is you need to use the bus-to-train connection, as Lilydale itself is far from any MRT station. Also, there's not much in the way of entertainment or major retail in the immediate surroundings.
That said, with just 319 units it is one of the smaller ECs around, so it's good if you prefer something less crowded.
5. Summerdale
Location: 2 Boon Lay Drive (District 22)
Developer: Boon Lay Executive Condominium Pte. Ltd.
Lease: 99-years
TOP: 2000
Number of units: 432
Summerdale is within something of its own enclave. Most of the amenities you'll need are nearby – from Boon Lay Shopping Centre (eight minute's walk) to typical HDB amenities (laundromats, minimarts, convenience stores, handphone repair shops, etc.)
Near Boon Lay Shopping Centre, you'll also find Boon Lay Market and Food Centre; and a famous Mookata outlet. Besides this, a number of schools – including River Valley High, Dunearn Secondary, and Boon Lay Garden Primary are just a few minutes walk from this EC.
It is also about a 12-minute walk to Boon Lay MRT station, where you'll find the ever-present East West line and the future Jurong Regional line. This is also where you will find Jurong Point (which has a 24 hour NTUC Xtra), as well as many other shops and eateries. Jurong Central Park is just located there too, and you are just a short bus ride away from the huge Jurong Lake Gardens, which is always a draw for nature lovers.
For more lists of affordable homes, follow us on Stacked. We'll also provide you with in-depth reviews of new and resale properties alike, so you can make better housing decisions.