Commentary
10 Of The Most Expensive Homes In Singapore Ever Transacted (Starting From $63 Million)
Ryan J
November 16, 2023

6

min read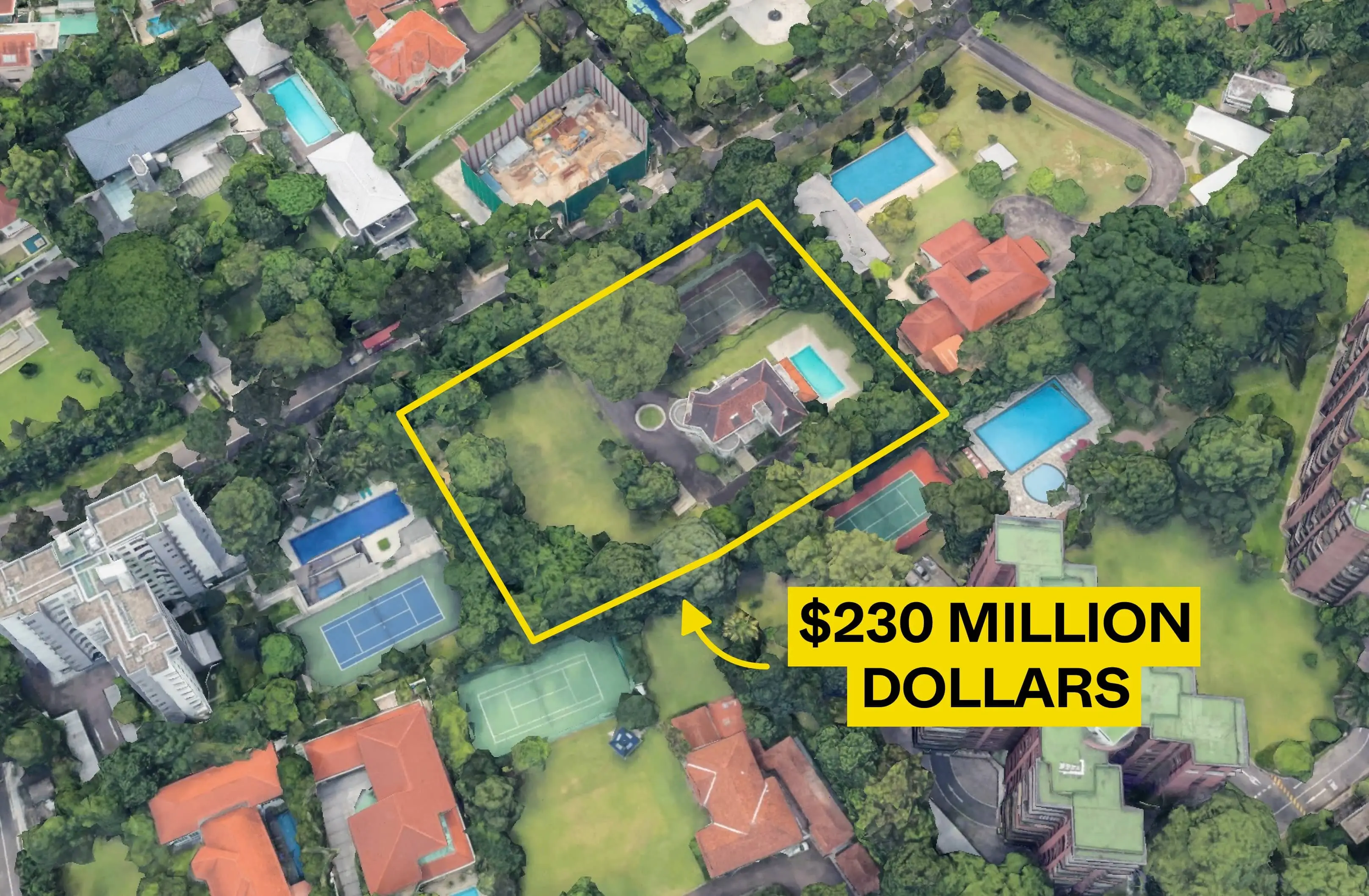 6
min read
How expensive can a single property get in Singapore? Imagine $230 million, which is the highest we've found to date. That's enough money to buy a plot for a whole new project, let alone a single house.
In the following, we tracked down all the highest, most eye-popping transactions we've been able to find to date; so if you're aspiring to be in the top one per cent (or maybe the top one per cent of the one per cent), this will help you set some homeownership goals:
Disclaimer: There may possibly be more transactions that we aren't aware of as not all transactions are lodged with URA.
Most expensive houses in Singapore
| | | | | | | | |
| --- | --- | --- | --- | --- | --- | --- | --- |
| Project Name | Price | Size (Sqft) | $PSF | Sale Date | Address | Property Type | Tenure |
| Nassim | $230,000,000 | 84,543 | $2,721 | 10 May 2019 | 33 NASSIM ROAD | Detached House | Freehold |
| Nassim | $218,000,000 | 66,453 | $3,281 | 11 Jun 2018 | 14,14A NASSIM ROAD | Detached House | Freehold |
| Cuscaden | $145,000,000 | 25,741 | $5,633 | 20-May-16 | 9 CUSCADEN ROAD | Detached House | Freehold |
| Nassim | $128,800,800 | 32,160 | $4,005 | 26-Mar-21 | 30 NASSIM ROAD | Detached House | Freehold |
| Dalvey | $93,900,000 | 52,059 | $1,804 | 25-Sept-18 | 81 DALVEY ROAD | Detached House | Freehold |
| Ridout | $91,688,888 | 73,278 | $1,251 | 19-May-15 | 35 RIDOUT ROAD | Detached House | Freehold |
| Queen Astrid Park | $86,000,000 | 31,807 | $2,704 | 19-Jul-21 | 11 QUEEN ASTRID PARK | Detached House | 999 yrs from 01/09/1876 |
| Les Maisons Nassim | $75,000,000 | 12,077 | $6,210 | 22-Oct-21 | 14C NASSIM ROAD #05 | Condominium | Freehold |
| Wallich Residence | $73,800,000 | 21,108 | $3,496 | July 2019 | 3 WALLICH STREET #62 | Apartment | 99 yrs from 21/02/2011 |
| Leedon | $73,000,000 | 44,435 | $1,643 | 23-Sept-20 | 17A LEEDON PARK | Detached House | Freehold |
| Les Maisons Nassim | $68,000,000 | 11,227 | $6,057 | 17 Oct 2022 | 14B NASSIM ROAD #05 | Condominium | Freehold |
| Bishopsgate | $65,000,000 | 29,435 | $2,208 | 8-Jul-21 | 3 BISHOPSGATE | Detached House | Freehold |
| Cluny | $63,700,000 | 14,844 | $4,291 | 23-Apr-21 | 2 CLUNY HILL | Detached House | Freehold |
Source: URA
About Queen Astrid Park and Les Maisons Nassim
These are the only two that appear by name, whilst the others are standalone developments.
Queen Astrid Park has been a residence for the rich since before the Japanese occupation. This is a GCB area, and the name is a reference to Astrid of Sweden (then Queen of Belgium), and in the '60s it was actually owned by New Zealand. By the 1970s, it was where some of Singapore's most financially successful resided, including Runme Shaw.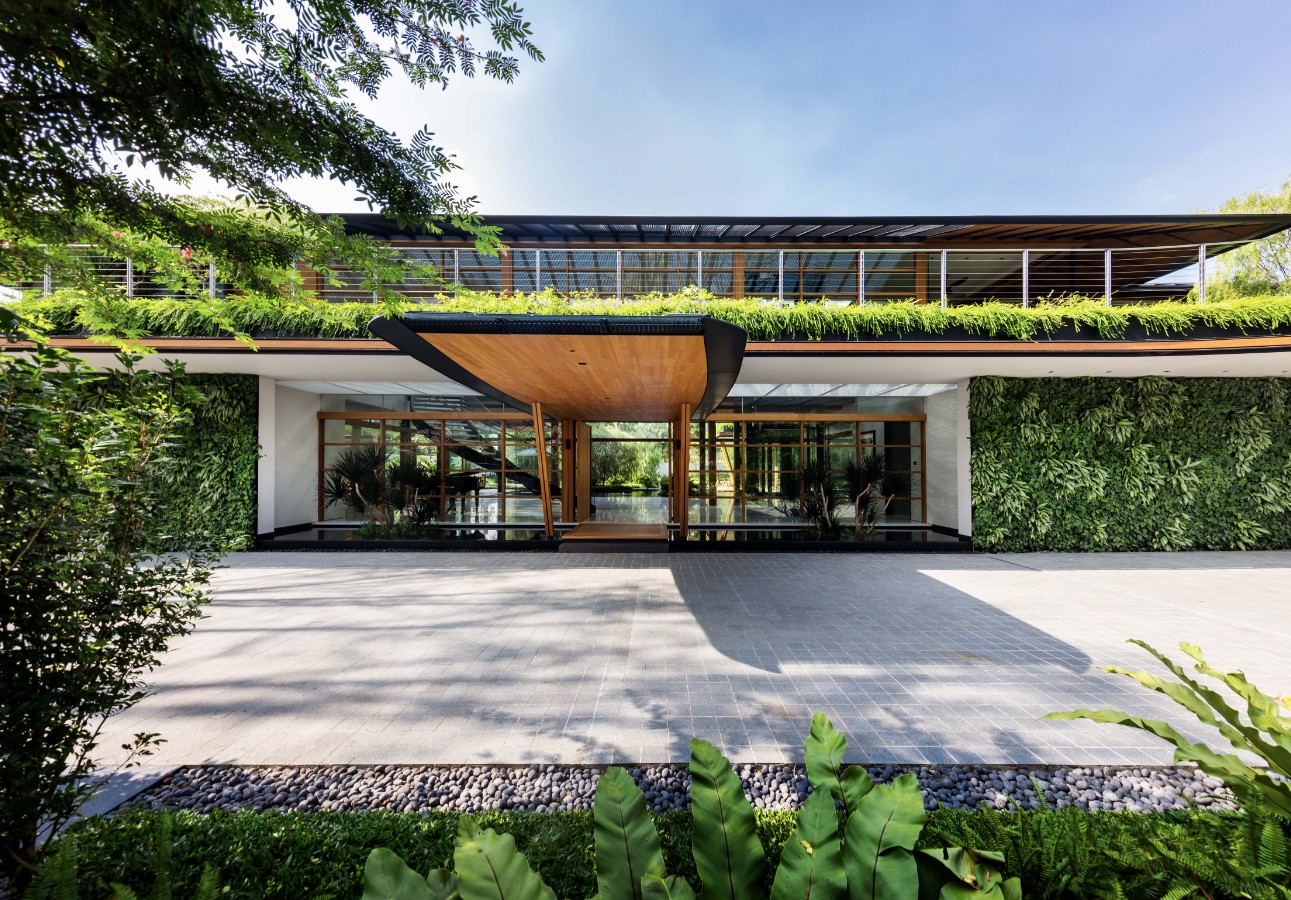 As of today, Queen Astrid Park has garnered attention for a rather notorious reason: being entangled in a billion-dollar money laundering scheme in Singapore. A home here was rented out to one of those implicated, with reports of $200,000 per month or about $2.4 million per year in 2022, and even rejected offers of $380,000 per month for another unit.
Apart from the decades of accrued prestige, the main draw for Queen Astrid Park homes is its proximity to Holland Village. It's far enough from the Holland V hub that the residents don't get any noise or traffic, but it's barely three to four minutes to drive there; and further development of One-North into a tech and media hub is helping to maintain values.
That said, we do hear one common gripe about living in Queen Astrid Park: there are no schools except Henry Park Primary in enrolment distance, which can make it hard to get into certain choice institutions. Some residents there also warn that you'd be best be ready to drive out and pick up your children all the time, as it's a long walk in for some houses (one reader complained of a 15 + minute walk, from where Sixth Avenue turns into Queen Astrid Park Road.)
Les Maisons Nassim, on the other hand, is a new name in Singapore; this boutique project with just 14 houses is only being completed this year. This is in the most prestigious Nassim enclave in Singapore, despite being close to the Tanglin/Orchard area (it's less than a five-minute drive out onto Orchard Road proper.)
Les Maisons Nassim actually appears on the list twice, another time as 14 and 14A Nassim Lane.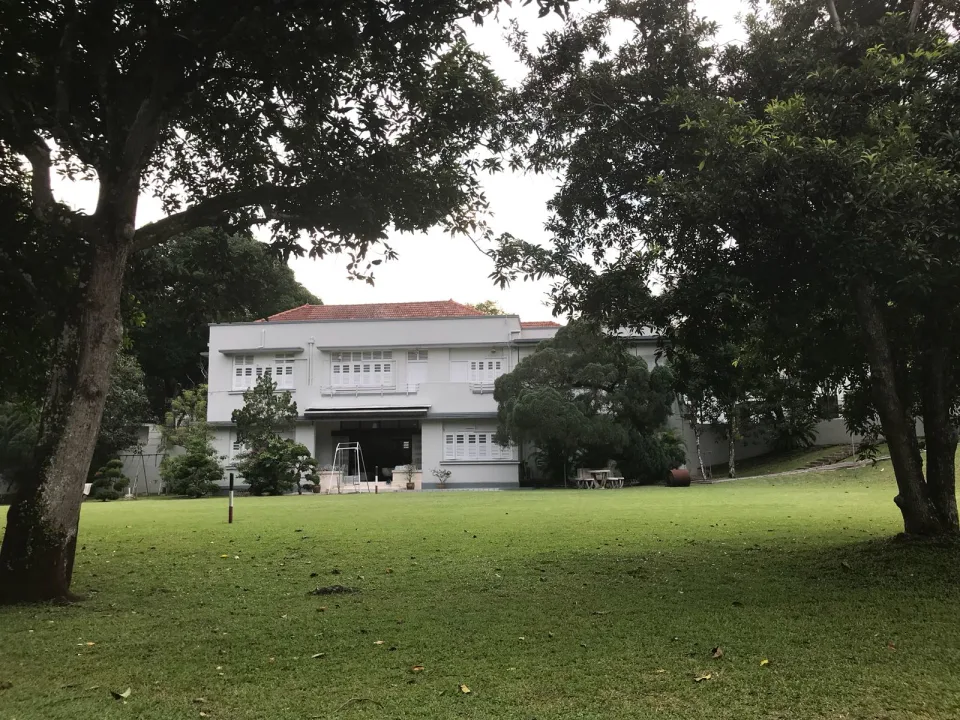 Under the old address, it was a 66,452 sq. ft. bungalow. The previous owners were said to be the Tan family, who own the investment advisory firm Siang Kuang. At the time it used to consist of the main bungalow, and three smaller main buildings. For some time before its purchase by Shun Tak (Stanley Ho's property firm), it was considered one of the most desirable addresses in the Nassim area.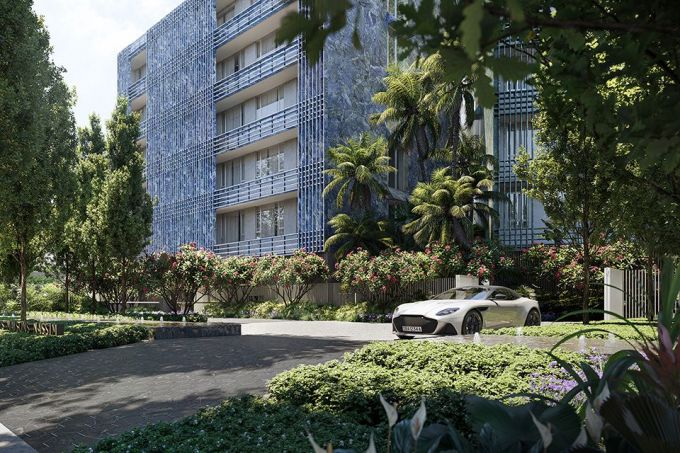 As for its redevelopment, Les Maisons Nassim has got to be the most ultra-luxurious non-landed residential property in Singapore. Its launch was in 2021, and the developer managed to sell out the 14 units quite fast despite the high quantum (which quite amazingly, starts from $30 million). This is an ultra-lux property that's likely to be a pure owner-occupier's indulgence as the most expensive unit was sold at $75 million – the largest penthouse at 12,077 sq. ft.
The most expensive recorded transaction was at 9 Cuscaden Road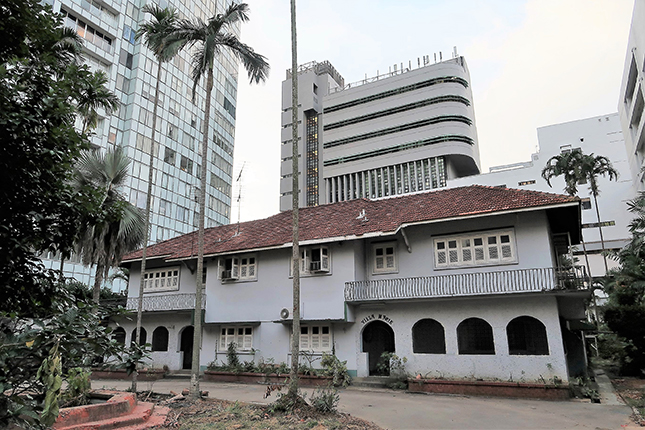 9 Cuscaden is a 25,740+ sq. ft. bungalow, which was previously the legacy of Malacca-born businessman Tan Tock Seng. It's located right next to Tanglin Shopping Centre. The bungalow was bought for $145 million by Stanley Ho, a casino tycoon from Macau, in 2016.
However, we're not sure this can fully count as a "residential" transaction, as 9 Cuscaden is an uncommon property that can be used for either residential or hospitality (the owner just has to make the relevant applications.) In any case, this is now the site of the new Artyzen Hotel in Singapore.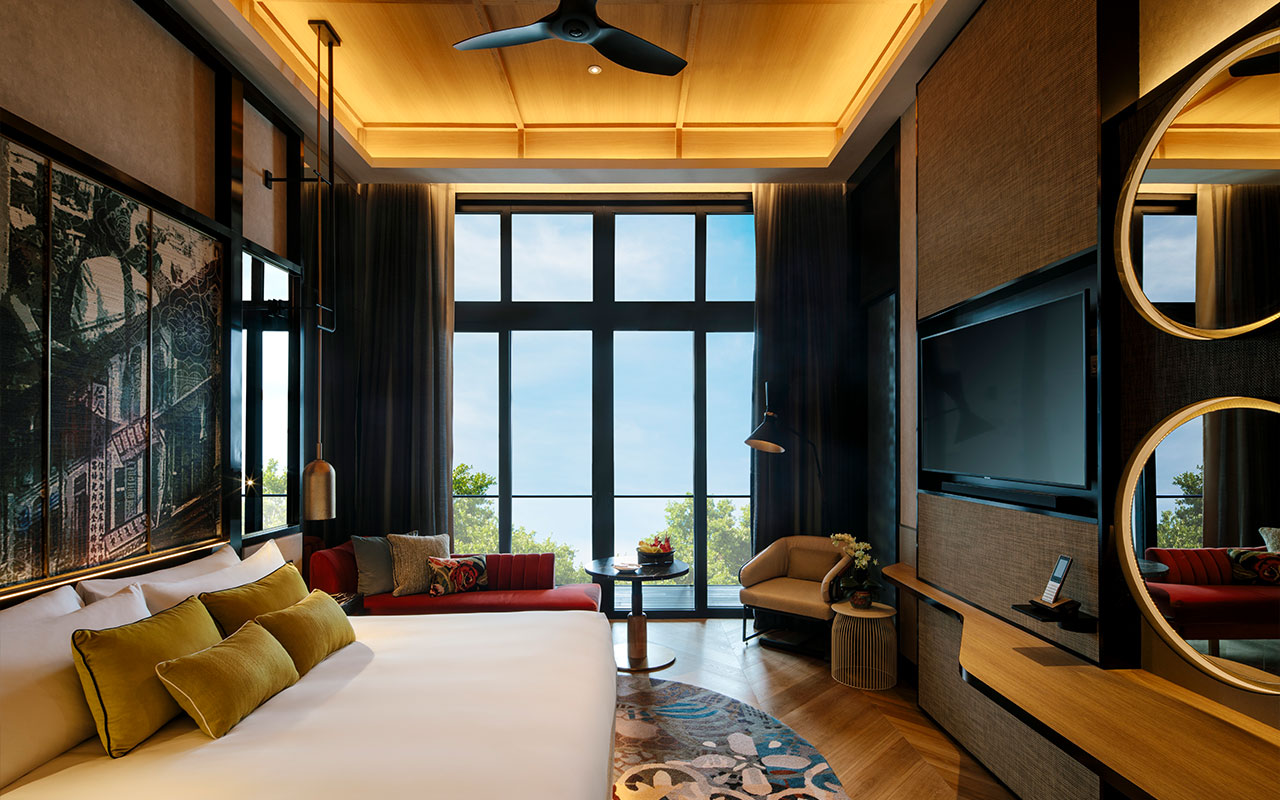 33 Nassim Road
This is one of the biggest Good Class Bungalows (GCBs) sold to date, and the $230 million makes sense if you grasp the size of the plot.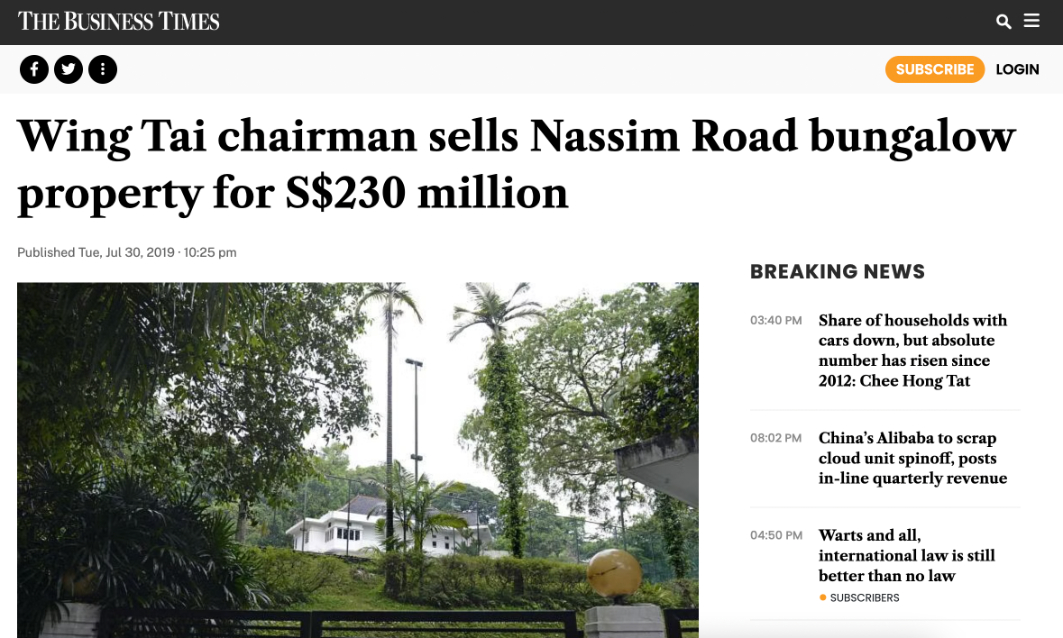 It's a whopping 84,544 sq. ft., so it's roughly $2,720 psf. That's still on the high side, but not unreasonable as this is one of the most iconic GCBs in Singapore. It remains the single largest property in Nassim, and the price tag also includes a tennis court and swimming pool. The shape of the land parcel may also have factored into the price: it's almost a perfect rectangle, making it easy to subdivide into multiple bungalows if needed (but that would be a waste of the two-storey mansion that currently sits on it).
84,544 sq. ft., by the way, is sufficient space for about four new GCBs; so maybe it's more appropriate to think of 33 Nassim as a small estate, rather than a single bungalow.
This property originally belonged to property tycoon Cheng Wai Keung, the chairman of Wing Tai Holdings, and the buyer was an entity (a Singapore-based trust). Given the nature of the buyer, this probably wasn't a regular residential transaction – it may be more related to estate planning, or other financial considerations within the tycoon's family.
James Dyson's Penthouse (Wallich Residence)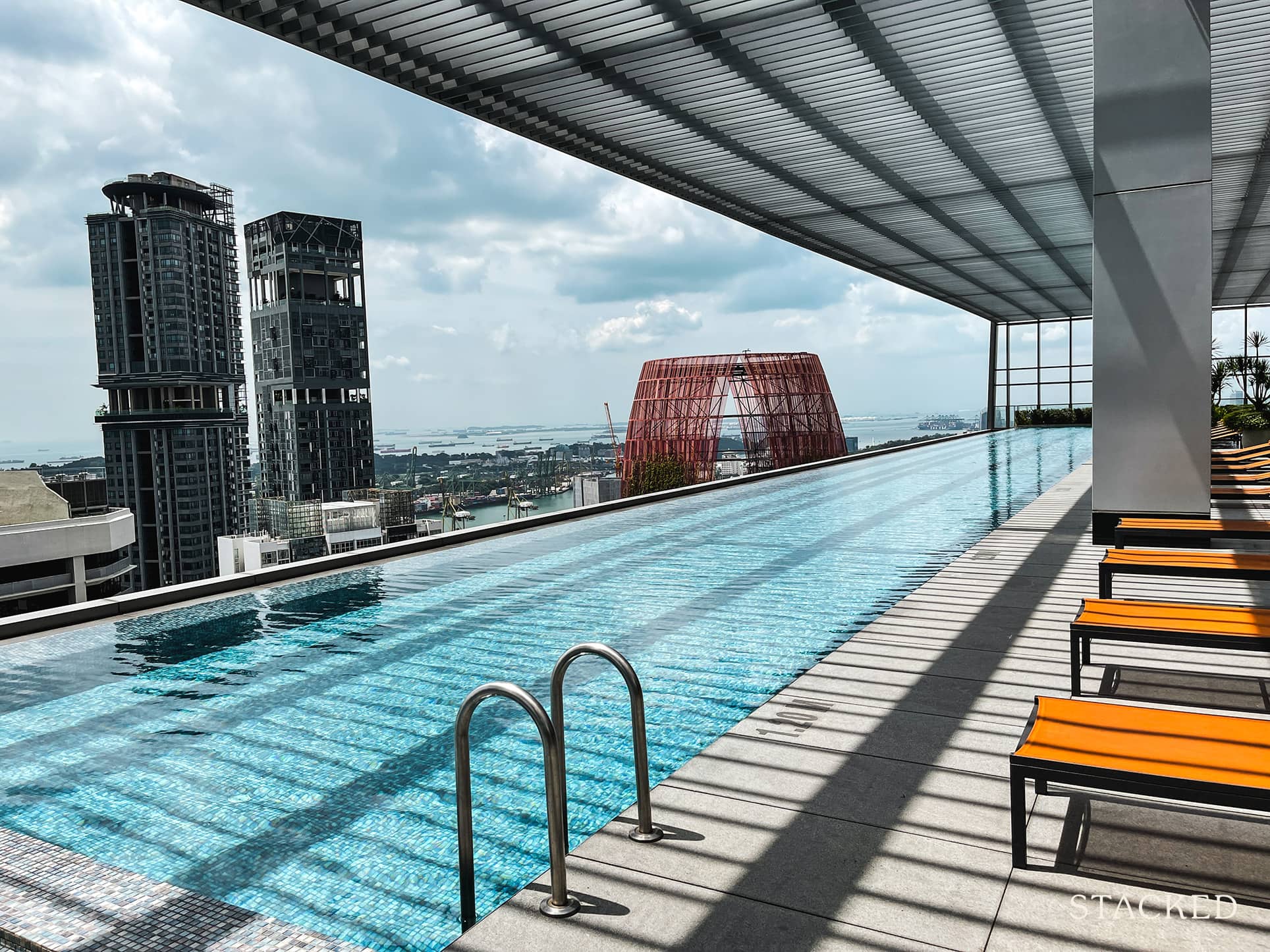 Most Singaporeans know Wallich Residence as Tanjong Pagar Centre; it's the building near Guoco Tower and Tanjong Pagar MRT, which is also an office tower and hotel. This is the tallest building in Singapore currently, and Sir James Dyson's $73.8 million penthouse is at the top (62nd to 64th floor). At the time of purchase, it was the most expensive penthouse unit in the country.
The three-storey, 21,108 sq.ft. unit includes a private sky garden with a viewing deck, a private pool, a 600-bottle wine "cellar", and a rooftop terrace with a cabana. We have also been told, but are unable to verify, that this penthouse is the largest non-landed residential unit in the whole of Singapore. It does seem plausible though, as searches have yet to turn up a bigger unit.
Intriguingly, Sir Dyson only held on to the penthouse for a single year. It was sold for $63 million in 2020, for undisclosed reasons. The buyer was Indonesian national Leo Koguan, co-founder of SHI International.
The other traits of the transactions reveal the commonalities between them
We don't think it will come as a surprise, but you can see the evidence for it here: the most valuable properties in Singapore tend to be freehold landed, and located within District 10.
Also of note is the price per square foot – notice how some can be priced much lower than even resale condos in these terms (e.g., 35 Ridout Road was priced at $1,251 psf), but the sheer size of the units still makes the overall quantum an overall eye-popping number.
For more on the Singapore property market, and interesting projects or transactions, follow us on Stacked. We'll also provide you with in-depth reviews of new and resale properties alike.