Property Picks
10 Newly Completed Condos In 2023 With Available Developer Units (The Latest List)
Ryan J
August 18, 2023

< 1

min read
< 1
min read
If you need to move in immediately but still want something as new as possible, then your best bet is any project that just received its Temporary Occupancy Permit (TOP). It's admittedly not the cheapest time to buy, and you're not getting the first picks – but sometimes you just don't have the luxury of time (or maybe you're a landlord, and want to start renting out the unit right away?).
Good news for those seeking the latest: 2023 does have a bumper crop of condos that have completed or are nearing completion, presenting ample choices.
Another avenue worth considering is scouting for finished projects that retain developer units. Such options can sometimes be more enticing due to flexible payment plans, potential discounts, or the chance to secure ID-furnished show flat units (at a premium, of course) for those who just want to move in right away.
Either way, here are some currently available options:
Note: As sales are ongoing, we can't guarantee the following will have units left by the time you read this. For more help, reach out to us directly at Stacked.
Completed condos that still have units left
| | | | |
| --- | --- | --- | --- |
| Project | Tenure | Total Units | Units Remaining |
| 10 Evelyn | Freehold | 56 | 29 |
| Boulevard 88 | Freehold | 154 | 14 |
| Cuscaden Reserve | 99 Years | 192 | 179 |
| Dalvey Haus | Freehold | 17 | 6 |
| Jervois Prive | Freehold | 43 | 29 |
| Jervois Treasures | Freehold | 36 | 32 |
| Kent Ridge Hill Residences | 99 Years | 548 | 1 |
| One Draycott | Freehold | 64 | 31 |
| Parksuites | 110 Years | 119 | 85* |
| Petit Jervois | Freehold | 55 | 30 |
Source: URA. *Only 7 units are released for sale.
Notable properties from the list:
You'll notice that a number of these properties are prime region/luxury condos. This is unsurprising, as it's the high-quantum units that are usually slower to move (and perhaps even harder at this current moment because of the latest 60% foreigner ABSD cooling measures).
Here are some of the more outstanding ones:
1. Boulevard 88
Location: 86 Orchard Boulevard (District 10)
Developer: Granmil Holdings Pte. Ltd.
Lease: Freehold
Number of units: 154
There are only 2+1 (two-bedder + study) units left for Boulevard 88. This is often an inverse relationship from mass market condos, where the smaller units are sold out first (in ultra-luxury projects the bigger units are typically snapped up first).
Read this next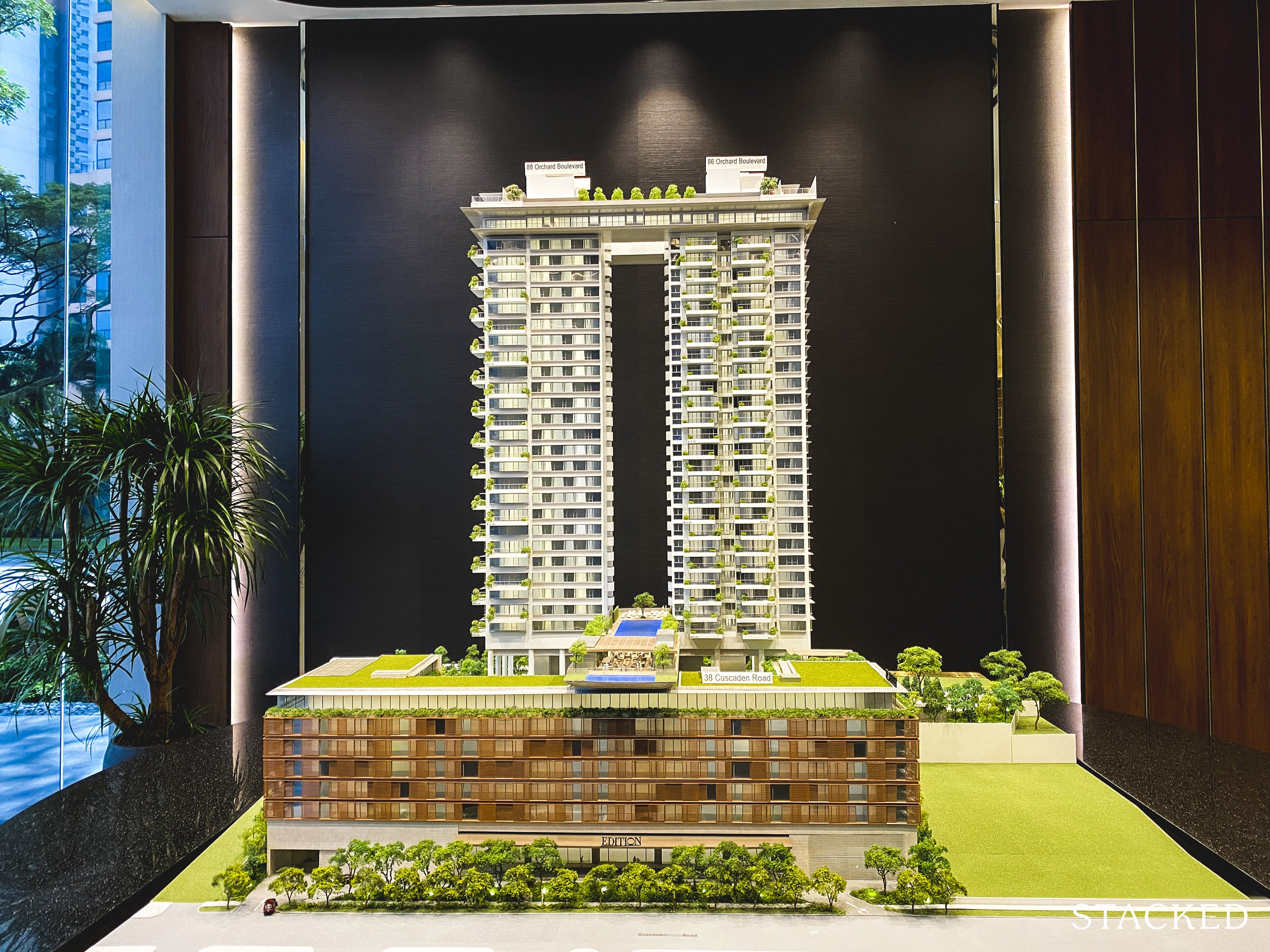 This is a small 154 unit freehold luxury development located next to the Four Seasons Hotel, along Orchard Boulevard. Although the Orchard area is already heavily built up, this a rare situation where there's a chance for further improvements to the neighbourhood.
Close to Boulevard 88 is Ming Arcade, an ageing "mall" that was really just a collection of bars and pubs (although back in the 1970s, Ming Arcade was of major importance to Singapore's music scene).
Ming Arcade, unfortunately, became a disamenity, adding a certain seediness to the area, as over time businesses like escort agencies began to set up there. But recently, Ming Arcade was bought over, and it's likely that a ritzy hotel will soon replace this building.
Meanwhile, Orchard Towers, a red light spot just a few minutes from Boulevard 88, is also being cleaned up; this is also likely to give the overall area a facelift. All in, we'd call it an upgrade to the neighbourhood (albeit at the loss of some exoticism),
In terms of accessibility, this condo is less than five minutes walk to Wheelock Place on the Orchard Belt, and the nearby Forum Mall also has preschools. Orchard MRT station (NSL, TEL) is about seven minutes away.
As an interesting aside, the taxi stands outside Forum and the nearby Orchard Towers are among the easiest places to get a cab on Orchard Road.
This project is well known for its similar profile to the world-famous Marina Bay Sands, with a rooftop pool. No surprises here, as it is designed by the same architect Moshe Safdie. It also shares its grounds with Singapore's first EDITION hotel, which may offer some benefits in the form of close proximity to the bars/restaurants.
2. 10 Evelyn
Location: 29 Newton Road (District 11)
Developer: Creative Investments Pte. Ltd.
Lease: Freehold
Number of units: 56
At 56 units, 10 Evelyn is considered a boutique project. It's close to other small, well-known condos, such as L'Viv and Pullman Residences, so this is something of a proven prime area. Investors, however, may dislike the number of potentially competing projects nearby, so 10 Evelyn is more for owner-occupancy.
This project is roughly 10 minutes away from Newton MRT (DTL, NSL) on food, which is also close to where the famous Newton food centre is located. The closest spot for day-to-day shopping needs is UE Square, which is roughly also a 10-minute walk.
While it is near good schools (like SJI (Junior) and ACS being within the one-kilometre enrolment distance). It's hard to thoroughly recommend 10 Evelyn as a condo for families given the lack of facilities for kids such as a playground or even a kid's pool. On the brighter side, Evelyn Road is also a lower-density area, mostly surrounded by landed housing, so there's some peace and quiet. The absence of kid-friendly facilities may also mean that some adults may find this a more adult-friendly home instead.
(Mind you, it's still in Newton, so expect to see some looming buildings in the distance).
Other than that, there's really only a pool and gym as the main facilities on offer (there's no barbecue/entertainment area). It is designed by Mok Wei Wei of W Architects, so it is certainly more well-designed than your typical small boutique condo, and some people may like the garden planters outside their balconies as an added benefit that they don't have to pay for.
There's a mix of units from 1 bedroom (starting from 495 sq. ft.), 2 bedroom (from 743 sq. ft.), and 3 bedroom penthouse units (1,421 sq. ft.) that are still available at this time of writing.
3. One Draycott
Location: 1 Draycott Park (District 10)
Developer: Champsworth Development Pte. Ltd.
Lease: Freehold
Number of units: 64
One Draycott is just next to Ardmore Park, so this is one of the most established private enclaves in Orchard. Several of Singapore's most luxurious condos are in striking distance of One Draycott, including Sculptura Ardmore across the road, and Nouvel 18 toward the direction of Shangri La.
From One Draycott, you can walk to the Orchard shopping belt in less than five minutes.
One Draycott is a short walk to the Palais Renaissance/Orchard Towers area, so this is another property that will benefit from the "cleaning up" of Orchard Towers (see above). Orchard MRT station (NSL, TEL) is less than 10 minutes away on foot.
This is a small development of just 64 units. In an area that's more well-known for large luxury units, One Draycott does stand out from the pack with just 2-bedroom units that are sized from 732 to 797 sq. ft. There are 2-bedroom penthouses too of 1,238 and 1,345 sq. ft., but these just come with higher ceilings as the main differentiator.
Given that most of the surrounding developments are old, One Draycott does look quite significantly different with its black and dark gold facade. It was designed by London-based CarverHaggard, with certain commissioned pieces (like the arrival structure and each unit's door) designed by British artists David and Anna Hiscock.
Every unit comes with a private lift too, so, with so few units as well, this may appeal to those who prefer privacy and exclusivity.
4. Dalvey Haus
Location: 101 Dalvey Road (District 10)
Developer: Dalvey Breeze Development Pte. Ltd.
Lease: Freehold
Number of units: 17
Dalvey Haus stands out as a freehold boutique condo with just 17 units, offering unit sizes that surpass the usual new launches. Given the size and pricing – starting above $6 million for a 3-bedroom – it might seem challenging to attract local buyers who may lean towards landed homes at that range.
However, for the discerning luxury market seeking spacious modern units combined with facilities and security, Dalvey Haus presents a compelling proposition. Located in a prestigious area, residents are merely a 12-minute stroll from the Nassim gate of the Singapore Botanic Gardens. Alternatively, an eight-minute walk leads to Stevens MRT (DTL, TEL), and from there, it's just one stop to Botanic Gardens MRT (CCL, DTL). Proximity to top schools like Singapore Chinese Girls' School and ACS offers an advantage for children's education.
For affluent parents aiming for a competitive edge in school enrollment, Dalvey Haus could be high on their list after a visit. There are just a couple of units left, with large 4-bedroom units sized from 2,164 sq. ft. to a gigantic 9,569 sq. ft one priced at $43.8 million.
5. Parksuites
Location: 18 Holland Grove Road (District 10)
Developer: Far East Organization
Lease: 110-years
Number of units: 119
Despite just having 119 units, Parksuites seems to be struggling to move units. It's only about 28 per cent sold so far. The price point, averaging $2,422 psf, is certainly not cheap; but it's not exceptional for 2023 either.
This could be due to the number of competing projects in the Holland V area, such as Van Holland and Hyll on Holland; some of these also have better MRT access than Parksuites. There's also the recently launched Pinetree Hill that is the closest current competitor, which besides the proximity to Henry Park, may be more appealing to most buyers with the level of facilities and spaciousness of its grounds.
But on the brighter side, Parksuites has the advantage of having a revamped park right at its doorsteps. It may be a public one, but having such open greenery for kids to play with is something that is rare to find in newer projects today. It also helps that there are also commercial units like Elixir Coffee and Wine or Cedele Bakery (along with a hair/nail salon and a ballet school), which adds further convenience to the area.
Also, the general location is peaceful, and it doesn't feel overcrowded at all given that you are situated in a landed area. It's peaceful, but barring Jelita Mall and its Cold Storage, there isn't much else in the area. Good for families that like privacy, but not for those who get bored with the silence.
For more serious shopping and entertainment, residents will probably want to drive out to the Star Vista, next to Buona Vista MRT station (EWL, CCL).
Families may also be eyeing the six-minute drive to Singapore Polytechnic, for children heading into tertiary education. This is only around a six-minute drive from this project.
For more lists and updates on the Singapore private property market, follow us on Stacked. We'll also provide you with an in-depth look at new and resale properties alike.