Property Picks
10 New Launch Dual Key Units Still Available In 2023 (To "Avoid" ABSD)
Ryan J
August 23, 2023

3

min read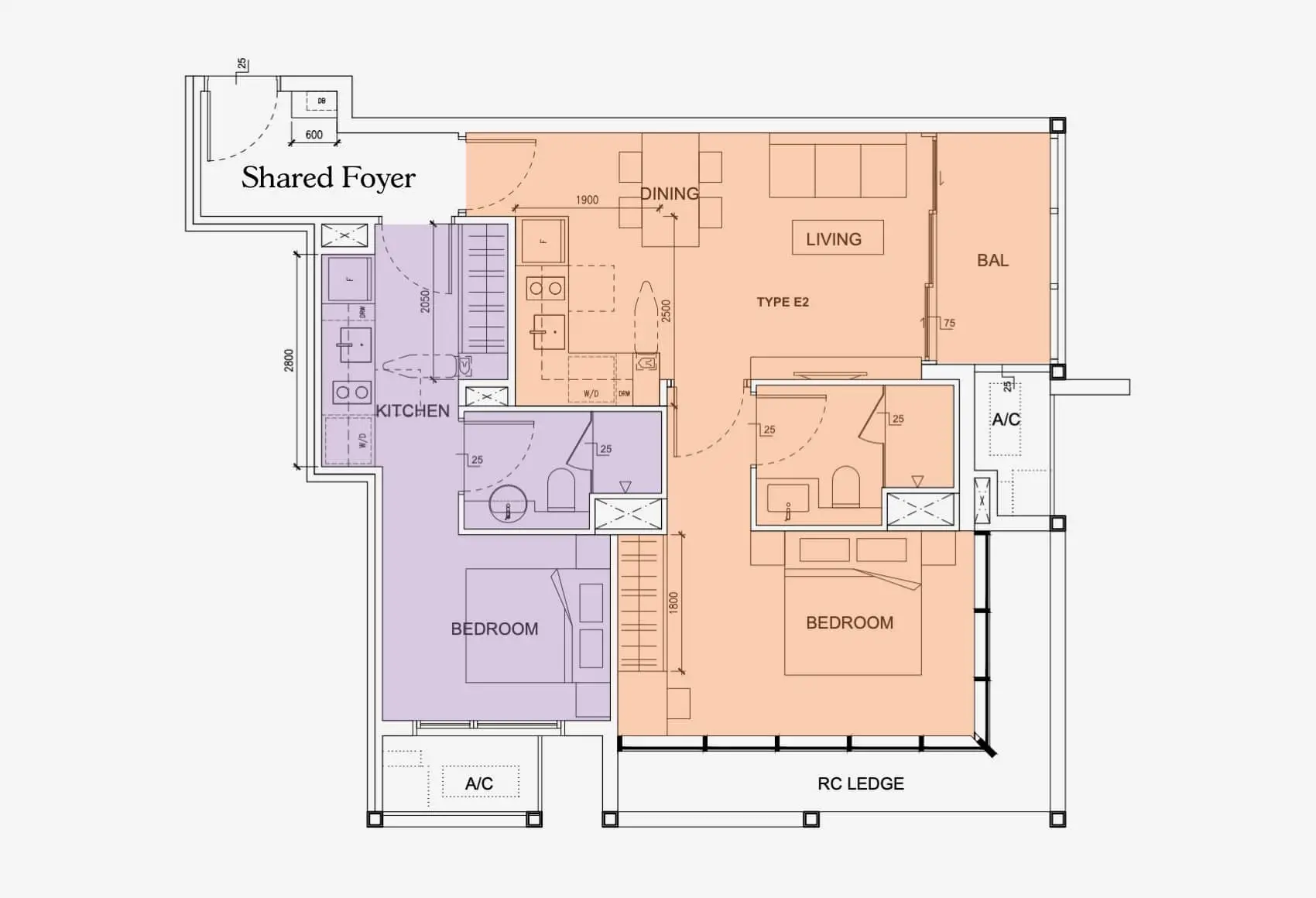 3
min read
With ABSD rates as high as it is (recently increased to 20 per cent from 17), some Singaporeans have started to look for various other options. While going overseas is one possible route, not everyone wants to deal with learning a whole new set of rules or dealing with risks such as currency.
That means getting creative, such as considering dual-key units instead. Or maybe, given the space constraints of newer condos, you just want a unit that can accommodate an extended family with some privacy. Here are some of the possible options right now:
Why dual-key units?
For a full description of this, check out our article on the intricacies of dual-key units. To quickly summarise: dual-key units separate a single unit into two different sub-units. While there's a common entrance, the two sub-units tend to be side-by-side with different front doors (hence the term dual-key).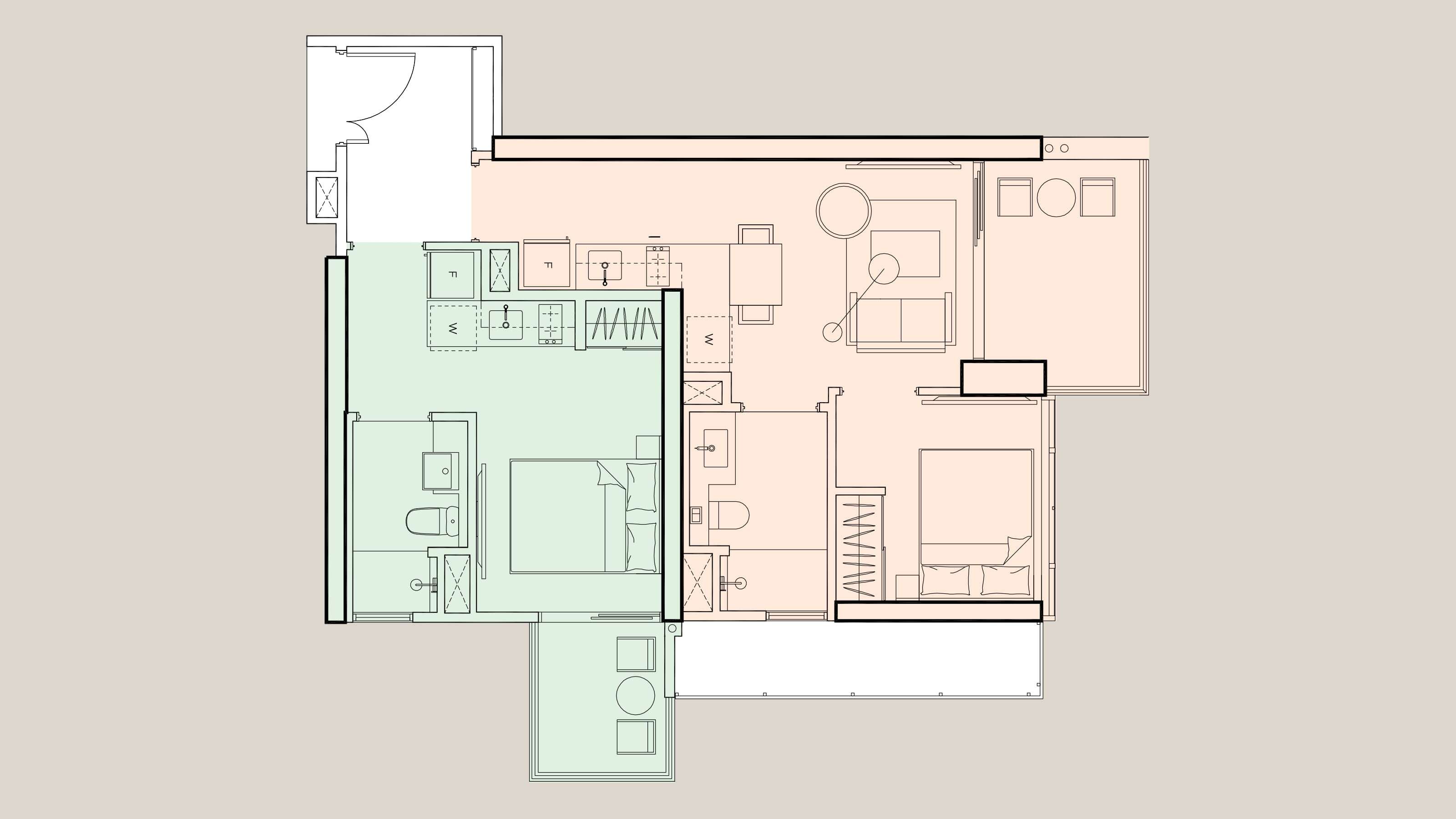 As both sub-units are considered the same condo unit, a dual-key unit only counts as one property. This means you could live in one sub-unit while renting out the other, and thus avoid paying ABSD for two properties.
Dual-key units are also used for extended-family living, as the in-laws or other family members can maintain their privacy, while under the same roof.
Note that if you are buying new, dual-key units are typically priced at a premium compared to normal units.
New launch units with dual-key units remaining
| | | |
| --- | --- | --- |
| Project | Remaining Units (As of 16 Aug 2023) | Unit Type |
| Parksuites | 2 | 4 Bedroom Triplex |
| Jervois Treasures | 1 | 3-Bedroom Dual-Key |
| Sunstone Hill | 1 | 3 Bedroom Dual-Key |
| Lavender Residence | 1 | 1 Bedroom + Studio (Dual Key) |
| Lavender Residence | 1 | 3 Bedroom + Study (Dual Key) |
| Lavender Residence | 2 | 2 Bedroom (Dual Key) |
| Lavender Residence | 2 | 3 Bedroom (Dual Key) |
| Sunstone Hill | 3 | 2 Bedroom Dual-Key |
| Orchard Sophia | 3 | 3 Bedroom Dual Key |
| Enchante | 4 | 3 Bedroom Dual Key |
| Lentor Hills Residences | 4 | 4 Bedroom Dual-Key |
| Lentor Hills Residences | 5 | 3 Bedroom Dual-Key |
| Grand Dunman | 11 | 2 Bedroom Dual Key |
| Parksuites | 1 | 3 Bedroom Dual Key |
| Blossoms By The Park | 15 | 3 Bedroom Dual Key |
| Grand Dunman | 31 | 3 Bedroom Dual Key |
| TMW Maxwell | 34 | 2 Bedroom Dual-Key |
Interesting condos from the list:
1. TMW Maxwell
Location: 31 Tras Street (District 2)
Developer: JV between CEL Development, SingHaiyi Investments and Chuan Investments
Lease: 99-Years
TOP: Est 2028
Number of units: 324 Residential + 11 Commercial
TMW Maxwell is one of the most contemporary projects to date, and is built around the theme of flexibility and spatial efficiency. The "flip/switch" concept includes a variety of built-in furniture that has different features (tables that fold out for dining and kitchen use, as well as beds), so that you can make full use of the space for a mixture of functions.
Along with its location, TMW Maxwell is better suited to the landlord set. It'll be easy to find tenants, given there are three different MRT lines within walking distance: The closest is Maxwell MRT (TEL), which is just four minutes away. But Tanjong Pagar MRT (EWL) and Telok Ayer MRT (DTL) are also less than 10 10-minute walk.
This is, overall, one of the most accessible new launches in the CBD area. Day-to-say amenities are also easier to find, as Tanjong Pagar is a major hub with a lot of eateries, malls, and shops. You do have 11 commercial units within the development too, and this will no doubt be one for the younger homebuyer to enjoy the live/work/play concept that the CBD will provide (soon enough).
Do note that units are generally smaller though, so this may not be an ideal family condo. Units are one and two-bedders, of which the dual-key units are among the largest at about 840+ sq. ft.
TMW Maxwell is worth a look if you don't mind having a tenant in the sub-unit, to offset your mortgage costs.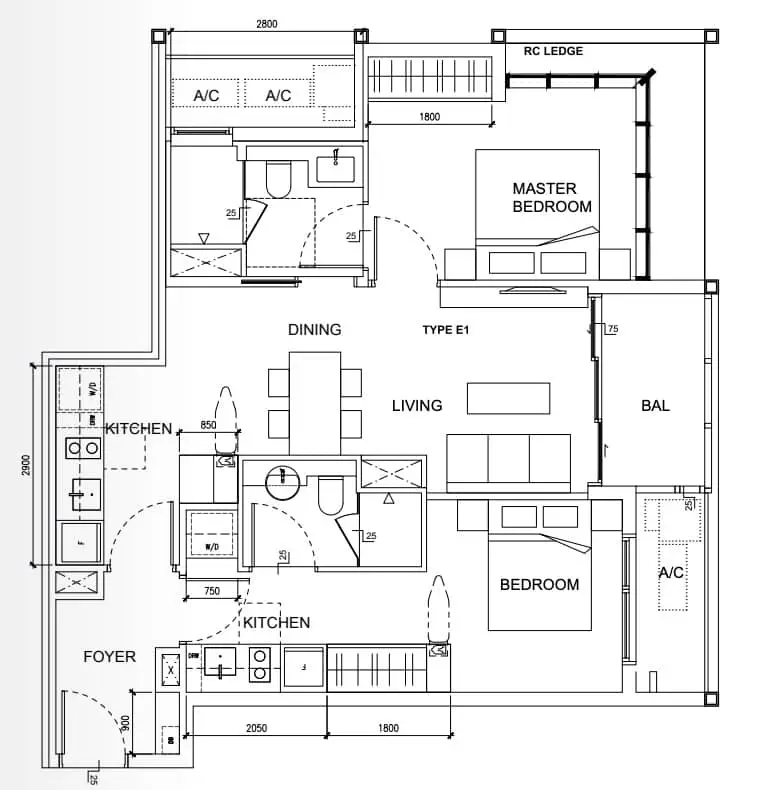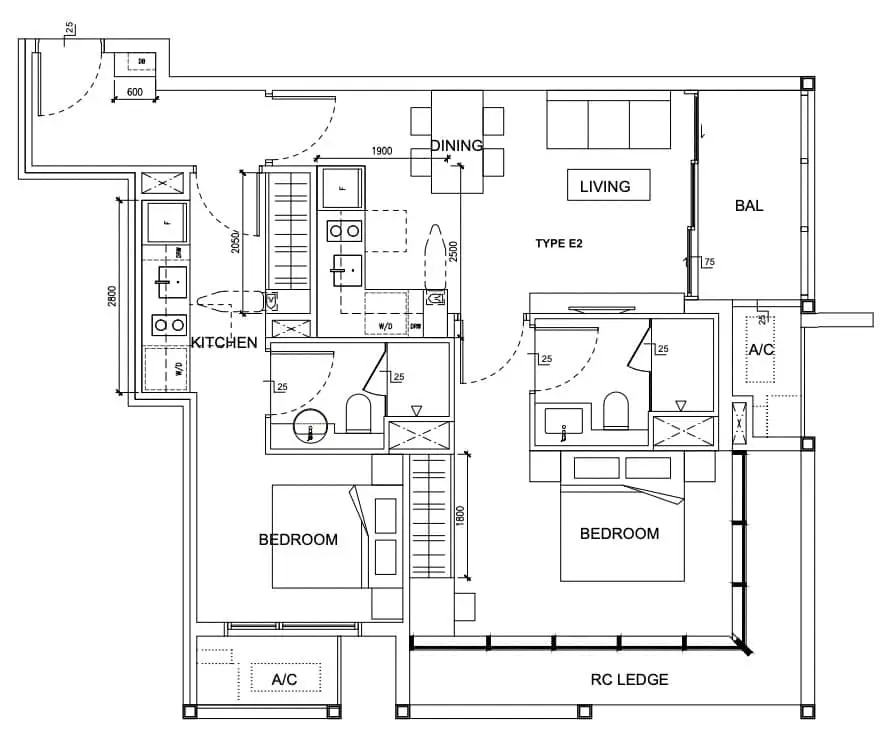 2. Parksuites
Location: Holland Grove Road (District 10)
Developer: Far East Organization
Lease: 99-Years
TOP: 2023
Number of units: 119
Parksuites is a quiet part of District 10, just across from Henry Park Primary School and Jelita Mall. The surroundings are mainly landed or lower-rise buildings, so this will appeal to those who like lower-density areas.
Read this next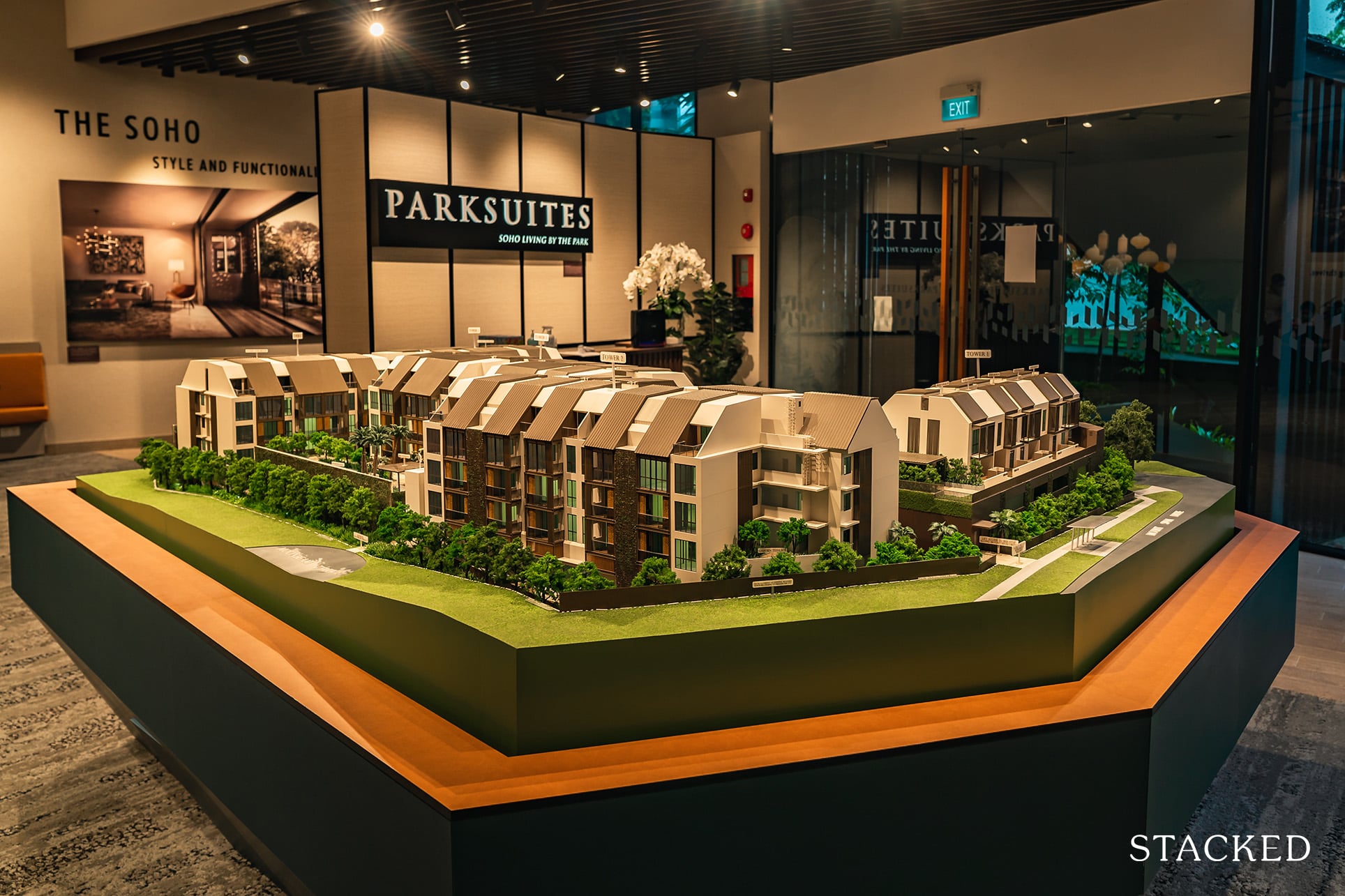 It's also quite convenient to have Jelita Mall so close; while this isn't a big mall by any means, there is a 24-hour Cold Storage and a Guardian pharmacy here. Be warned though, the mall is looking for a buyer, so we don't know if it will be there for much longer (the mall's location is attractive as it's on a 999-year plot).
Parksuites will appeal to those working in the Buona Vista area as well, being a roughly 10-minute drive to this area (where you'll also find Star Vista, one of the largest malls in the area).
It also has a unique attraction of a public park right outside the development, which admittedly also serves the rest of the landed enclave nearby (but it's almost like your own extension of land given how close it is).
Singapore Polytechnic is also close by, at around a six to seven-minute drive. This is also where the Dover MRT station (EWL) is located, but it's too far to walk.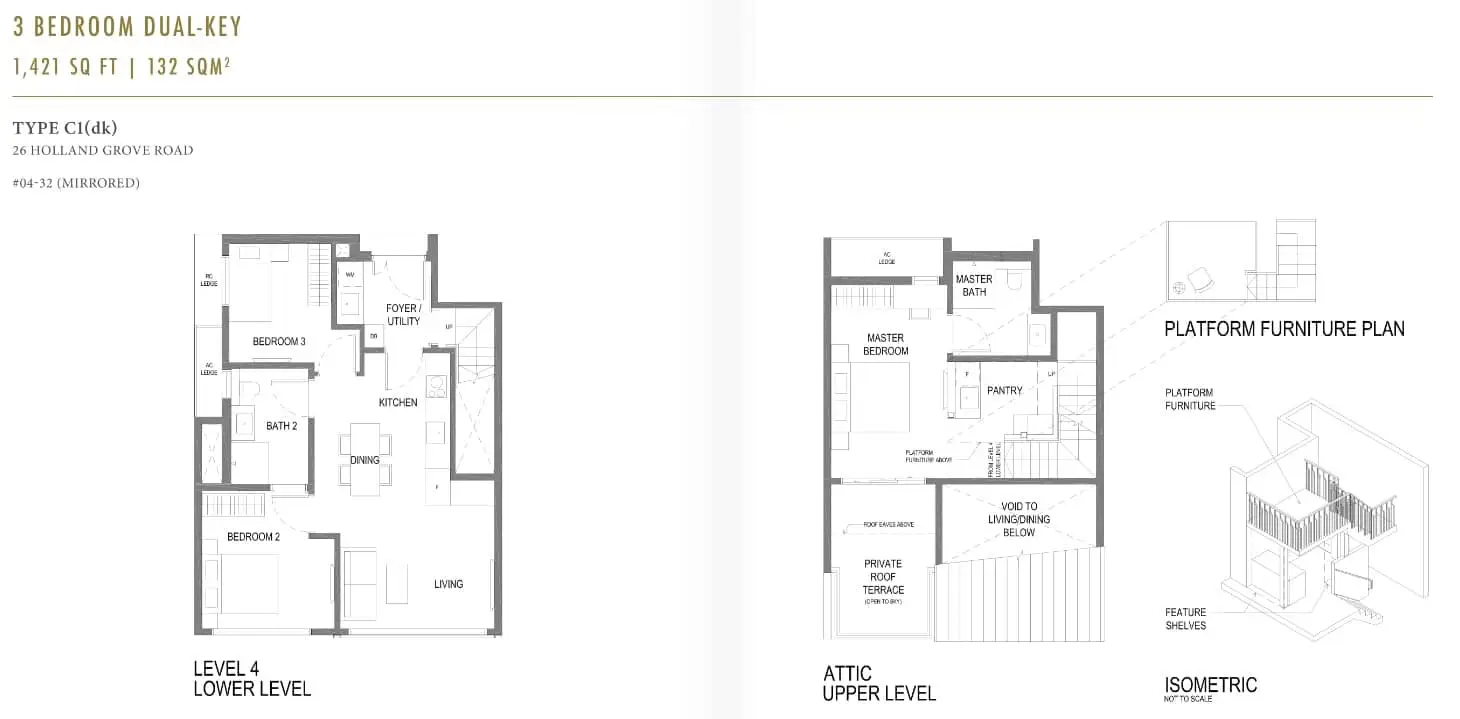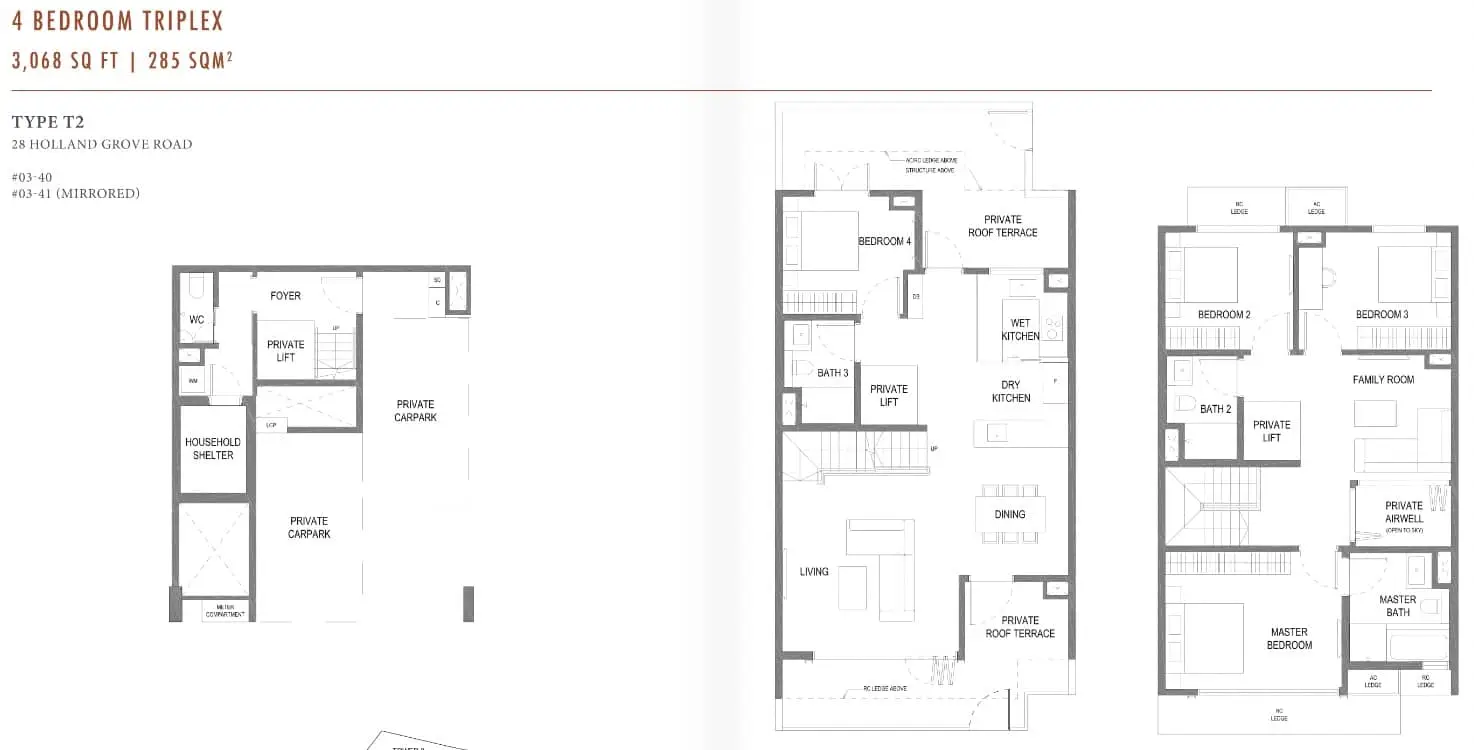 3. Grand Dunman
Location: 31 Tras Street (District 2)
Developer: JV between CEL Development, SingHaiyi Investments and Chuan Investments
Lease: 99-Years
TOP: Est 2028
Number of units: 324 Residential + 11 Commercial
Grand Dunman is one of the largest projects to launch in 2023, with 1,008 units. This development is more for families, so the dual-key units here will likely appeal to those living with in-laws or other extended family.
The project is located where Dunman Road meets Old Airport Road. This means the famous Old Airport Road food centre, as well as the NTUC FairPrice at Jalan Tiga, is within walking distance.
Dakota MRT station (CCL) is along the same stretch, and is directly across the road from Grand Dunman. This is one of the biggest appeals of the project, which is what sets it apart from its new launch competitors, Tembusu Grand and The Continuum.
Besides being in a foodie haven, Grand Dunman is close to some desirable schools. TKGS is the closest school at 550 metres (it is walkable at around 10 minutes), while Chung Cheng and Kong Hwa are both in priority enrolment distance.
Other selling points include the very generous 1:1 car park ratio (despite being so close to the MRT), and the facilities such as 80m swimming pool and 2 clubhouses.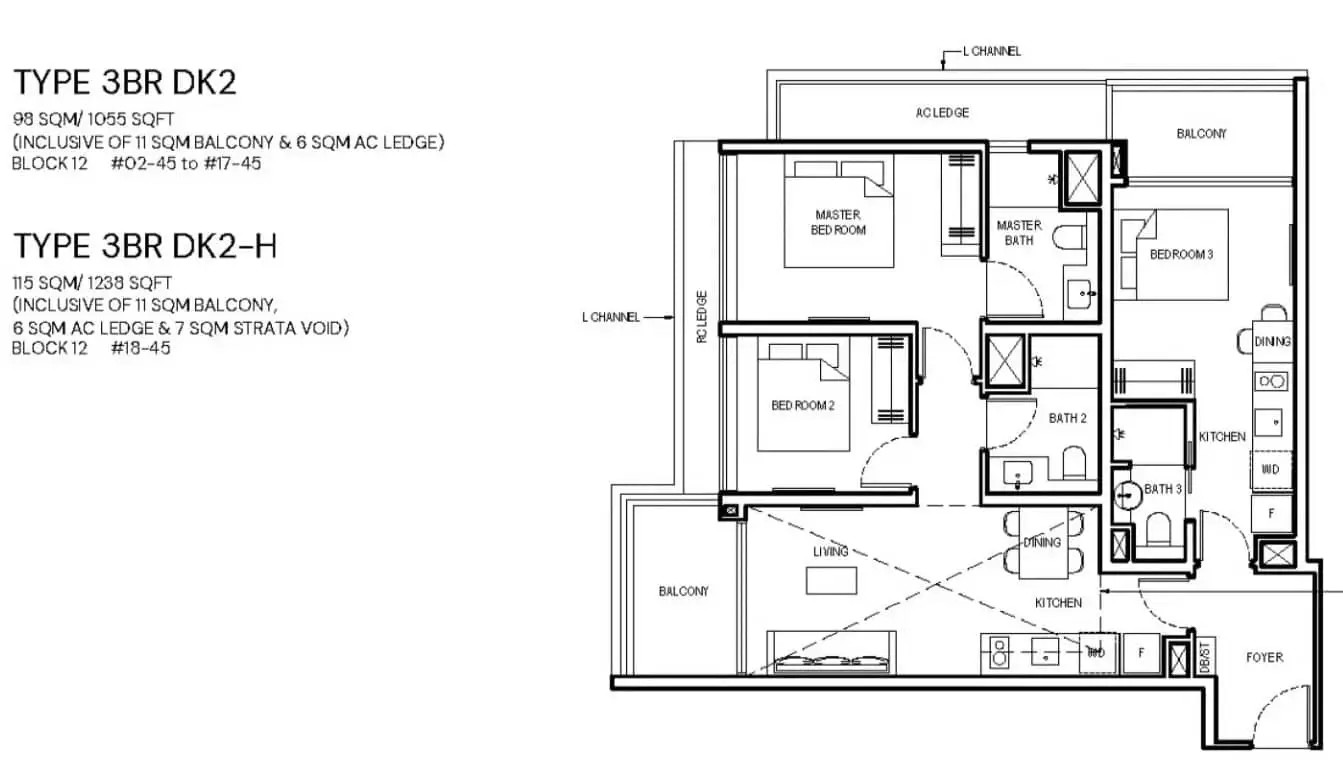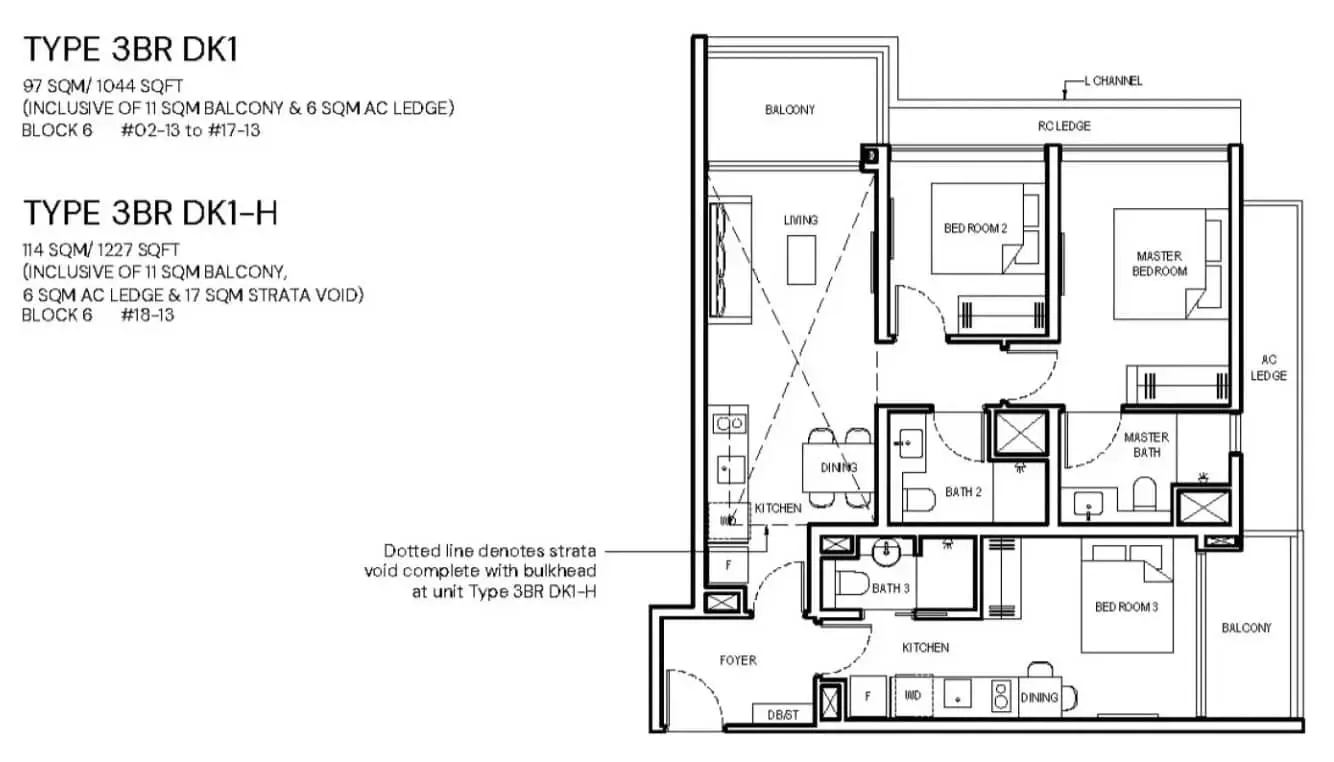 4. Orchard Sophia
Location: Sophia Road (District 9)
Developer: Orchard Sophia Pte Ltd (DB2)
Lease: Freehold
TOP: Est 2030
Number of units: 78
A dual-key at Orchard Sophia can be a good entry point, for investors seeking a foothold in District 9.
This condo is small enough that some might consider it boutique (just 78 units), and it's within a roughly 10-minute walk to Dhoby Ghaut MRT (CCL, NSL, NEL). We know that some home buyers and tenants consider Dhoby Ghaut to be slightly more useful than Orchard MRT (NSL, TEL), as it provides access to three major train lines and is just one stop from Orchard.
This location at Sophia Road straddles the line between Bugis and Orchard: while your closest major mall is Plaza Singapura (connected to Dhoby Ghaut MRT), you can just as well consider ION Orchard, Orchard Central, etc., to be nearby.
As a bonus, SOTA is also nearby (about a 10-minute walk), and for younger children, St. Margaret's Primary is just a five-minute walk.
One thing to note though: the shortest route to Plaza Singapura/Dhoby Ghaut MRT involves a flight of steps, which you'll pass next to Haus on Handy. Walking down is easy, but walking back up may be challenging for the elderly, or those with mobility issues. So it's a bit easier to get to rather than from Plaza Singapura/Dhoby Ghaut.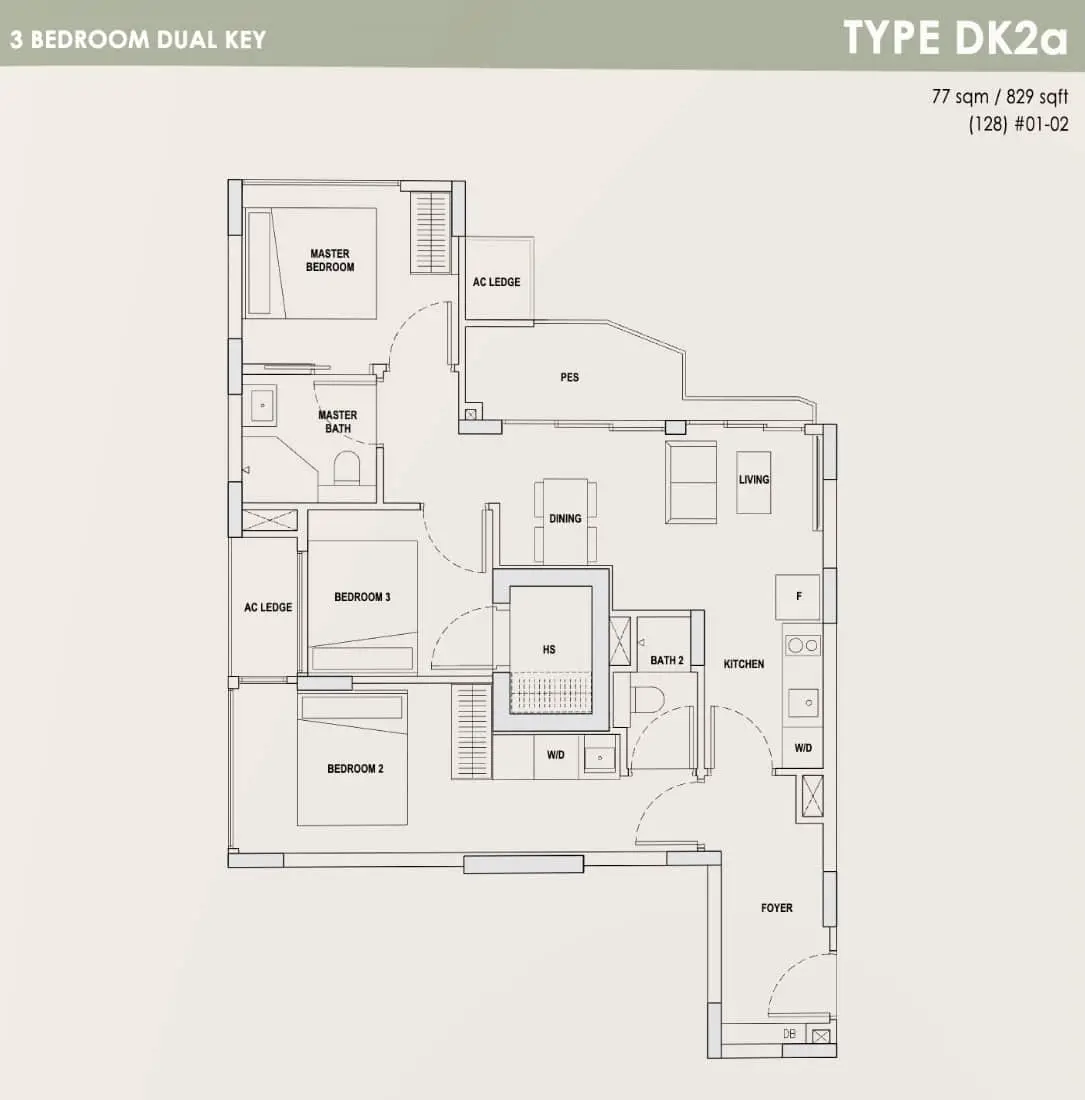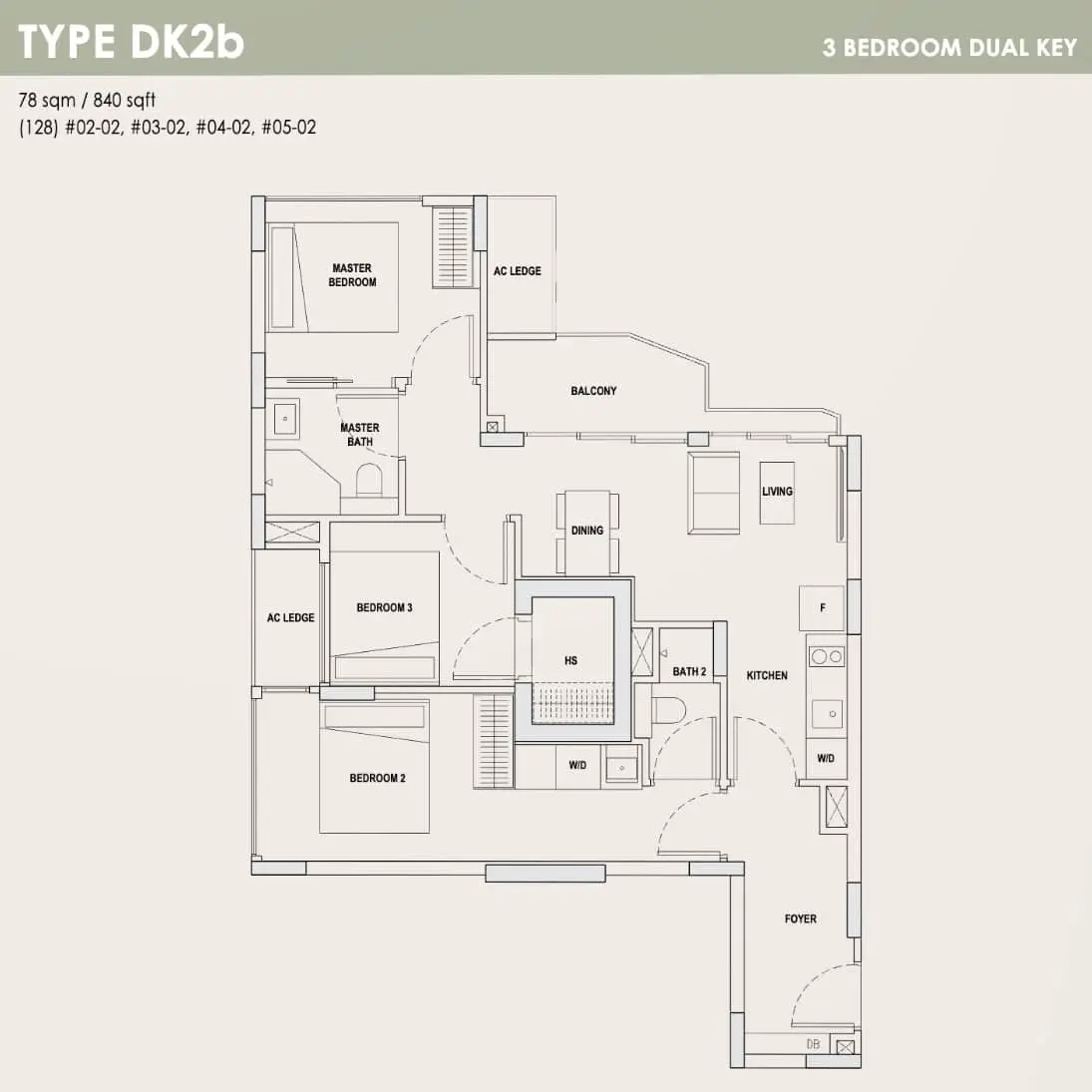 5. Lavender Residence
Location: Lavender Street (District 12)
Developer: FLJ Property Pte Ltd
Lease: Freehold
TOP: Est 2028
Number of units: 17
This is a boutique development with just 17 units; but the dual-key options are ideal for those wanting to rent to the Rest of Central Region (RCR) crowd.
Despite the project's name, Lavender MRT station is not actually near this project. Bendemeer MRT station (DTL) is a six-minute walk, or you can also head to Boon Keng or Farrer Park MRT for the NEL; but these are further, at around a 10-minute walk.
There is an HDB-run mall near Bendemeer MRT, just called Bendemeer Shopping Mall, which can provide for most day-to-day needs.
The other major amenities would be Kitchener Complex, which is mostly visited for food and some hobby icons like G&B comics, and City Square Mall. These are also around a 10-minute walk (depending on traffic because there are quite a few roads to cross).
The main advantage here is being quite close to hot spots like Little India, Jalan Besar, and Bugis, while being spared the heavier traffic that dominates those areas.
For a boutique development of just 17 units, it does look quite unique with a black steel facade that's set atop a conserved art deco shophouses. There's minimal facilities here in the form of a small swimming pool, outdoor gym, and bbq pits – but for so few units this really is not bad at all.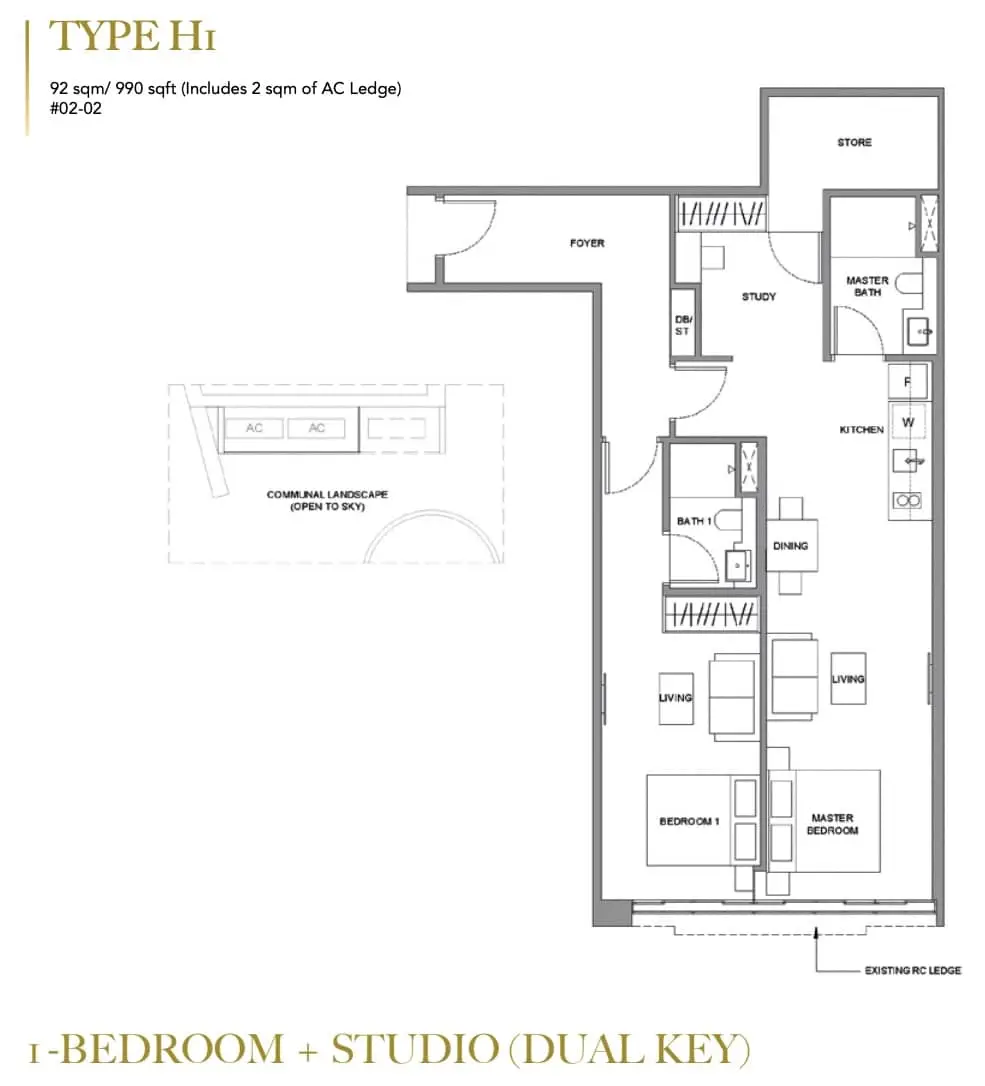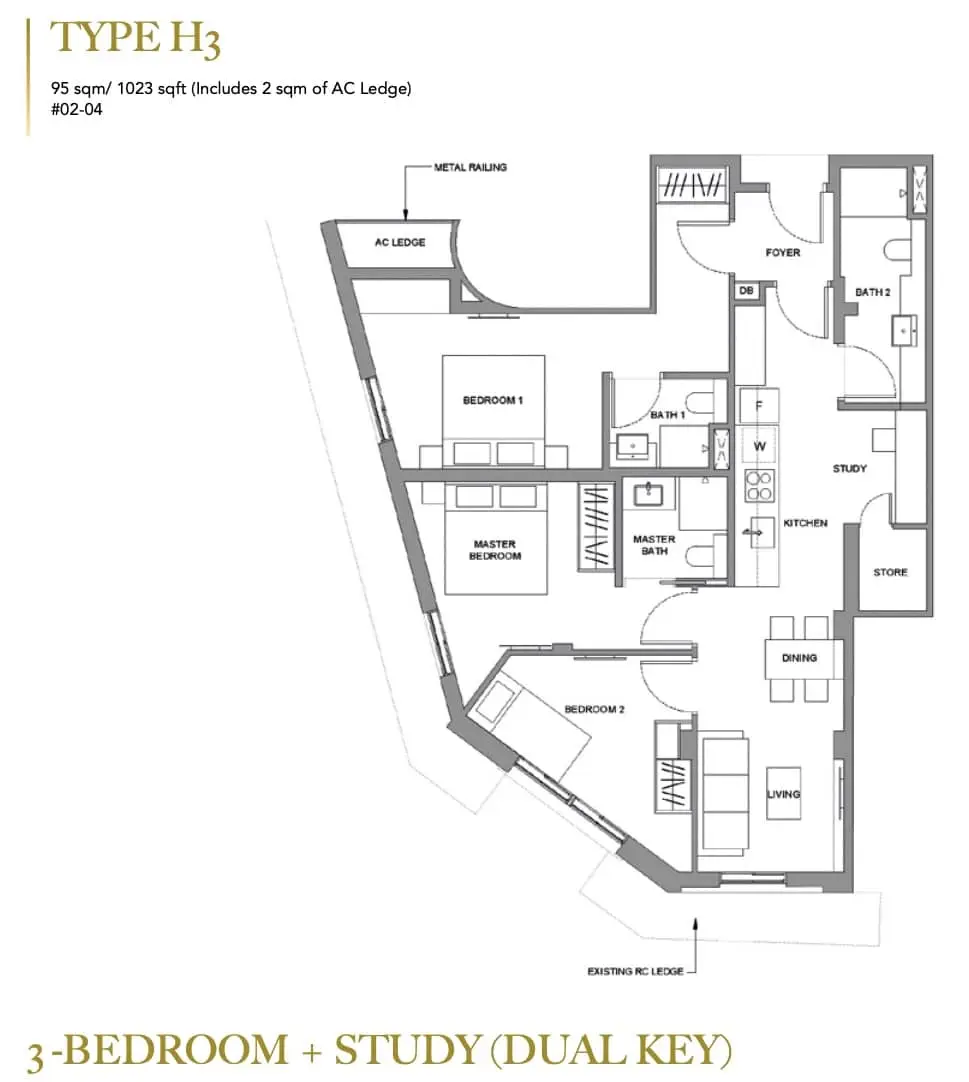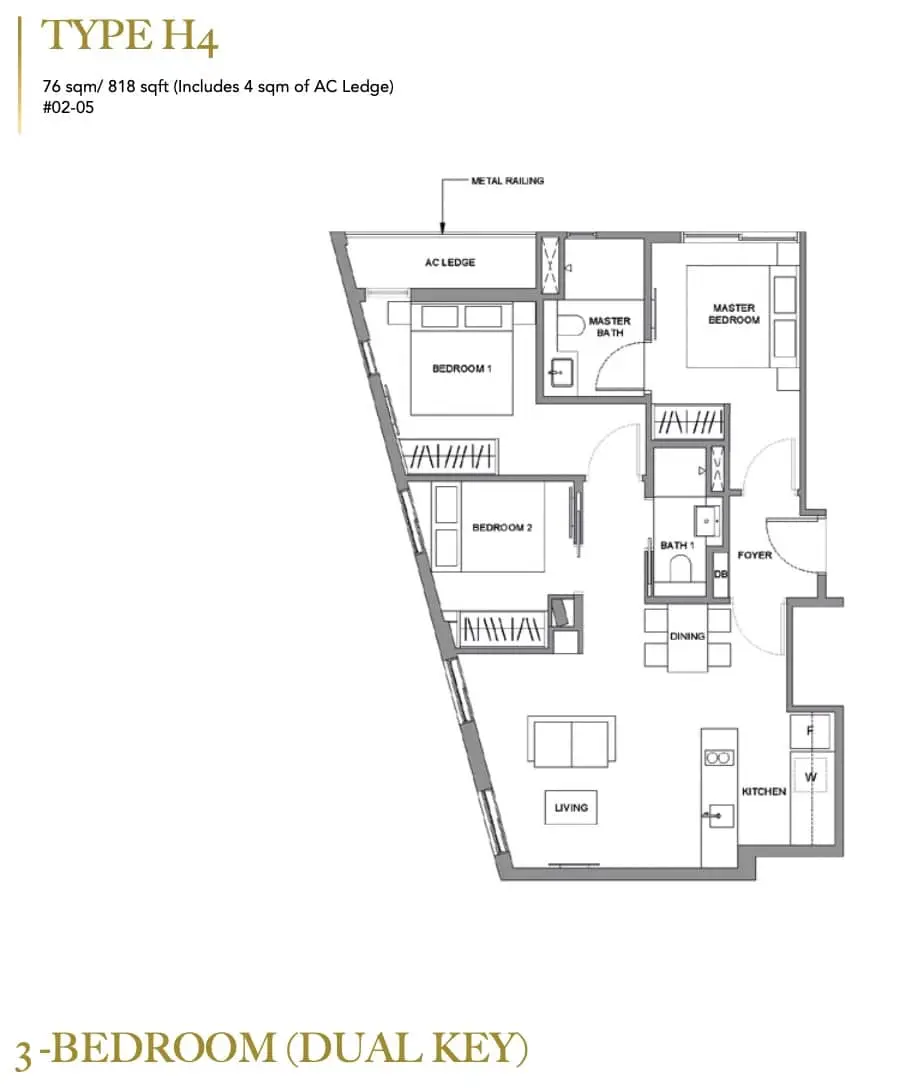 For more curated lists and property picks, follow us on Stacked. We'll keep you updated on where to find the latest property launches, and where the best resale options can be found.