Property Picks
10 Generously Sized Condos With Less Units (Only 360 And Below)
Ryan J
March 8, 2022

13

min read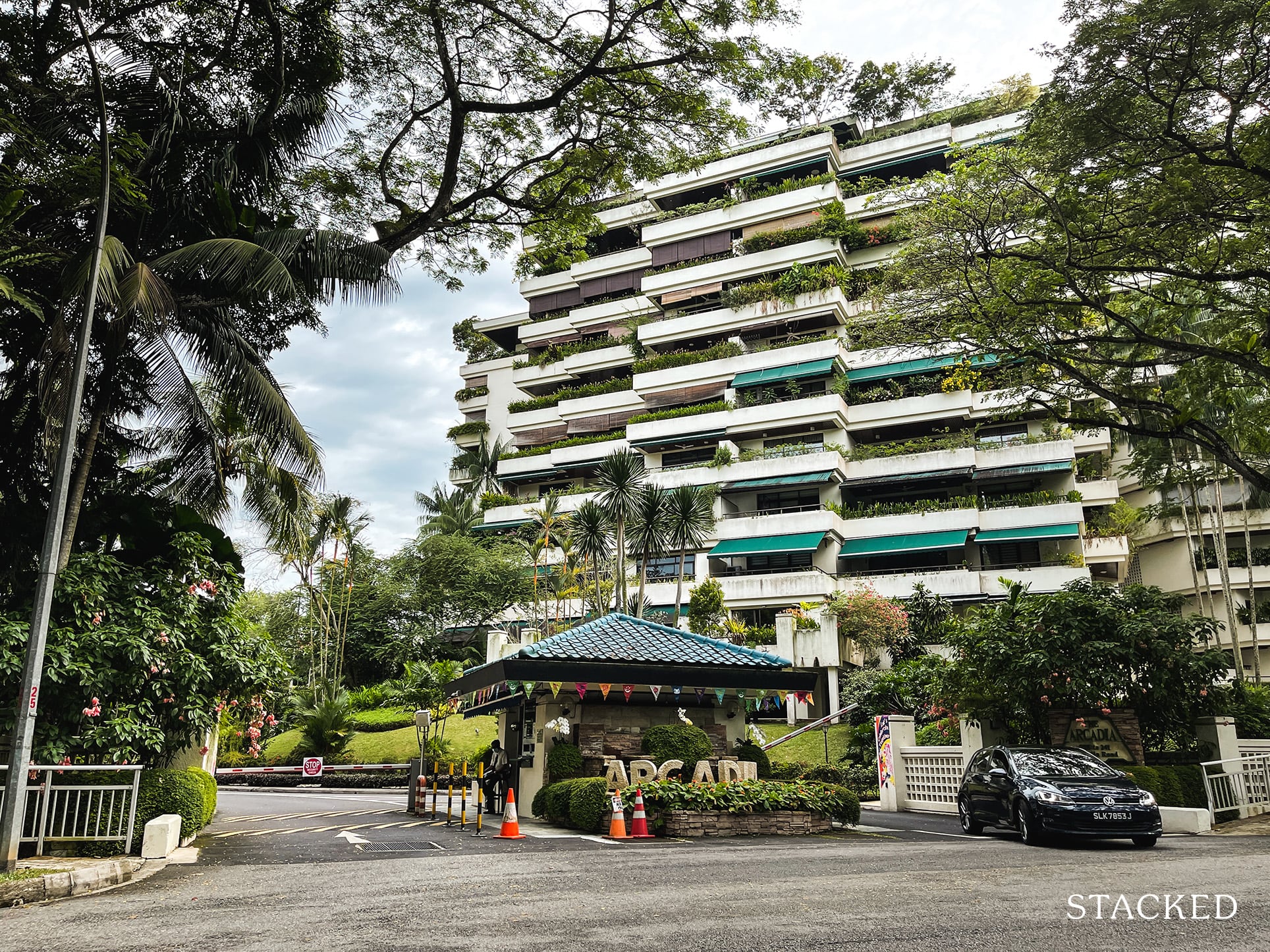 13
min read
Sometimes it's not just about the land area, but the number of units as well. And so while we've covered mega-developments, and bigger-sized ones, here's an interesting equation to think about: big land developments with a comparatively small number of units. Sure, there are plenty of huge mega-developments that have multiple pools, tennis courts, etc., but not everyone likes the thought of having over 1,000 units sharing that same space. For those who want as much privacy as possible along with a big condo, here are some options to consider:
1. Hillcrest Arcadia
Location: 251 Arcadia Road (District 11)
Lease: 99-years
Size: 442,166 sq ft
Number of units: 272
Developer: San Ken Hillcrest Pte Ltd
TOP: 1980
Last known price:
| | | |
| --- | --- | --- |
| Lowest | Median | Highest |
| $984 psf | $1,115 psf | $1,254 psf |
Notable details:
This is the neighbouring development to The Arcadia (see point 2).
Hillcrest Arcadia is one of the few ways you can get a district 11 condo, at as low as $1.12 million for a 1,098 sq. ft. unit. One of the bigger selling points is the space you get, it has only 272 units on 442,166 square feet of land.
Hillcrest is at the very end of a quiet road, with nothing but greenery on the other side of the street. The surrounding area is mainly landed housing, making this a highly private enclave. But you'd have to really value privacy here, as Arcadia Road is the only entry in for drivers. Also, do note that if you are heading out but have no need for the expressway, you'd always need to make a U-turn at Lornie Road. And while the completion of Lornie Highway would no doubt help with traffic, Adam Road can still be a very busy road during peak hours.
Besides the low density, there are popular schools in priority enrolment distance: Raffles Girls Primary is just 680 metres away, and Nanyang Girls' High is 920 metres away.
For older students, National Junior College is just a seven-minute drive from this condo.
That said, privacy and space come at the cost of immediate amenities. You absolutely need to drive if you live here, as there's no MRT within walking distance; but this is typical of most low-density housing areas.
2. The Arcadia
Location: 235 Arcadia Road (District 11)
Lease: 99-years
Size: 406,964 sq ft
Number of units: 164
Developer: Arcadia Gardens Pte Ltd
TOP: 1983
Last known price:
| | | |
| --- | --- | --- |
| Lowest | Median | Highest |
| $940 psf | $1,013 psf | $1,112 psf |
Notable details:
This is the neighbouring unit to Hillcrest Arcadia (see point 1).
The Arcadia has broadly the same locational benefits and drawbacks as Hillcrest Arcadia; it's a low density, highly private area. However, this comes at the expected cost of accessibility, and immediate convenience. The land size is a little smaller than Hillcrest Arcadia (406,964 square feet), but it does have nearly half the number of units (164).
The main difference is in the unit sizes. While Hillcrest Arcadia is hardly a slouch when it comes to unit sizes, The Arcadia offers nothing but gigantic condo units, with no recent transaction below 3,700+ sq. ft (!) The sheer size means you have to be braced for a high quantum, with most transactions at the $3.5 million mark. To give you a better idea of the unit sizes here, the smallest starts from 3,466 sq. ft, going up to the biggest at a gigantic 7,503 sq. ft. And of course with so few units here, do expect to pay a premium when it comes to the monthly maintenance fees.
From an investment perspective, this is a tough sell, given this condo is nearly 40 years old. But for those who prioritise spaciousness, you're unlikely to find a unit of this size at below $4 million these days; especially in a city fringe area like district 11. 
3. Kensington Park Condominium
Location: 2 Kensington Park Drive (District 19)
Lease: 999-years
Size: 45,628 sqm
Number of units: 316
Developer: Leadale Property Pte Ltd
TOP: 1990
Last known price:
| | | |
| --- | --- | --- |
| Lowest | Median | Highest |
| – | $1,448 psf | – |
Notable details:
Kensington Park is a good option if you want a large condo, close to the Serangoon Gardens area (around a five-minute drive). It boasts a sizeable land area of 491,012 square feet, with just 316 units.
Transactions here are not frequent, but it's also one of the few places you can expect a quantum of around $2 million, for a 1,600+ sq. ft. unit; and one that's effectively freehold (999-years).
The opening of MyVillage, at Serangoon Gardens, was a good turn for this development; it provides a closer source of amenities, which were lacking before (there's a Cold Storage here too). And of course, there are all the food options you get in the area (Chomp Chomp and the like). It's a relatively easy walk through the landed housing estates, and you can get there in about 10 minutes. That said, this is still a home for those who drive, as it definitely isn't within walking distance to an MRT station.
Serangoon Garden Secondary School is just a four-minute walk from this condo.
4. Far Horizon Gardens
Location: 1 Ang Mo Kio Ave. 9 (District 20)
Lease: 99-years
Size: 431,628 sq ft
Number of units: 272
Developer: Allgreen Properties Pte Ltd
TOP: 1986
Last known price:
| | | |
| --- | --- | --- |
| Lowest | Median | Highest |
| – | $965 psf | – |
Notable details:
Far Horizon Gardens has benefitted from the recent Lentor MRT station on the Thomson East Coast line, which has an exit right across the road – making it extremely convenient for residents.
Far Horizon Gardens is also very close to Anderson Primary School, at just a six-minute walk; and if you cross the road to Ang Mo Kio Street 61, there are a number of good eating spots about 10 minutes down the road.
Despite the area being relative quiet, some buyers may not like having an HDB block nearby, which can impede the view from some stacks. The other issue would be the age and lease decay (but given the now closer MRT station, some might feel it's possible to bank on en-bloc possibilities). 
The most attractive factor here would be the cost, with 1,389 sq. ft. units transacting at as low as $1.2 million.
And as you might expect, units here are big too, with the smallest starting at 1,152 sq. ft., and going up to a very spacious 3,907 sq. ft. You also only have 272 units spread over 431,628 square feet of land – so it's certainly very well equipped in the size department.
5. Island View
Location: 38a Jalan Mat Jambol (District 5)
Lease: Freehold
Size: 309,643 sq ft
Number of units: 72
Developer: Island Homes Development
TOP: 1984
Last known price:
| | | |
| --- | --- | --- |
| Lowest | Median | Highest |
| – | $1,455 psf | – |
Notable details:
Despite its age, Island View has come back on the radar, thanks to rising interest in the nearby One-North tech and media hub (around a seven-minute drive). Island View has also solved its former inaccessibility problem, with the Pasir Panjang MRT station (Circle Line) now just a six-minute walk away.
The One-North area, as well as Alexandra (close to where the IKEA is located), form most of the nearest amenities.
Proximity to NUS may be of interest to buyers as well – it's a five-minute drive to the university, which may appeal to families with children there.
And while it's the second smallest estate on this list in terms of land size (309,643 square feet), it does also have the least number of units, with just 72 units sharing the plot of land.
The problem, however, is the quantum due to the unit sizes.
Even the smaller units here are upward of 3,000 sq. ft., which you might expect given this small number of units on this huge plot. Coupled with recent improvements to the area, and freehold status, you should be braced for a quantum in excess of $4 million. At this price point, some buyers may wonder if a landed home is a better alternative. 
6. Gallop Gables
Location: 70 Farrer Road (District 10)
Lease: Freehold
Size: 253,315 sq ft
Number of units: 140
Developer: Straits Developments Pte Ltd & Atbara Holdings
TOP: 1997
Last known price:
| | | |
| --- | --- | --- |
| Lowest | Median | Highest |
| – | $1,841 psf | – |
*last transaction in April 2021
Notable details:
While Gallop Gables may have double the units of Island View and is situated on a smaller land plot, it does have the trump card of a better, more central location. It also has the rare combination of being small and private, while still retaining MRT access. Farrer Road MRT, on the Circle Line, is just around a three-minute walk from this condo. To put things into perspective, it has just 140 units on a 253,315 square feet piece of land. Another advantage here is that the parking here will be underground, which may not always be the case for bigger developments of this age.
Read this next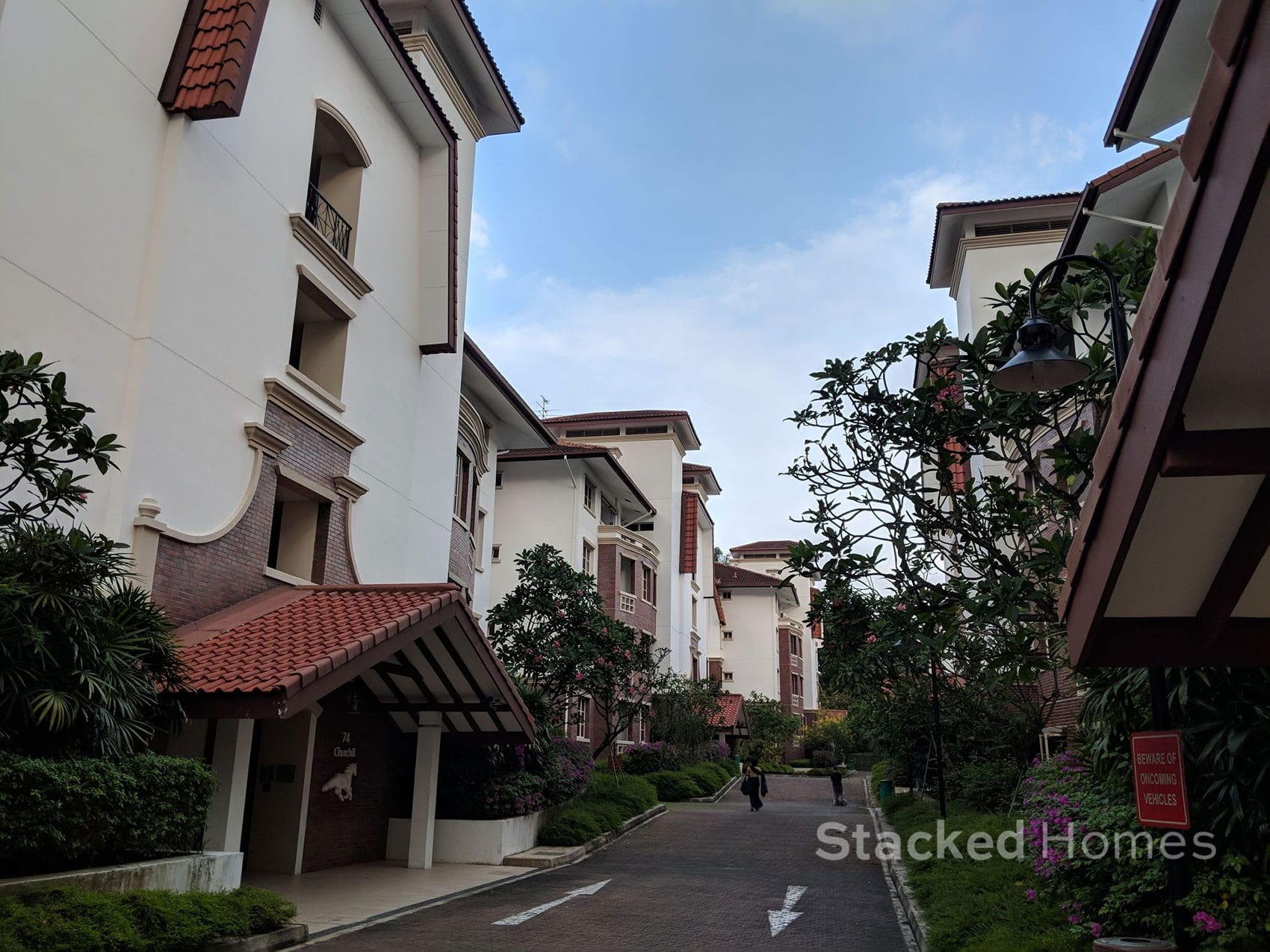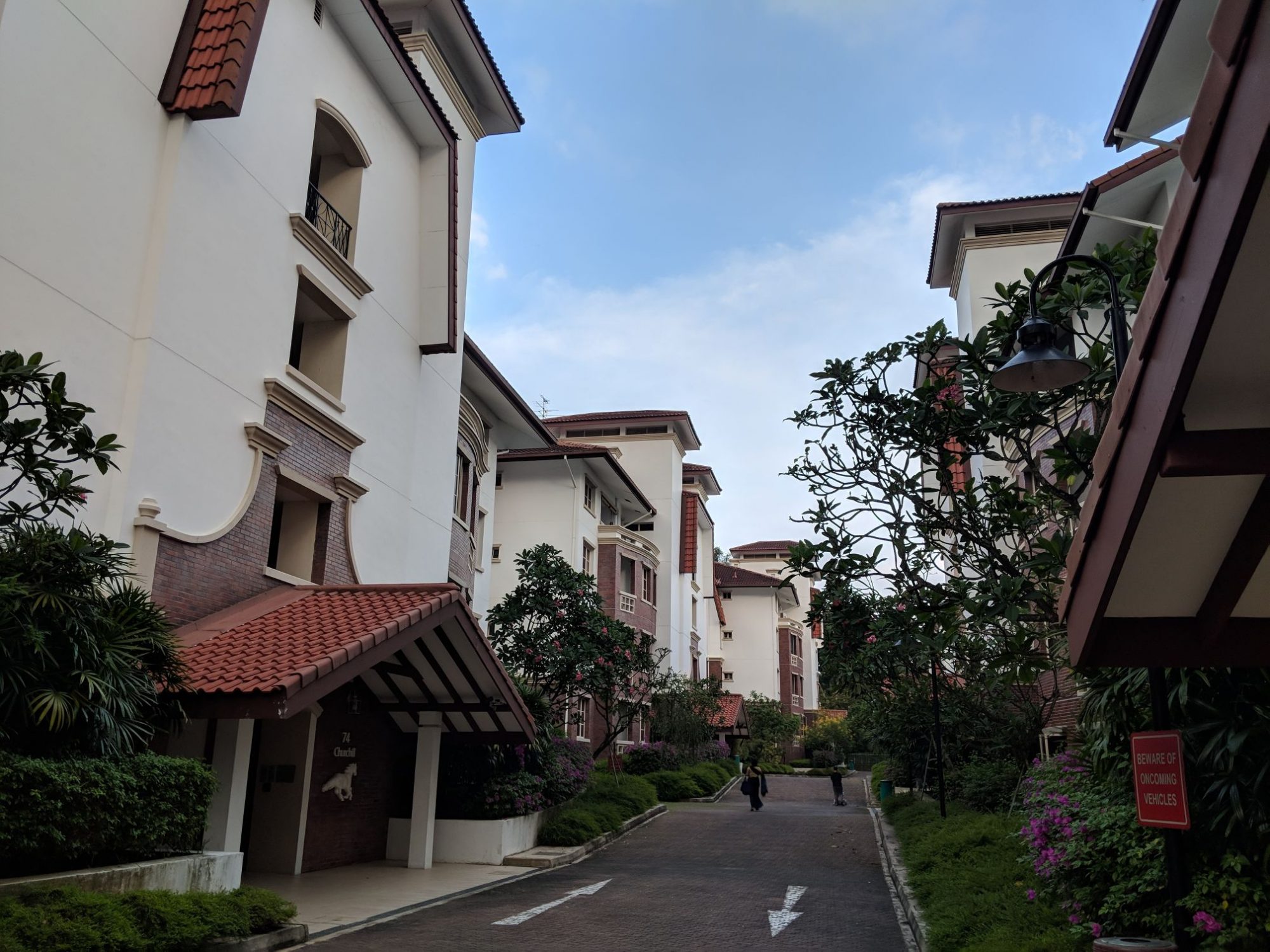 That said, because it is quite a long piece of land, you may not exactly feel that it is as big as it is on paper, and the furthest blocks in are some walk away from the main road.
For amenities, you do have a hawker centre and market across the road, along with the famous Bakery Brera and various other smaller shops. The Holland V area is only about a five-minute drive away, while Orchard is about a seven-minute drive away (on non-peak hours). The absolute closest mall, however, is the older and smaller Coronation Plaza at a six-minute drive. You are also just one MRT station away from the Botanic Gardens area, along with a host of eateries and a Cold Storage at Cluny Court (and a McDonald's at Serene Centre!).
The price point in terms of psf may seem high considering its age. But in the context of a freehold District 10 address plus the proximity to the MRT, it does seem to hold good value. Units of 1,170+ sq. ft. have transacted for around $2.16 million here, which is quite decent for a roomy unit close to Holland V and Orchard.
7. Faber Crest
Location: 50 Faber Heights (District 5)
Lease: 99-years
Size: 392,460 sq ft
Number of units: 360
Developer: CDL
TOP: 2001
Last known price:
| | | |
| --- | --- | --- |
| Lowest | Median | Highest |
| $844 psf | $998 psf | $1,152 psf |
Notable details:
Faber Crest straddles the area between Clementi and Jurong East, both among the more developed and desirable neighbourhoods. It's quite a long plot of land, so you have a significant frontage along with Sungei Ulu Pandan. Plus the park connector is right outside, so you can quite easily walk to the Ghim Moh/Dover area for breakfast if you so wished.
The location straddles somewhat in the middle between Clementi MRT station and the upcoming Pandan Reservoir, but neither is near enough to walk. That said, residents are just a seven-minute drive to Clementi Mall, the main retail hub of the neighbourhood. If you want to head in the direction of Jurong East, it's just around seven minutes to the area around JEM and Westgate.
So overall this is quite a convenient location, if you can overlook the lack of MRT access.
The price point of Faber Crest makes it especially attractive to HDB upgraders. Units of around 1,410 sq. ft. have transacted at $1.2 million – exactly the sweet spot for quantum and size, among most upgraders. It sits on a nearly 400,000 square feet plot of land, housing just 360 units.
8. Yong An Park
Location: 325 River Valley Road (District 9)
Lease: Freehold
Size: 404,976 sq ft
Number of units: 288
Developer: Riverview Development Pte Ltd
TOP: 1986
Last known price:
| | | |
| --- | --- | --- |
| Lowest | Median | Highest |
| – | $2,168 psf | – |
Notable details:
Yong An Park has long been a stalwart in the River Valley area since 1986. It offers a variety of different unit types, from regular apartments to townhouses and massive penthouse units. To give you an idea, the smallest unit starts from 1,023 sq. ft. to the largest of 8,331 sq.ft. There was also a 6,575 sq. ft. unit that was sold for $12.5 million in September of 2021, which was one of the biggest non-landed transactions by size for 2021 (and most profitable).
Coupled with the fact that it's in district 9, Yong An Park is, unsurprisingly, the direct opposite of affordable. Transactions are upward of $2 million for the smallest units, but you get what you pay for. 
The units are massive, you can walk to Great World City in 10 minutes, and the upcoming Great World MRT station on the Thomson East Coast line is accessible just right outside. Plus, the main stretch of Orchard Road is five minutes away. This is as good as you're ever going to get, in terms of amenities.
There are only 288 units on a large plot of 404,976 square feet of freehold prime land. One of the major attractions here is the huge variety of facilities – indoor badminton courts, a squash court, aerobic room, table tennis room, a fully equipped gym, 2 tennis courts, and a soccer/basketball court. For the sports fanatic, it doesn't get much better than this.
9. Spanish Village
Location: 56 Farrer Road (District 10)
Lease: Freehold
Size: 331,552 sq ft
Number of units: 226
Developer: Riverview Development Pte Ltd
TOP: 1987
Last known price:
| | | |
| --- | --- | --- |
| Lowest | Median | Highest |
| – | $1,964 psf | – |
Notable details:
Spanish Village may not be as near to the MRT as Gallop Gables, but it certainly still is very doable – within a 5/6 minute jaunt. It's more of walking home that is a little tedious, as it is on an upslope instead. Nevertheless, from the Farrer Road MRT you're on the Circle line and one stop from Holland Village MRT (which is where most of Holland V's amenities are located).
As you can guess from this, the main appeal is also being close to Holland V; you can get there in about a five-minute drive. You're also about an eight-minute drive from the Adam Road stretch, where you'll find Coronation Plaza, as well as a good row of eateries.
Units are sizeable, as you'd guess from the low unit count and large land area – even the smaller units are upward of 1,100 sq. ft. For these smaller units, a quantum of around $1.6 million is sometimes possible, placing some within reach of HDB upgraders.
Most units are in the 1,600+ sq. ft. range, however, and the larger units hit transaction figures of around $3 million. While the land is big (331,552 square feet) for 226 units, it is laid out in a courtyard style, where the facilities such as the pool and tennis court are in the middle of the development. It also suffers from a lack of shelter within the estate, there is no sheltered drop off point, and neither is there shelter from the parking to the different blocks.
Given the value of the land, Spanish Village has tried to go en-bloc 3 times so far but has been unsuccessful since.
10. Tanglin Park
Location: 1 Ridley Park (District 10)
Lease: Freehold
Size: 399,347 sq ft
Number of units: 274
Developer: CDL
TOP: 1988
Last known price:
| | | |
| --- | --- | --- |
| Lowest | Median | Highest |
| $2,073 psf | $2,169 psf | $2,256 psf |
Notable details:
As you'd expect from the Tanglin area, this is an upscale freehold condo. It's about a five-minute drive from the main stretch on Orchard Road. Residents also frequent the nearby Dempsey Hill area, which is a high-end lifestyle/dining hub – this is about a four-minute drive.
For something within immediate walking distance, there's Phoenix Park that's about five minutes on foot. This was formerly a British secret service base, now turned into a foodie hub.
There's no MRT station nearby, but we doubt it matters to the buyer demographic for this area! If you really had to walk, however, you are about equidistant between Redhill MRT station and the upcoming Orchard Boulevard station.
Prices are what you'd expect for the area. Smaller units are around 1,119 sq. ft., and even these transact at around $2.4 million; while the bulk of units (upward of 1,300 sq. ft.) will see a quantum of at least $3 million.
While high, it can be argued that it is actually good value, when read in context of the location and surrounding condos. After all, 274 units on 399,347 square feet of land is truly very spacious living in today's environment.
For more curated condo picks, follow us on Stacked. We also provide more in-depth reviews of new and resale condos alike, as well as updates on the Singapore private property market.