Living In
Inside A Striking Modern Brutalist HDB Maisonette Home
Stacked
October 30, 2022

3

min read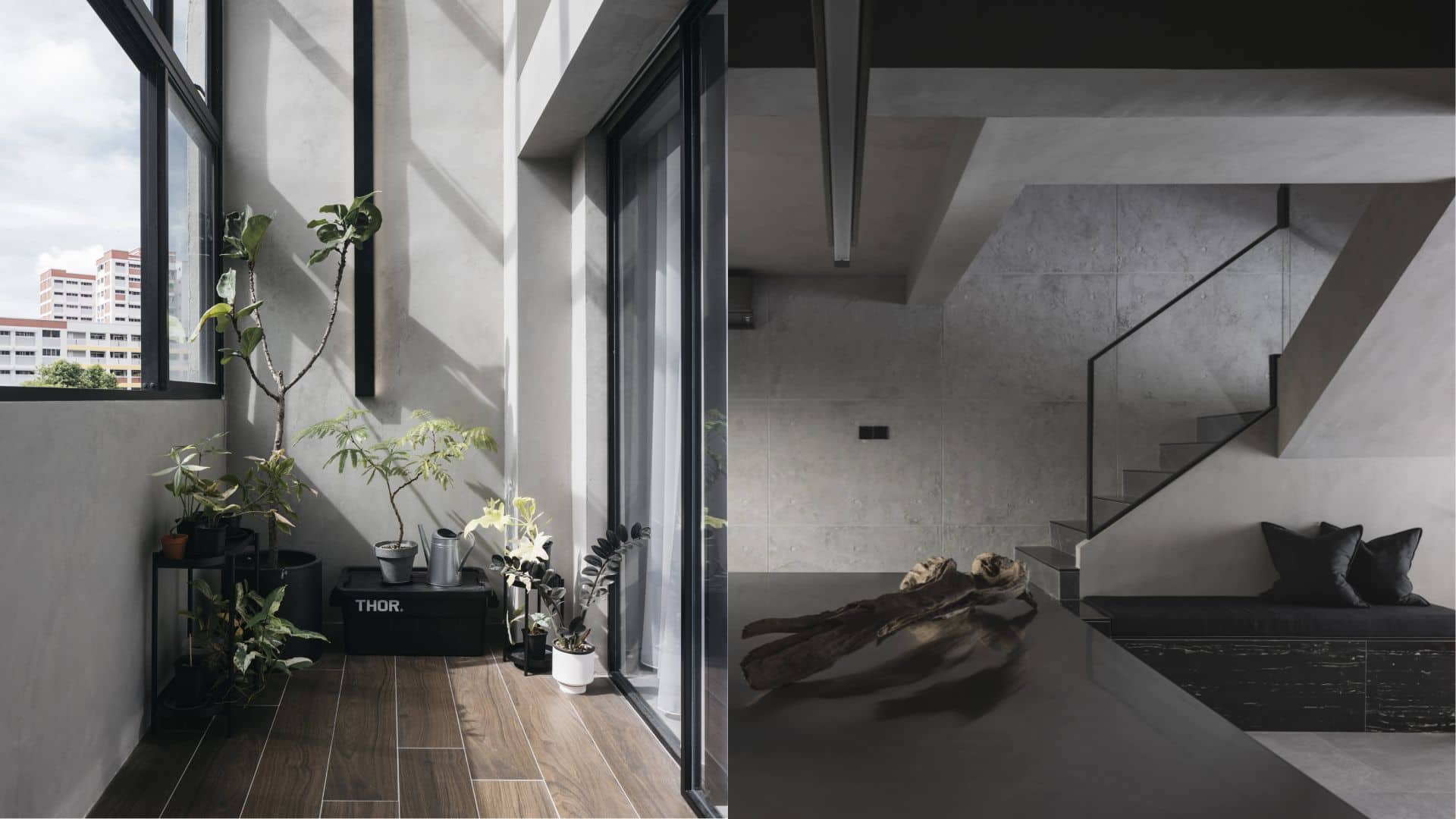 3
min read
This week, we visit one of the most unique homes that we've toured yet. It's a 1,680 square-foot HDB Maisonette, and the size and layout have really given homeowners Alfred and April free rein to exercise their creativity here.
Much of the inspiration for the space was taken from the movie Dark Knight, and you can see that from the moment you enter their home.
Once the door opens, the ceiling lights are programmed to turn on, and the effect is quite spectacular.
The entryway is mirrored on one side, with shoe cabinets along with a hidden door that leads you into the rest of the house. While the space is generally a dark-themed one, the colourful Joker-esque painting at the entrance does its job of introducing a little bit of vibrancy to the space.
As they are restaurant owners (Monzen@Gardens!), the kitchen was undoubtedly an important space for them. They took down the previous storeroom and hacked the walls for an open-concept kitchen. Here, they placed a 2.4m kitchen island that functions as their prep space, dining table, and workspace.
It's also a stainless steel countertop, which is a little unconventional for a home, but they knew from their restaurant experience that this represents the easiest upkeep.
Their living room resembles a Gold Class movie experience with a plush reclining couch and a projector. And on the wall behind is cabinetry that's laminated with fluted panels. Moving up to the bedrooms, the staircase walls are hand plastered with slabs that are inspired by Tadao Ando's concrete slab.
For the master bedroom, they converted 2 common bedrooms into one large space, and with glass walls for the bathroom, the common bathroom was turned into their ensuite instead.
Special thanks to Alfred and April for showing us around their incredible space. For more, please visit: https://instagram.com/projectbatcave
Credit to Studio Periphery for the cover photo.
If you are an architect, ID, or homeowner interested in featuring your home, please fill in our form here.