We Spent $38k On Our 4-Room HDB Resale Flat: Here's Our Cosy British-Inspired Home
Renovation Journeys
We Spent $38k On Our 4-Room HDB Resale Flat: Here's Our Cosy British-Inspired Home
WRITTEN BY Stacked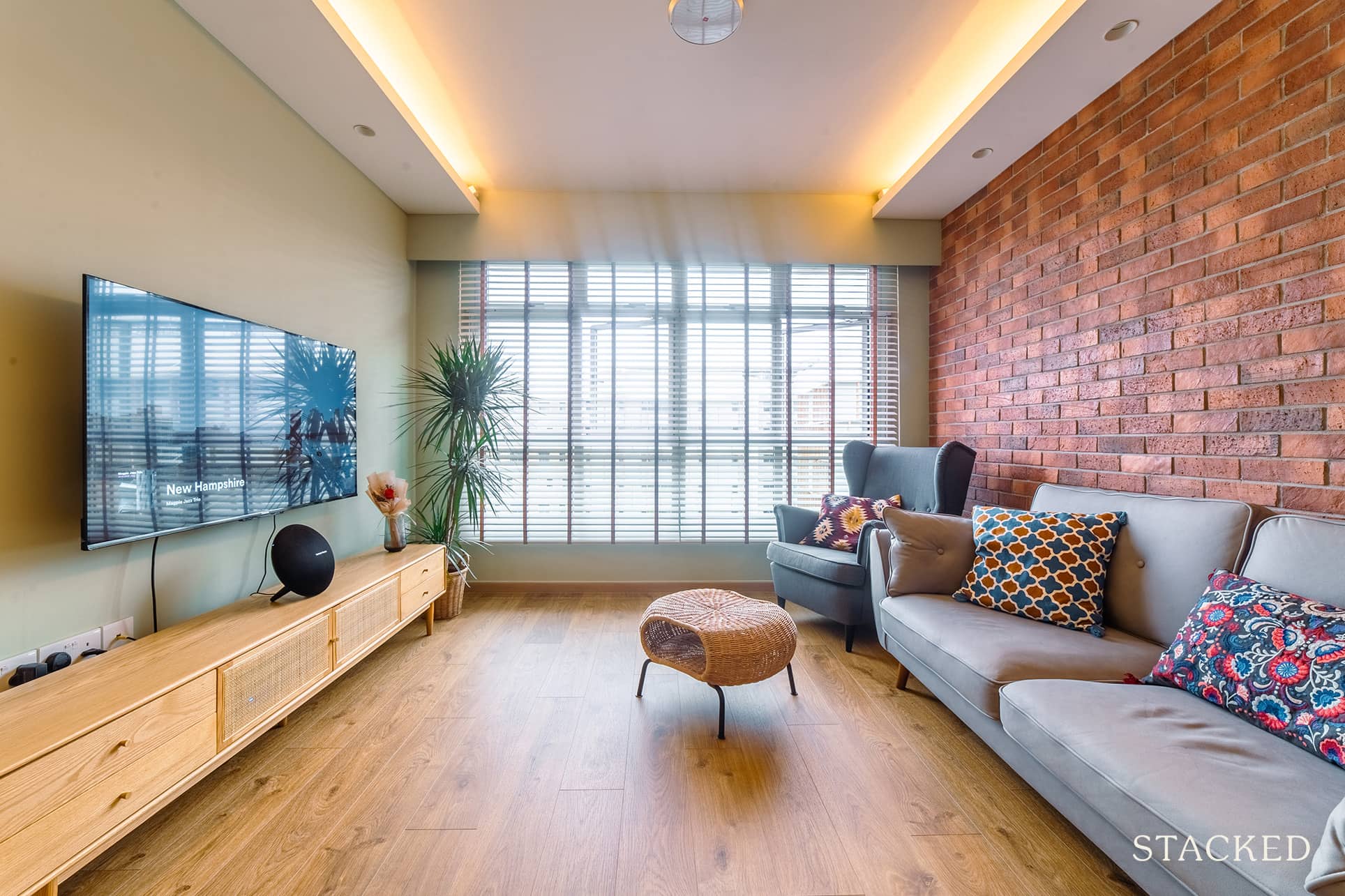 6
min read
How can you bring the warmth and comfort of a typical British home to your Singaporean flat? John (*name changed for privacy reasons) and his wife did just that, transforming their 4-room resale flat into a luxurious and functional space that feels like a home away from home. 
As UK residents for several years, they wanted to bring home the same experience they had there.
From its close proximity to the MRT and sunny, North-South facing orientation, to its convenient location next to a hospital and popular school, this flat was the perfect canvas for the couple's renovation journey.
Follow along as we take a tour of their beautifully British home.
How The Renovation Journey Turned Out
The couple bought their 4-room resale flat at Anchorvale Link Sengkang in October 2021, but due to some delays on the seller's end and the renovation that took place, they could only move in April 2022.
John said their initial budget for the renovation was $33K, but in the end, the actual cost came to about $38K. The added cost was due to a sudden yet necessary change of plans during renovation.
Their initial plan was to keep the existing wardrobes as they were in good condition. The couple thought they only had to change the doors to suit their theme, including overlaying the vinyl flooring on the existing floor finishes.
"However, we later found out that the existing flooring in the bedrooms was not suitable for an overlay," he recalled, "and the existing flooring had to be removed or else, the overlay vinyl flooring may warp or pop over time."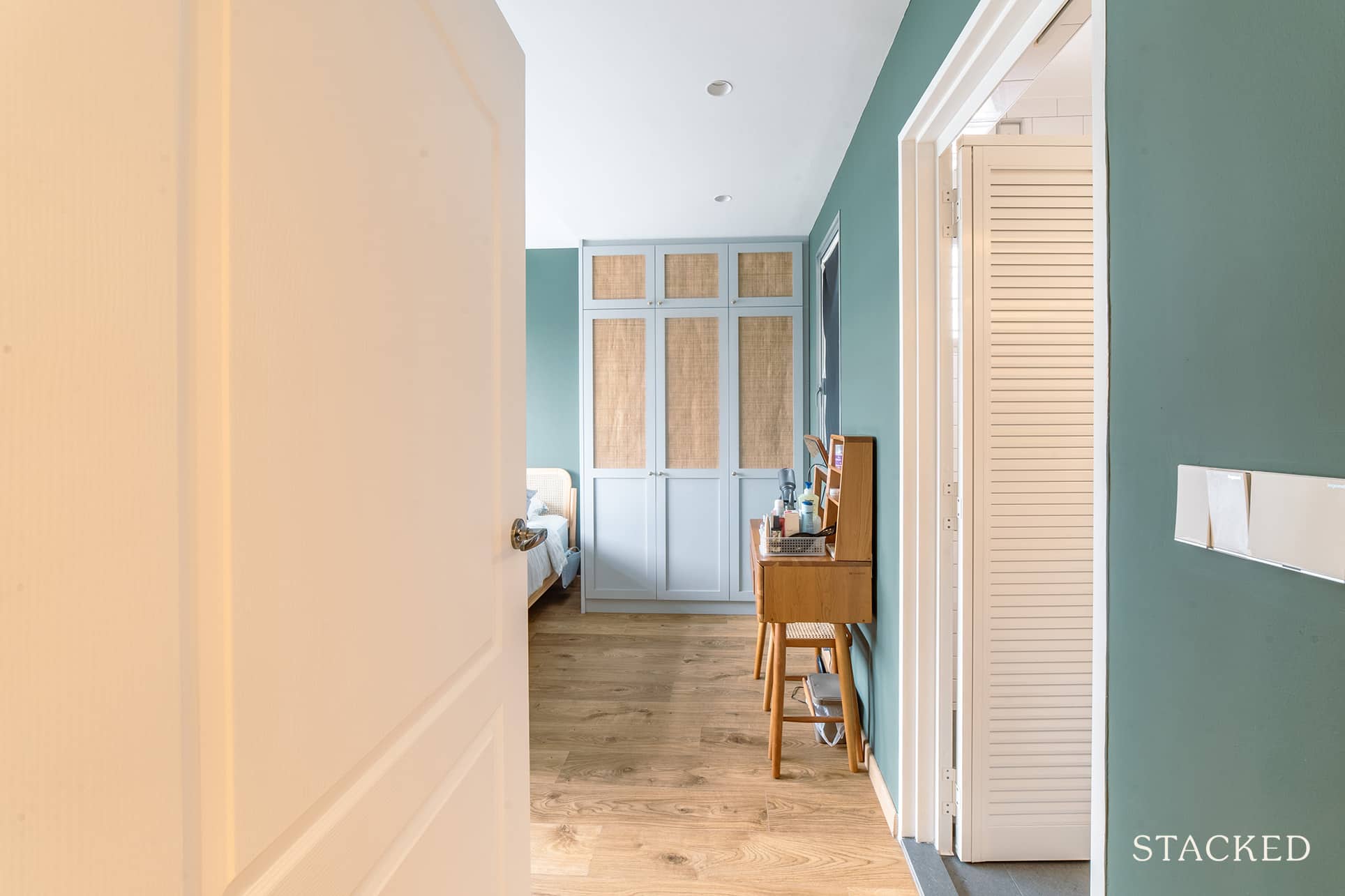 As with many of their finishes, they were selected way in advance before the purchase of the flat. John said the vinyl for the bedroom was one of the few they were not willing to compromise as its look and feel helps to bring out the design theme they wanted to achieve. 
Still, they didn't want any issues with their flooring.
And so they went with the more costly route, hoping that it would be the most problem-free in the future. This involved removing the existing flooring and wardrobes in the bedrooms and installing new vinyl flooring and wardrobes.
Besides staying just in the UK, the couple also did a lot of travelling across Europe. Their abundant exposure in the old continent was what inspired their design and style of renovation.
"We were drawn to the style and theme we commonly see there which have subway tiles, wooden flooring, and exposed brick walls."
John said that while growing up, they also had rattan furniture, so they incorporated a fair amount of wood and rattan. Doing so helped add nostalgic and personal elements to their style.
Living Room
For their living space, they had to dismantle the built-in shoe cabinets, TV console, and feature wall to implement the home design they wanted. The result is a cosy living space – like you're being transported to a classical home that's been converted to a contemporary design, complete with a classic sofa and wingback chair.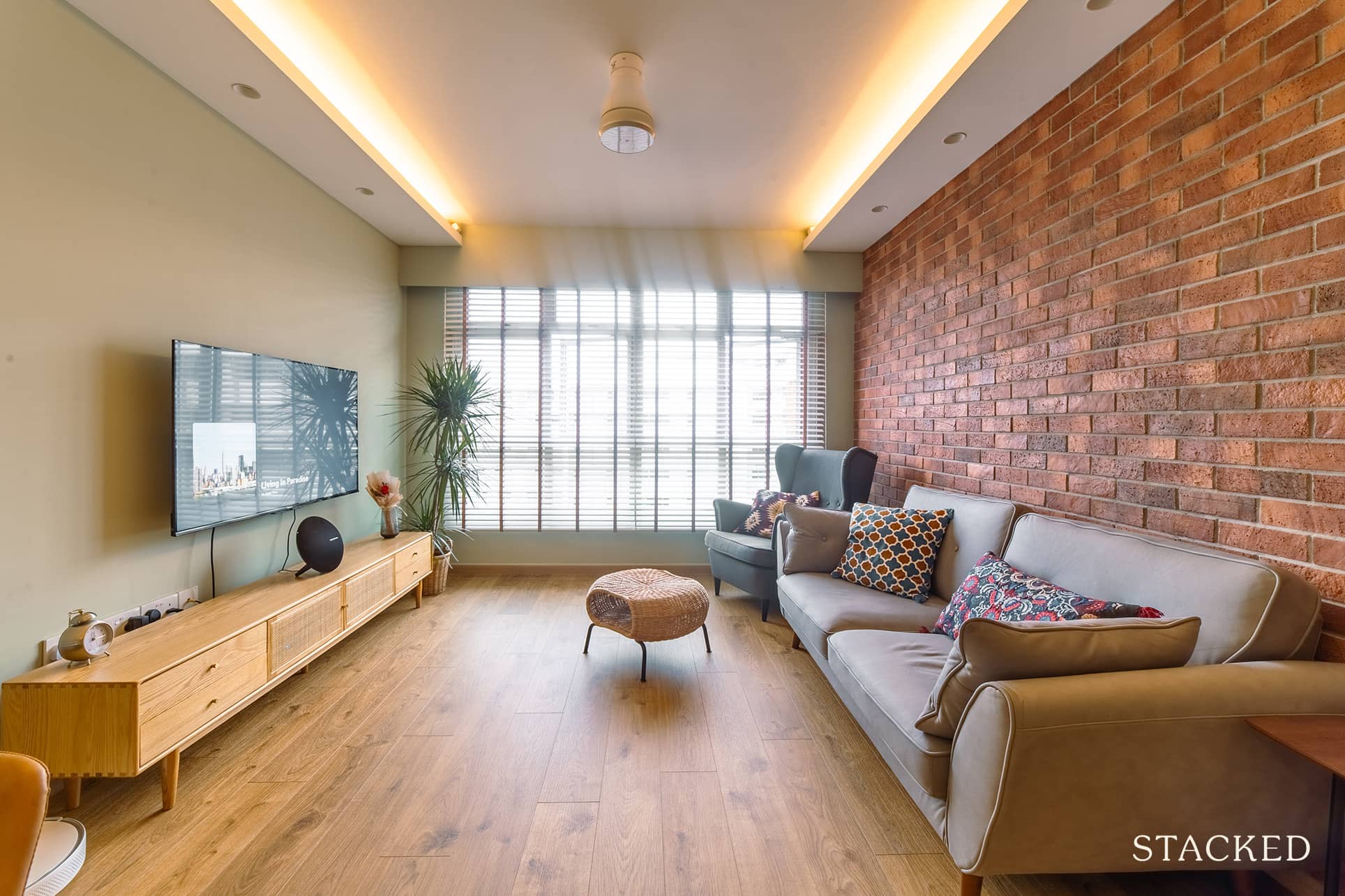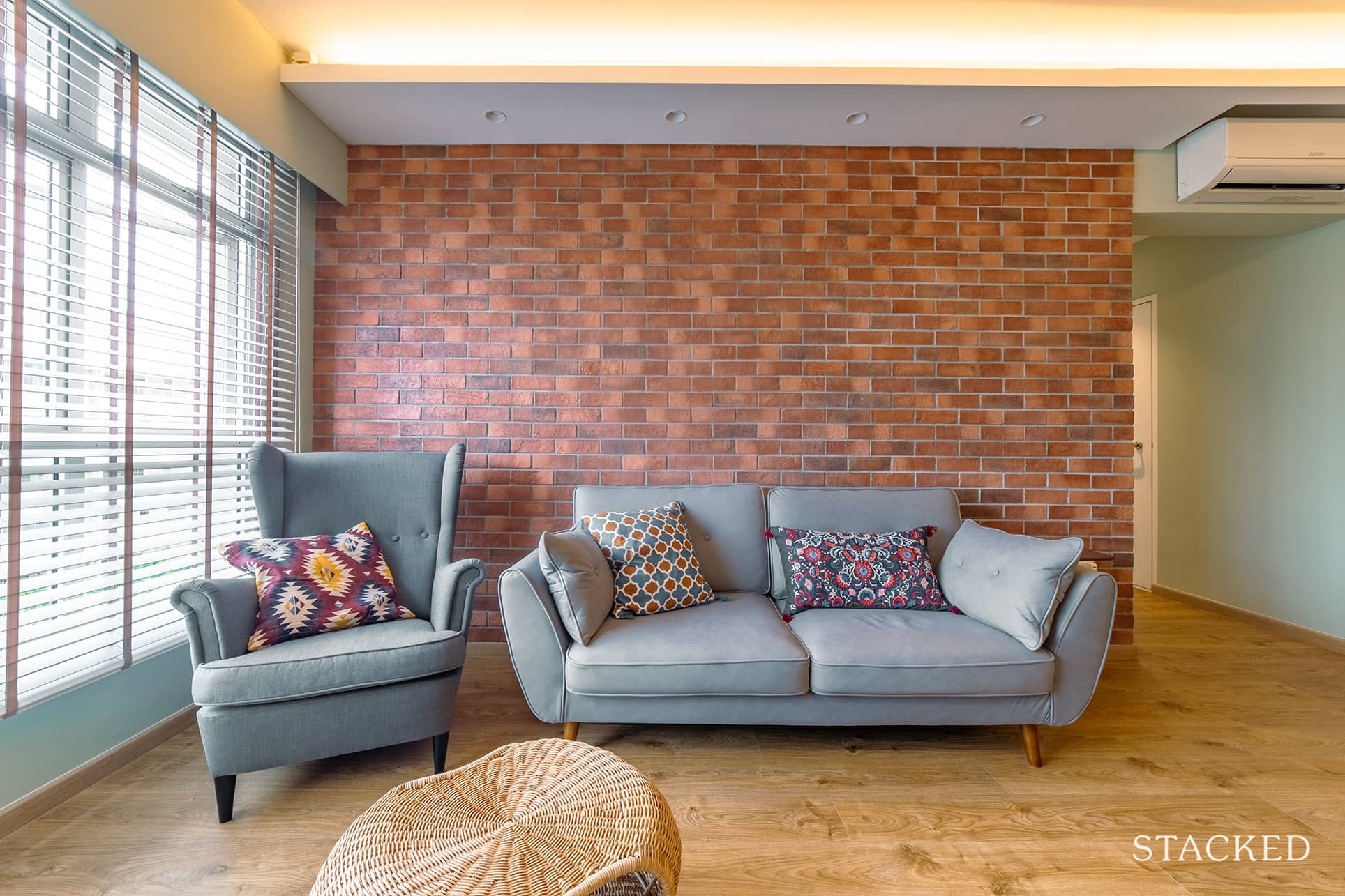 To add a more familiar touch to the area, they made sure that rattan furnishings and light wood floors were also installed.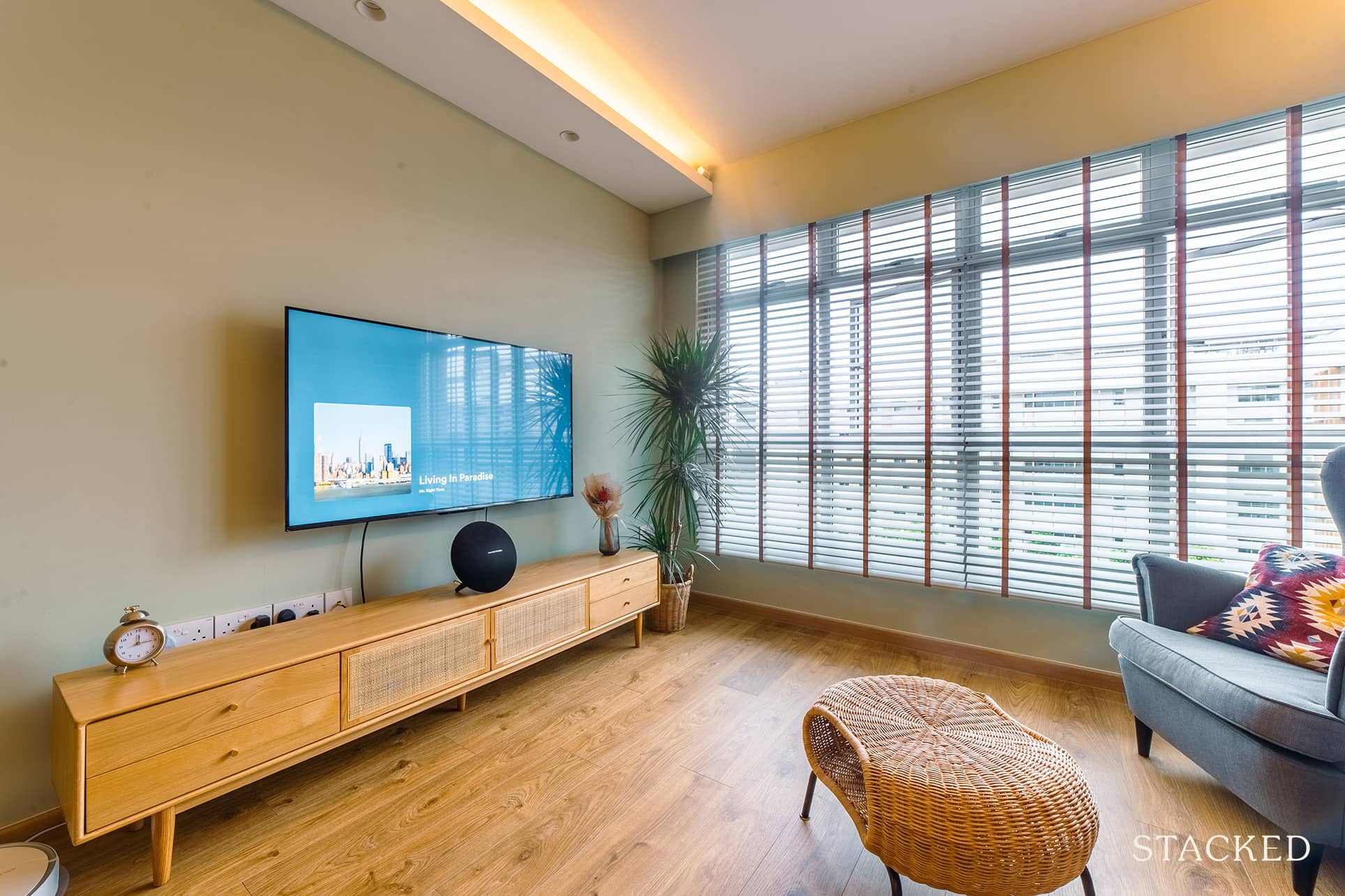 Dining Area
The dining area was kept simply furnished, with just the rattan-covered hanging pendant lamp providing a little texture to the space.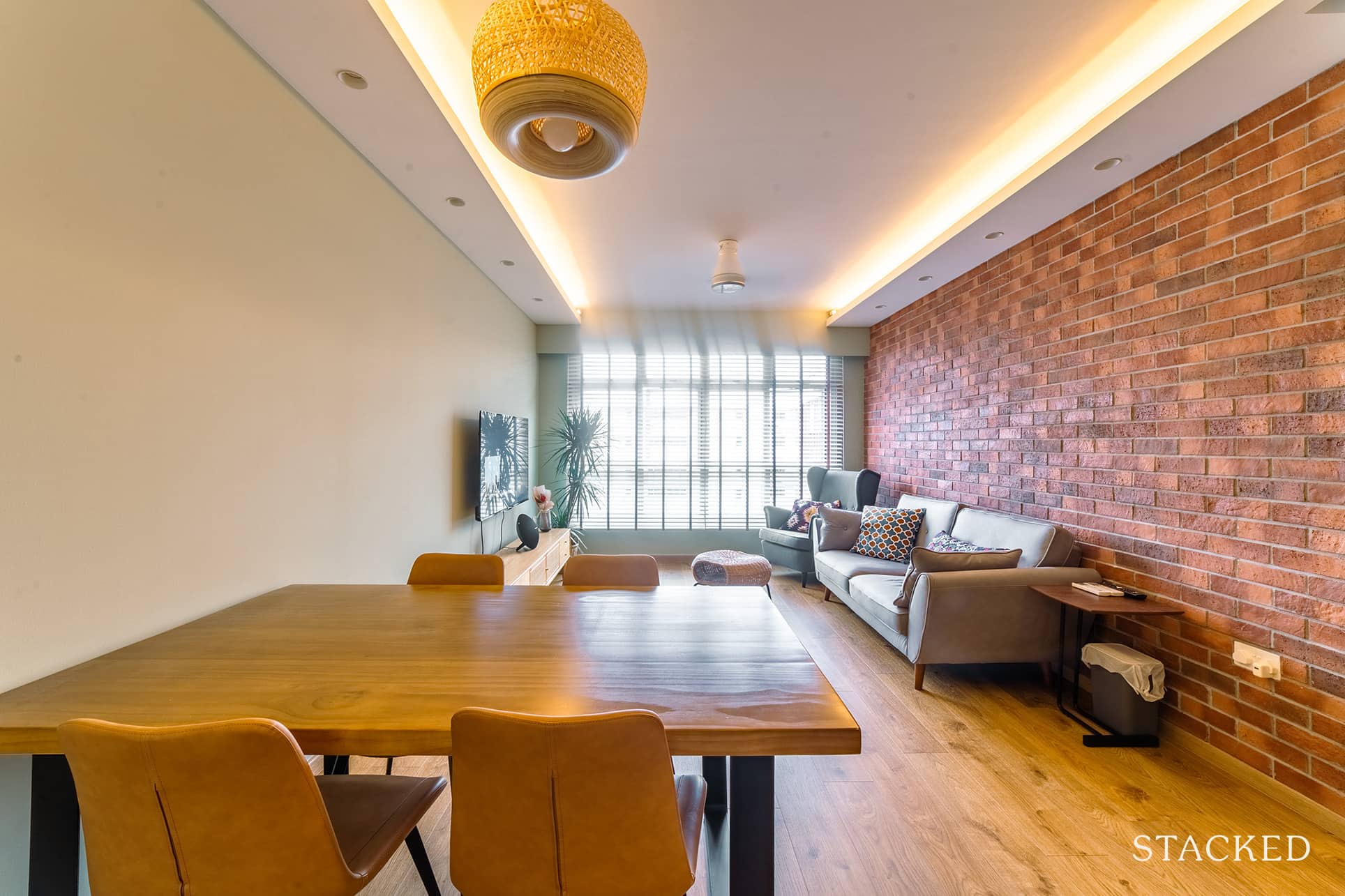 The dining table they chose is that of dark wood, another element common to most UK-inspired homes.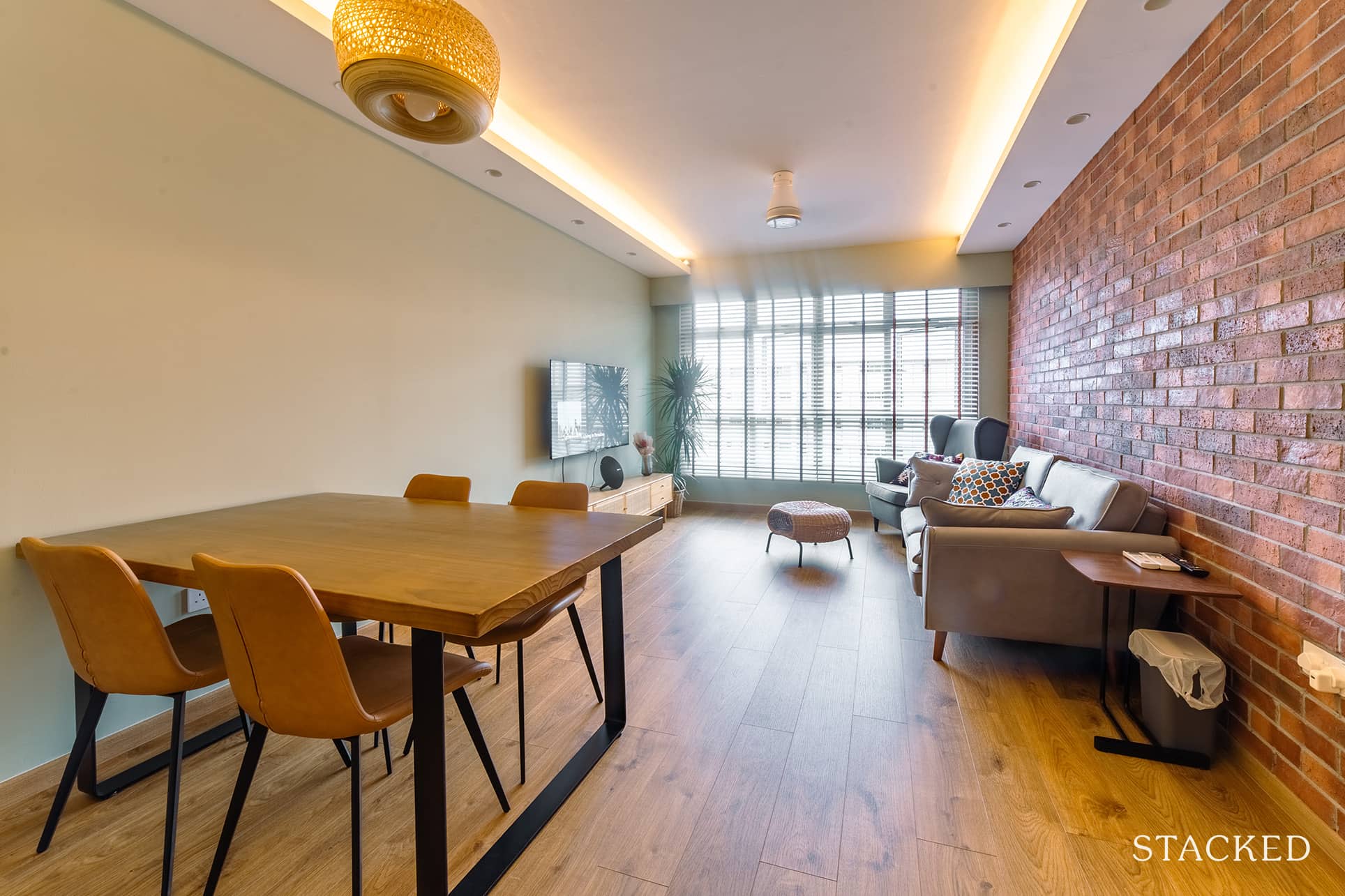 Kitchen
The kitchen went through a complete overhaul, incorporating patterned tiles on the floor and closed cabinetry with a dusty blue colour. This complemented the white brick wall, which carried on the theme from the living room.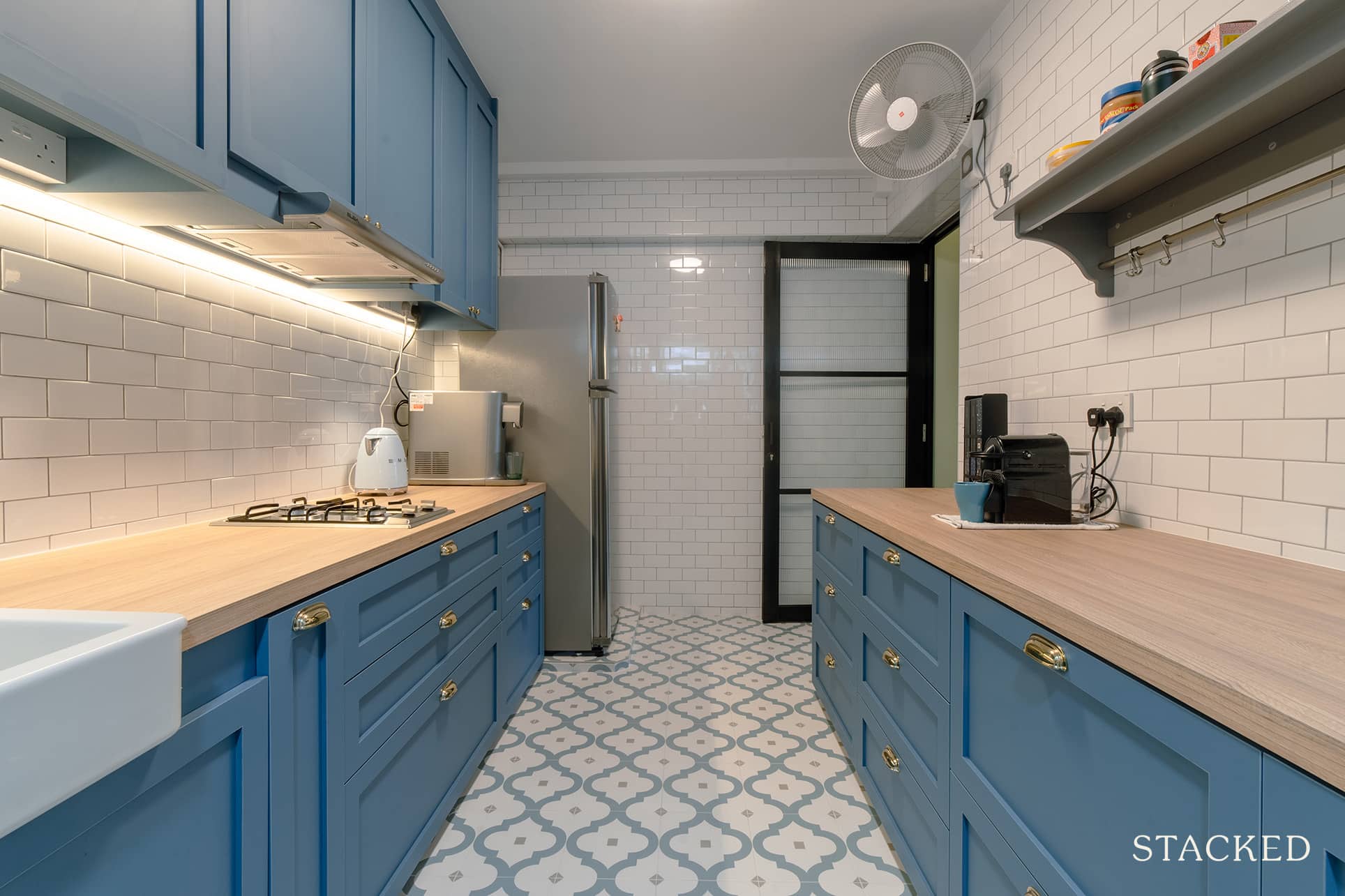 The open shelf on the opposite side of the wall seeks to add more functionality to the space by allowing the most used kitchen items to be easily accessible while also visually expanding the kitchen.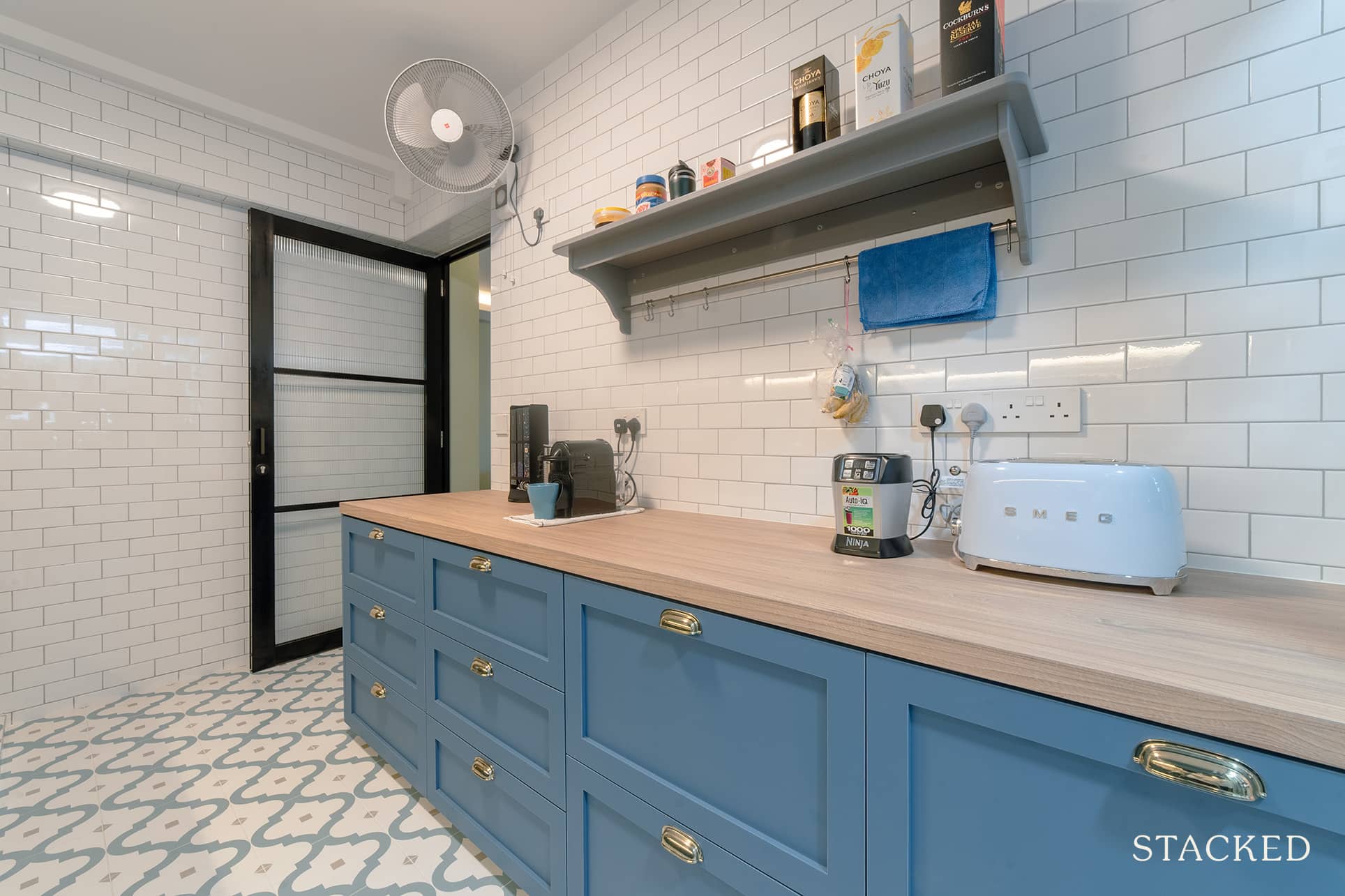 Bedrooms
For the bedrooms, the couple also had to dismantle the existing built-in wardrobes, TV cabinet, and study area. This allowed them to have the freedom to extend the cosiness of the place to these particular areas of their home.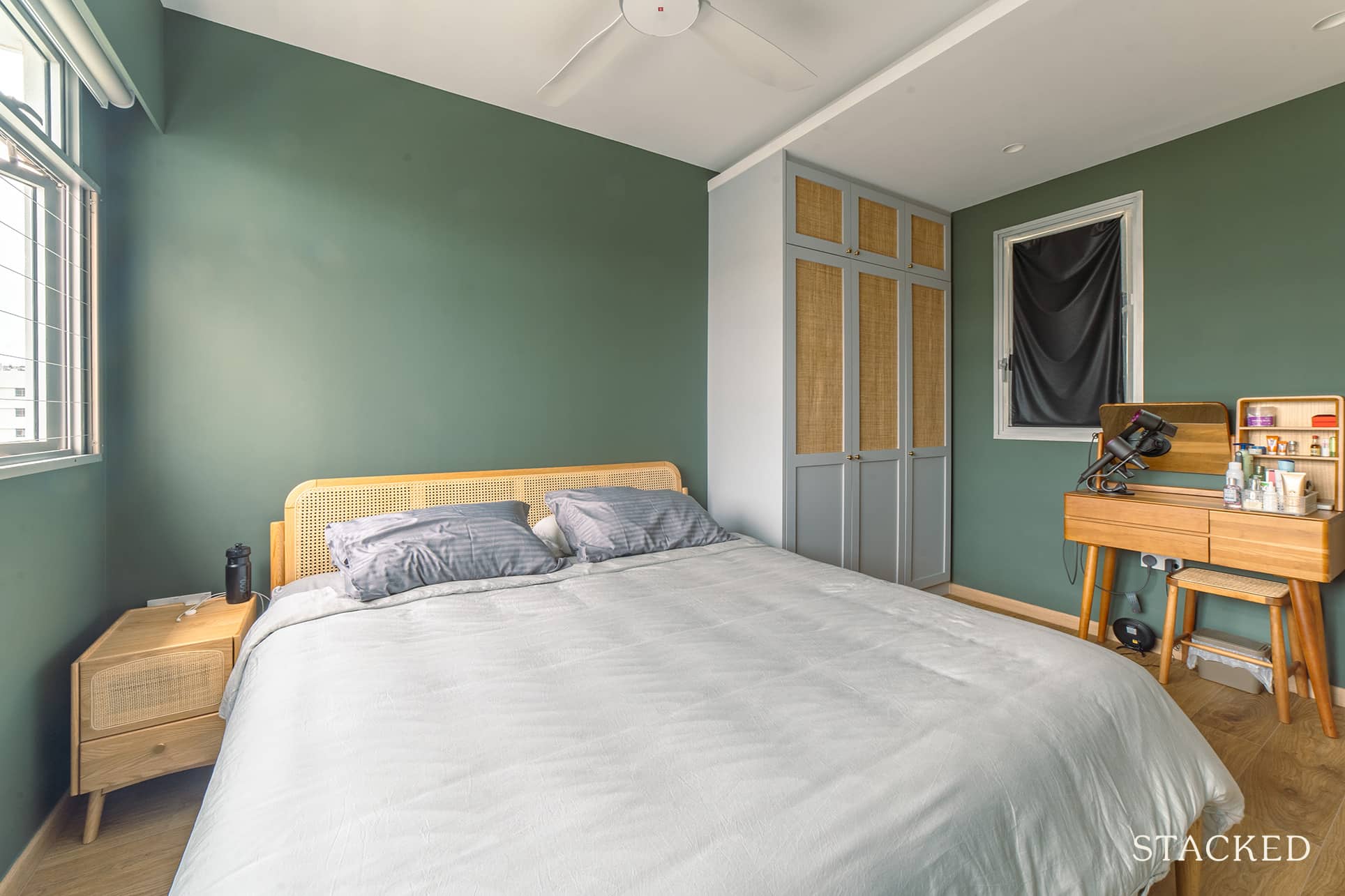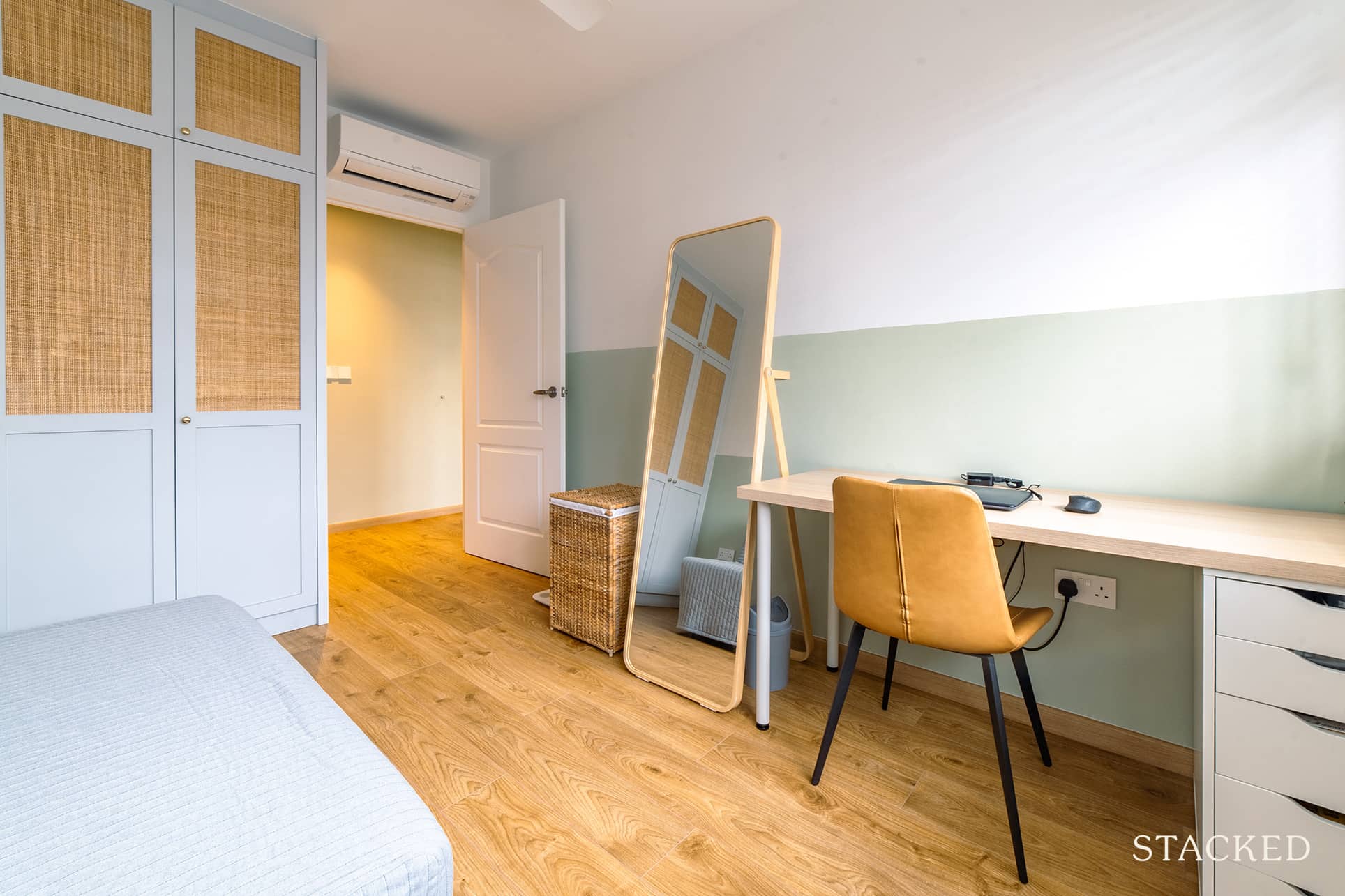 Bathrooms
Both of their bathrooms went through a complete overhaul for hygienic purposes. They chose to separate a wet and dry area and made sure that the fixtures and tiles followed the same British-inspired theme.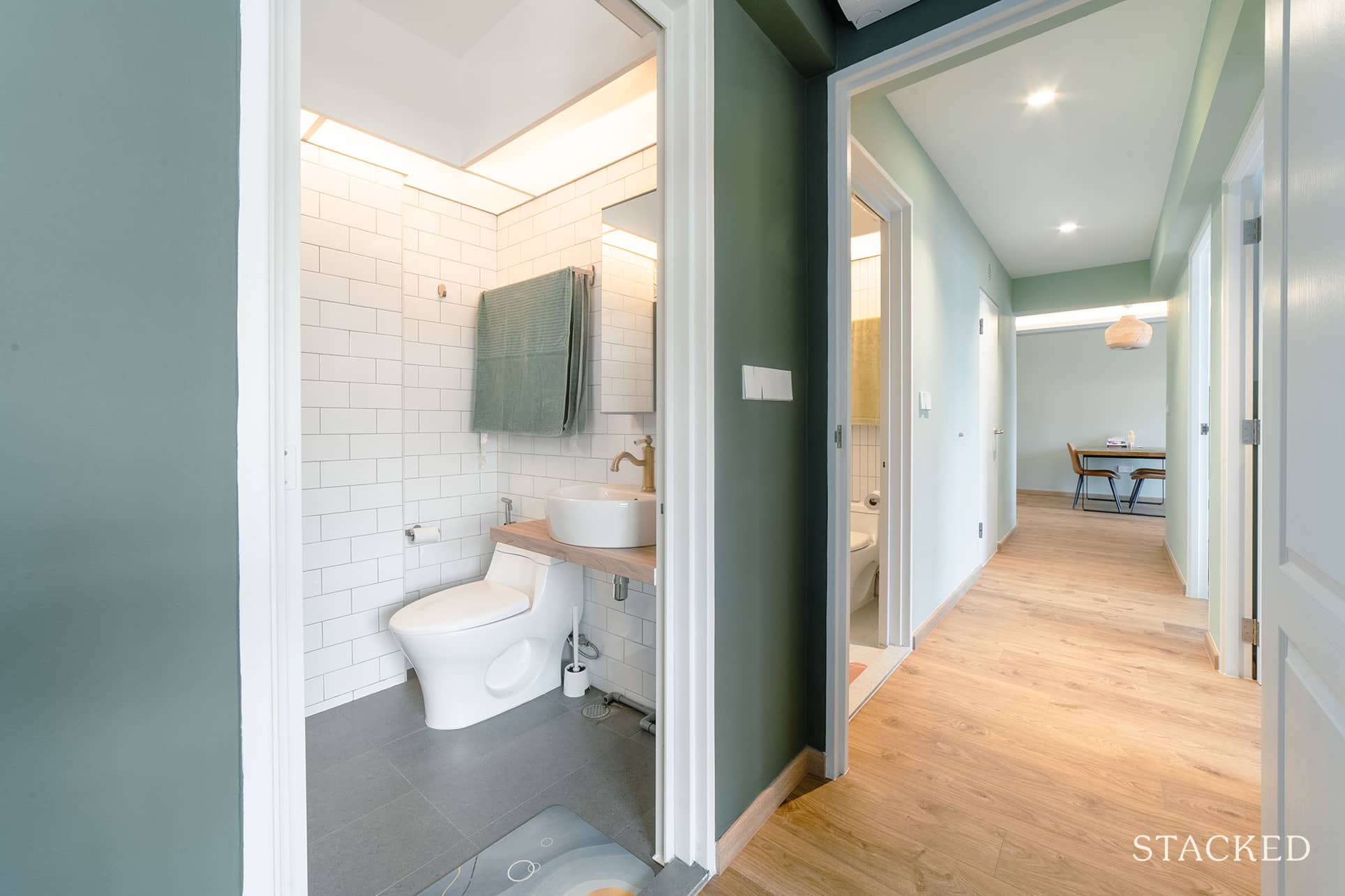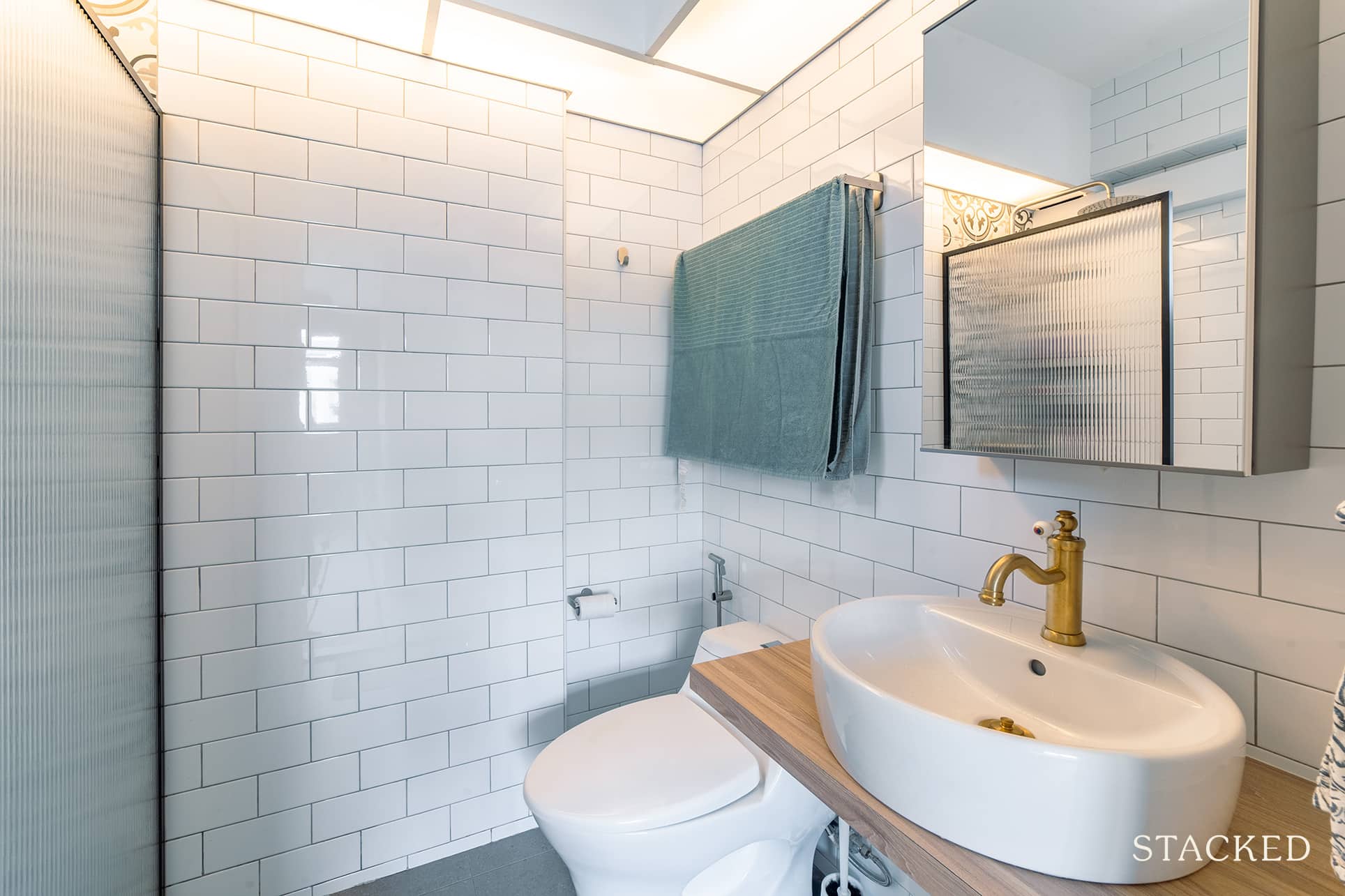 Bringing The Vision To Reality
To achieve their home on a budget, the couple was very involved in the journey of renovating their home.
"This was through a lengthy process from ideation to execution, from curating mood boards for each space on Pinterest to sourcing for finishes to countless visits to showrooms and galleries. We also collected physical samples and put them together, including paints.
We even had to source for paint colour palettes and buy some of the paints to see how they look after application."
For their renovation contractor, the couple selected Aplus Design Pte Ltd over four other contractors and ID. Aside from getting recommended by their friends, John and his wife picked Aplus Design because of their workmanship.
He said they also liked the competitive pricing and the practical bits of advice offered to them instead of changing their design intent.
John said their furniture sourcing process was rather fuss-free compared to the renovation.
They started by browsing through catalogues from various furniture store websites, which their friends recommended. Then they shortlisted them according to their preferences and finally went to their respective showrooms to have a feeling for the actual furniture.
When we asked him about his favourite part of the house, he replied that it was actually the whole unit. But if he really had to choose one, he said it would probably be the kitchen.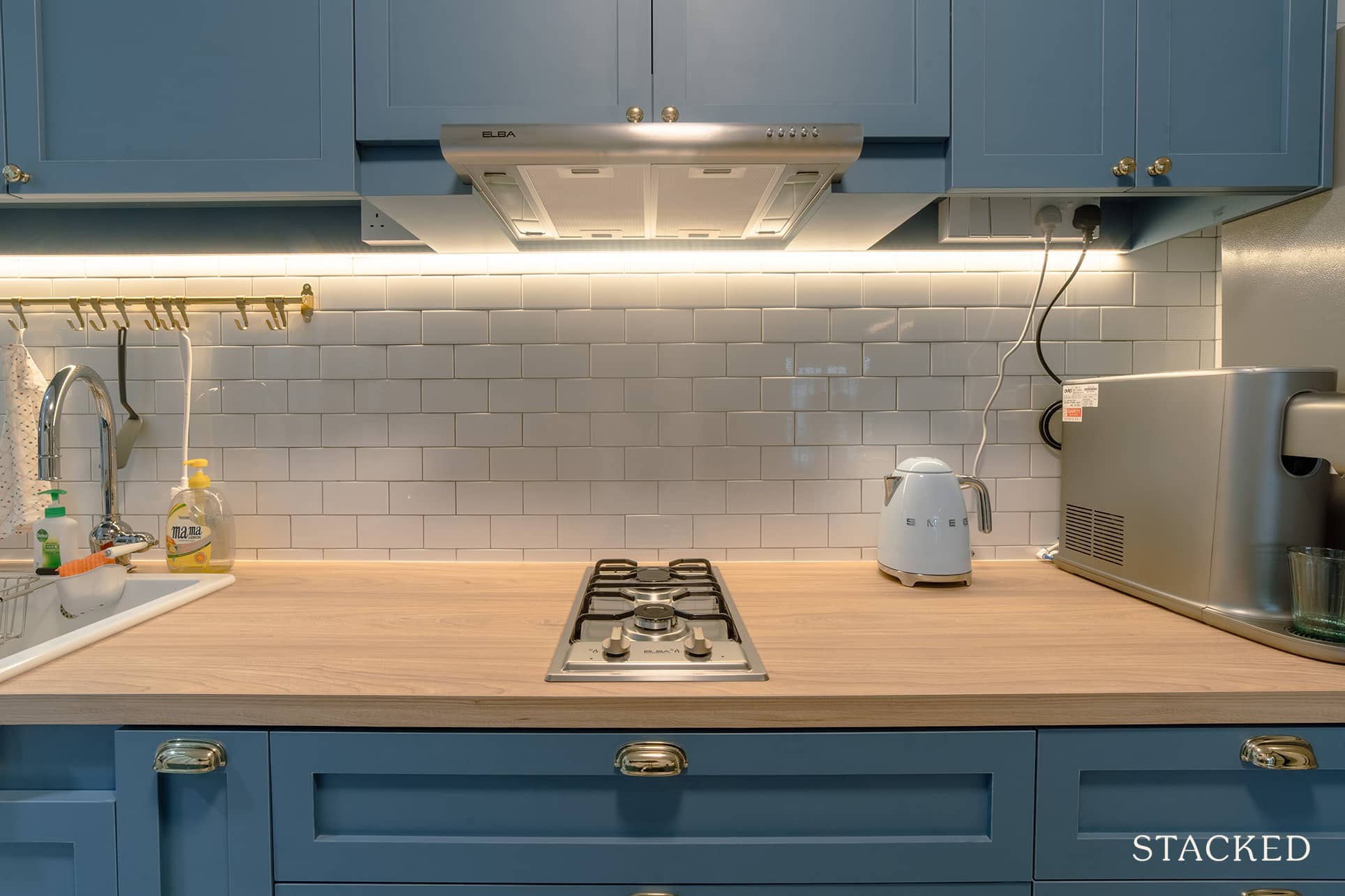 Lessons Learned From A Successful Reno Journey
For John and his wife, their greatest challenge was the constant hands-on monitoring and supervision of the renovation progress. 
It was rather time-consuming but ultimately worth it, especially if they considered that there was no supervision on site. Receiving a few updates from the contractor on the progress didn't help much at all.
"There were few instances where the works were not executed as discussed," he recalled, "and we managed to intervene before it could proceed further."
Their guess was that the contractor might have overstretched their capacity and did not intend to expand its resources. Still, he was thankful that the contractor was very upfront, owned up to the mistakes, and rectified the issues immediately.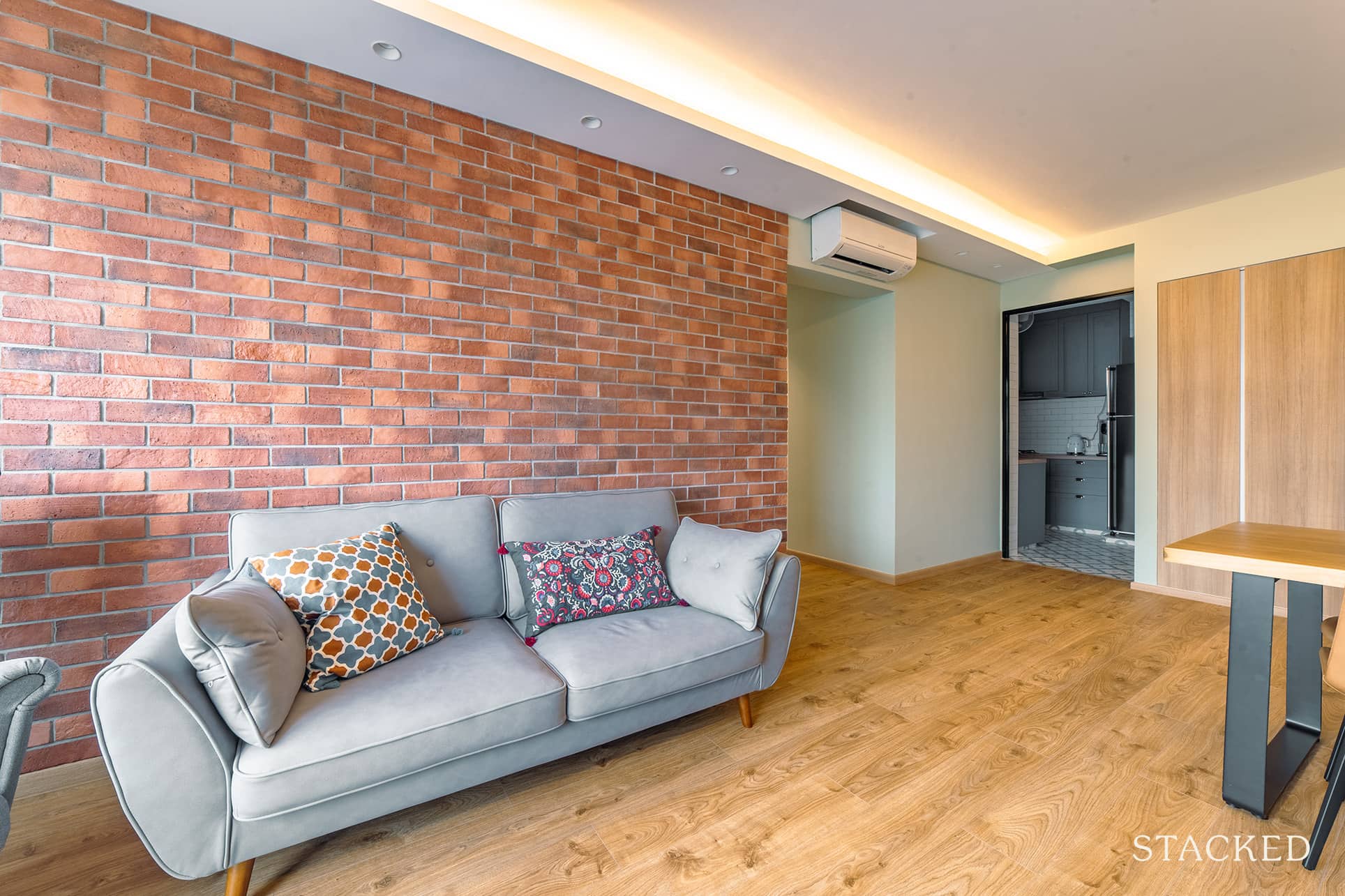 John can't recall any significant mistakes that they had throughout the reno journey, but they indeed learned something valuable from this experience. His advice? Improvise when things don't and can't go as planned.
And in line with what they learned, he further shares more advice with those who want to undertake a reno journey of their own.
Instead of making lifestyle changes to adapt to your home, do it the other way around. You can do this by first understanding what design or theme you want to achieve for the spaces.
"Planning, planning, planning! Be informed of the type of materials or finishes available, including their cost, practicality, durability, and maintenance. Be aware of your budget and expectations."
Shop the look
SHARE