We Had A Strict $60k Reno Budget: How We Rebuilt Our 22-Year-Old Condo Into A Mid-Century Modern Home
Renovation Journeys
We Had A Strict $60k Reno Budget: How We Rebuilt Our 22-Year-Old Condo Into A Mid-Century Modern Home
WRITTEN BY Stacked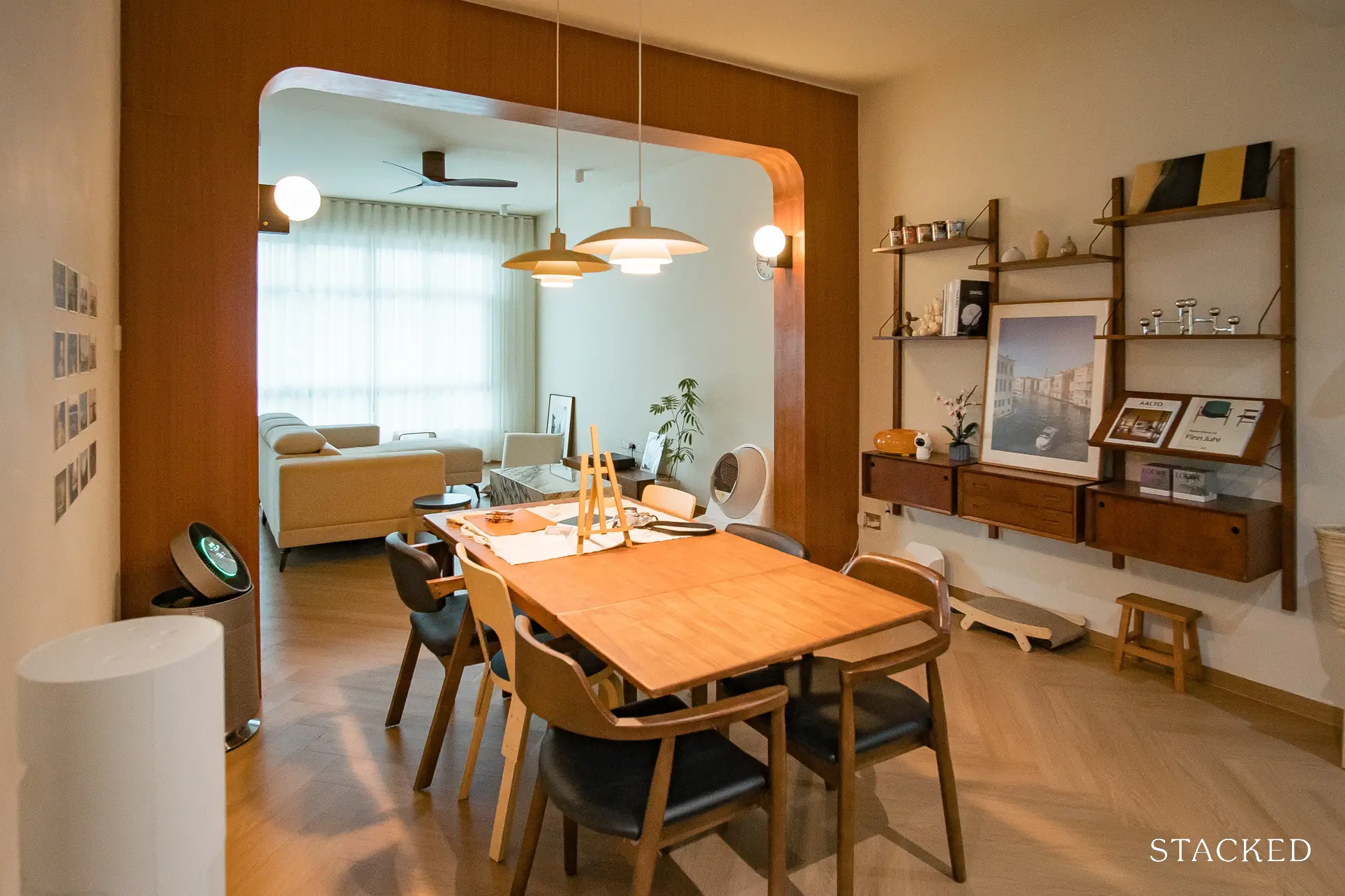 7
min read
For many, the idea of renovating an older condominium can be especially daunting, raising concerns about outdated architecture, potential repairs, and the complexities of modernising an older space. However, for one couple, these challenges were not deterrents but rather a compelling reason to buy a resale unit in Changi Green, an estate completed in 2001.
Nestled in the eastern part of Singapore, close to both sets of parents, the couple viewed the estate's age as a unique opportunity rather than a drawback. They had a vision: transform an older, affordable unit into a cosy, second home tailored to their specific needs – all within a constrained budget. The unit's large, open living and dining space was a major selling point, something they felt would be difficult to find in newer, more expensive developments. Factor in the estate's tranquil atmosphere, and its proximity to key transport links like MRT stations and major expressways, and the couple knew they had found a hidden gem.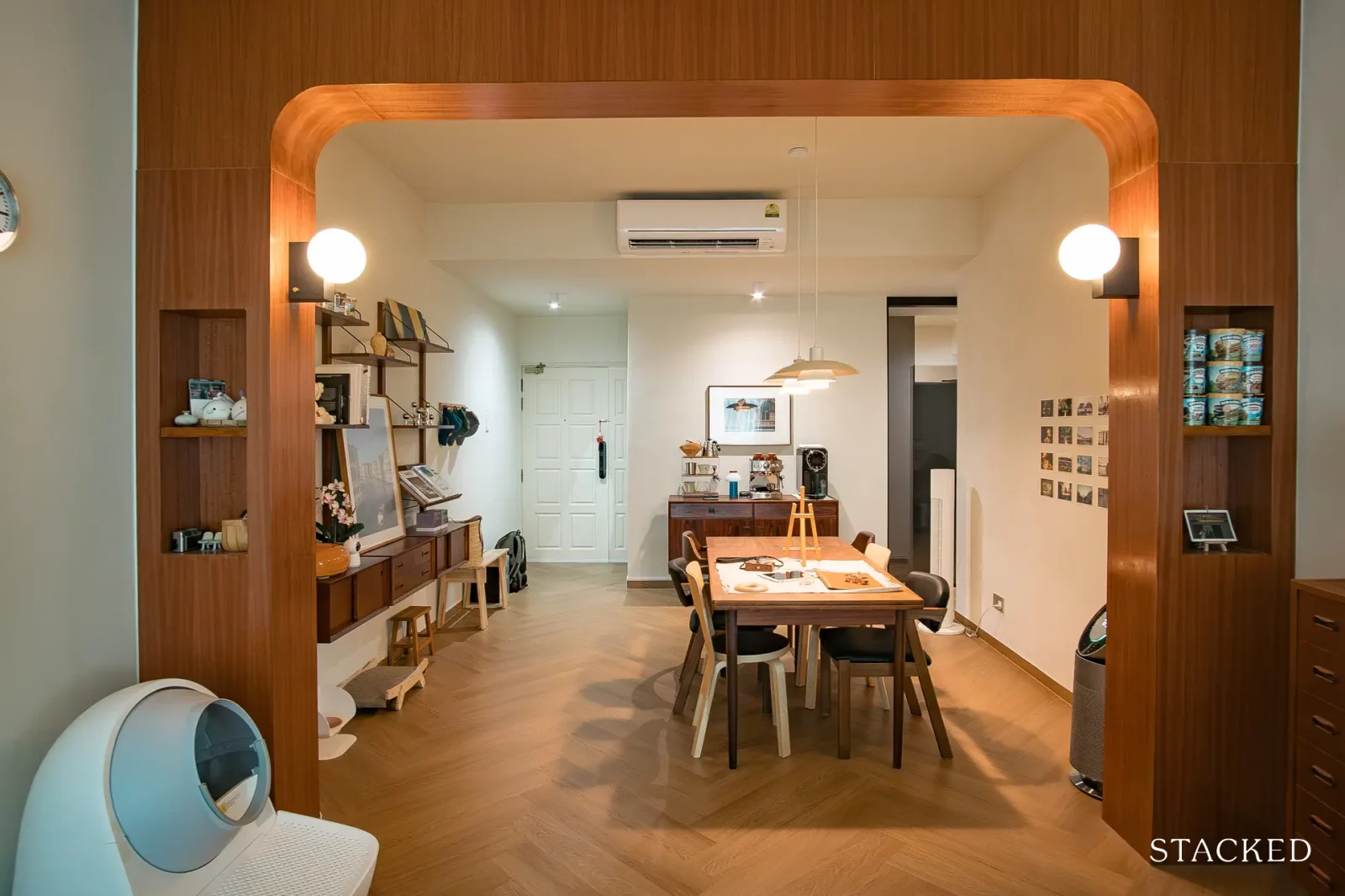 Now, Bryan and Sarah (*not their real names for privacy reasons), and their two beloved cats call this carefully renovated unit home.
Join us as we walk through their challenging but rewarding renovation journey. From circumventing unexpected water leaks to meticulously planning each room's design elements, they've managed to create a home that combines the warm, wooden textures of cottage-style living with sleek, mid-century modern aesthetics – all while keeping an eye on the budget.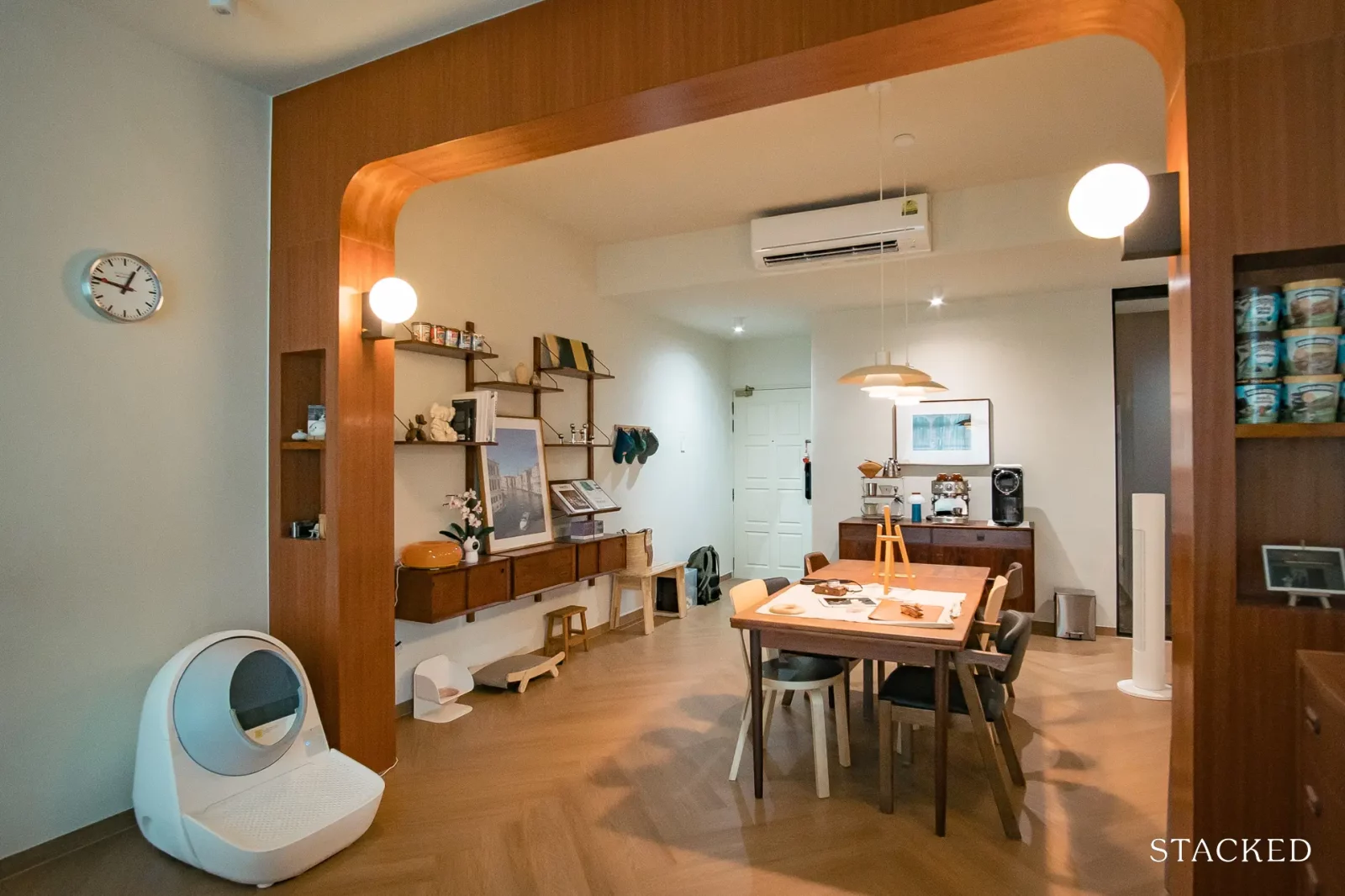 How The Renovation Journey Turned Out
Embarking on a home renovation journey often starts with a vision and a budget, but as Bryan and Sarah quickly discovered, the road to turning dreams into reality is rarely a straight path. They initially set a budget of around $60,000, inclusive of air conditioning and electrical work. Their ambitious renovation plan encompassed significant overhauls in the living room, kitchen, and both toilets. But when the first quotation came in at a staggering $78,000, they had to rethink their plan.
As such, Bryan and Sarah decided to forgo renovating the toilets, as the previous owner had left them in satisfactory condition. To further trim down the budget, they eliminated the idea of a feature wall with built-in storage, opting instead for online-sourced wall shelves – a stylish but more cost-effective solution.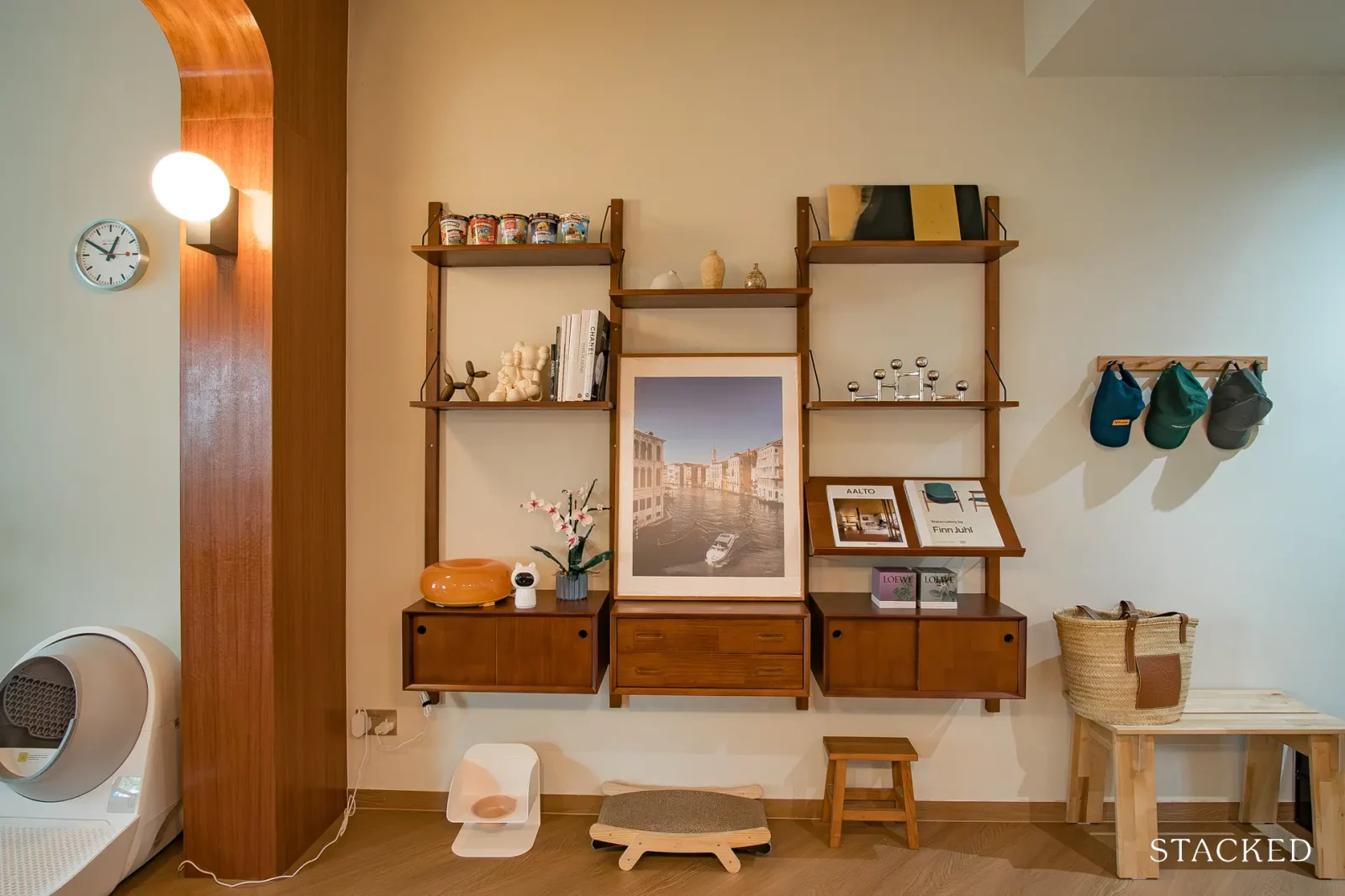 Their vision for their home was not compromised, thanks in part to their collaboration with Howl Studio. According to Bryan and Sarah, the interior design firm was remarkably accurate in bringing their conceptualised home to life, both in 3D renders and in the actual built environment. "It was almost as accurate as the render, which seems rare," they shared.
Though they had to make concessions along the way, Bryan and Sarah maintained a long-term perspective, especially considering the potential expansion of their family. They wisely avoided making permanent changes to the floor plan, focusing on modifications that offered flexibility for future needs.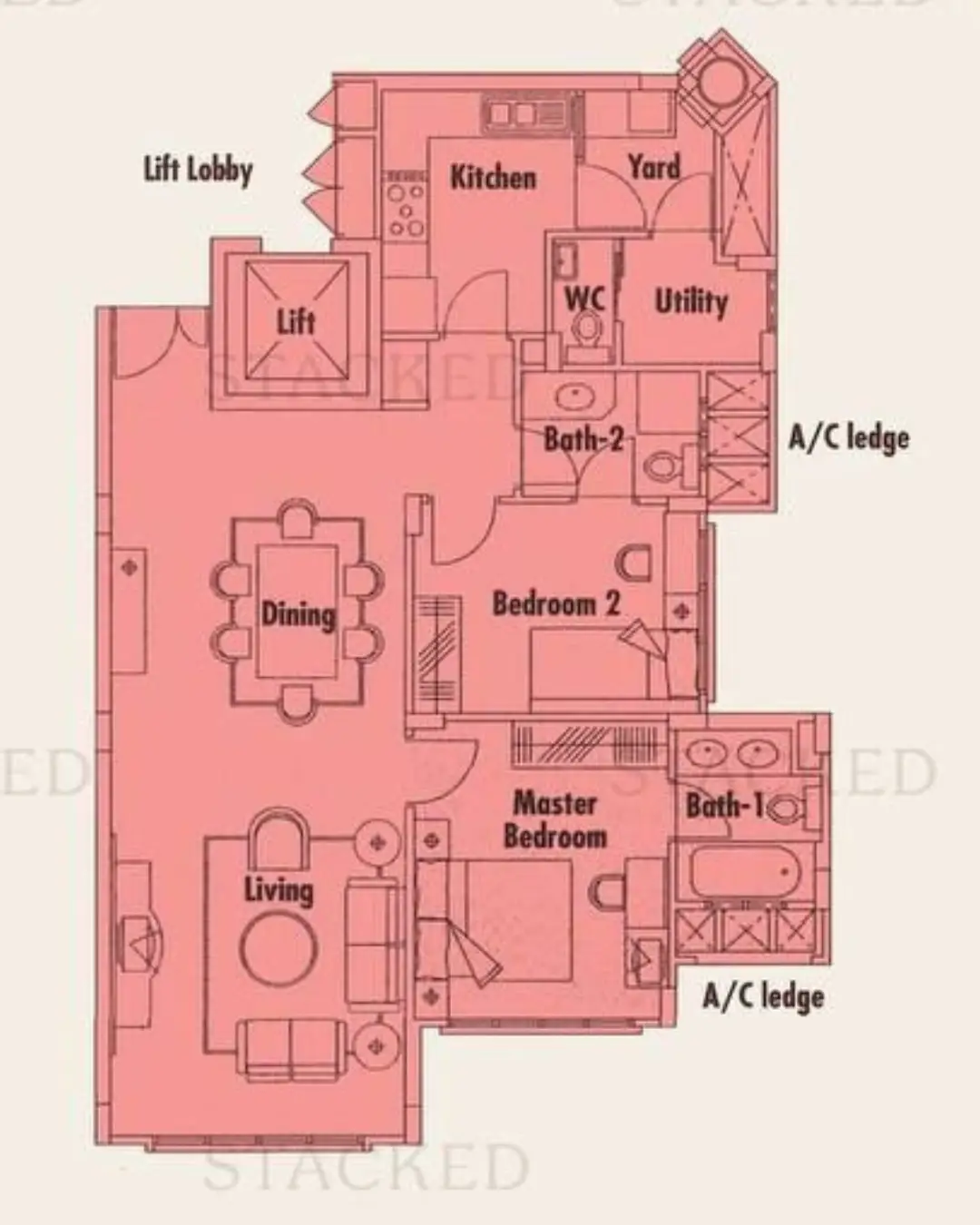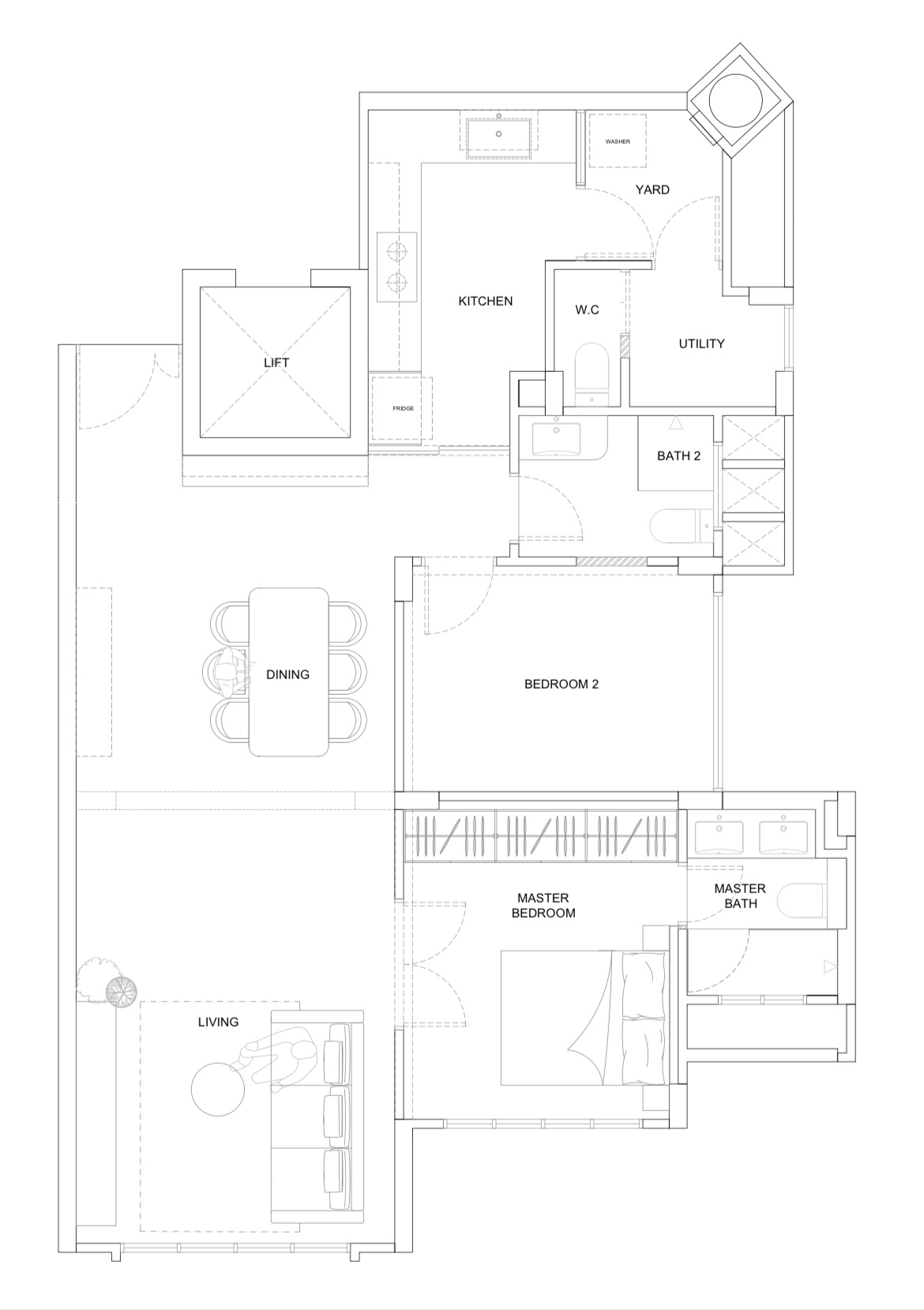 As for the style of their home, Sarah has always dreamed of living in a cottage house, a vision that seemed difficult to realise in Singapore. To bring her dream to life within their budget and space, the couple blended Sarah's love for cottage aesthetics with Bryan's appreciation for mid-century modern design. They chose to clad the interior with wood to evoke a rustic, cosy vibe, while incorporating contemporary accents for a harmonious feel. Committed to the idea that a home is never truly 'finished,' Bryan and Sarah view their living space as a work in progress – a fluid canvas that reflects their evolving personalities and styles.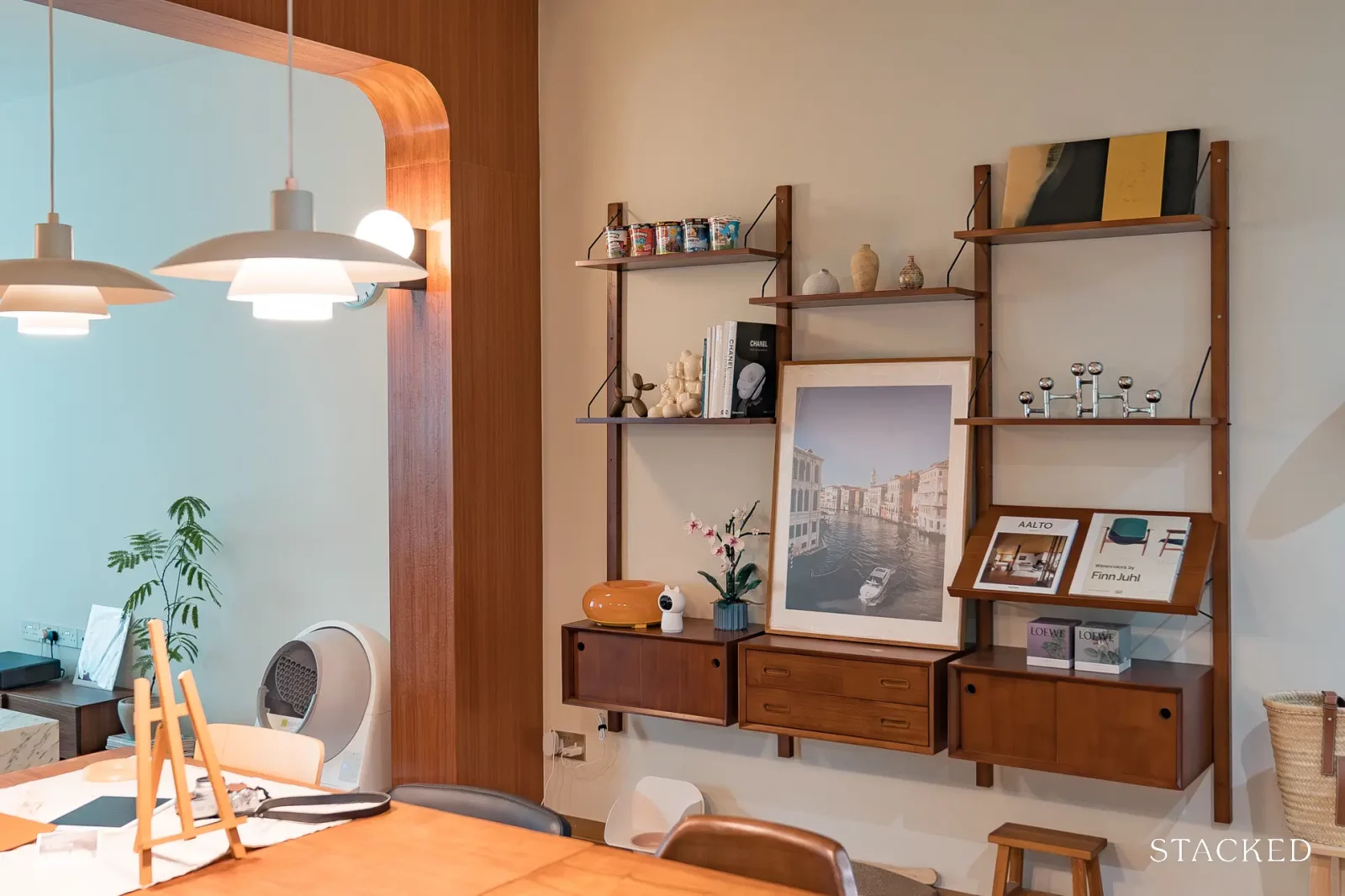 Living Room
Bryan and Sarah prioritised modern functionality as they navigated the renovation of their living room. They removed existing cornices to achieve a seamless and tall ceiling, enhancing the space's airy feel. They replaced two air conditioning units (one each in the living and dining rooms) with a single unit strategically mounted on a structural beam, creating a sleek, "concealed" look for the AC. Lastly, the couple opted for herringbone vinyl overlay on the existing marble tiles, offering a fresh look without requiring any screeding due to the well-levelled original floor.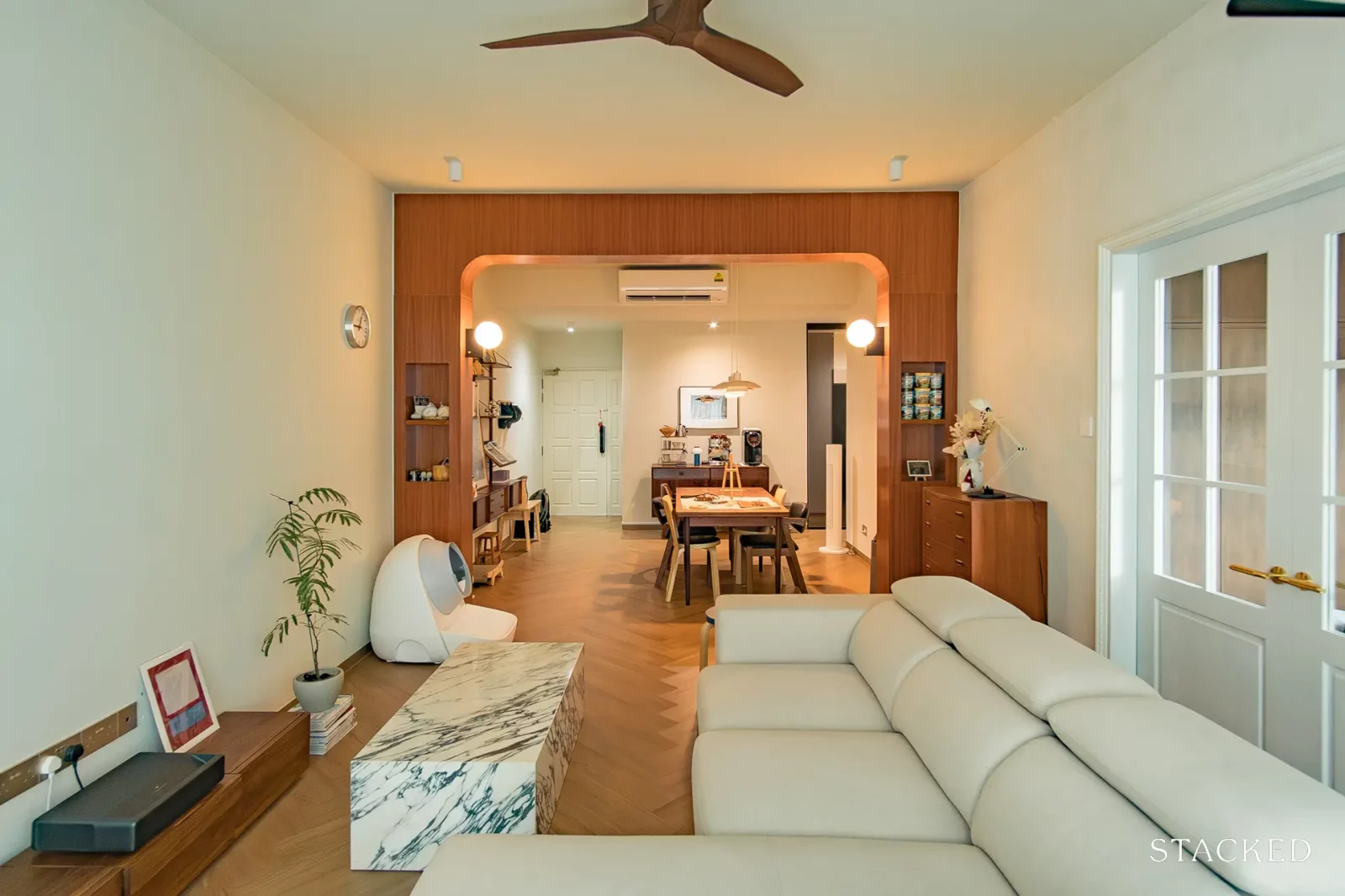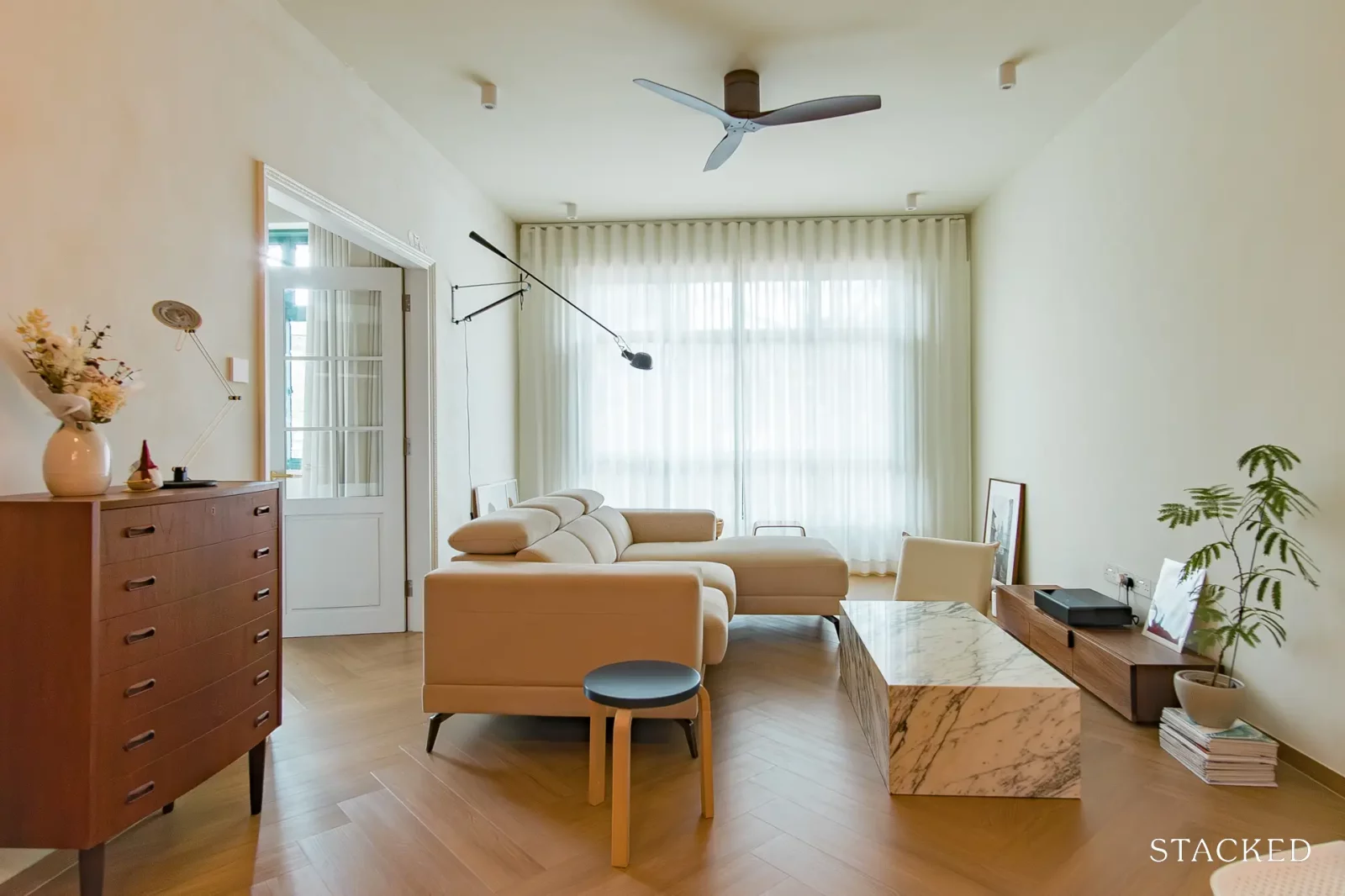 Dining Room
A cleverly cladded structural beam in laminated plywood serves as an arch, effectively demarcating the living and dining areas. Two wall-mounted lights on either side of the arch amplify its mid-century modern appeal.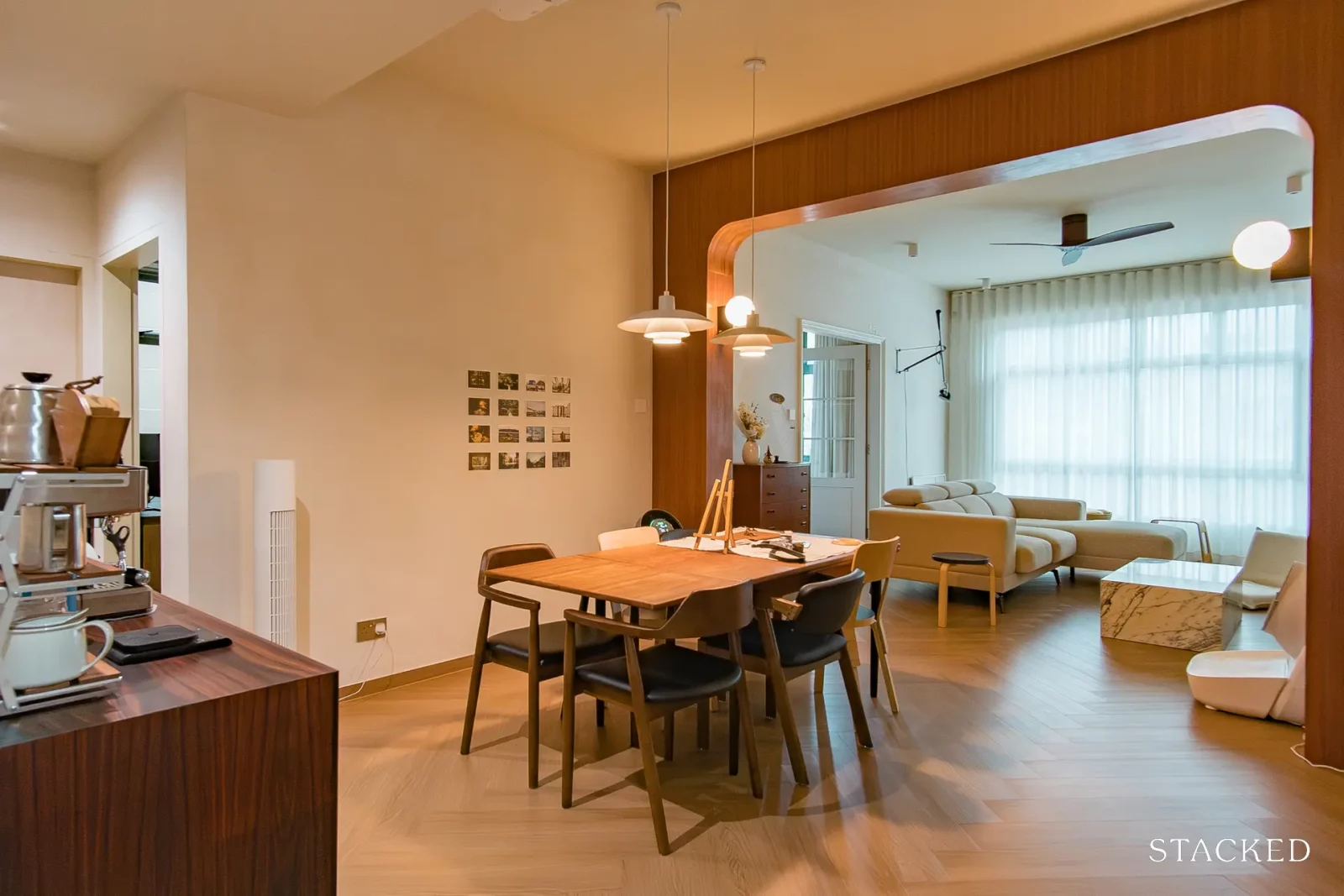 The dry pantry was moved to the dining room, housing their coffee machine and water filter for quick and easy access. The pantry cabinet itself is a refurbished piece from Noden, adding character to the room (and who can't resist that sky blue HAY PC Portable lamp).
Kitchen
As someone who enjoys cooking, Sarah had specific needs for the kitchen. They reimagined the entire space, excluding overhead storage due to its impracticality. Instead, they incorporated a dishwasher for convenience, a 3-cooktop induction for multitasking, and a versatile multi-function cooker.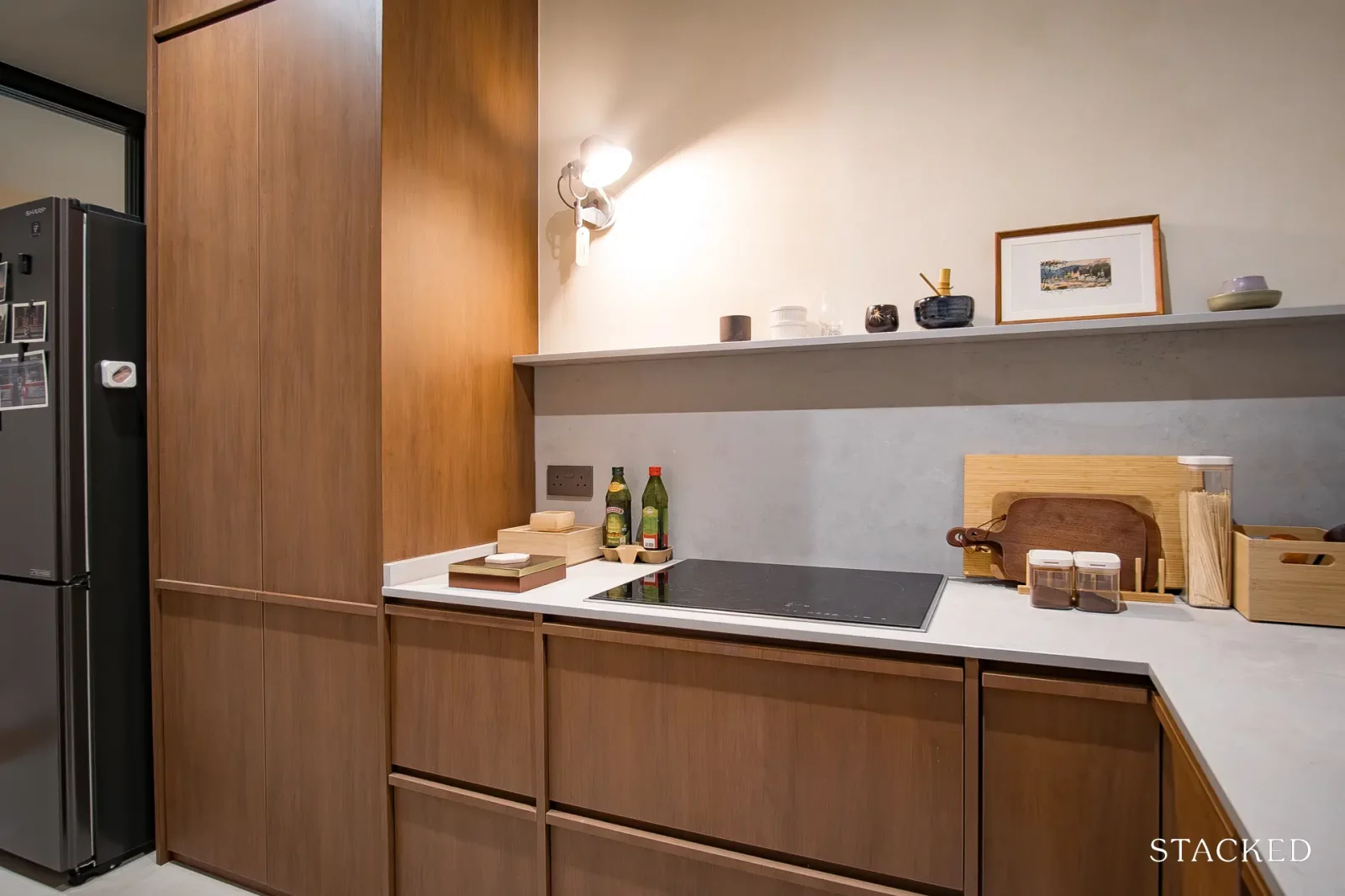 The countertops feature durable quartz that mimics the appearance of cement, and a sliding glass door brightens the otherwise dimly lit kitchen.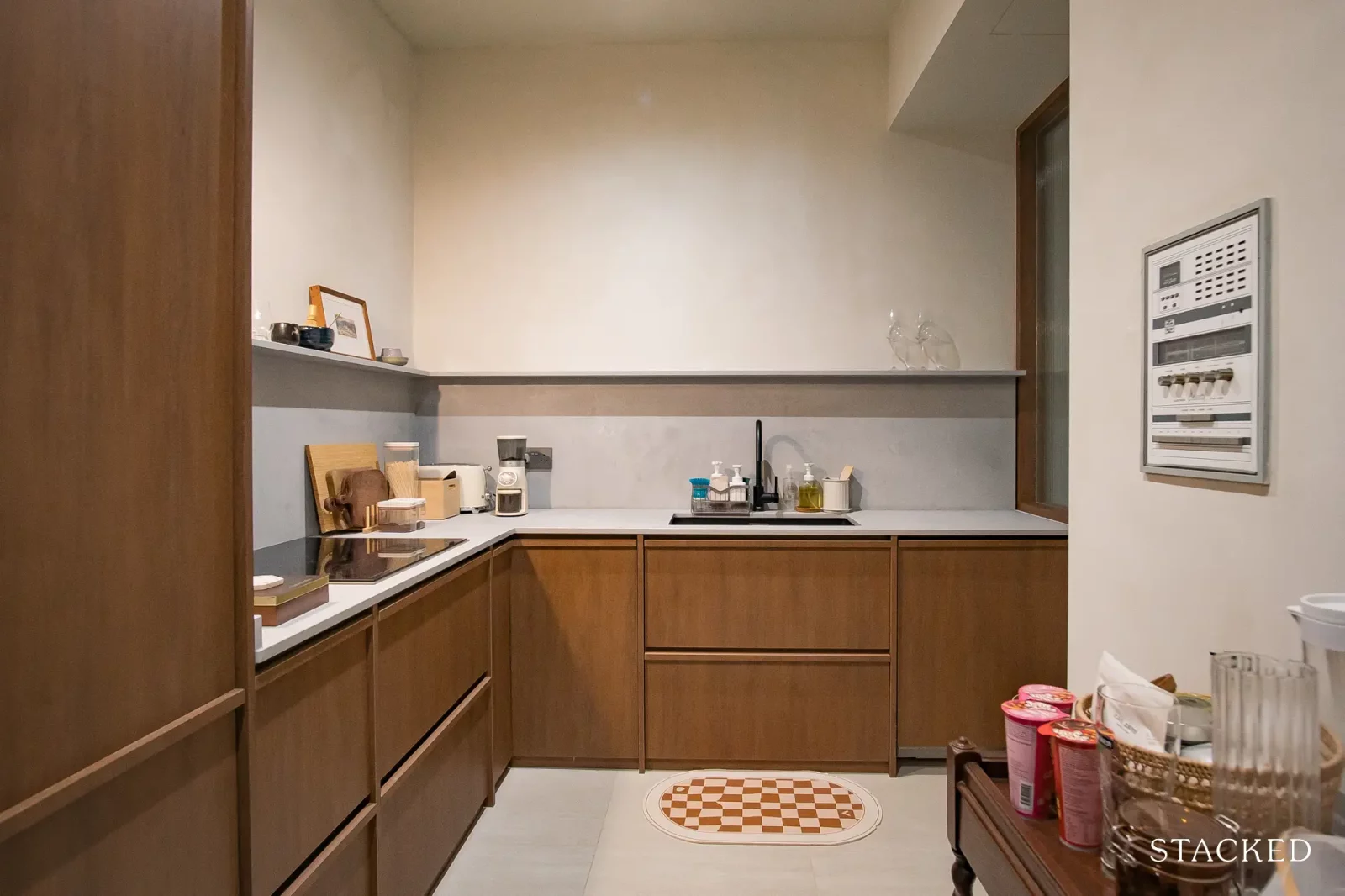 Master Bedroom
The master bedroom underwent a transformative change with the installation of a French door, serving a dual purpose: to invite more natural light into the home and to allow for TV viewing via a projector from either the bedroom or the living room.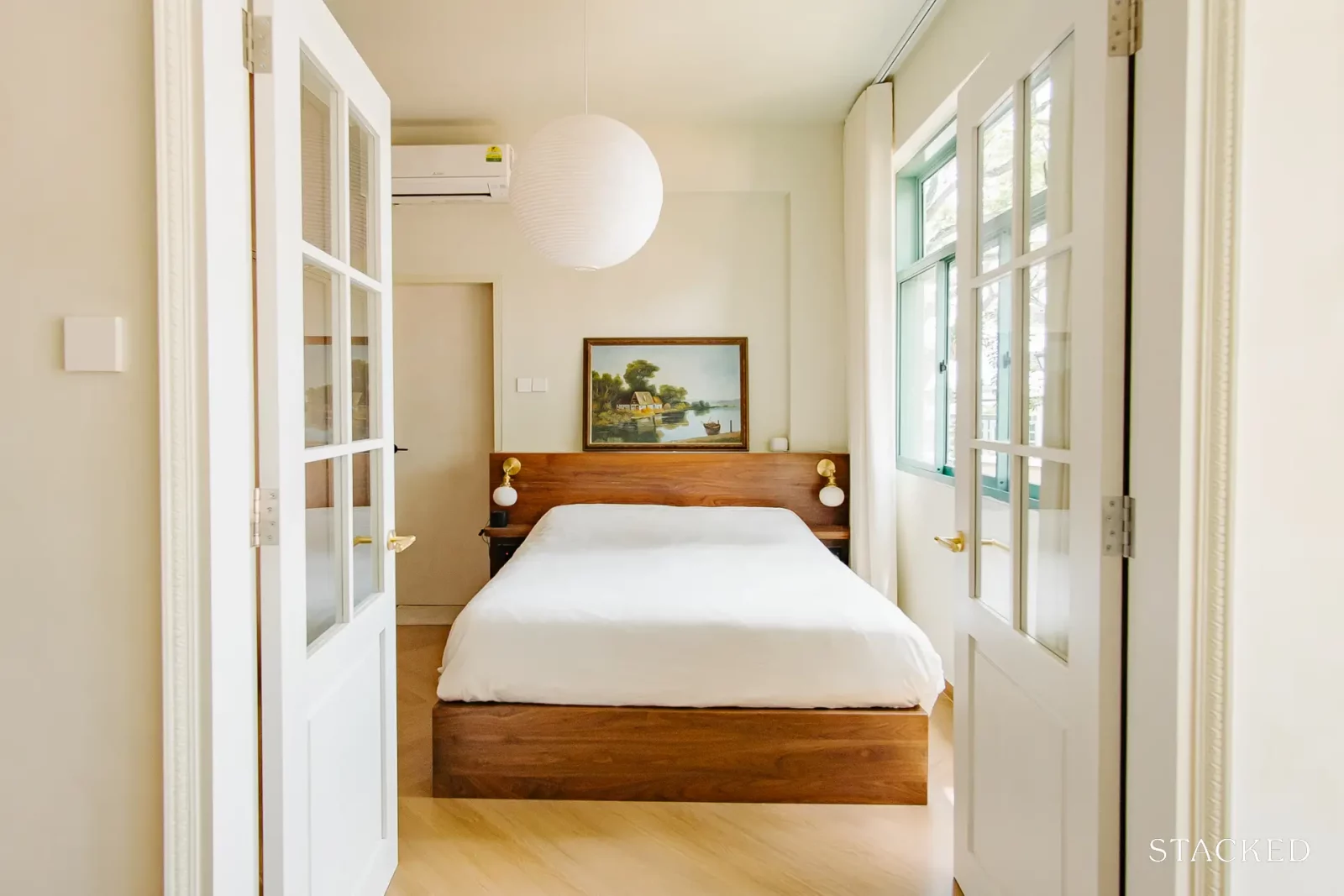 This adjustment also enabled the expansion of the wardrobe, maximizing the 3.2-meter wall length to accommodate both Bryan's and Sarah's belongings.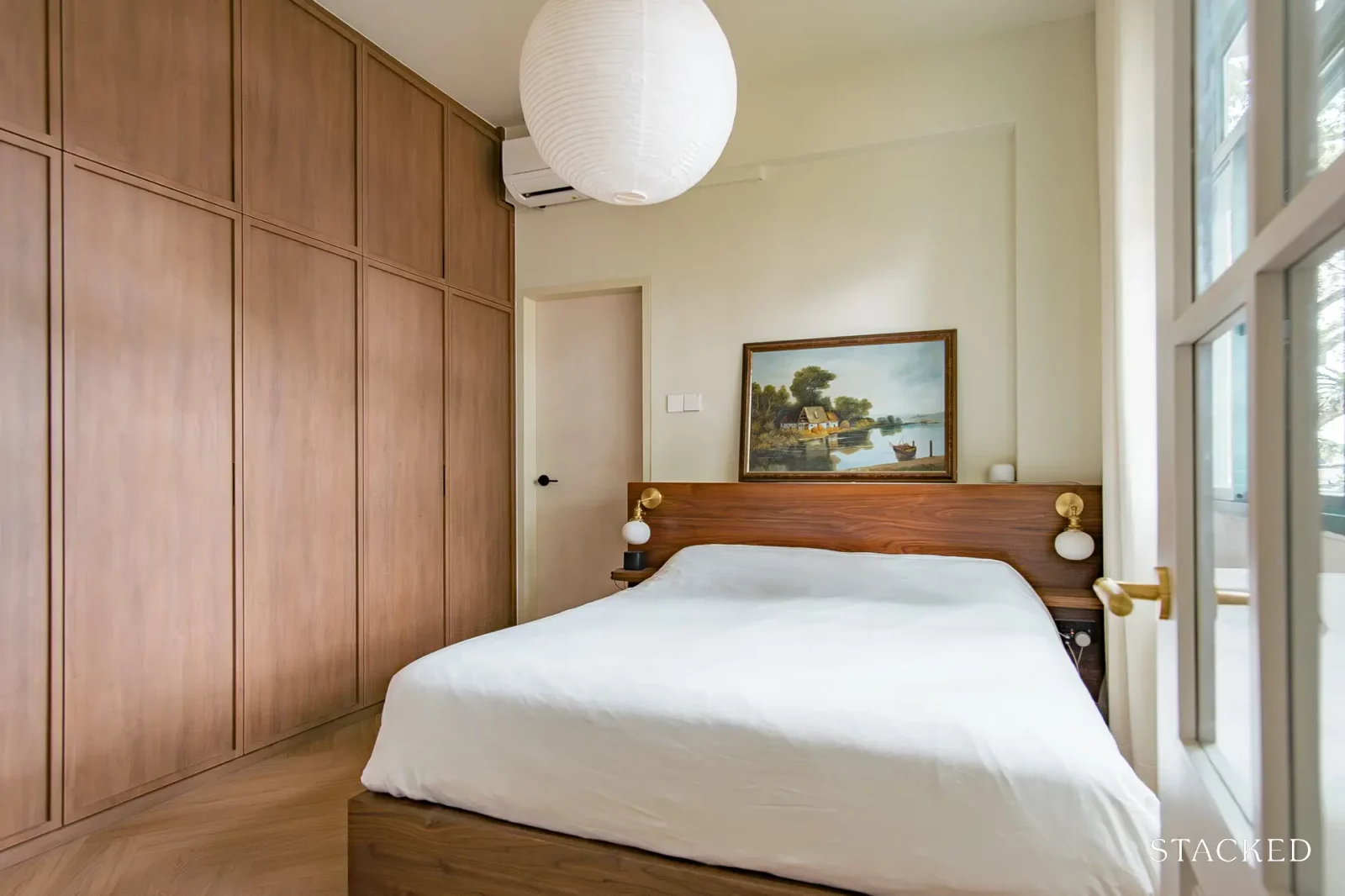 Yard and Storeroom
One of the most cherished features of their older condo unit is the inclusion of both a yard and a storeroom, which is a rarity in newer condominiums. The storeroom even had an attached toilet, which they decided to repurpose for extended storage.
Bringing The Vision To Reality
One of the key components of a successful renovation journey is to find the right designer. Thankfully for Bryan and Sarah, they used a friend through Sarah's line of work.
"We appreciate that he used to work for unique ID firms in the past and we were able to tap on his wealth of resources for good quality contractors. He does very prompt updates as well," Sarah noted.
When it came to furniture, the couple sourced most of it locally, with a mix of new, refurbished, and secondhand pieces from Etsy, Carousell, Noden, and Hocksiong. Among the standout items was their bed frame—a custom piece of dark walnut wood from China that Sarah arranged through Taobao.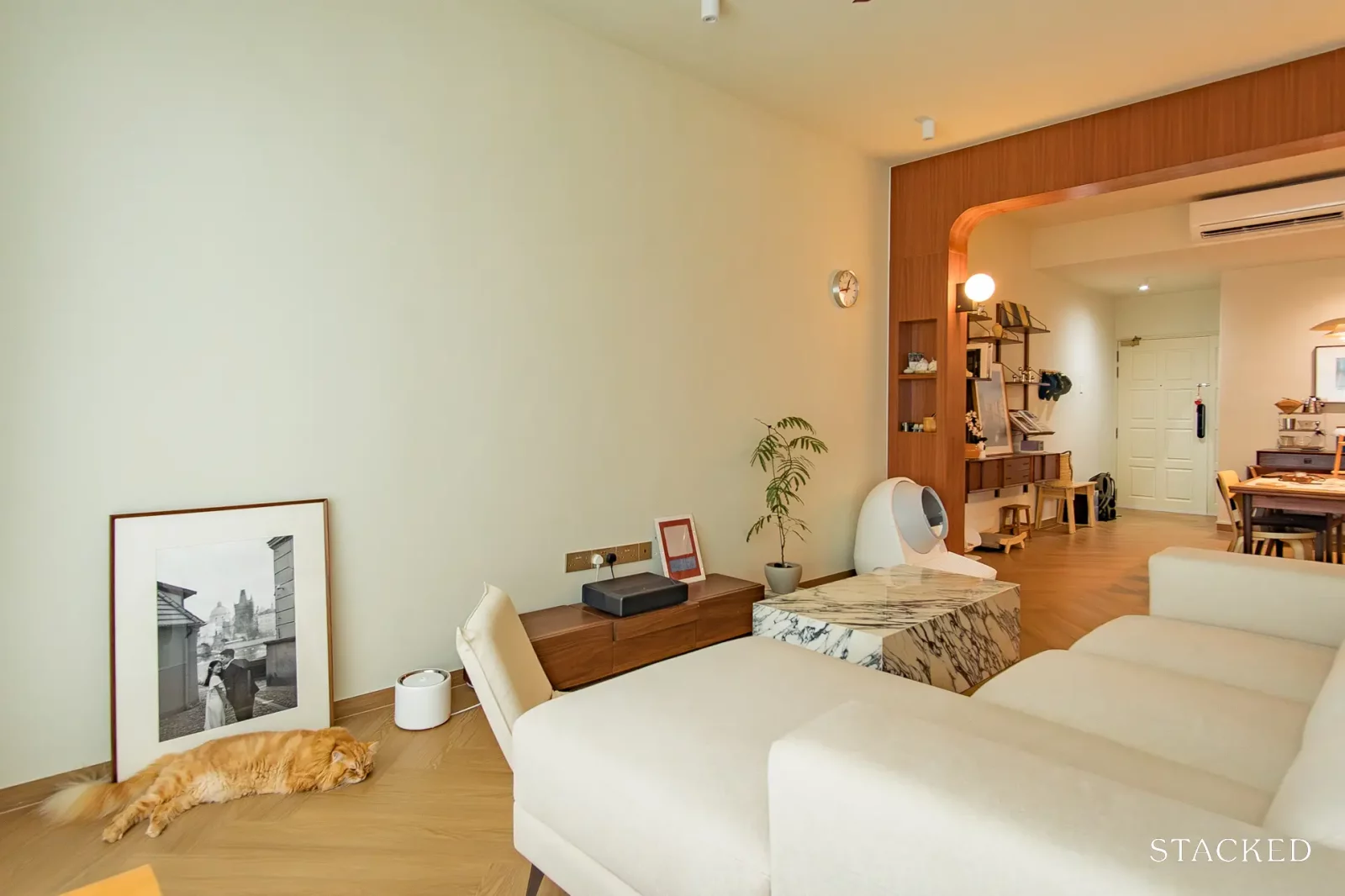 "What's fantastic is that it came in a flat pack," Bryan said. "We could easily disassemble and reassemble it when we moved." Beyond that, they also found new appliances like an induction hob and dishwasher from new condo launches, all sourced via Carousell.
If you ask Sarah, the kitchen is the crown jewel of their home. "We put a lot of thought into its planning, and it's well-equipped," she said, clearly pleased with how it turned out. Bryan, on the other hand, has a soft spot for the living room. "Finally, I have my L-shaped sofa," he added. "And it's both water-resistant and cat-proof!"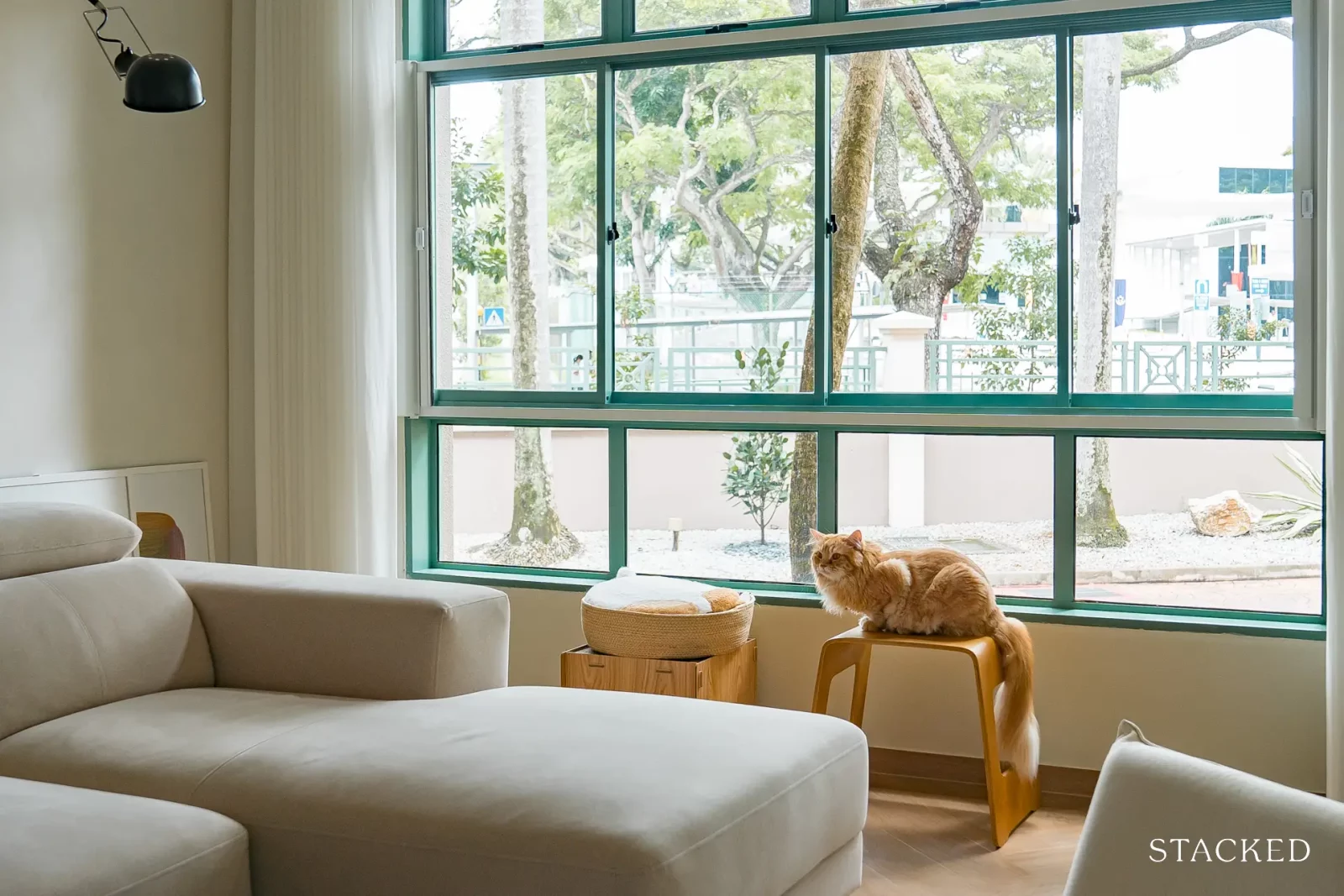 Lessons Learned From A Successful Reno Journey
Renovating a home is a thrilling yet often stressful endeavour. For Bryan and Sarah, this meant grappling with a tight deadline before their previous home's tenant lease began.
The couple's renovation also hit a delay due to a water leak in the kitchen, an issue that emanated from their upstairs neighbour's unit. "The setback had delayed the renovation for 3 weeks as the neighbour needed time to determine the source and to solve the leak," Sarah adds.
Despite the setback, they decided to stick to their timeline. "We moved into the house while the kitchen was still being worked on. Other minor modifications, like adjustments to our master bedroom doors and the arch in the living room, were done sporadically over the next month," Bryan shared.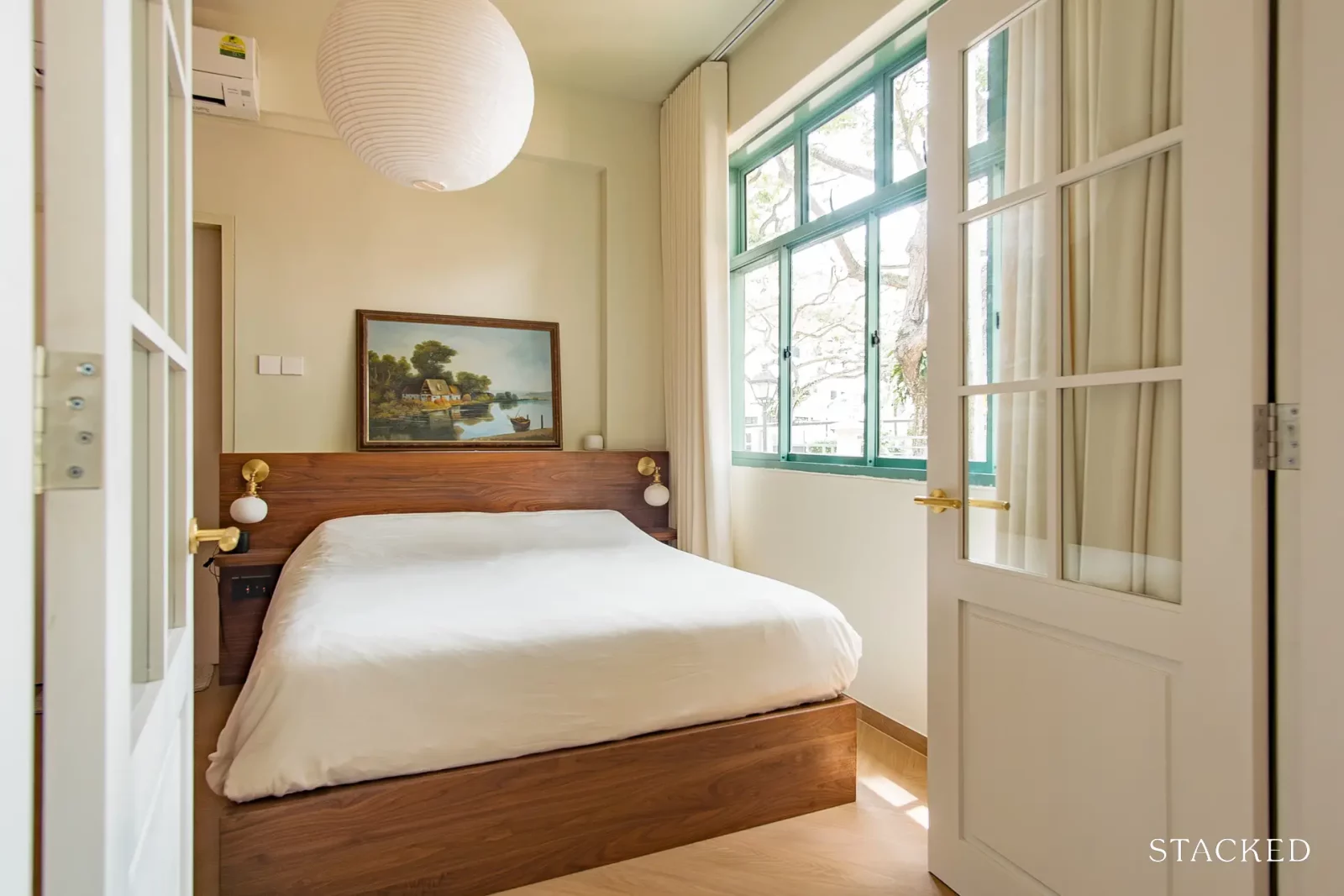 The couple admits that hindsight is 20/20. "This being our second home but first renovation, we'd suggest planning for a longer timeline if you can," Sarah says. "Or at least, make sure you've got a detailed schedule with milestones so that the disruption to your life is minimised in case you have to move into an incomplete home."
Bryan and Sarah's experience has also equipped them with valuable insights they wish to share. Their primary advice is to caution against impulse buying, especially when lured by sales and promotions. "Our advice is to purchase furnishings periodically to spruce up the home, and not be pressured to purchase everything at once just because you are moving into a new place," Sarah shared.
The couple also champions the value of refurbished items. "Some of them could be hidden gems that offer you the complementary look to complete the home aesthetics."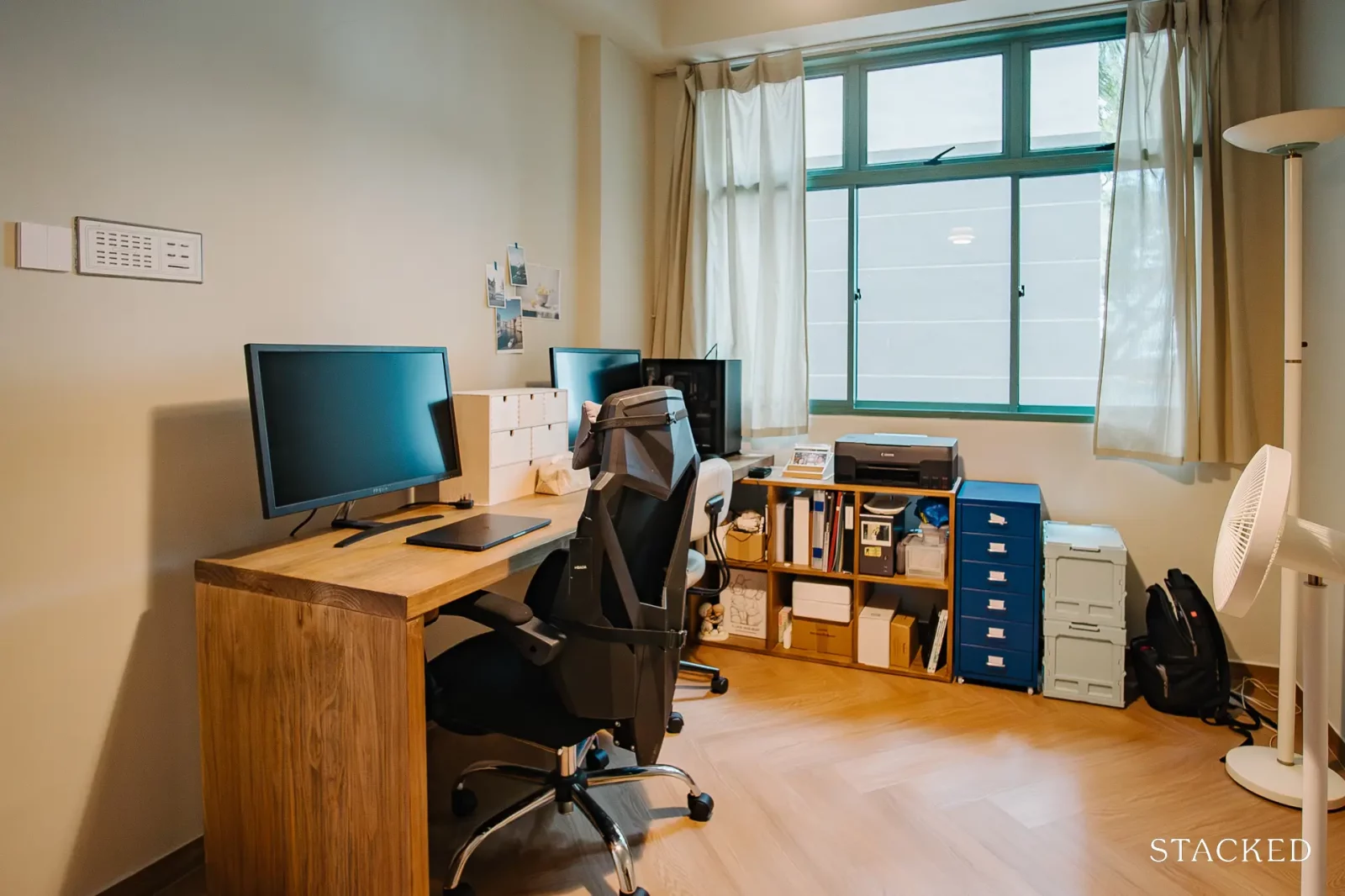 So there you have it- like most people, Bryan and Sarah's home renovation journey wasn't smooth sailing, but it was filled with invaluable lessons and ultimately led to a home they love. Their story is a testament to the resilience, adaptability, and keen eye for detail that turning a house into a home truly requires.
SHARE