Tour A 1,345 Sqft HDB Home Transformation: How A Couple Created A Eclectic Home Full Of Personality
Home Tours
Tour A 1,345 Sqft HDB Home Transformation: How A Couple Created A Eclectic Home Full Of Personality
WRITTEN BY Stacked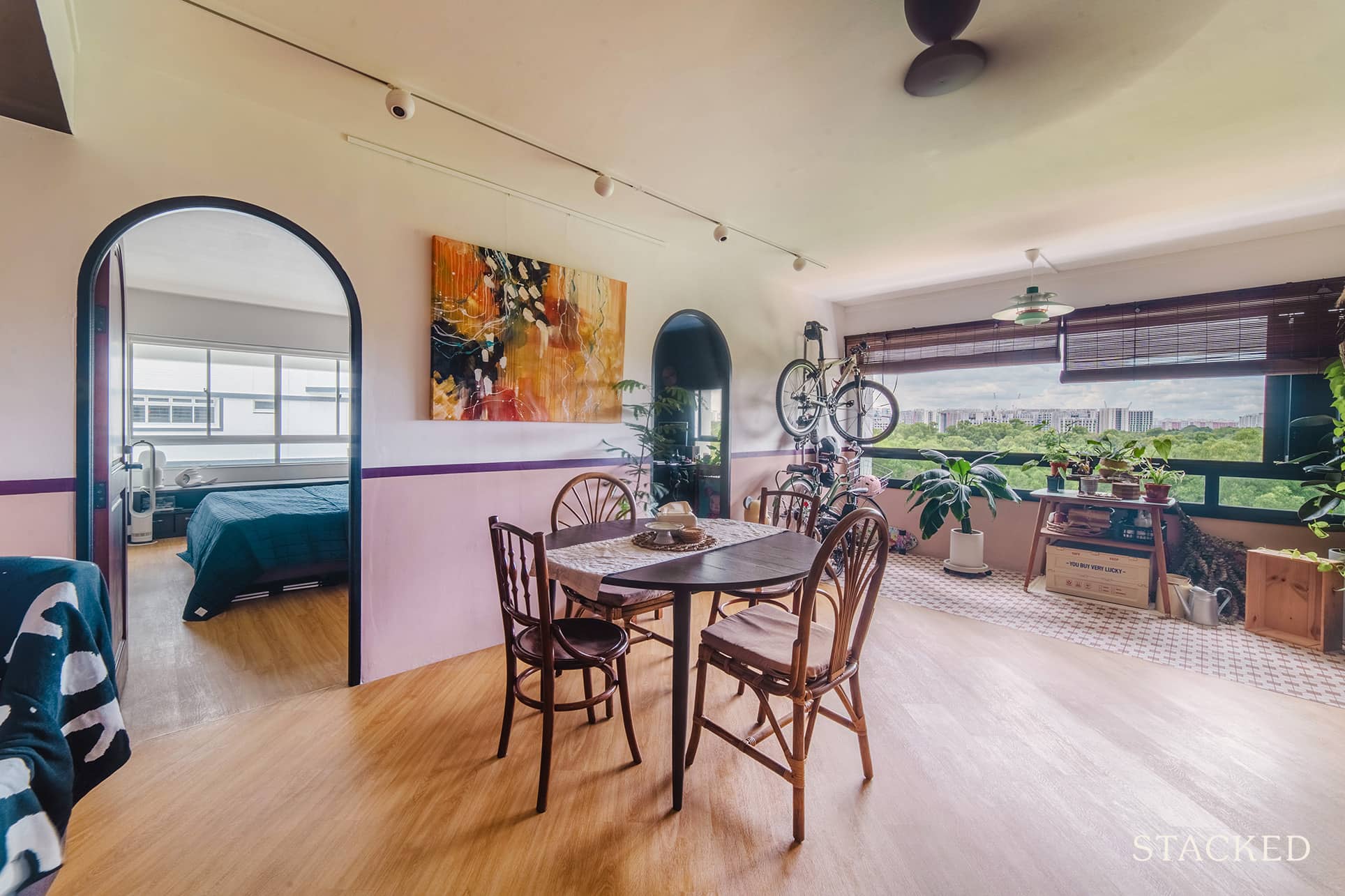 13
min read
When it comes to buying a home, most people would have certain non-negotiables such as price, or the size of the home.
For Grace and Hao (@haosofgrace) they had just 2 that were somewhat unconventional – it should be a corner unit and it must have an unobstructed view.
Their home, located in the northeast of Tampines, was 27 years of age when they bought it in November 2019. Grace recalled that the purchase was an easy decision for them, as it was the only unit they viewed out of 16 in the course of 3 days that met their non-negotiable requirements.
And as a bonus, the unit is on a high level, offering a great view of Tampines Eco Green.
There are three of them currently occupying their home – Grace, Hao, and Grace's mother. Let's join them as they give us a tour around their eclectic home and share their reno journey.
How The Renovation Journey Turned Out
The couple went straight to a contractor instead of hiring an ID because they both knew what kind of design aesthetics they wanted.
"It's the more cost-effective approach," said Grace.
She disclosed that when they spoke with an ID earlier, they received a quote that was around $20K more than their initial budget.
But finally, they ended up having to stretch their initial budget from $50K to $80K. She said there were a few factors that contributed to the increase, such as:
Complete overhaul of both toilets
Manpower costs for laying patterned/mosaic tiles
Hiring different contractors for specific works.
For example, they had to engage Contact Doors and Doctor Doors Decor separately for items like doors and bi-fold windows because their main contractor could not deliver the design that they wanted.
As they both knew what they wanted, it was quite easy for them to find inspiration sources that aligned with their preferences from the internet. Sites such as Pinterest and Instagram helped the husband and wife team in creating a mood board deck that their contractor could refer to. For those looking at a similar aesthetic, the couple has very helpfully shared some of their earlier mood boards:
"There was no specific style or theme that we designed our home around," Grace shared. "So essentially, our home is an amalgamation of our character, personality, likes, and preferences." But if she really had to put a label on it, she said they were working towards a "Timeless" and "Lived-in" style.
They made sure to design every space to have a different vibe, allowing them to relax and unwind depending on the mood of the day. For instance, their study/work room is like a "mini-museum" filled with Hao's childhood collection.
The final outcome of their home design turned out to be earthy and eclectic, as some might say.
But in able for them to achieve the home they were aiming for, they needed to make some tweaks to the unit's layout.
Original floor plan:
Previous floor plan (what the couple saw):
Revised floor plan (what they did):
Compared to the original floor plan, the previous owner already made major revisions by removing the storeroom. Unfortunately, this introduced a nook to the two bedrooms, which Grace and Hao weren't fond of as they felt that particular space could be utilised better.
And so, the couple decided to flush the walls of the master bedroom and study room so that the individual rooms were bigger. Hacking the walls made the layout more angular, making it easier for them to plan their furnishing without having to consider "dead spots" or weird corners.
They also knocked down one bedroom for a more spacious master bedroom. In the living room, they decided to add a foyer to receive deliveries.
Living Room
For the living area, the couple tore down some of the walls, allowing them to combine the living and dining areas. As a result, they were able to carve out a foyer area where they could easily unlock the gate remotely for the parcels to be placed inside the house.
It's a smart move as you now don't have to be home to be able to receive parcels (or at least, store them safely as HDBs do not have security unlike condos).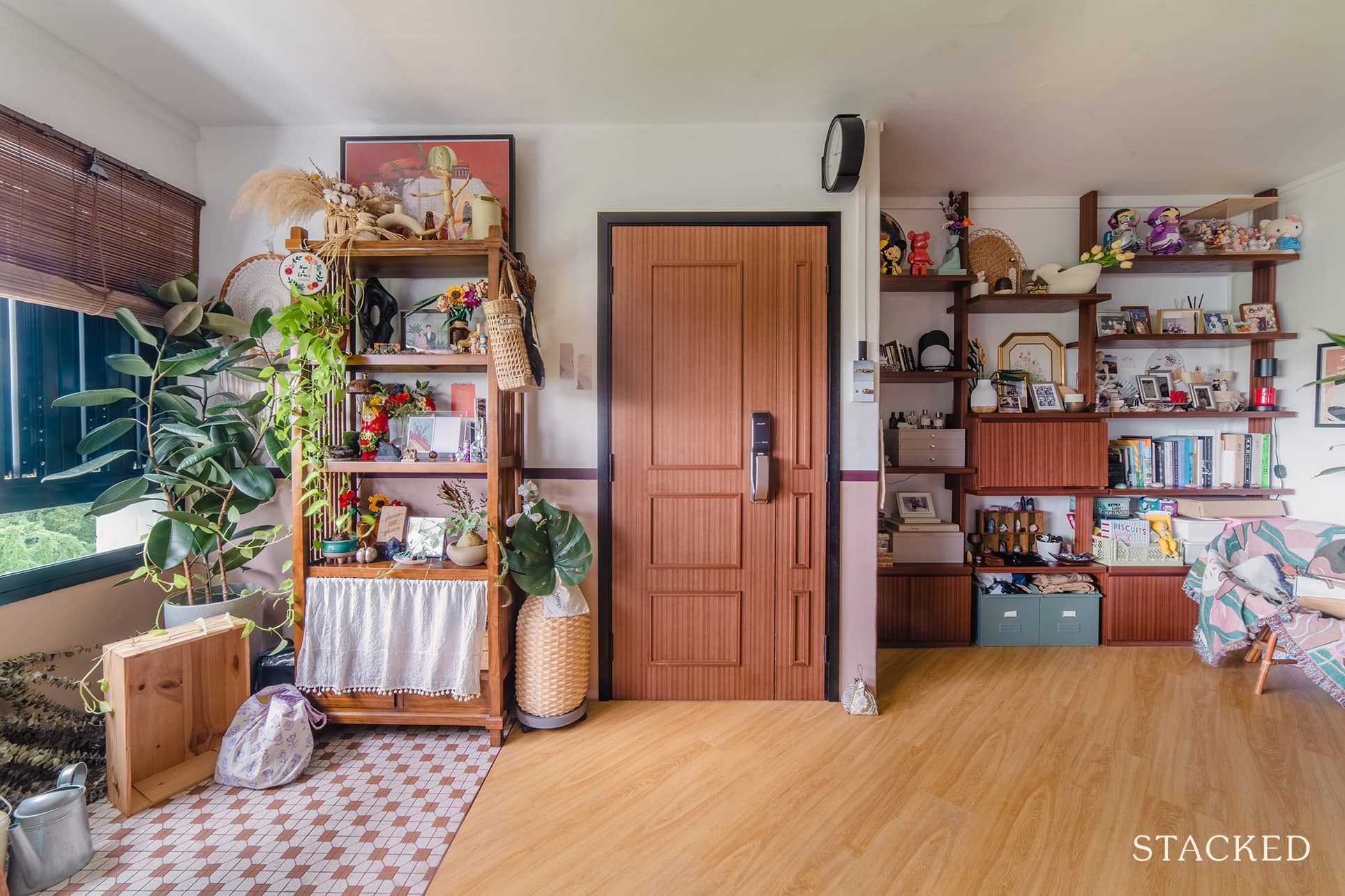 After passing through the foyer, the full view of the home is revealed, and the first area one gets to encounter is the lounge area, where they were able to create a "false" balcony to elevate their design theme.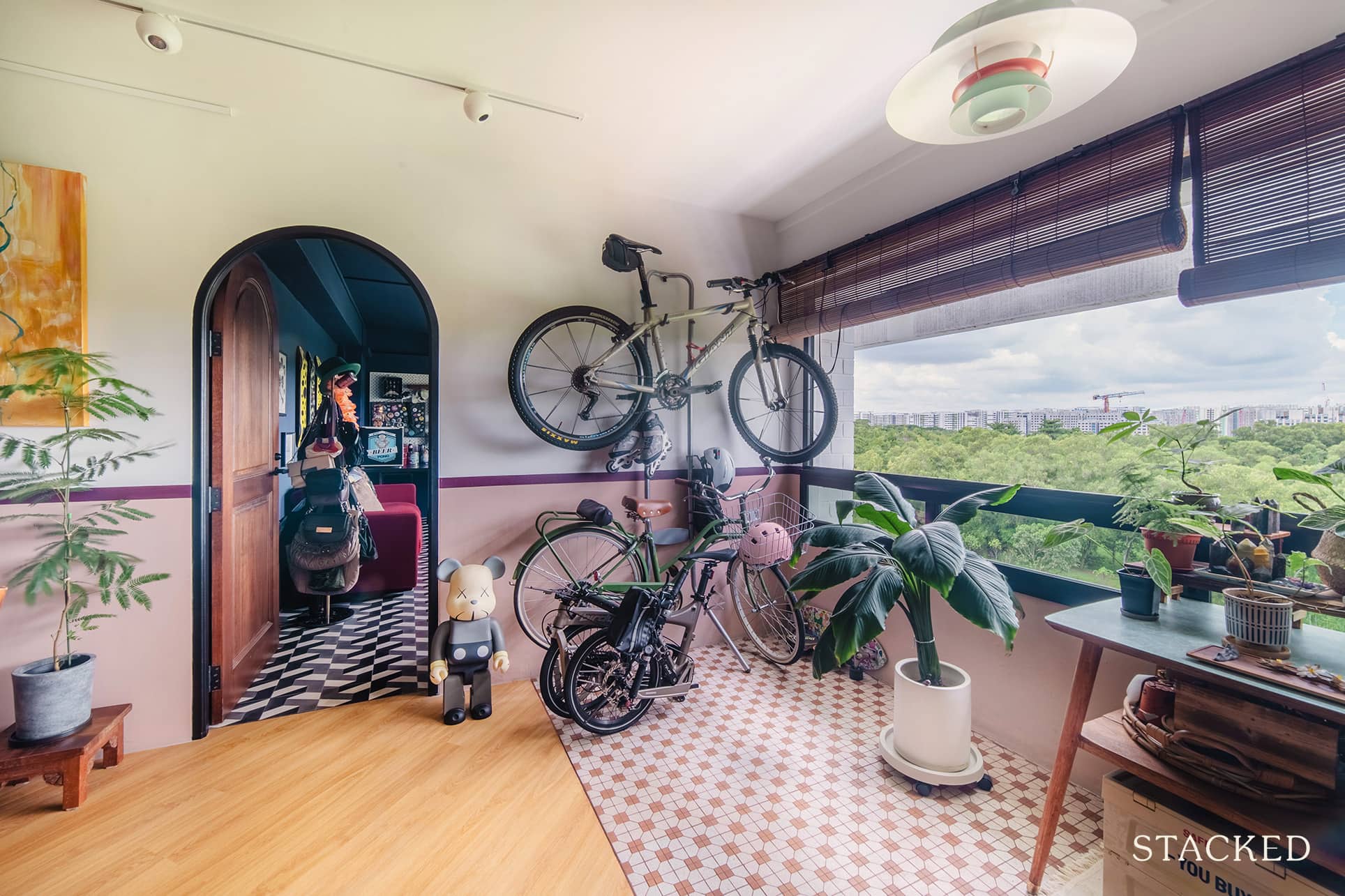 Still, in the lounge area, they had open shelving especially created so that they could decorate it with pieces that reflect each of their personalities.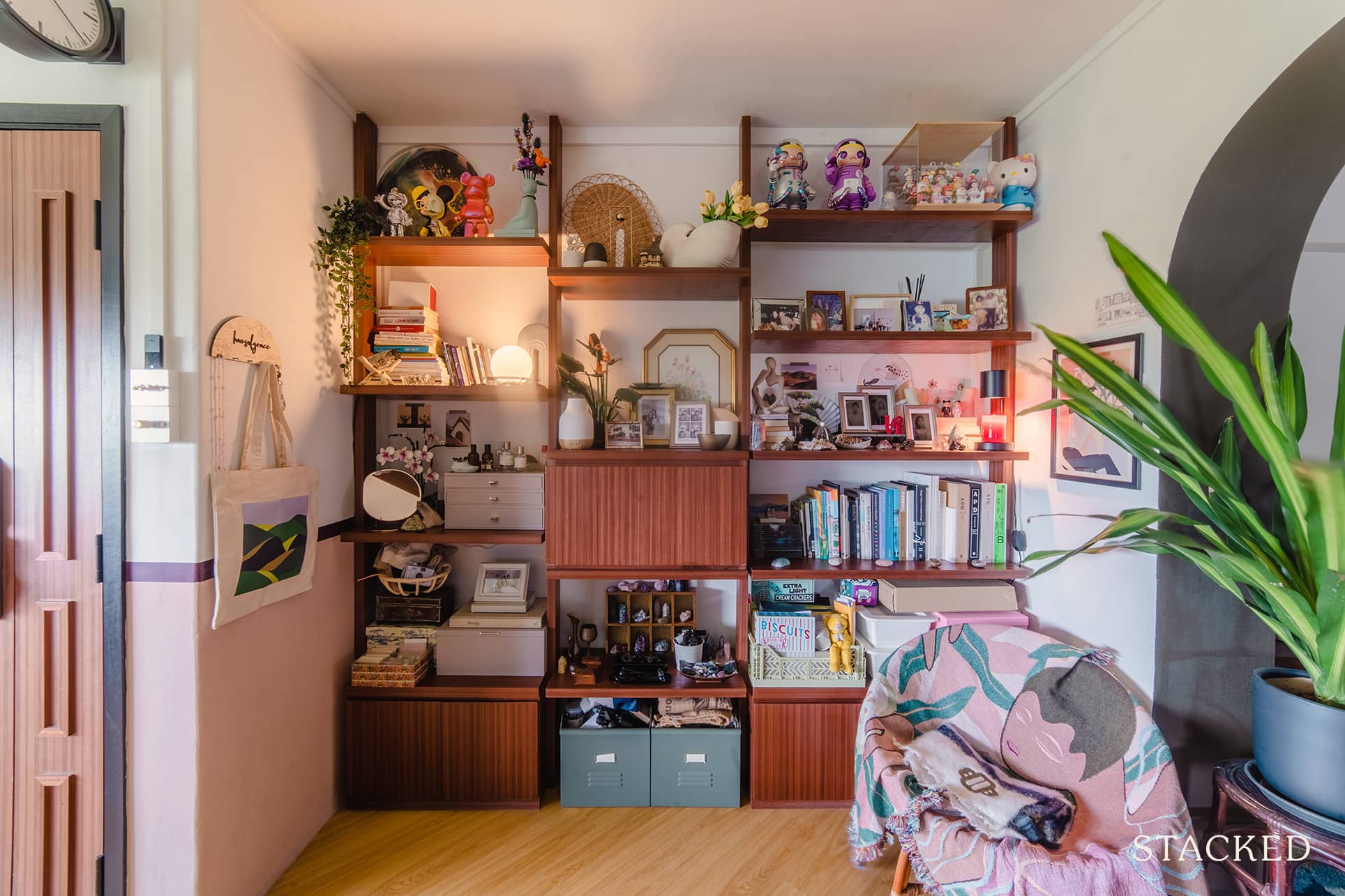 Next to the lounge is the actual living room, where you can't help but notice that there's a lot of space to sit and get cosy.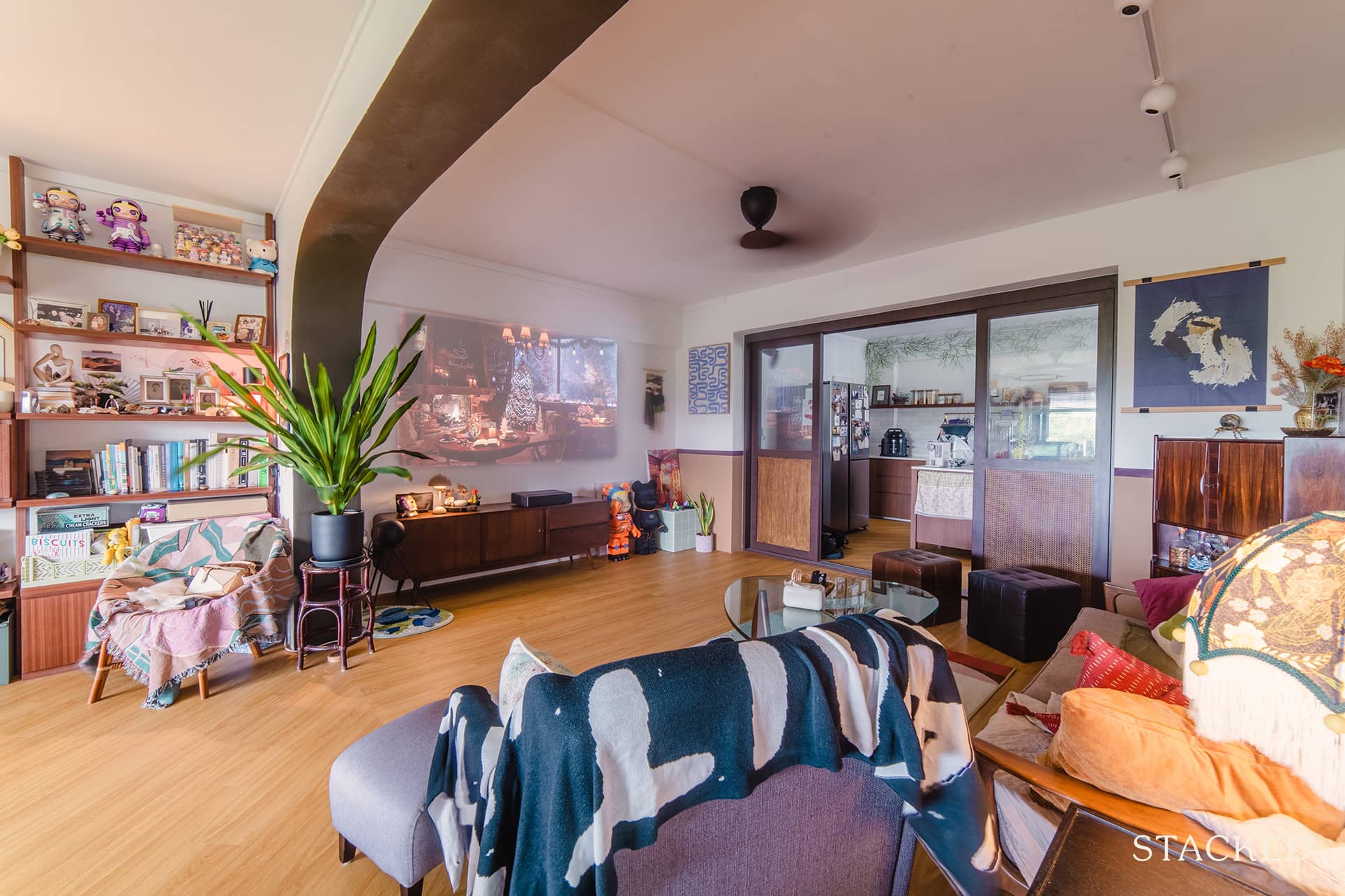 They've also chosen to go with a two-toned wall, with the lower half painted in a pink shade that's separated by a line of burgundy.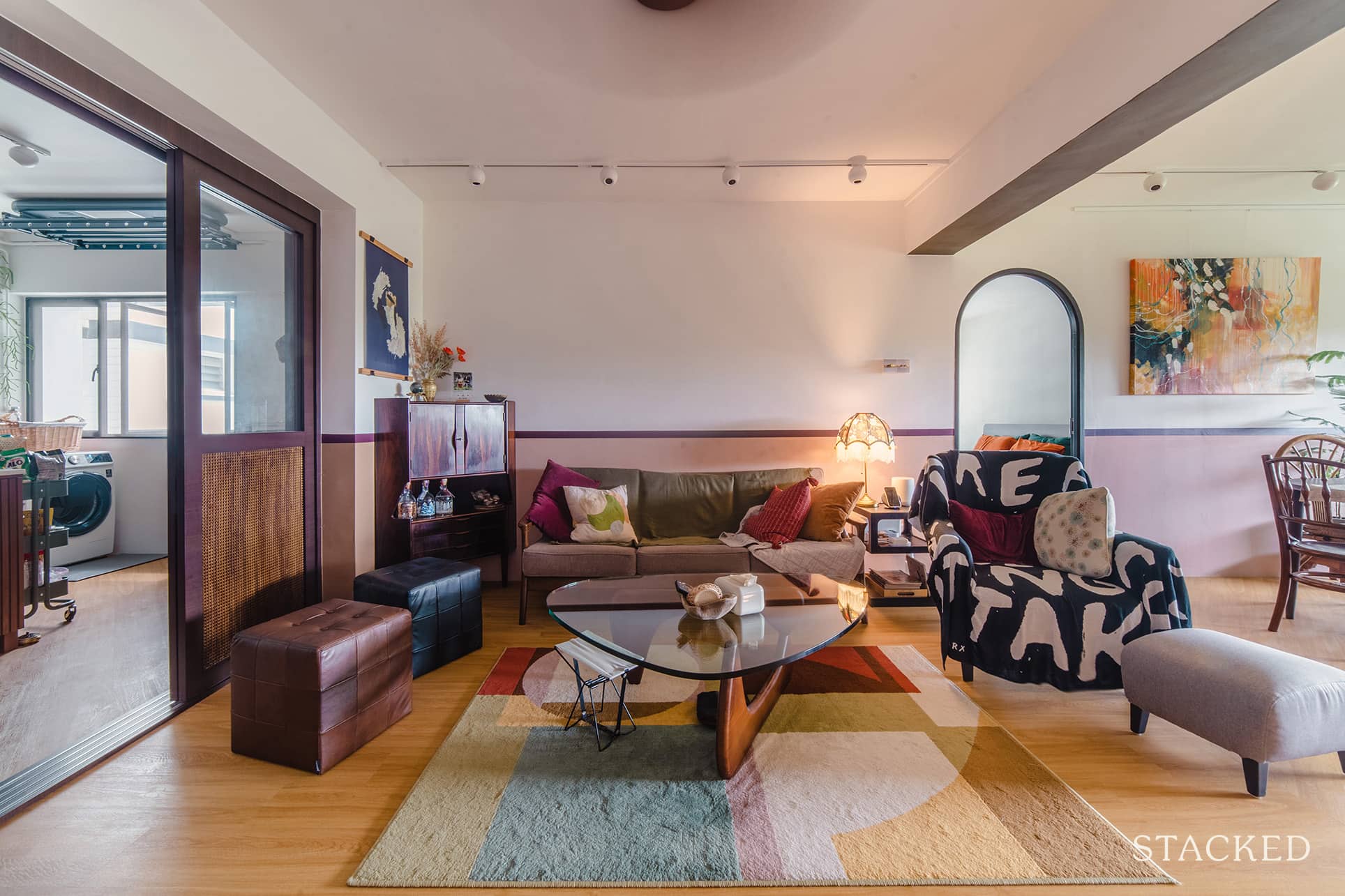 Dining Room
With no walls between them, the dining room gets a full view of the living and lounge area, and the seamless nature of the balcony does mean that it feels more spacious as a result.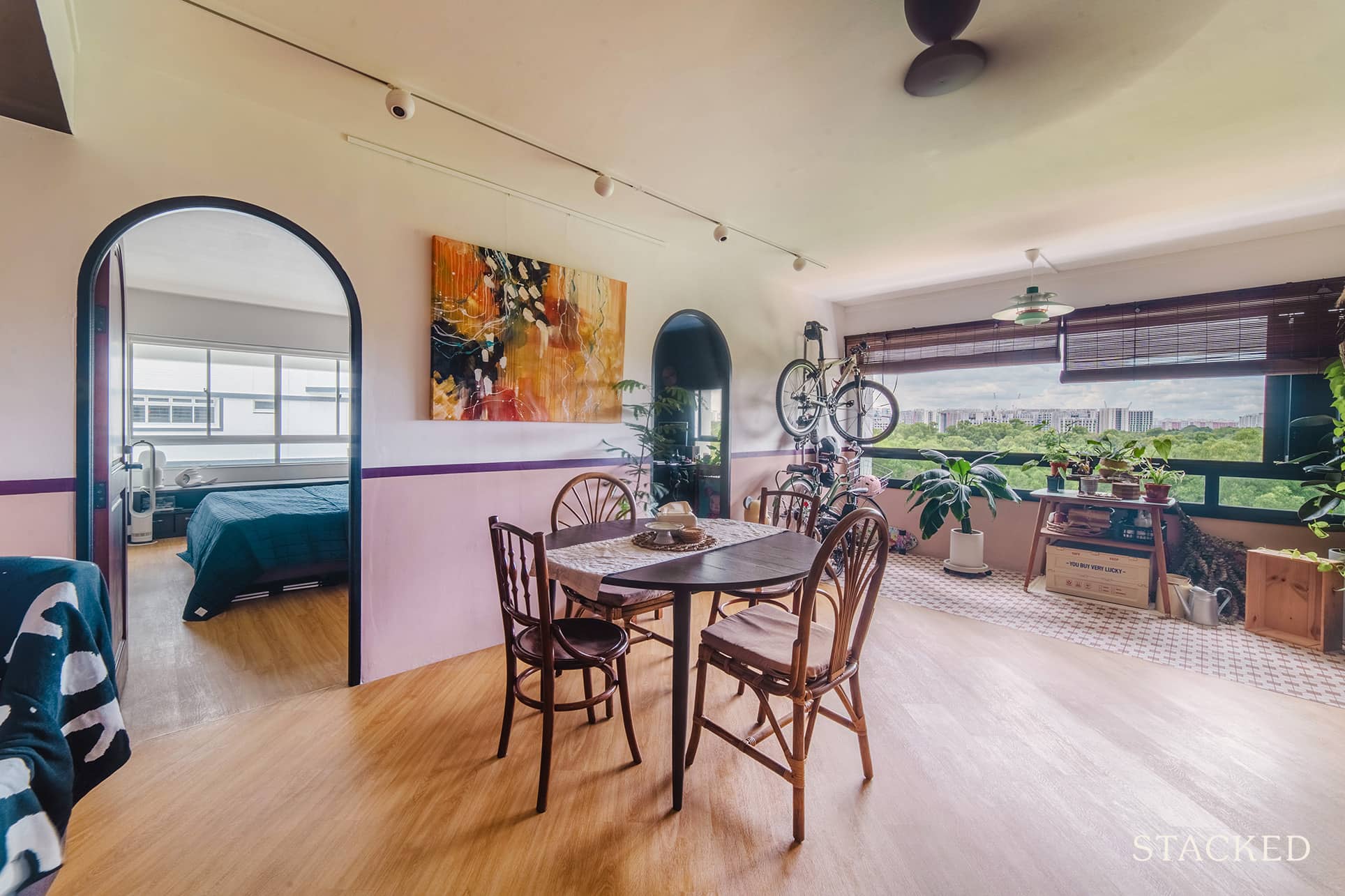 The unblocked greenery views from here are also something to behold, and you can understand why the couple stuck to their guns on their 2 main non-negotiables.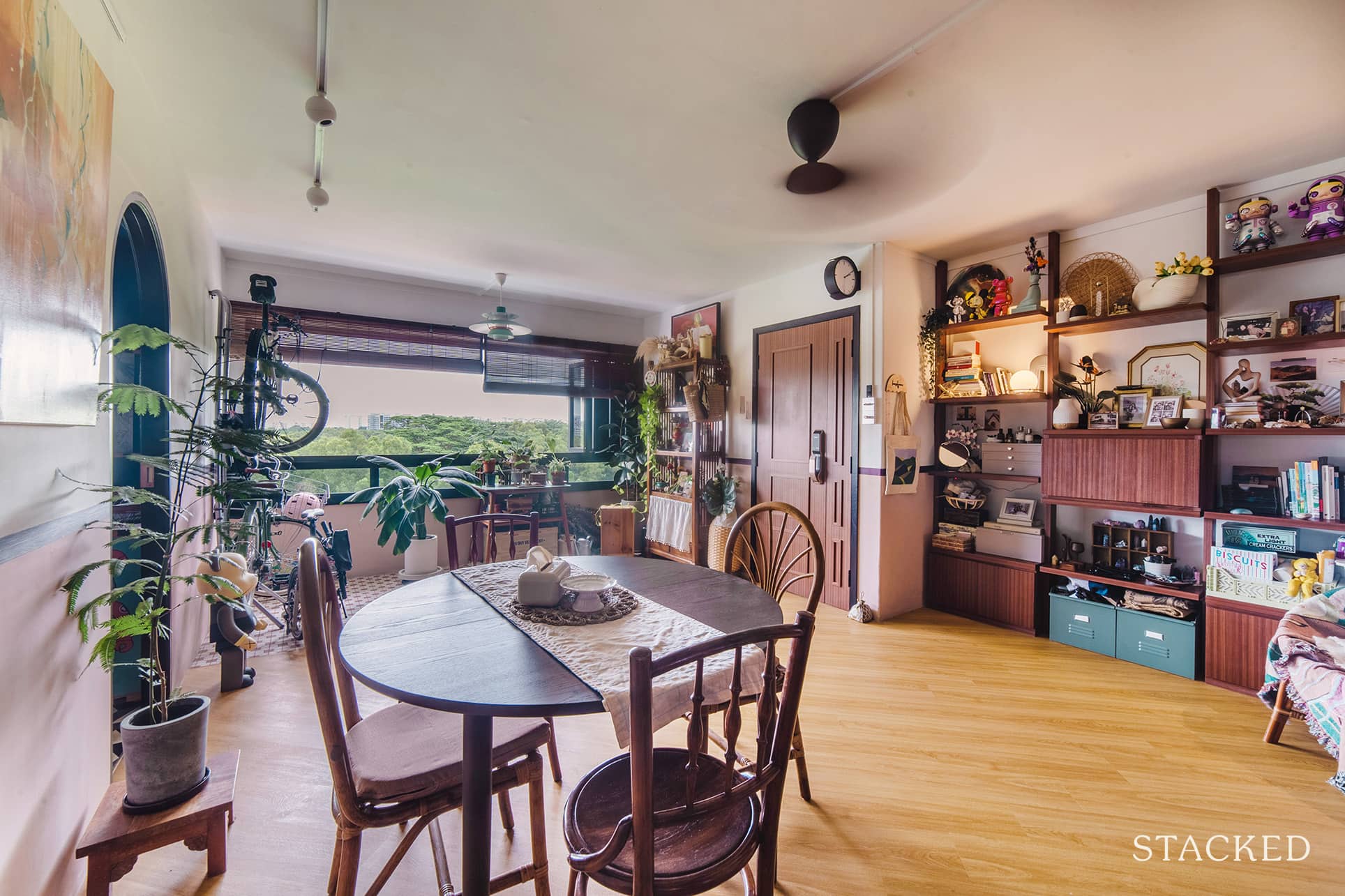 And who can miss that iconic coloured Louis Poulsen PH5 pendant lamp by the balcony!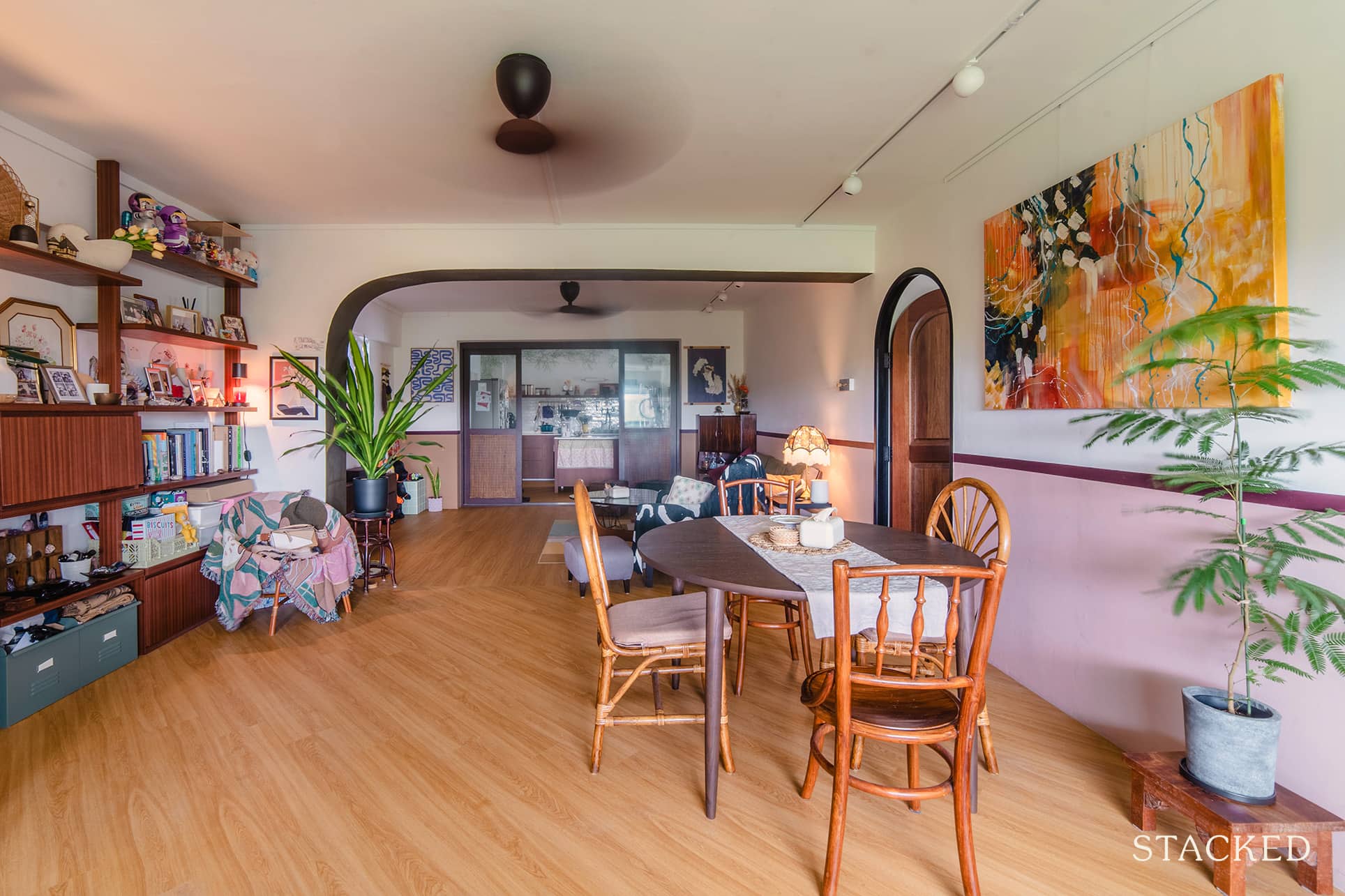 Kitchen
For the kitchen, they decided to tear down the walls and add sliding doors to create an open kitchen layout when needed.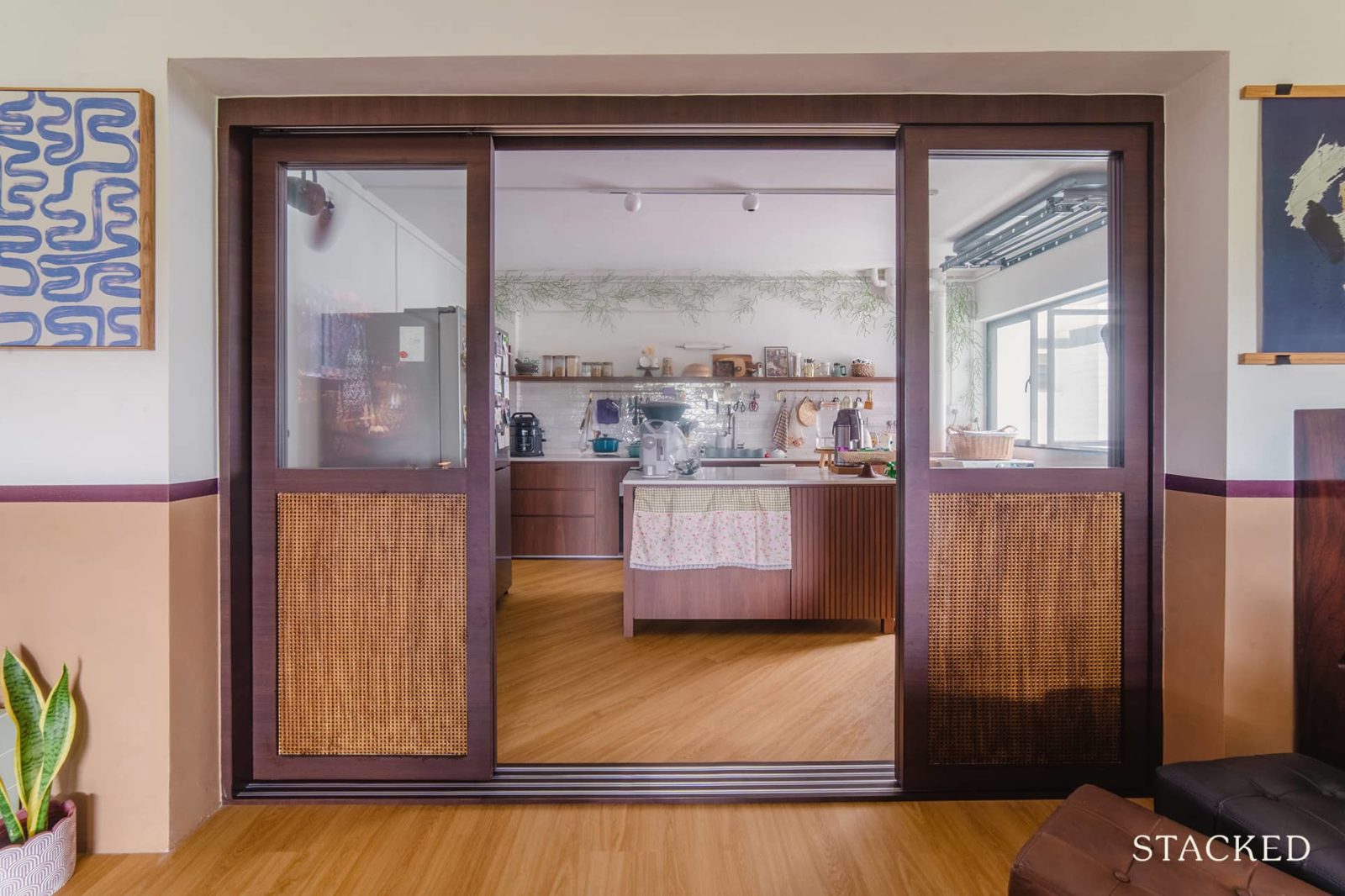 They also knocked down the top cabinets because they wanted to see where their things were kept, which helps to make the space appear more spacious. The downside? You'd definitely have to work harder at keeping the place look neat and tidy.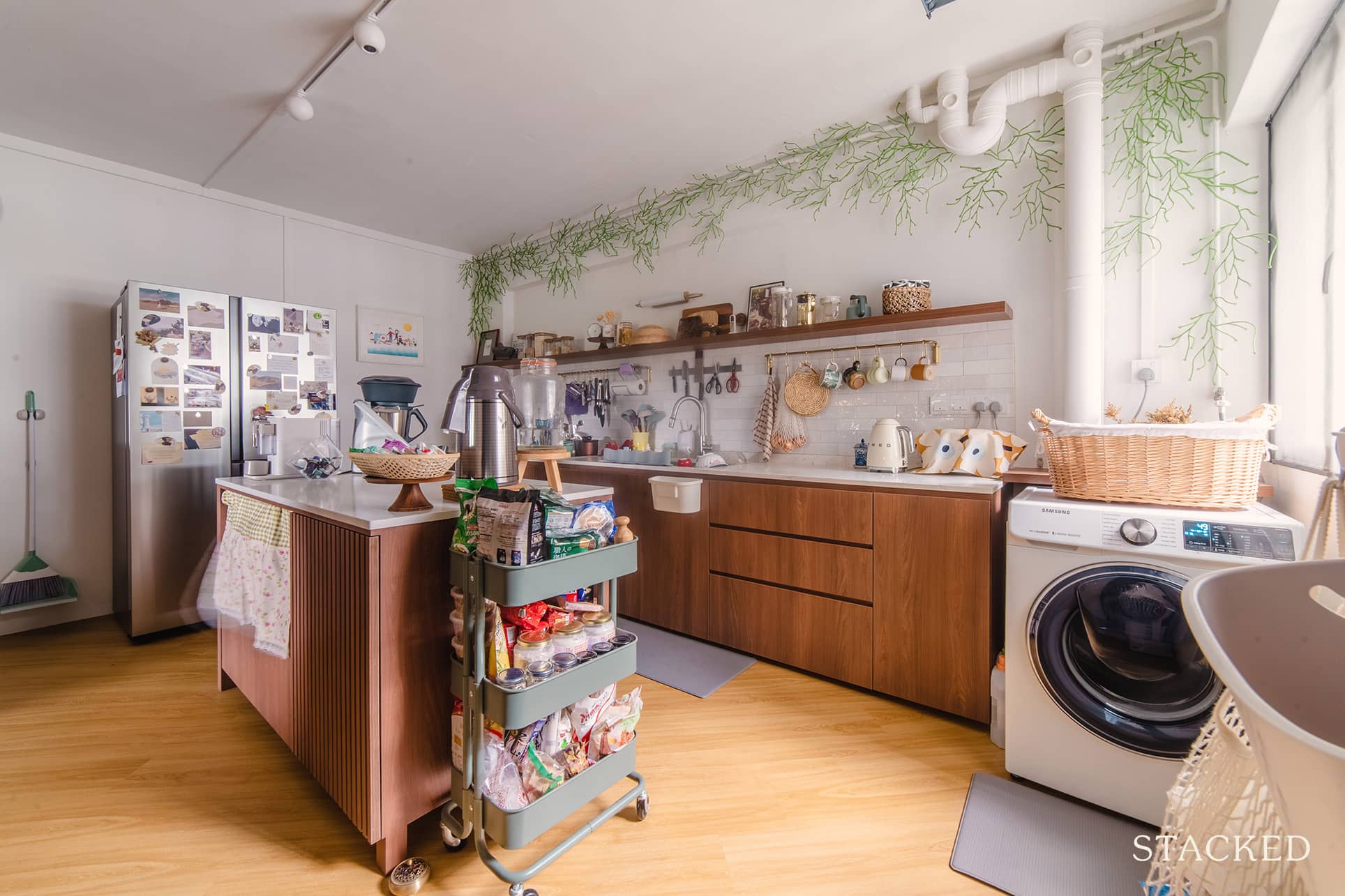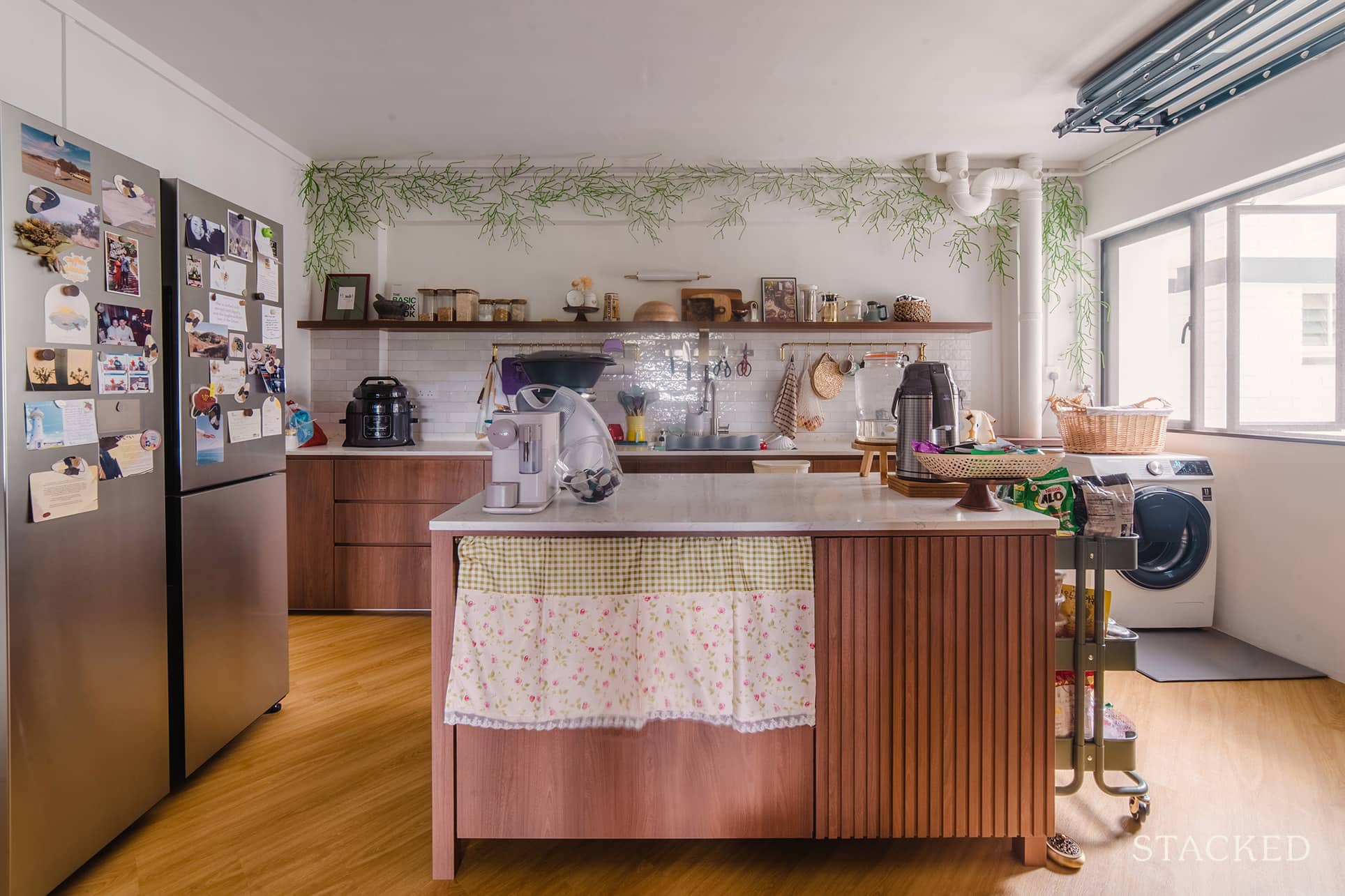 Bedrooms
The couple had to hack the walls between the master bedroom and the adjacent bedroom to combine them into one, giving them enough space to move the bed away from the toilet. With a larger area, it wasn't too hard for them to reconfigure the space and accommodate Grace's mum's bed in the same room while still having privacy.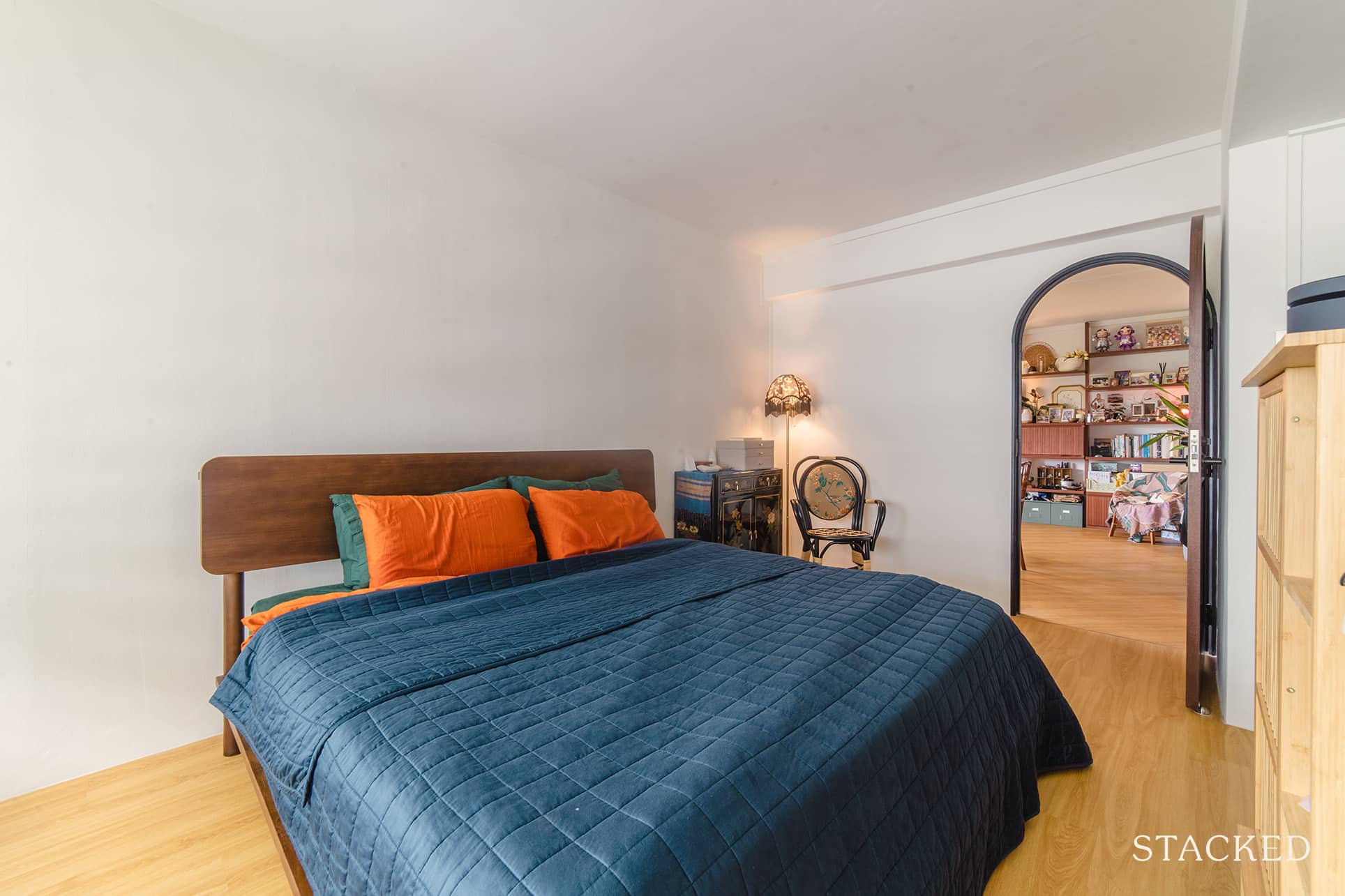 To stylise the room even more, they even had a wall mural commissioned that was done by the talented @ochre.home.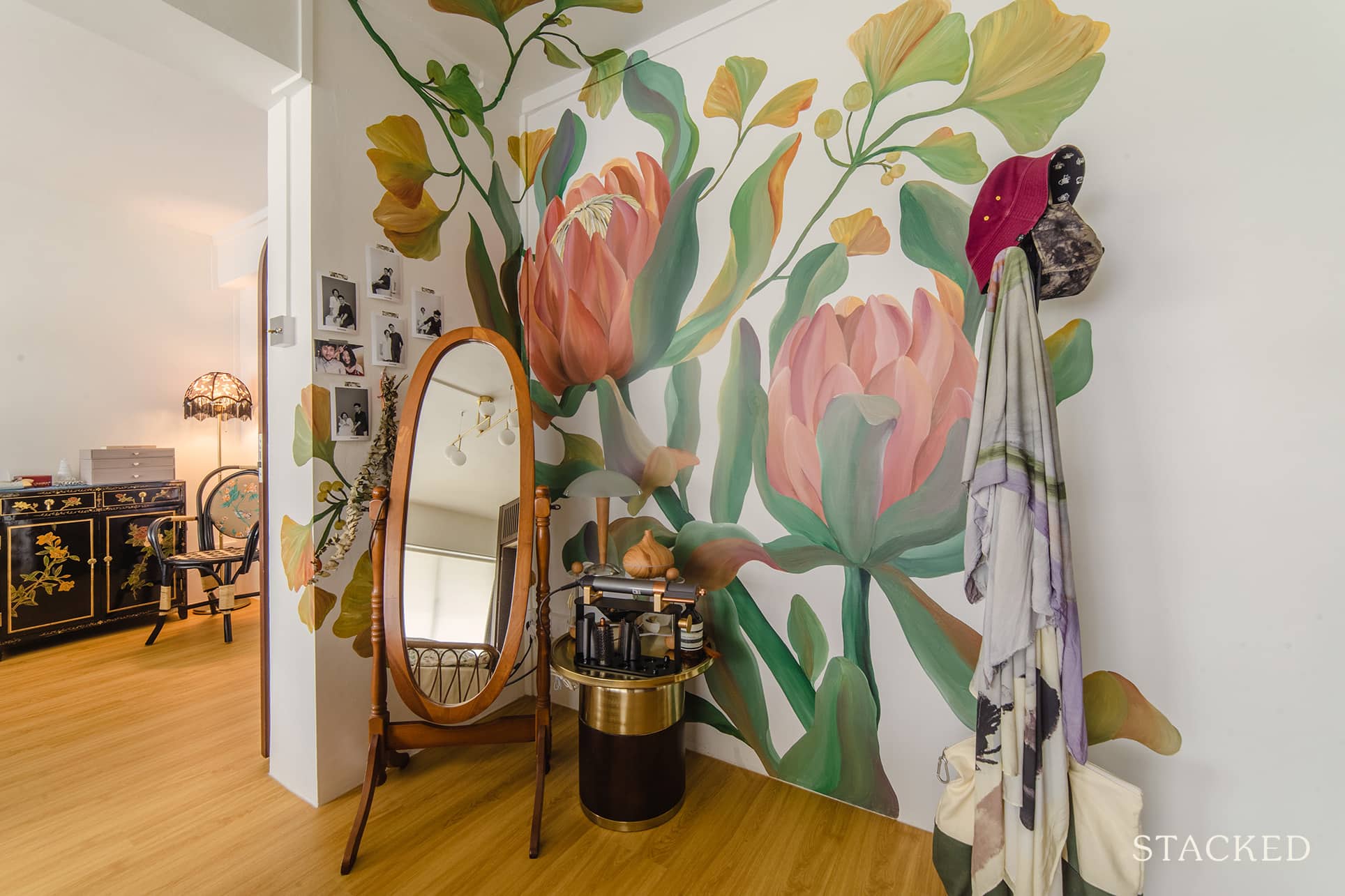 They converted the remaining bedroom into a study/work area – a place full of character and overflowing with things that each of them loves.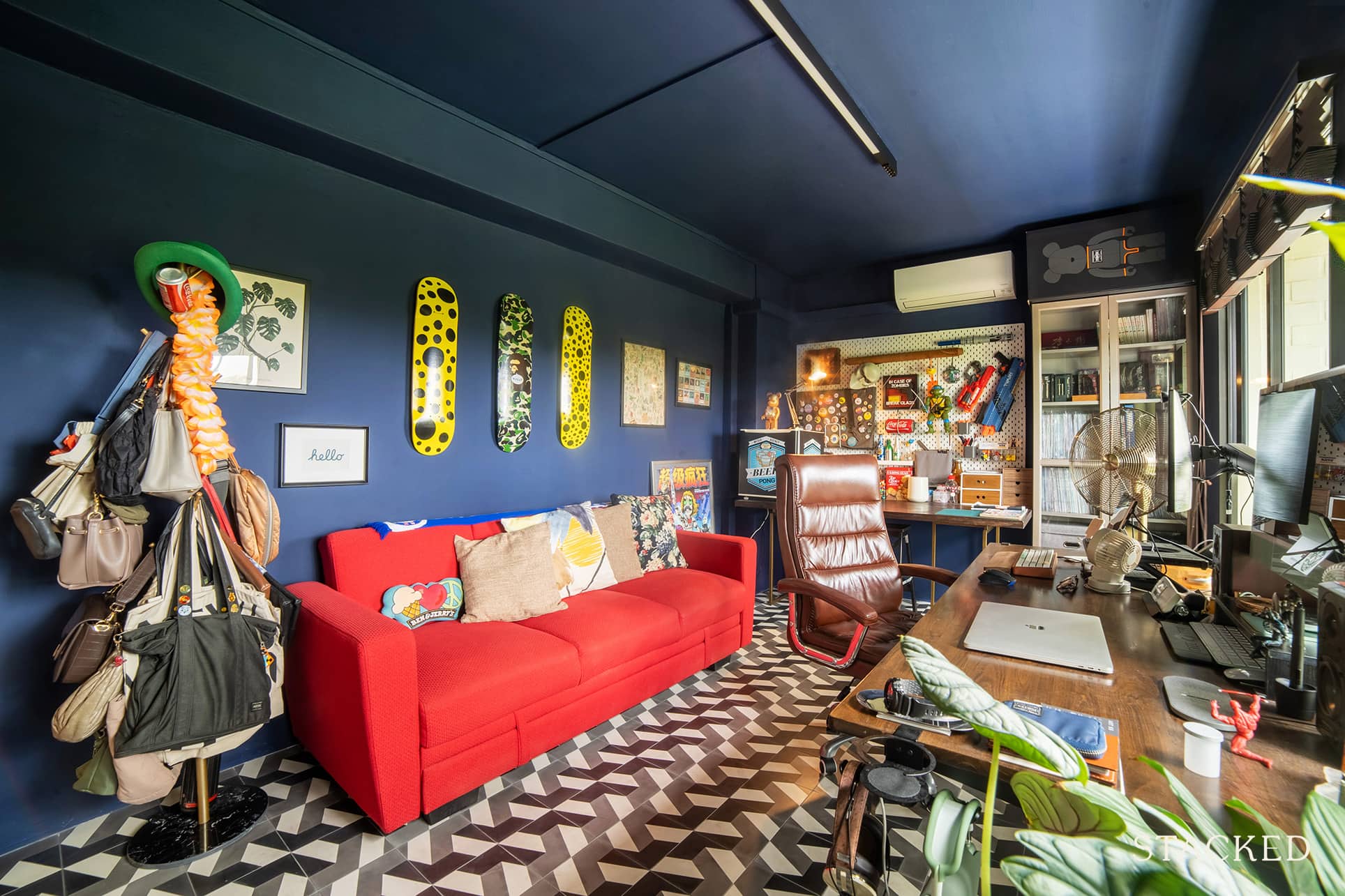 It was a bold move to paint the ceiling and walls blue, but given the eclectic style of the home anyway, it doesn't feel out of place by any means. You can really feel the free-spirited nature too, as the couple was able to be truly creative with how they wanted to style the room.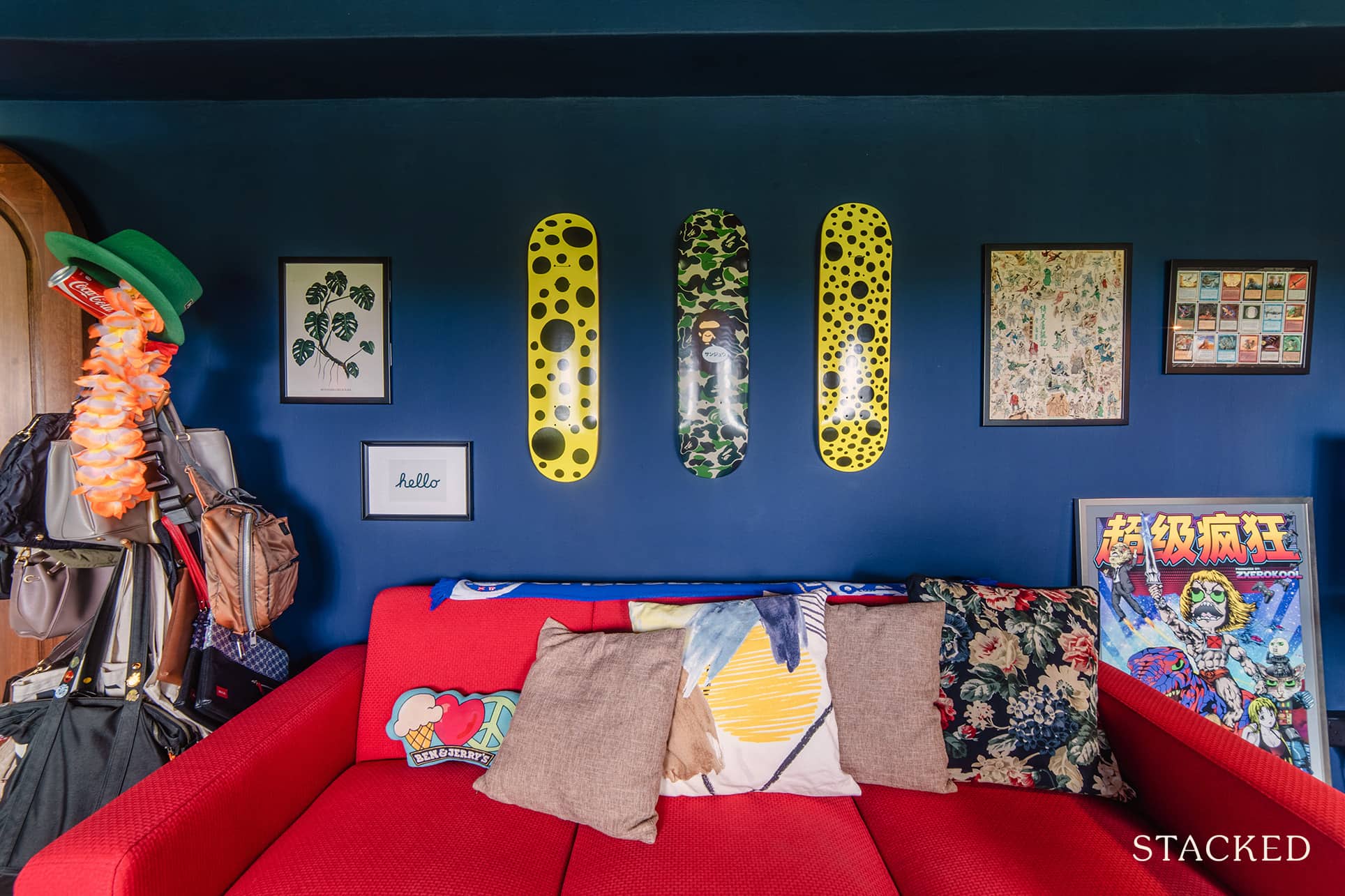 From the BAPE skateboards to the peg board with displays of toys and travel memorabilia, it is really such a diverse collection put together.
Bathrooms
Both bathrooms underwent major overhauls, such as switching out pipes, introducing a bathtub, and relocating the sink/WC/shower back to their original locations.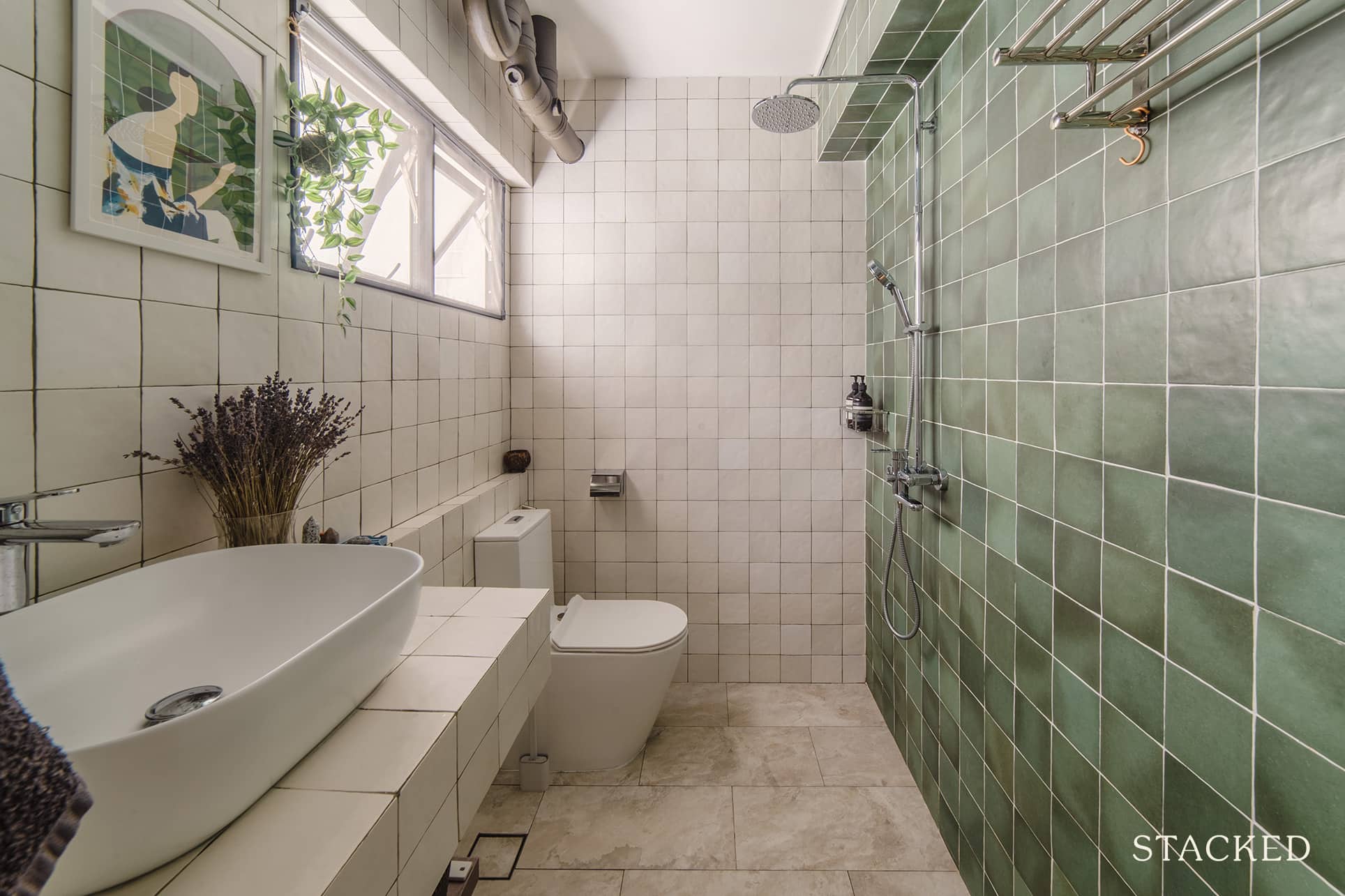 Even in the bathrooms, you get a good sense of the character of the space. For one, they chose to go with varying shades of green tiles, while the other was more of an orange-brown combination. Even the showerheads and tap fixtures were of different colours, to better suit the look.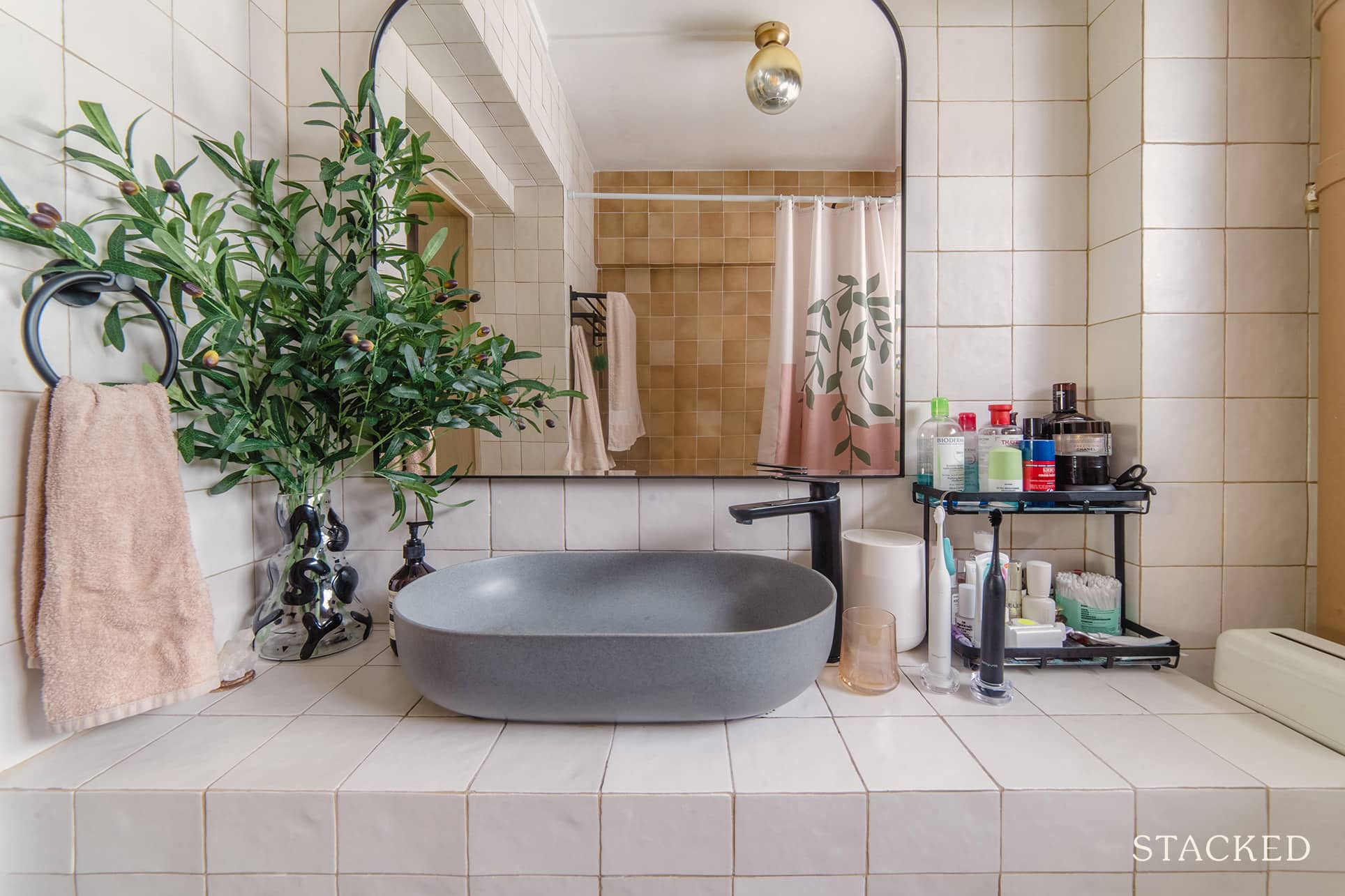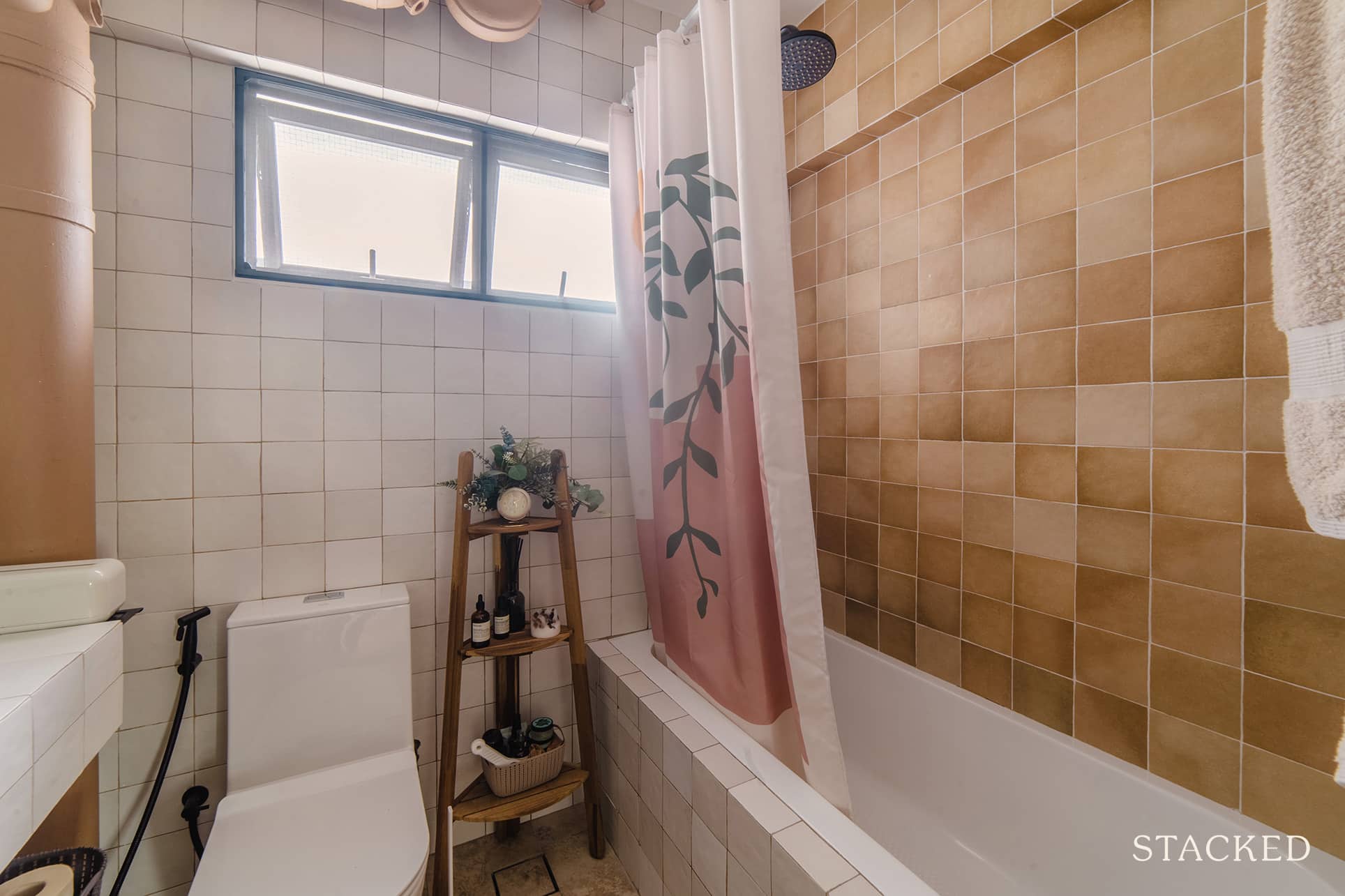 Bringing The Vision To Reality
Grace said that their home was exactly what they had envisioned, having achieved this because they were in charge of their home project end-to-end, from design to selection to on-site project management. This allowed them to exercise a large amount of control in terms of what it would look like in the final outcome.
They chose their contractor through a personal recommendation (which is always the best way to find someone you can trust).
"He would translate design requirements into technical specs easily," she shared.
The couple also had a working chemistry with their contractor, and they liked how sincere he was. All in all, this resulted in being cost-effective as well.
When it comes to sourcing furniture, they didn't really set a budget for each item. What they looked for were furniture pieces that had character and would blend into their personality.
"We got a corner bar cabinet from Noden that fits perfectly into the little corner beside the kitchen, satisfying Hao's initial idea of a standing bar counter."
Grace also helpfully gave us a quick breakdown of some of the furniture pieces they sourced from different stores:
Carousel: dining chairs, open teak cabinet, full-length mirror, vintage drawer cabinet, and coffee table
Commune: workshop table
Grafunkt: dining table and ph5 lamp
FortyTwo: sofa seats
Second Charm: bed frame and TV console
Omnidesk: computer table
For smaller, loose items, they picked them from either IKEA or Taobao.
Every part of their home has a different vibe which adds to the inviting mood. However, if they had to choose their favourite parts, Grace said that would be the living room lounge, where they like to unwind and watch their shows on a projected 90″ screen.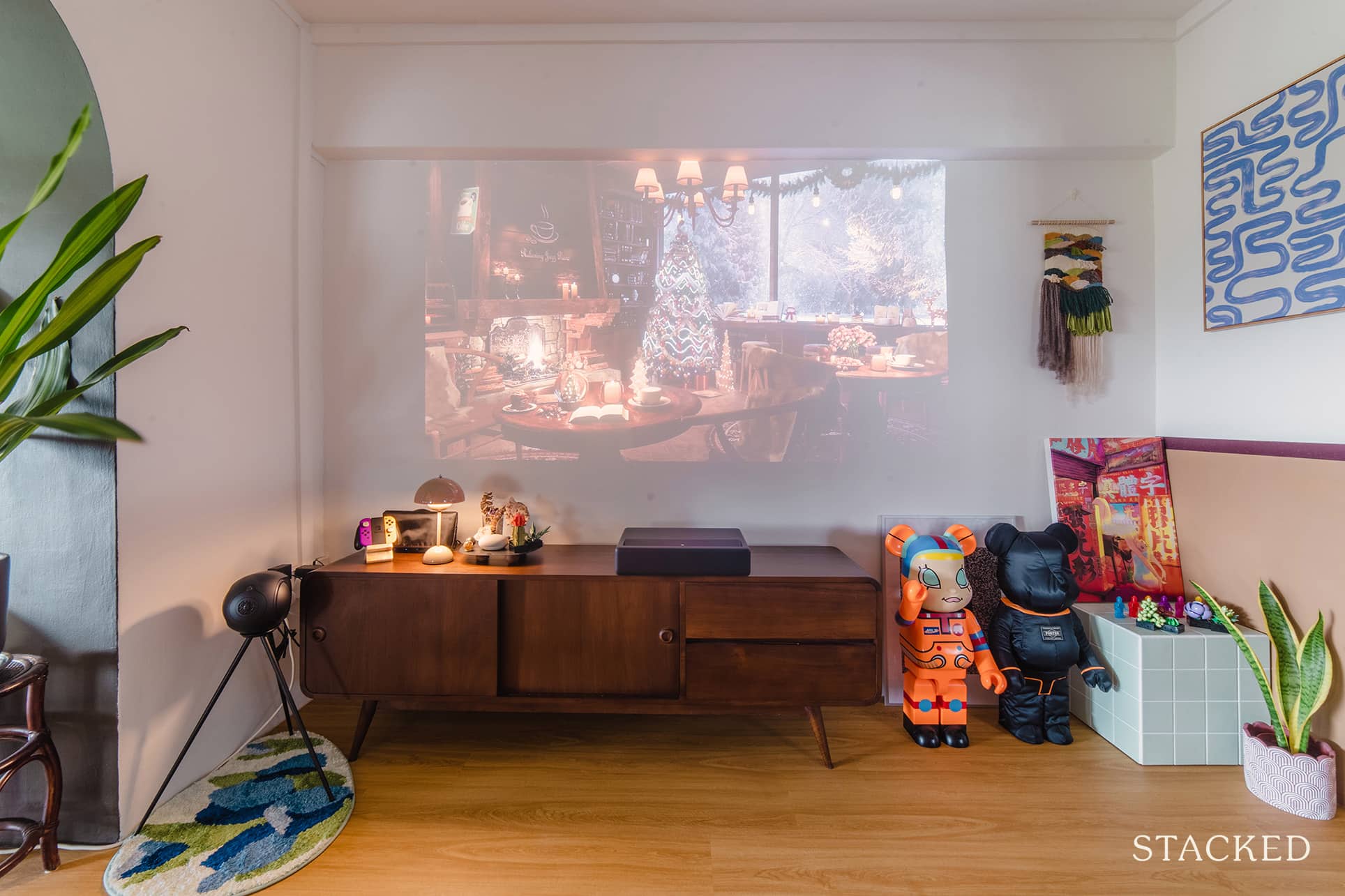 "It's like being in a theatre cinema every time," she said. (Plus the &tradition flowerpot lamp really helps create a cosy mood).
She said that for Hao, one of his other favourite areas is also the study/work room, where he can rest, relax, unwind, and also have a sip of beer while listening to the latest hits.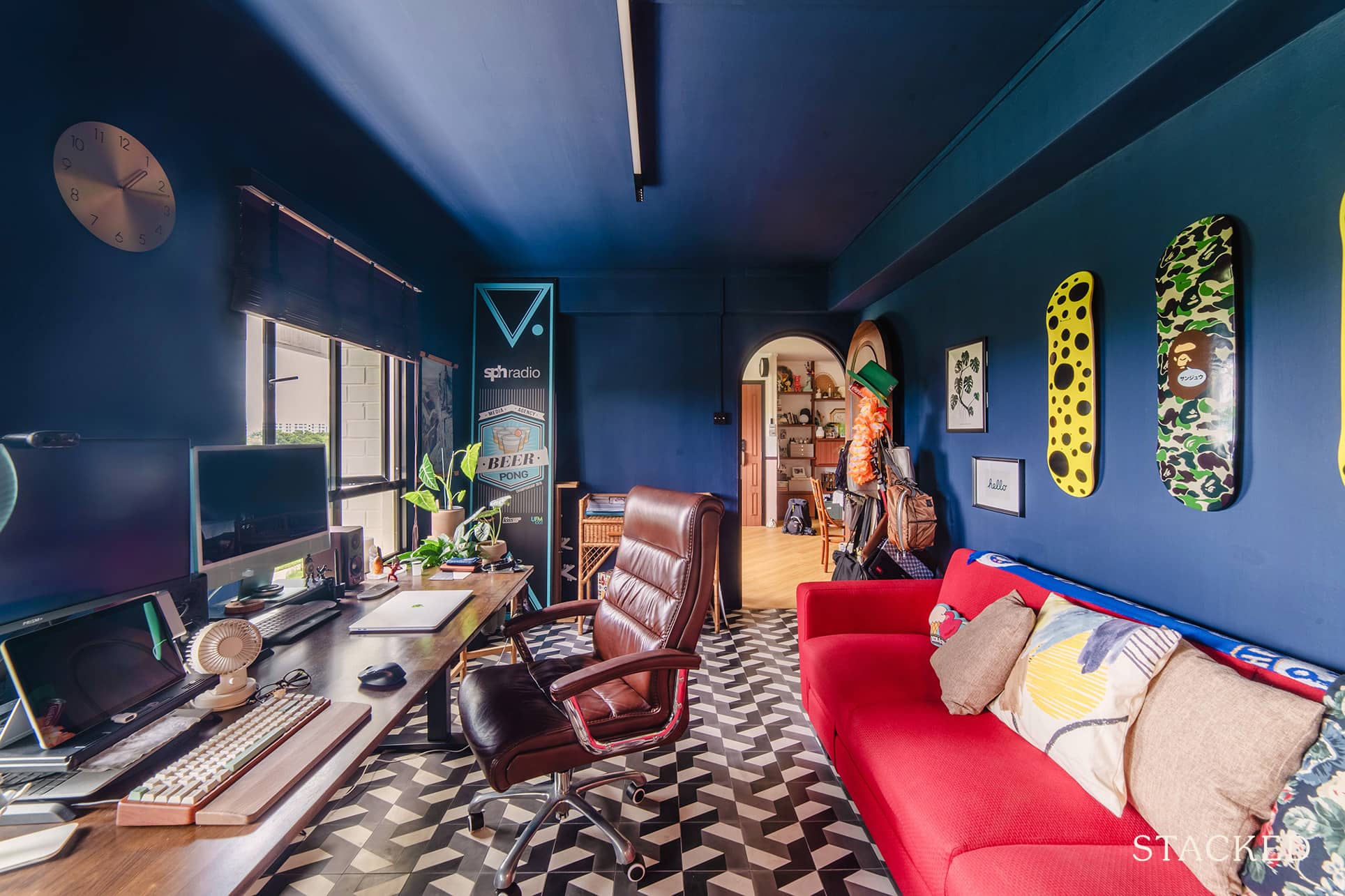 Lessons Learned From A Successful Reno Journey
One of the greatest challenges the pair encountered throughout their journey was with the carpentry that was managed by a subcon. Unfortunately, the subcon had an internal family feud, and the couple was assigned to a team lead with zero knowledge of technical deliveries.
"We were disappointed multiple times over the quality of workmanship that was delivered on-site," Grace recalled.
They overcame this challenge with several effective approaches, such as creating a hard copy checklist for rectifications and placing it in a visible location on site.
They also did a tight follow-up with their main contractor, allowing only a maximum of 2 working days for rectifications to be completed. Also, they instructed their main contractor to send them photos of the carpentry before delivering on-site.
Lastly, they made sure to visit their home frequently to ensure work is in order.
From this, they learned that renovation is time-consuming since they both have to constantly manage and advise their contractor. However, she admitted that they enjoyed it nonetheless, as the satisfaction of seeing the end results is priceless. After all, it's their first home built together.
With a lot of coordination between different contractors, an ongoing conversation is key to ensuring the respective milestones and expectations are met.
Hao's creativity played a major part in helping them mock up the respective pieces of their project and get a sense of the space. However, after living in it for a short while, Grace said they realised that their "ideal" layout was not as functional due to their lifestyle behaviours.
To cope with this, they had to adapt and reconfigure. For instance, their dining table no longer sits in the kitchen but is now located in the combined living room and lounge area.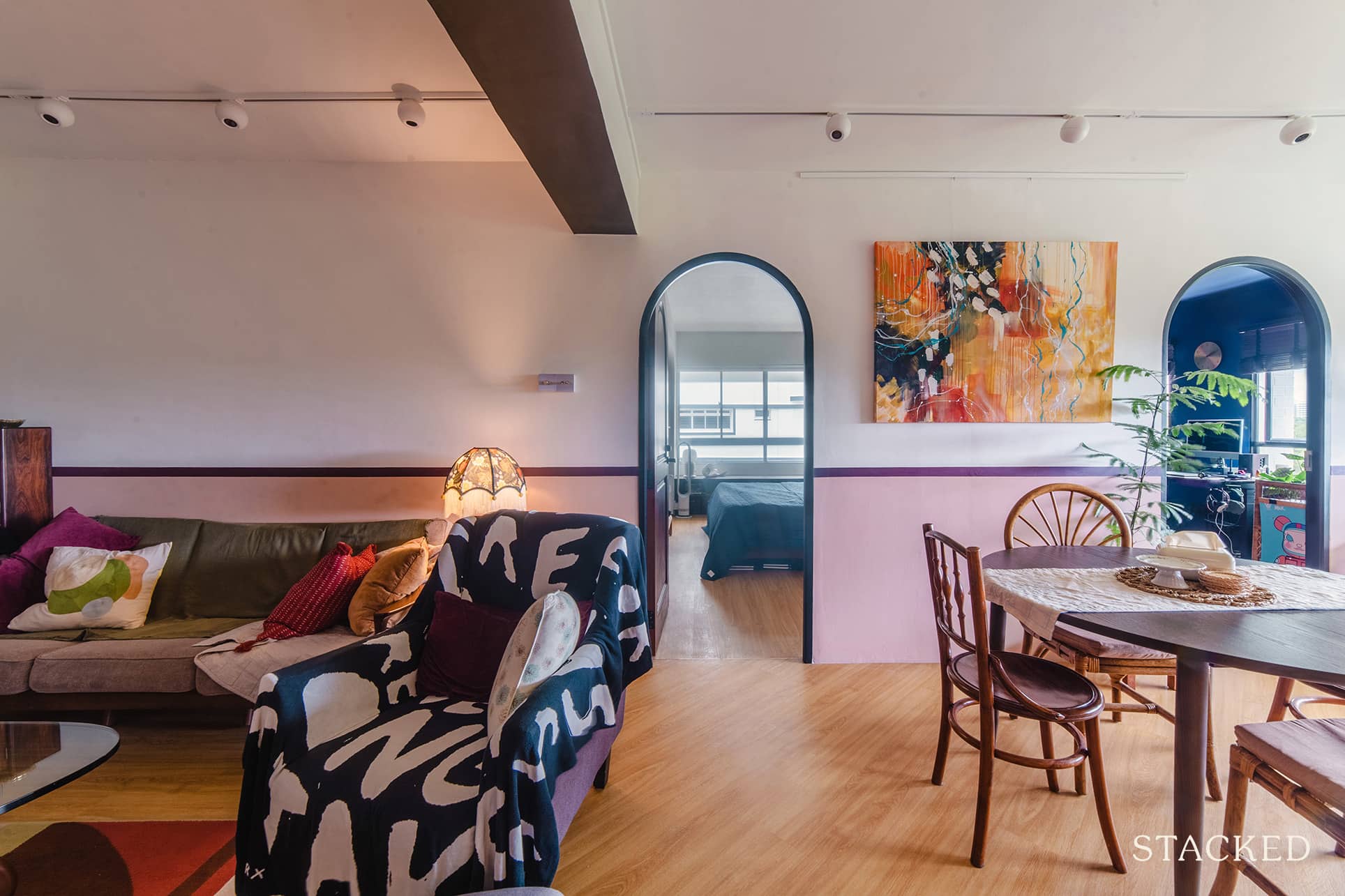 In relation to this, Grace gives several pointers for those who are planning to spruce up their homes.
First, you should always have an in-depth conversation with the contractor or interior designers to set expectations and help see the chemistry between everyone.
Check their past portfolios and make sure they have done something similar to your design. You don't want your home to be a "testing ground" for the to experiment and try out new approaches.
For those who already have a design theme in mind, going through the contractor route is more cost-effective. However, she said to be prepared to be more hands-on, co-managing the renovation together with the project manager. On the other hand, it's better to engage with an ID if you don't have a design theme yet.
Regarding home design, Grace advises not to settle with any theme just because it's trending. Instead, find one that resonates and reflects your own personality and character.
Don't be afraid to be critical when workmanship quality is not up to your expectations. Remember that this is the home you will live in for the long run.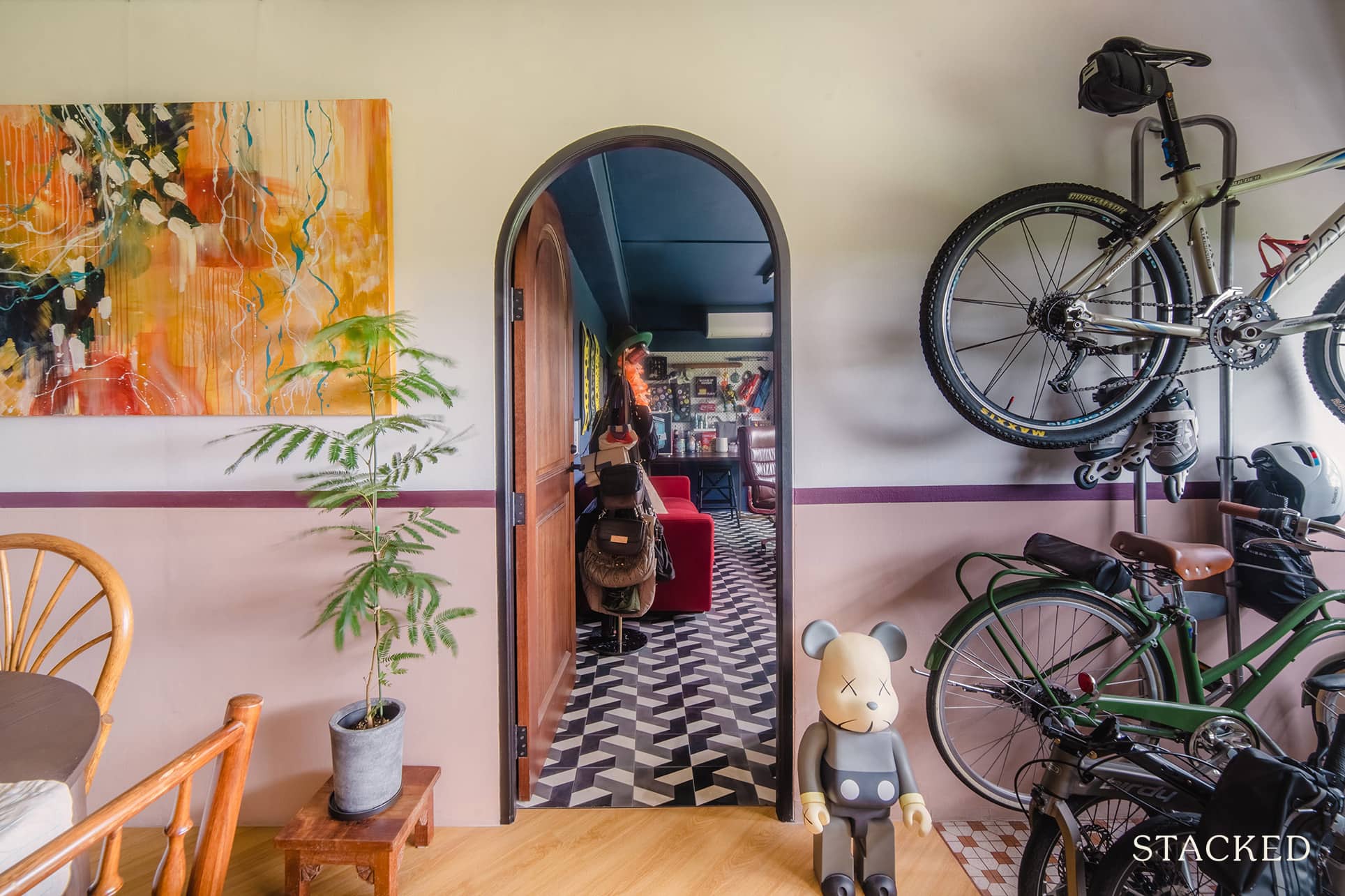 Home decor will always be a work in progress. As such, take your time to furnish your home and accept that not everything needs to be picture-perfect right away.
"There's beauty and fun in slowly discovering your lifestyle needs, giving yourself the opportunity (and space) to chance upon new finds and curate them in your own home."
Shop the look
SHARE