9 Thrift Instagram Accounts That Curates The Best Home Decor Hidden Gems For You In Singapore
Editor's Picks
9 Thrift Instagram Accounts That Curates The Best Home Decor Hidden Gems For You In Singapore
WRITTEN BY Adriano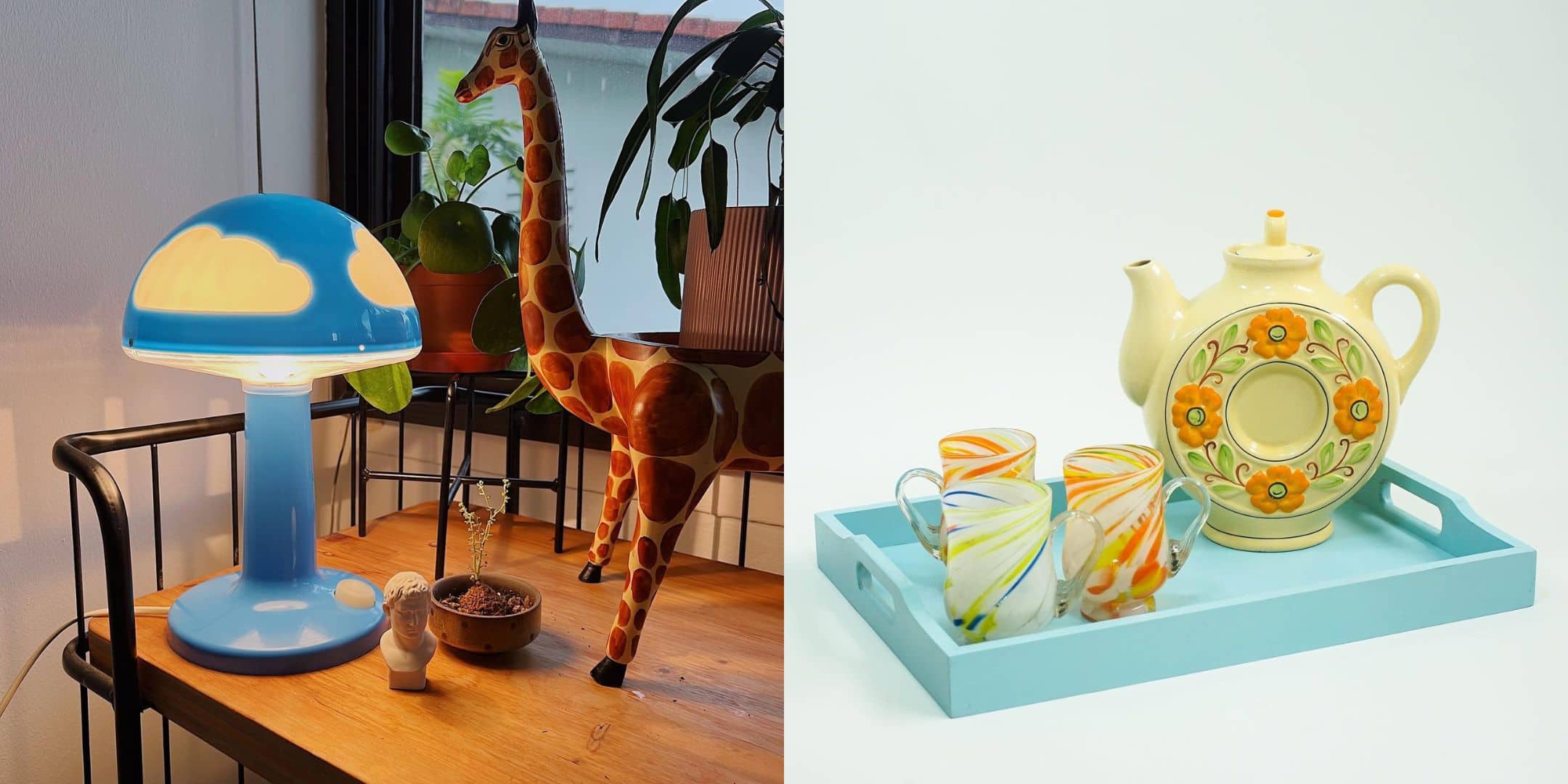 12
min read
Many people get it wrong, thrifting or vintage shopping isn't necessarily about saving money.
There's a certain thrill when it comes to thrifting, and it's not one that you can find while shopping in a mall.
It's about the excitement of the hunt, about finding a hidden gem, or an undiscovered piece that has somehow slipped under the radar of others.
(Or as they say, one man's meat, is another man's poison).
The satisfaction of finding a designer piece for a steal is a feeling that is just pure bliss to some.
But here's the downside of thrifting, it can take up a lot more time than you think.
For every diamond in the rough that you find, you've probably cycled through many hundreds more – not everything is going to be considered a worthy find.
And so as much as the journey may be more exciting than the destination, sometimes you just don't have the time to dedicate to such an endeavour.
That's where thrift and vintage Instagram accounts come in.
There was a time when thrift and vintage items were really only for serious shoppers. Thanks to Instagram, though, they're more accessible today.
In fact, these IG accounts that sell secondhand goods are gaining a lot of traction these days – not because there are plenty of them but because there's considerable demand.
Even before the pandemic, people are already starting to become conscious of the things they buy. Eco-friendly purchases are no longer a trend but more of a way of life. Post-pandemic shopping has done nothing but further fan the flames.
And of course, aside from going eco-friendly, buying vintage and thrift items offer people on more modest budgets to still enjoy shopping without having to spend too much. Plus, with the resurgence of mid-century and modern interiors in home decor, these vintage furniture pieces are starting to become a necessary commodity.
Still, it can be quite a chore doing this, so I've done some research on the best thrift shops on IG that do the hard work for us. (Trust me, curating items is not an easy job at all).
So without further ado, here are some of the best vintage and thrift shops in Singapore that you should definitely browse through on Insta.
1. Objects.Re
This is one of my favourite accounts to follow, not just because of the really well-curated items, but just the whole vibe of it. Even if you aren't exactly looking to buy, the way the products are styled does give you some good inspiration as well.
The owner of Objects.Re is a thrift shopper herself. She admitted that her initial motivation for buying thrift items was because they were obviously cheaper. But in time, she developed a different motivation – that of having a sustainable lifestyle.
As such, you'll find the items she curates in her shop are not just appealing but very functional as well. She even provides tips on becoming a better thrift shopper in her IG account, including reducing unwelcome surprises in these pre-loved items. I do also like that she's very transparent about the condition of the items.
Here are some of the items you'll discover in Objects.Re. Some of these may have found some new owners already, but you could find similar (if not better) ones as you browse through her account.
Red Pepper Ceramic Jars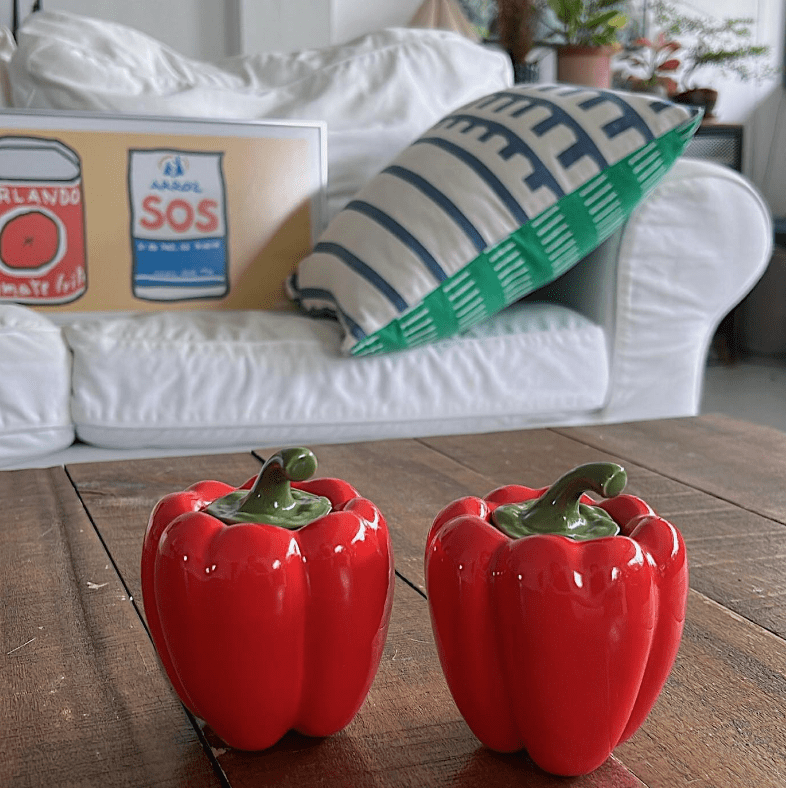 These red pepper ceramic jars speak of freshness, especially when showcased in the kitchen. Objects.Re transparently states that one of the jars has a better "airtight" enclosure. But if you prefer, you can even remove these airtight seals.
IKEA LERYD Vintage Mushroom Lamp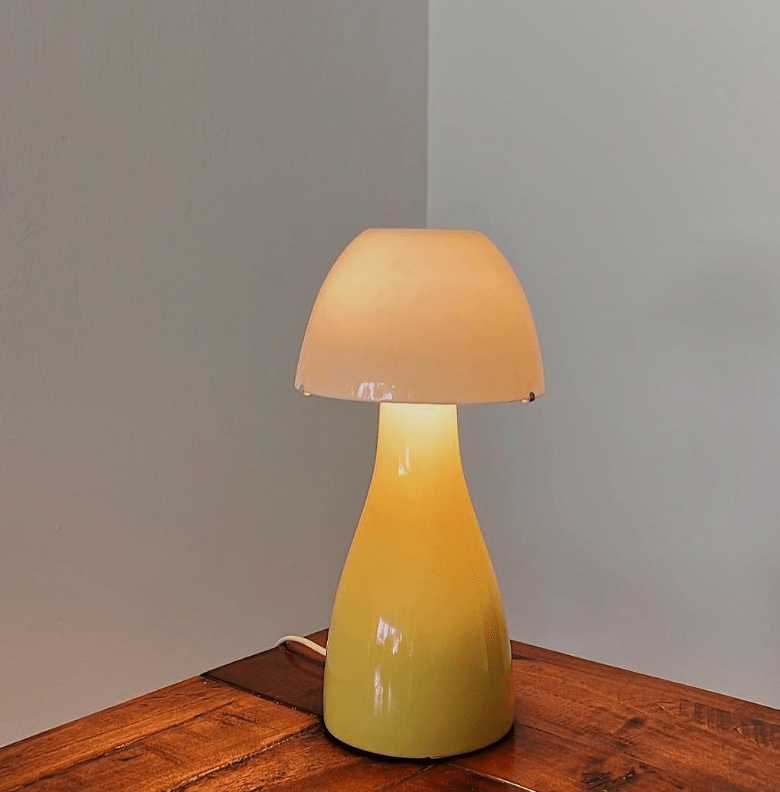 If you've been looking for a vintage lamp from IKEA, there's a small chance that this LERYD vintage mushroom lamp is still available at their shop. However, you can expect to find something similar now or in the near future as they continue to curate more thrift and pre-loved finds.
Four-Panelled Rattan Screen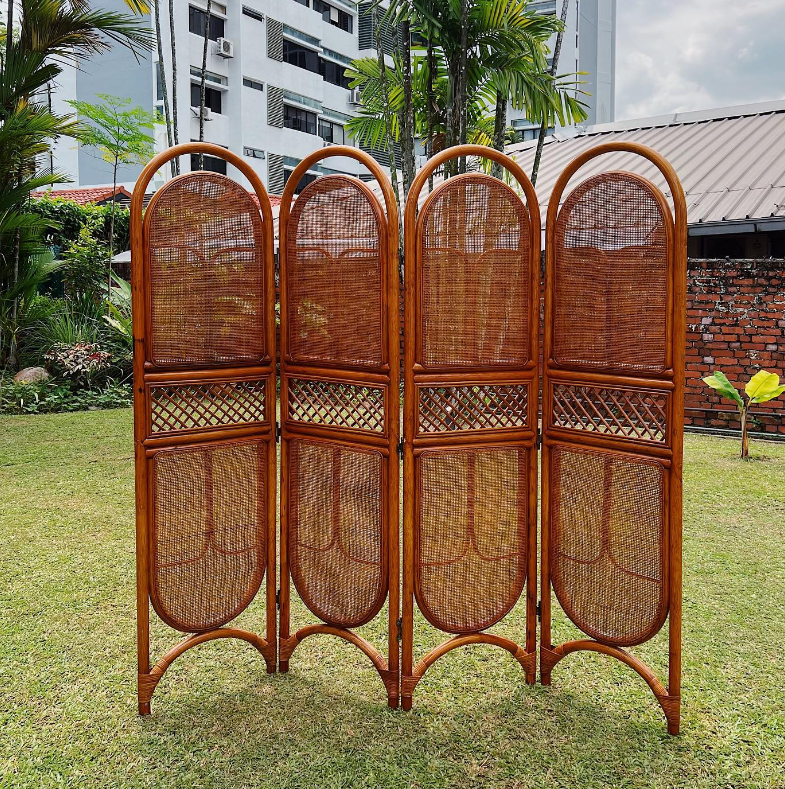 This vintage handmade four-panelled rattan screen is great for those Balinese-themed homes. It's also a great option for those who want to add some shade to the plants on their balcony.
2. Cute Poison Curates
Cute Poison Curates was born from the owner's love of secondhand and vintage gems. "There were treasures everywhere that were in mint condition," the owner said in an IG post. Cute Poison was established to give life to these vintage furniture pieces, making sure that their stories do not remain untold. And ever since, she's been very happy and proud to have given new homes for her curations.
Here are some of the items you'll most likely find in her shop (if they haven't been sold yet):
Vintage 1980s Hutschenreuther Ceramic Trinket Coaster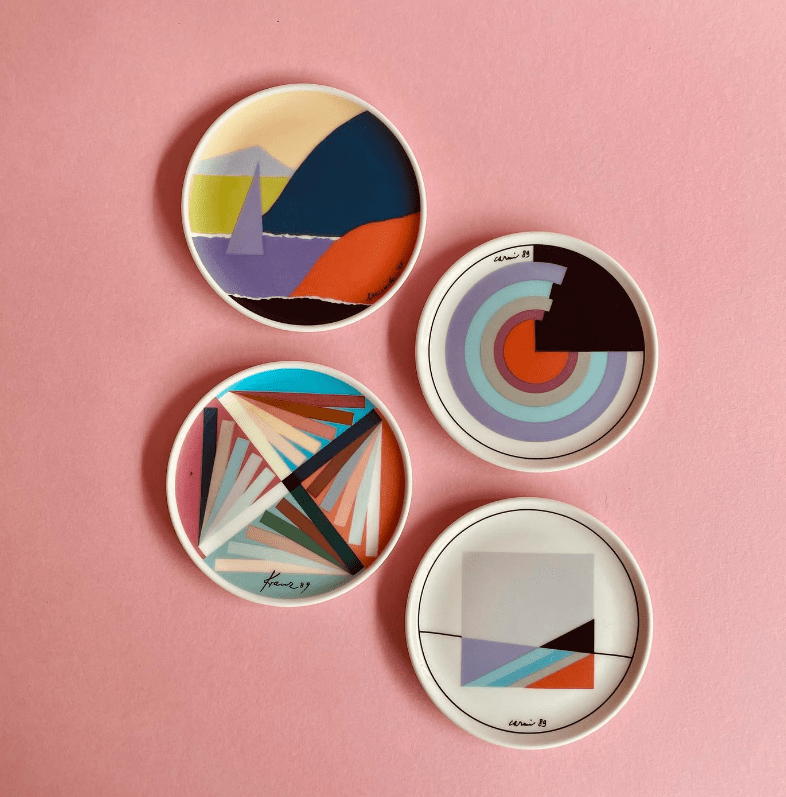 These vintage ceramic dishes that can also double as coasters are made in Germany. Exclusively created by Hutschenreuther for Lufthansa in limited quantities, they are still in pristine condition. Plus, the collection has never been used at all.
Handblown Watercolour Essential Oils Vials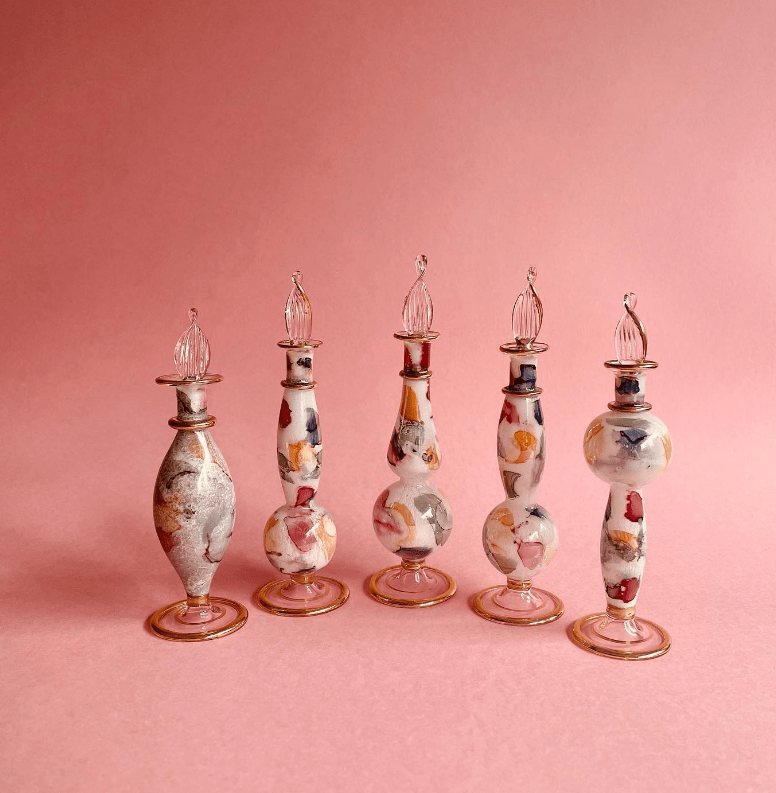 There are essential oil vials, and then there are these beauties. Handmade by Egyptian artisans, these handblown vials have an iridescent watercolour body finish that can add elegance to any oil they hold.
Balinese Handmade Wooden Cups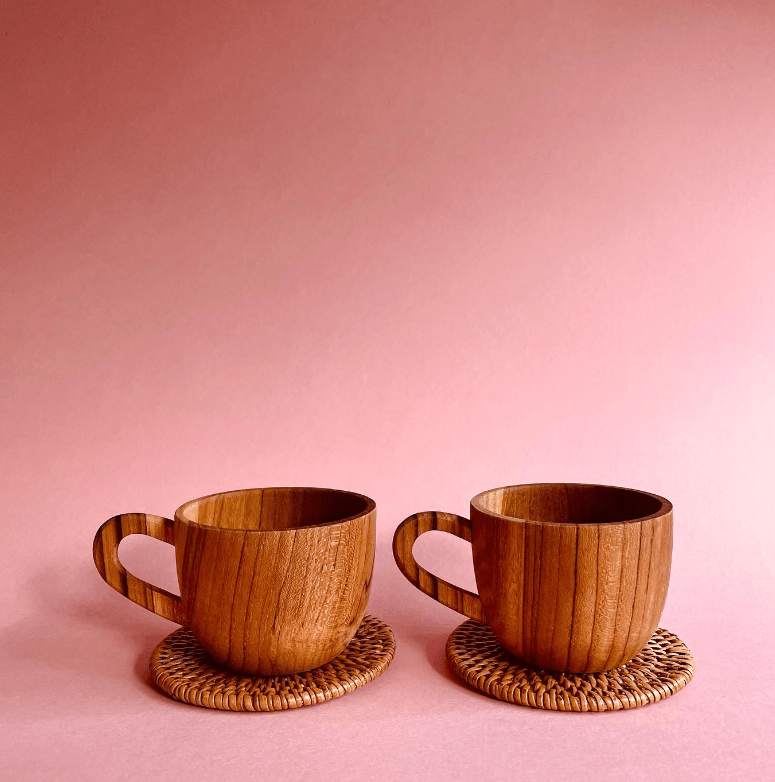 Are you going for Bali-inspired home decor? Adding these Balinese handmade wooden cups with woven rattan coaster will certainly add more character to your kitchen. Each set costs $28 per set, which includes both cup and rattan coasters.
3. Lorgan's
Lorgan's has already made its name in the business, being one of the renowned stores for vintage furniture and decor in Singapore. And now they're on Instagram as well.
From household accessories to mid-century furnishings, there are always great and timeless vintage finds in their store. Whether you're looking for a chair that would go well with your Scandi living room look or just planning to add a classic appeal to your home, it's easier to find a unique piece at Lorgan's.
In case you want to visit their shop, Lorgan's Retro Store is located at Pasir Panjang Road. You'll find exact directions and more item listings on their FB page. To give you a better overview of what you'll discover in their store, here are some of their designer vintage furniture:
Ray Wilkes Chiclet Chairs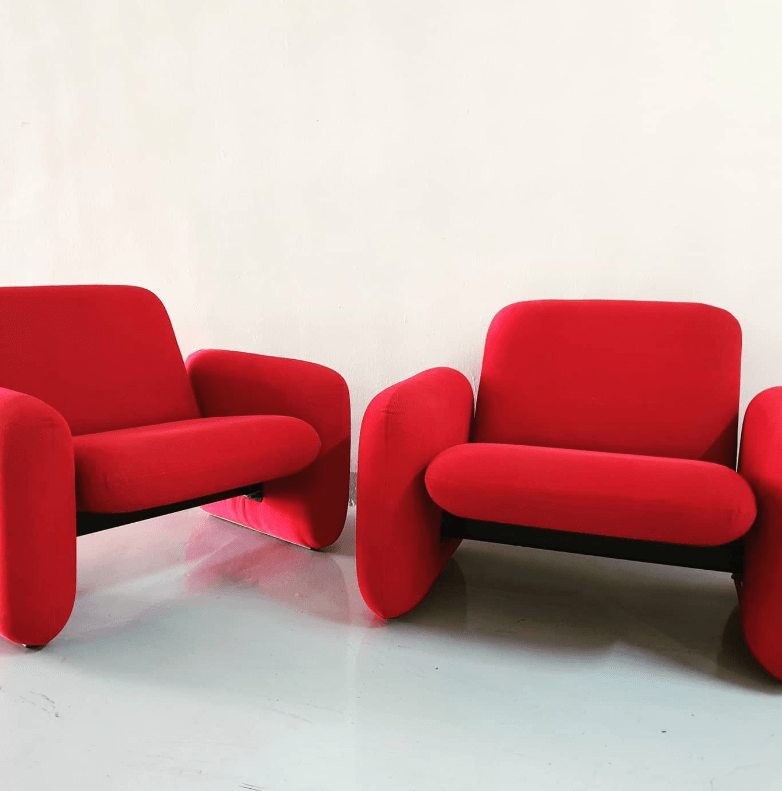 This post-modern classic vintage chair, also known as the "Chiclet" sofa, was introduced in 1976. Designed by Ray Wilkes, its rounded edge and uniform appearance help create its classic gum look. It's not only about clean lines, though, as this chair is also very comfy to sit on.
HEAVEN Outdoor set by EMU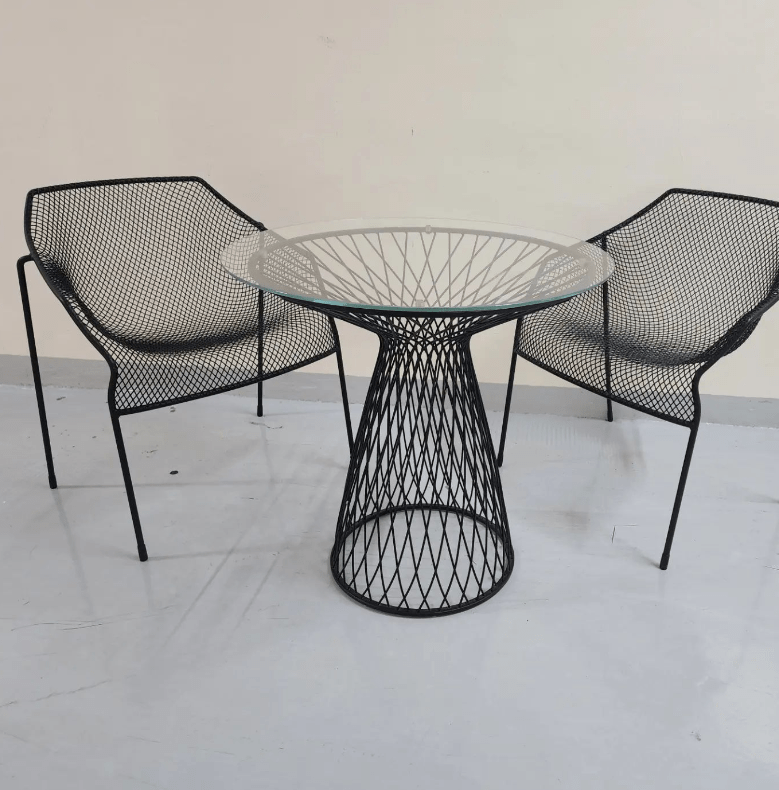 The Heaven outdoor set by EMU is all about projecting lightness. They were able to achieve this with their thin, woven steel frames for their chairs. And when you pair it with the matching table with a glass top, the transparency lends more to the feeling of lightness.
Nelson Swag Leg Desk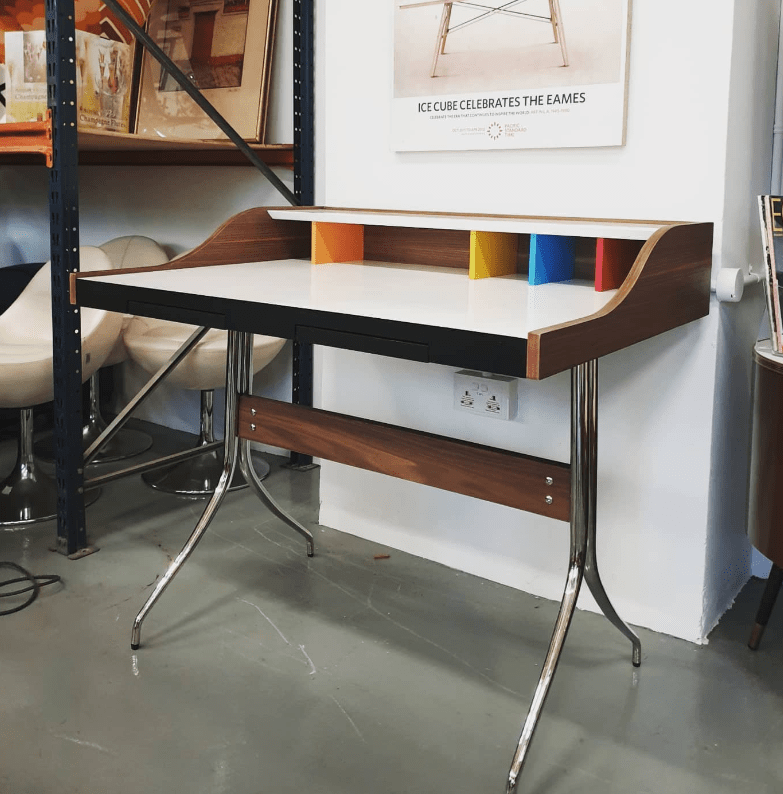 A 1958 design introduced by George Nelson, the Nelson Swag Leg Desk is just one of those timeless pieces you'll find at Logan's. Even with today's standards, this desk continues to be relevant as it's a great WFH desk regardless of your home's interior design.
4. FairyFinds
If you're looking for pre-loved porcelain and ceramic crafts, this thrift shop is seemingly blessed with a magical ability to find such items. They cater to this specific niche of creative knick-knacks, so don't expect to find vintage furnishings here. However, these small decorative and sometimes functional items can add a great degree of character to any home.
Keep in mind that these are secondhand items. It's only natural to find noticeable flaws every now and then, and fortunately, FairyFinds clearly indicates these in their listing. They also state that they donate 20% of their profits monthly to different charity centres.
Here are some samples of what you'll find in their shop.
Cow Ceramic Storage Bowls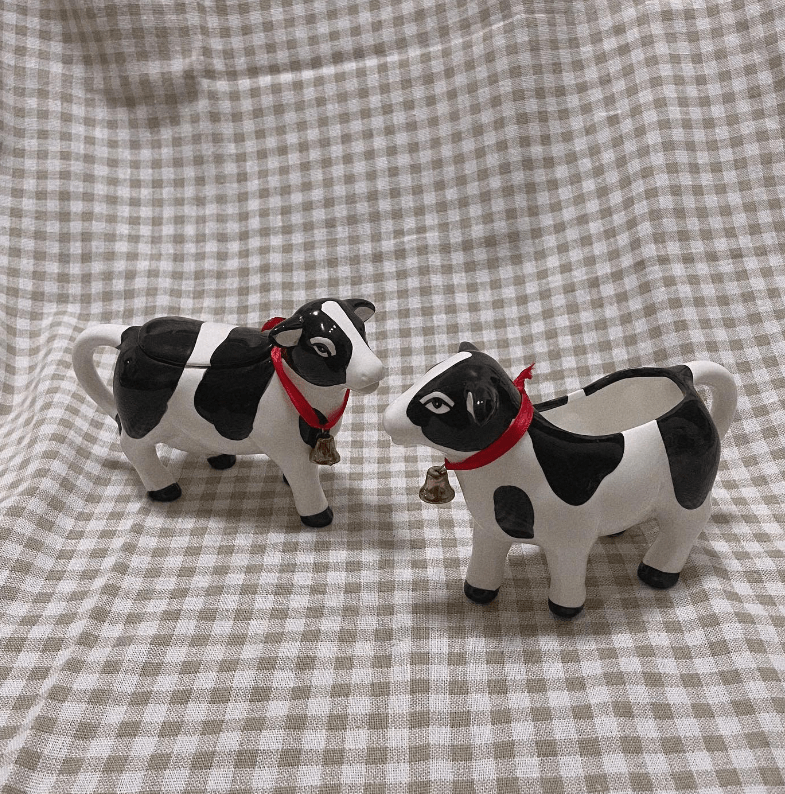 These adorable ceramic cow sugar and creamer storage bowls are a perfect way to start your day as you make your morning coffee. They're both in mint condition, and you can choose to cut the ribbons if you prefer. But why would you, when they're so cute, right?
Mushroom House Solar-Powered Lamp
An intricately-designed piece, this mushroom house lamp is also solar powered. The FairyFinds owner sourced this lamp when she first started her IG shop, and she admitted that it was hard letting this one go.
Kitten In A Basket Creamer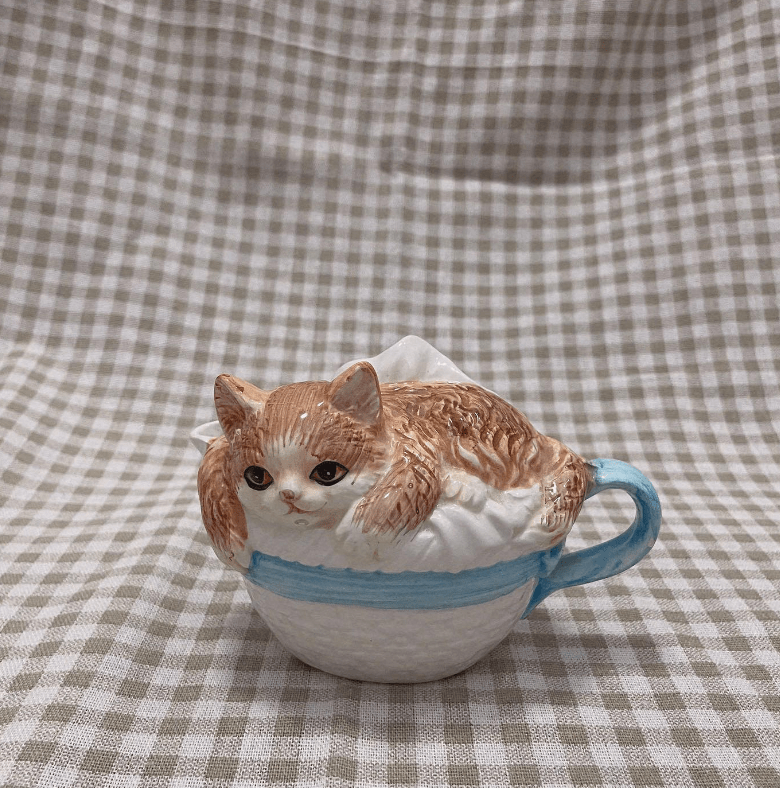 Imagine pouring your coffee creamer from this Kitten-In-A-Basket container. And even if you decide not to use it as intended, placing it on display in any room can certainly help lift the mood. FairyFinds listed this item as made in Taiwan with some scrapes on the handle.
5. Re.trospeck
Re.trospeck curates secondhand and vintage items that focus more on nostalgia, which does set it apart from most other accounts that you might see.
It's not been updated in a while though, but it's worth keeping tabs on if they do come back online!
In the meantime, here are some of the old-school stuff that you may find Re.trospeck.
1989 Vintage McDonald's Plate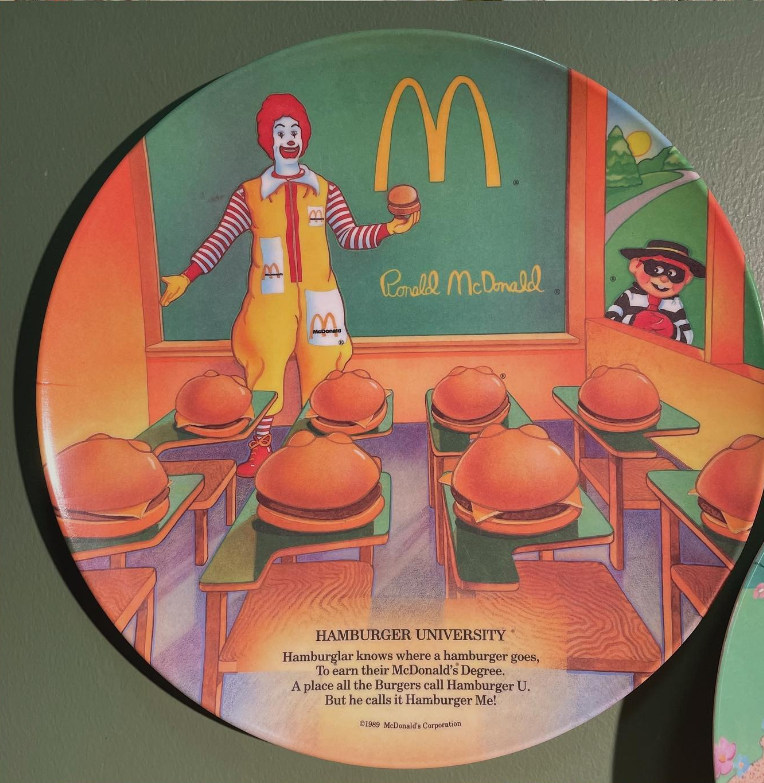 This McDonald's hamburger plate is something you won't find these days anymore. Collectors will surely love pieces such as this, especially those individuals who relish childhood memories during this era.
Collection Of Secondhand Vintage Finds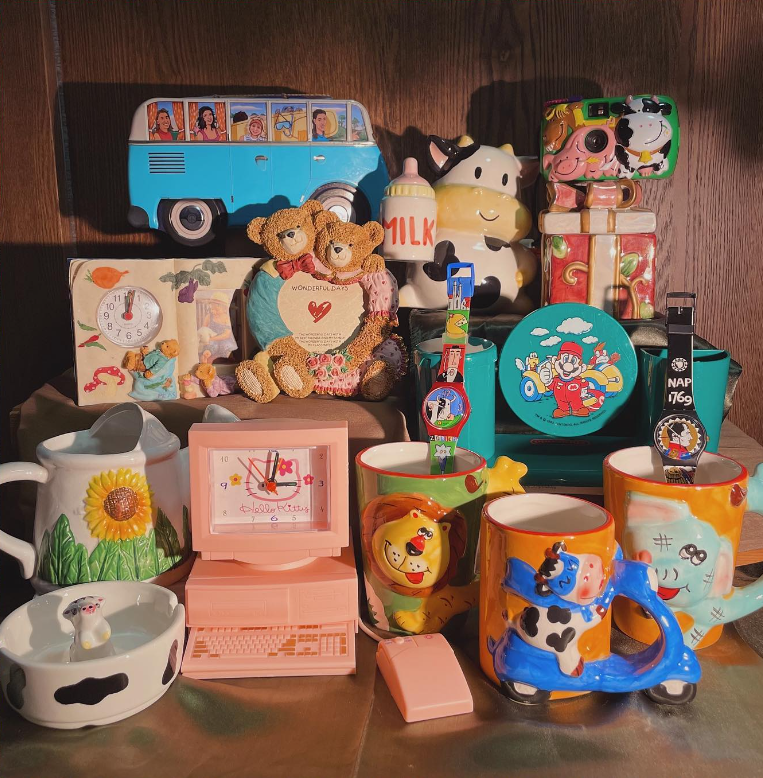 Here is a collection of secondhand vintage finds at Re.trospeck. Even the Hello Kitty desktop clock is old-school, reminiscent of those CRT monitors back in the day.
Cottage Bears Musical Box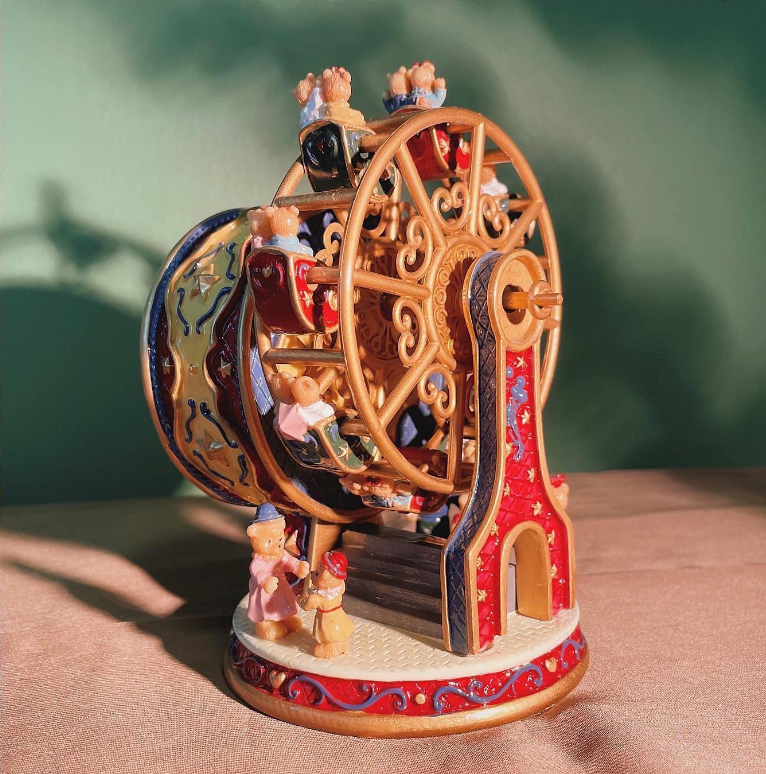 This intricately designed musical box is not just for show. The mechanical system on the Ferris wheel still works. Even if you don't intend to turn it on, just having it on display can already create a festive vibe.
6. Arousal.Home
While Arousal.Home is a vintage and thrift shop in general, most of the items that their customers love from their shop are their vintage lamps. They have a knack for finding some hard-to-find lamps, including those discontinued by brands like IKEA.
Their selective process in curating items revolves around those that would elevate a home – and thus the name of the shop. Still, lamps are not the only things you'll find here. They also have other great items, such as vintage glassware with elegantly embossed patterns, collectable ceramic teapot sets, and nostalgic miniature items.
Here are some of the old-school lamps that they have carried.
Mid-Century Brass Lamp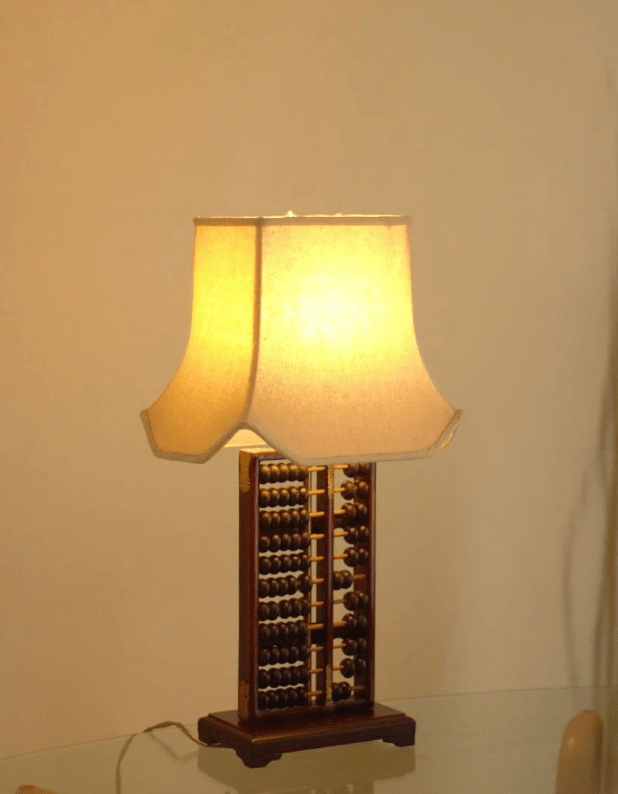 This abacus brass lamp can uplift a bedroom's ambience – it will feel like you're staying at Raffles Hotel. The beads at the top tier are actually movable, and it has an LED bulb.
Vintage Pierrot Art Deco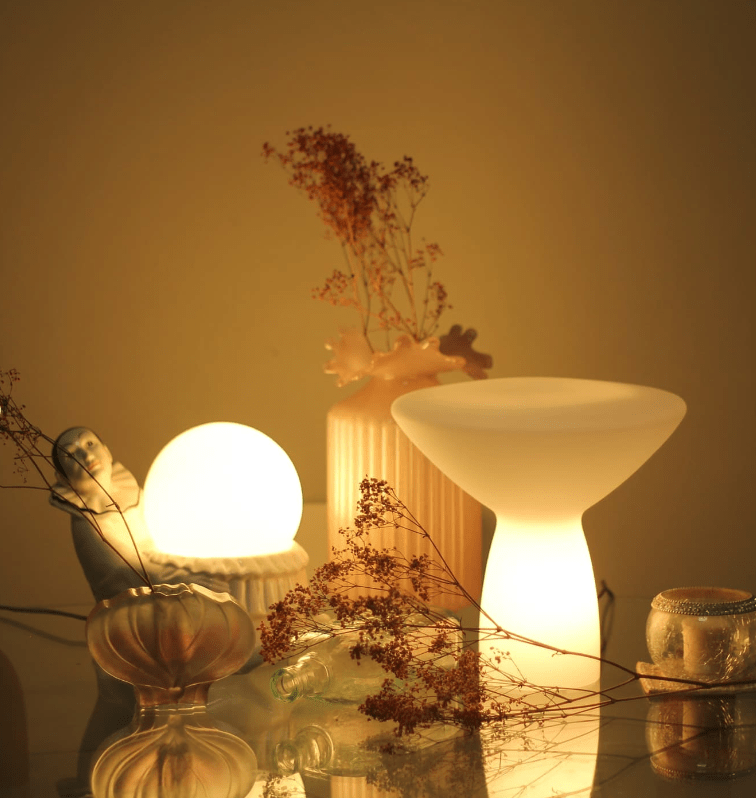 With the lampshade made of glass and a ceramic base, this piece is truly a classic. The pierrot, which seemed to be hugging the lamp, makes for an endearing pose. Even if its nose bridge is lightly chipped off, it's barely noticeable unless closely inspected.
IKEA SKOJIG Mushroom Cloud Lamp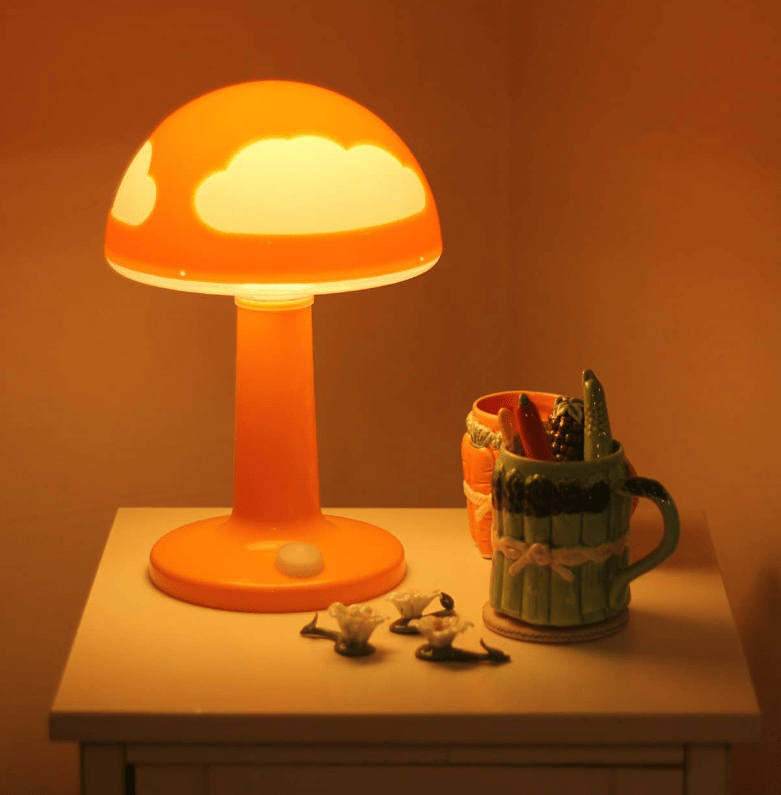 A 1990's IKEA lamp which has already been discontinued, this SKOJIG orange mushroom lamp creates a calm and joyful atmosphere when lit up. The lamp was still in perfect condition when it was listed by the shop, and they even tested and verified that it could still function well.
7. PepperVint Home
PepperVint's owner is passionate about all things vintage. She has created this shop to share her unique finds. I do like that most of the posts have quite detailed photos, and some even include a short video.
Below are some of the amazing items that PepperVint has sold.
Vintage Egyptian Pyrex Glass Essential Oil Diffuser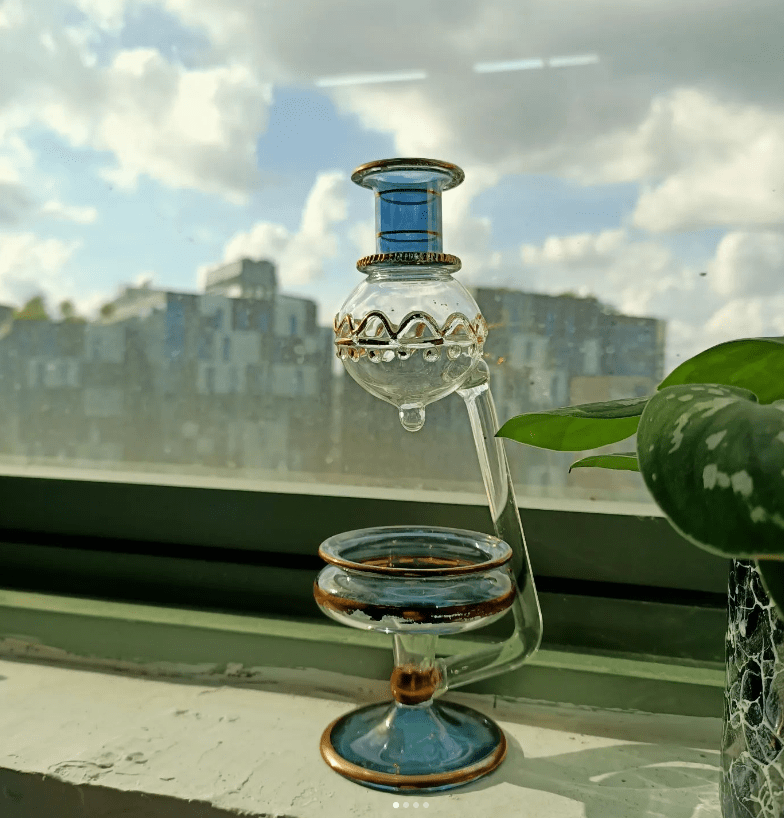 This single-piece mouthblown glass diffuser has an intricate design and is handpainted as well. It has obvious signs of ageing but is still in pristine condition – truly a vintage piece. It's a great item whether you're planning to use it as intended or put it on display.
Vintage 1950s Mushroom Table Lamps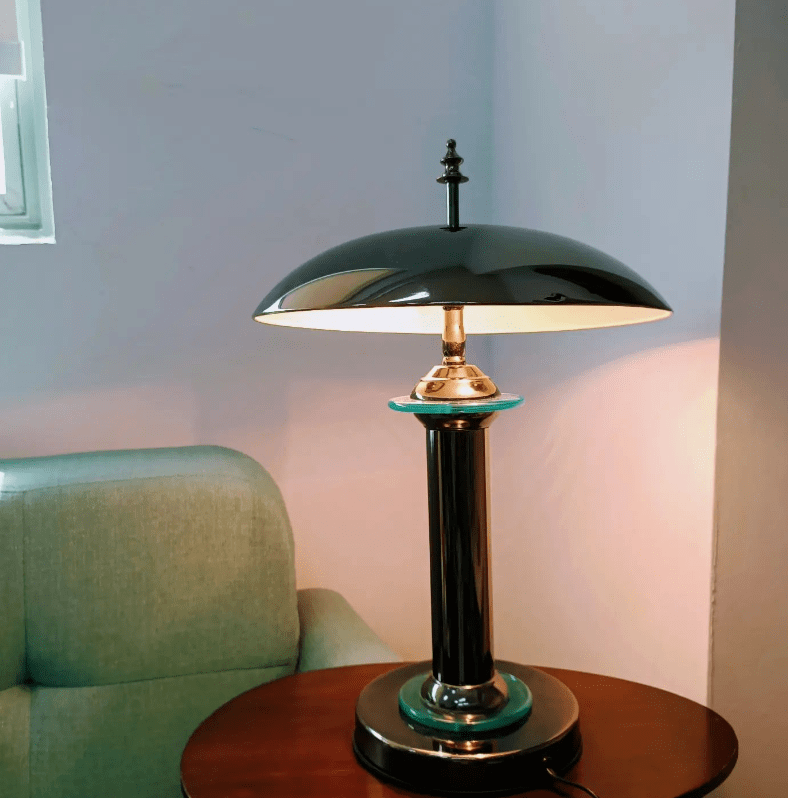 A vintage mid-century piece, this lamp is made of gunmetal chrome that will surely elevate any home of similar decor. While it has some mild signs of tarnish due to ageing, it only seeks to reinforce its true vintage nature. The lamp is still functional and works with any standard 60W bulb.
Curved Rim Pearlescent Glass Vase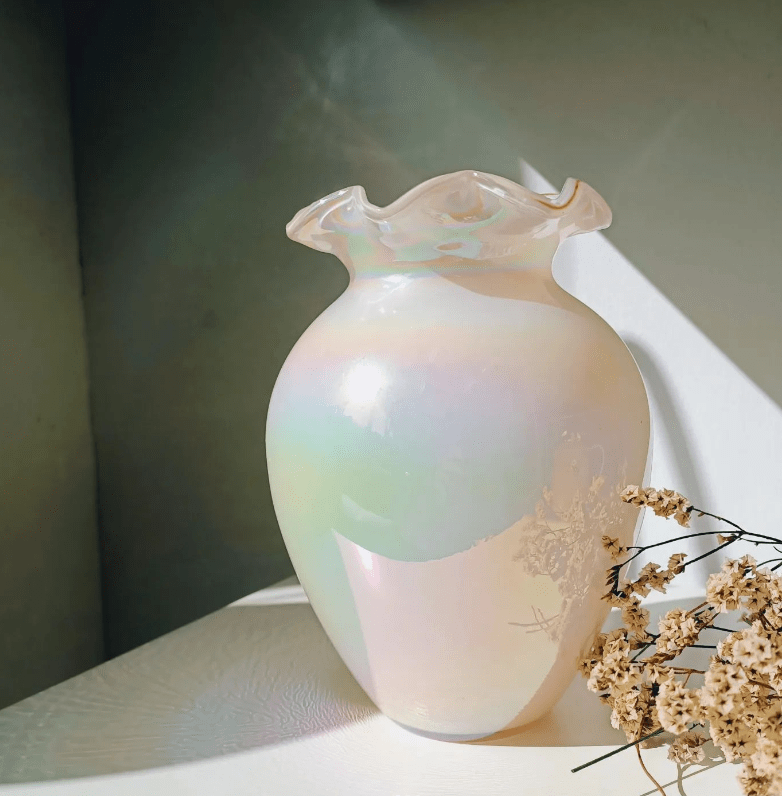 This pearlescent glass vase can take an already bright and airy room to the next level. The finish can easily help create a colourful aura and add a touch of elegance to any room. While it has a small blunt chip, thankfully, it's located at the bottom, so it's not obvious at all.
8. Retroscaper
Retroscaper was established by two long-time friends who wanted to more than just offer secondhand and vintage items. Their primary goal is to offer alternative decor aesthetics that seeks to stimulate creativity. How are they able to do this? They unleash their own creative spirit by upcycling some of their vintage finds.
So, in essence, the items you're buying from their shop are all quite unique. But not all of the items in their shop are upcycled, though. This means there's a wide variety of selections to choose from.
Here are some of their items that have sold at Retroscaper.
Leia Shade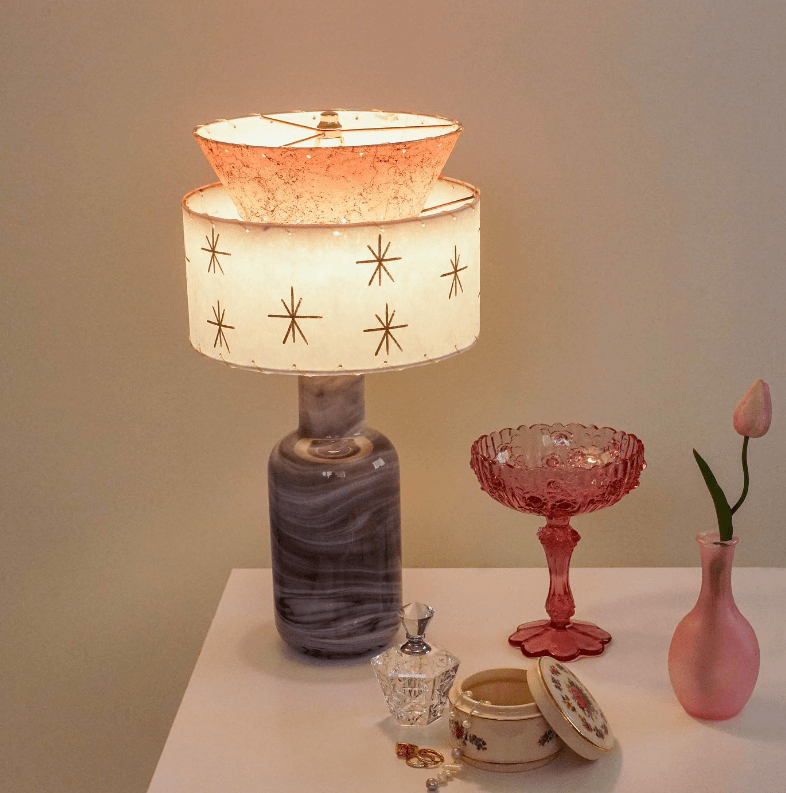 What makes this Leia shade distinct from other items of the same type is that it makes use of an IKEA PS 2017 vase. The vase itself was still in pristine condition at the time of the listing. The shade and adaptor are made by Retroscaper using scrap materials. They also provide you with options to buy the items as a complete package or just the vase or the shade.
Vinyl Record Clocks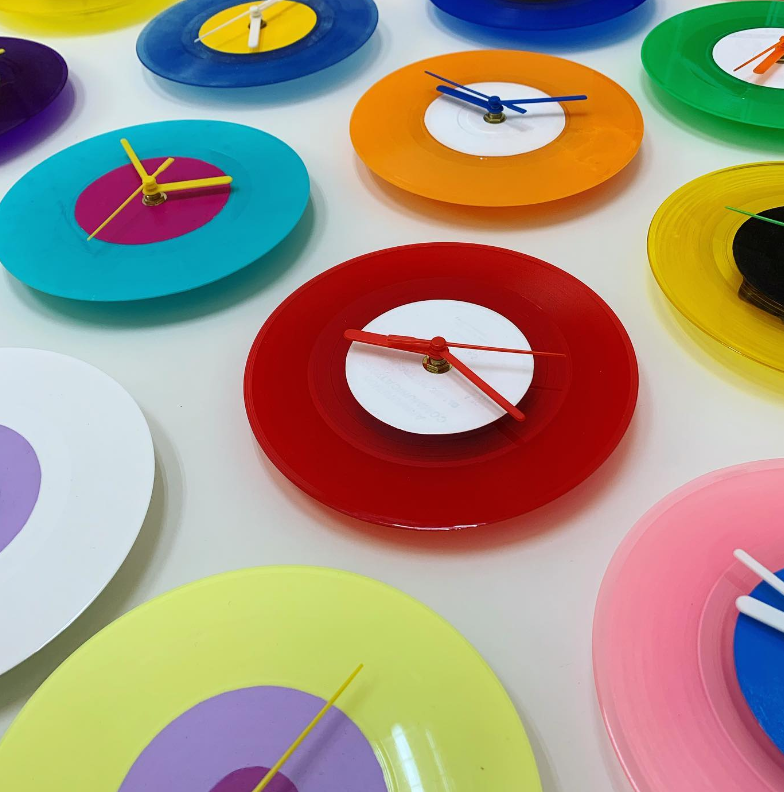 Who would've thought that these old 7″ vinyl records could look great as colourful clocks? While they cannot play music anymore, Retroscaper has found a great way to convert them into home decor that retains their nostalgic effect. The vibrant, retro colours are handpainted so expect some imperfections, which actually lend more to their value.
LE Smith Amethyst Pedestal Candy Dish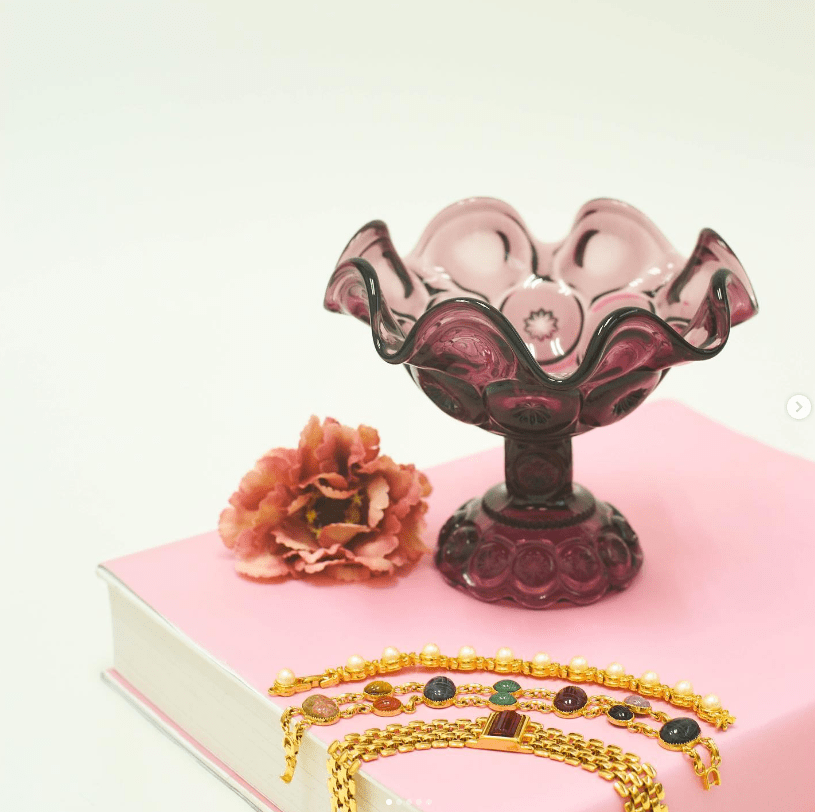 A 1960s production by LE Smith company in the US, this candy dish follows a popular pattern during the era. Aptly named Moon and Stars, this gorgeous dish is not exclusive for candies only as you can also use it as a jewellery dish – as implied in the photo.
9. ByMyOldSchool
ByMyOldSchool may look like your typical vintage and thrift shop, but they offer something more – they also provide the option to rent out their items for events. Their brick-and-mortar shop at Commonwealth Drive is a depot – a paradise for vintage shoppers. They have a large curation of items from Singapore and overseas, including old typewriters, gadgets, luggage, and other retro curios.
The shop's online portal is not only exclusive to IG, but they also have a website and FB account. If you're curious about what ByMyOldSchool has in their shop, below are some of them.
Vintage Coinbanks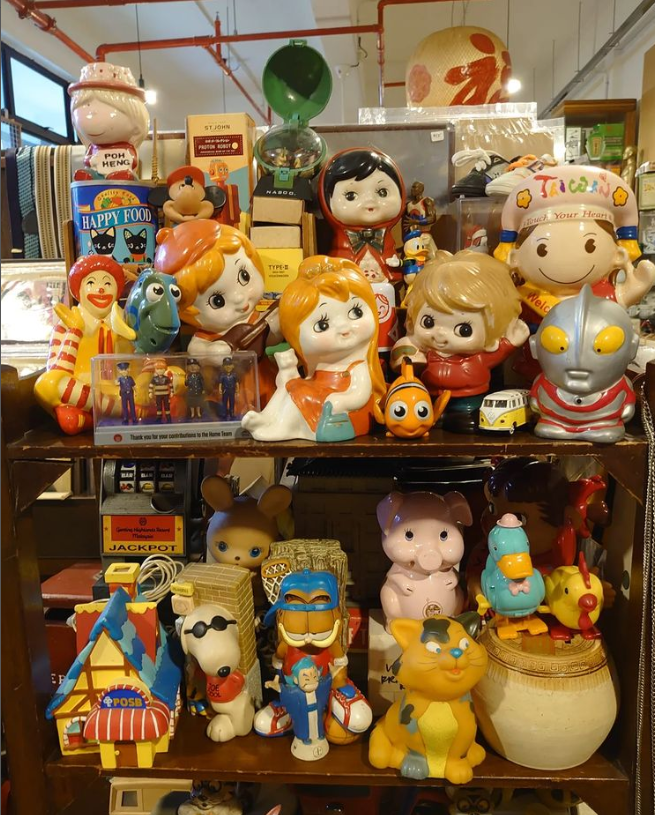 Here are shelves filled with different vintage coin banks from yesteryears. From Ultraman to McDonald's to Garfield, you're sure to find one that can trigger something from your childhood years.
Vintage Maritime Items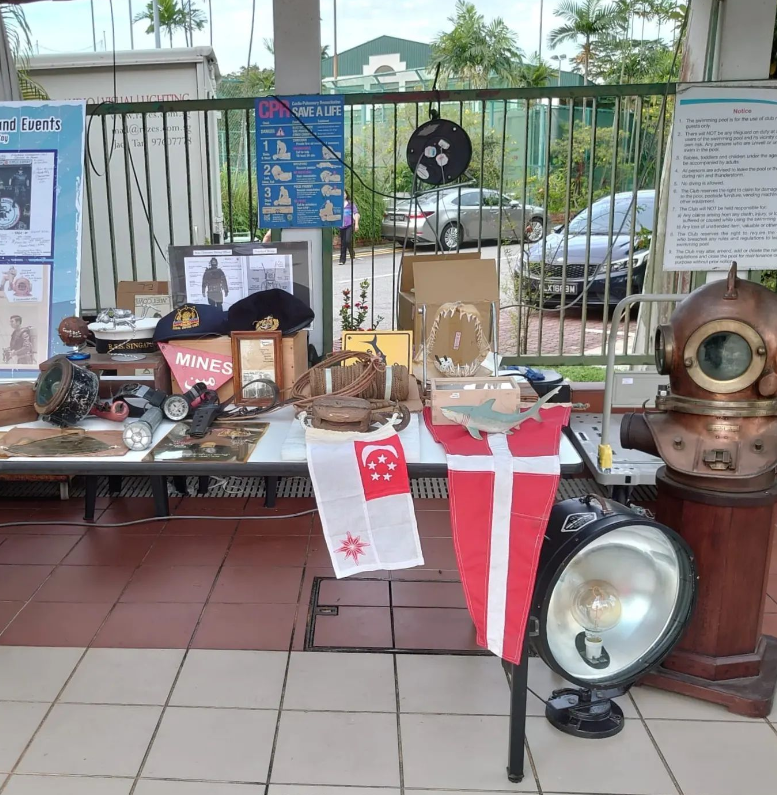 These vintage nautical items and naval memorabilia are part of Singapore's past. In fact, even schools rent out these maritime items for educational exhibits.
Vintage IKEA Catalogues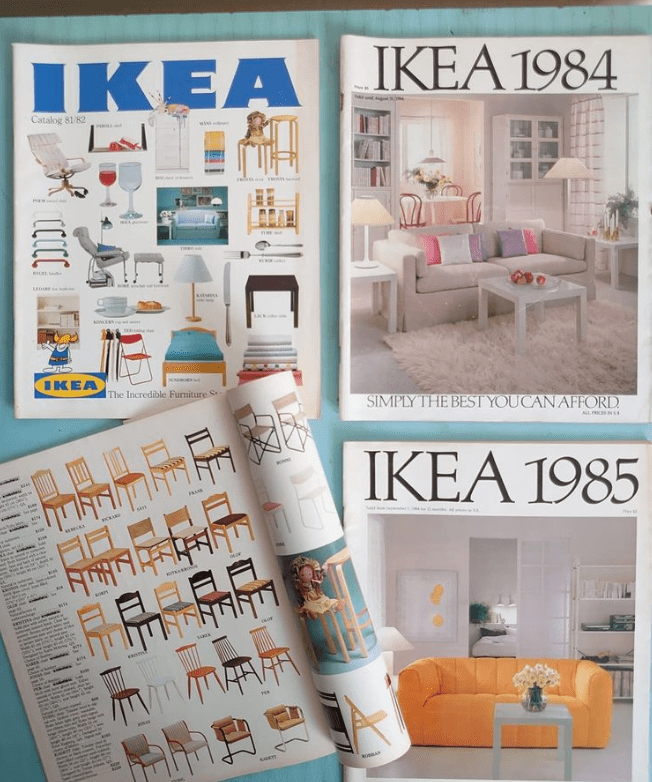 Are you curious about what an IKEA catalogue looked like in decades past? You'll find them here at ByMyOldSchoold. Although for vintage shoppers, these are not only for browsing. These old catalogues can act as a treasure map that can point them to vintage IKEA items they want to collect.
Give These Pre-Loved Goods Their Second Life
The great thing about these local yet online shops is that it's easier to make a purchase. You can just follow their Instagram accounts, post a comment or DM them directly. Depending on their specific transaction arrangement, you usually have the option to do a meetup or use your preferred parcel service for the goods you purchase.
Regardless if you're a vintage collector, a secondhand shopper, or just planning to redecorate your home with vintage items, let these IG thrift shops help you find the item for you.
Have I missed out on any notable ones? Let us know at hello@stackedhomes.com or leave a comment below.
SHARE