I Used To Work In The Interior Industry: Here Are My 6 Insider Tips To Help You Find The Right ID
Decor Advice
I Used To Work In The Interior Industry: Here Are My 6 Insider Tips To Help You Find The Right ID
WRITTEN BY Adriano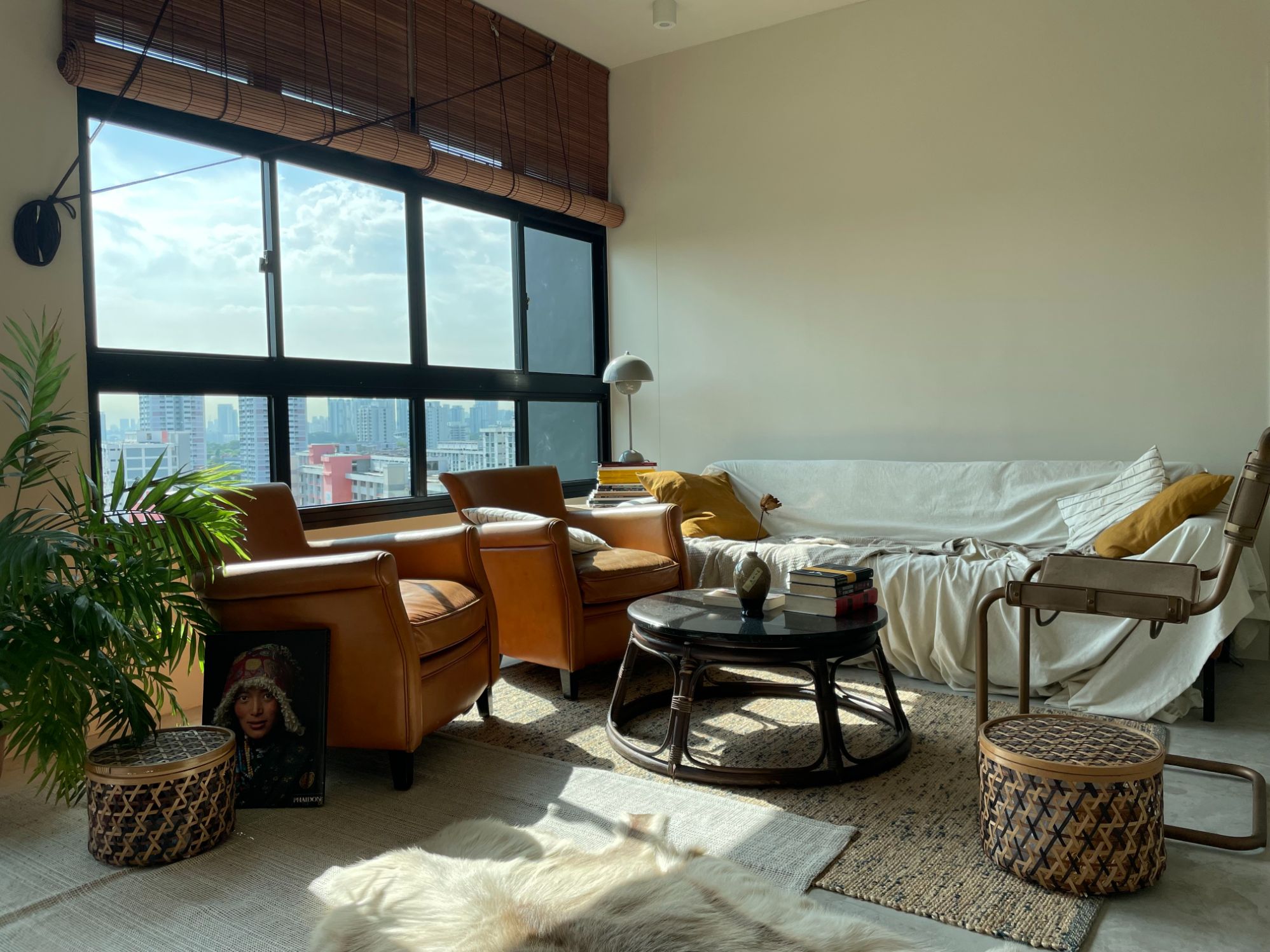 9
min read
Did you know in 2021 there were 1,300 complaints against renovation contracts in Singapore?
While that may not sound like a very scary number, that number is only increasing as we've already had 807 complaints in the first half of 2022 so far.
Also, it's worth noting that this number isn't even including all the many renovation nightmare stories that you may have seen being shared online.
And so even though the home ownership journey may be incredibly rewarding at the end of it, there's a lot at stake for the first-time home owner.
From finding the most suitable home, to finding the right ID/contractor, all while trying to work within a budget – it can be a really stressful time.
As someone who has been on both sides of the fence, here's my take on how to perform due diligence so you can find the right ID/constractor for you:
1. How To Source For An ID
Of course with how everything is online today, it may seem like it would be easier to find an ID than before. And for the most part, it's true.
But you don't always have to rely on just Google, as there are more places that you can start to look. Some require a little more work to go through, but the effort can be worth the reward.
ID Portals
These are various online platforms where IDs congregate online (Qanvast, HomeRenoGuru, Renonation). All of them offer a free quote online and can connect you with an ID that matches the style you're aiming for. However, don't expect the quote to be fully accurate since the form you're going to fill up is more or less a generic one.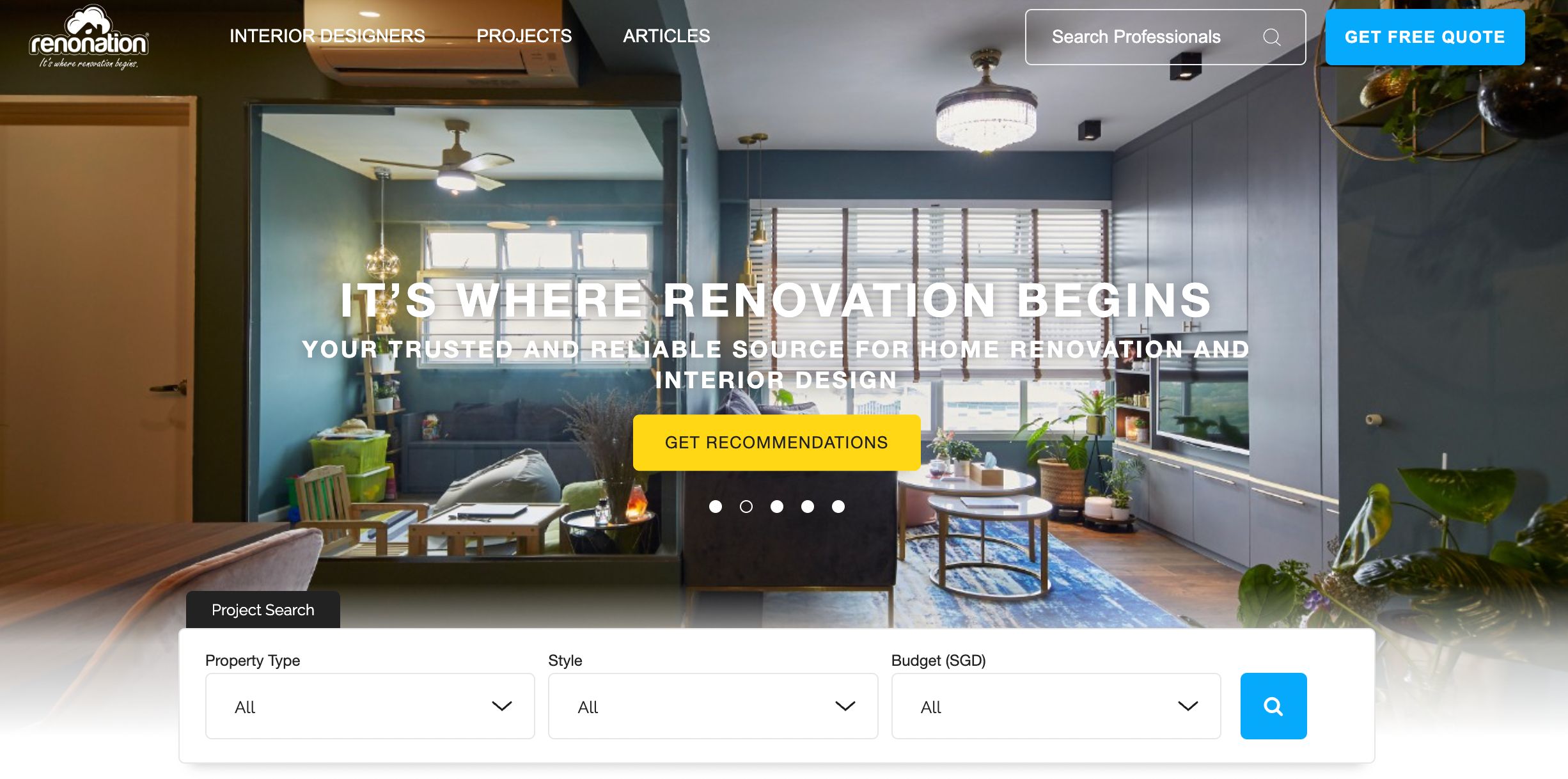 These are just three of the most popular portals – there are more out there but you are likely going to get the same selection as every ID would want to get on the platforms where there is the most traffic.
Do note that these are generally the more mass market companies that are on the platforms. Not every ID is on here (there are some that pride themselves on being independent), so if you are looking for something a bit more niche you'd want to look elsewhere.
Instagram and TikTok
There's 2 ways to go about looking for an ID here. Most companies will be posting their portfolio on their account, so it's a good way to quickly scan to see if their design style speaks to you.
You'll find a lot of inspirations here – whether you want to go Scandi-Boho, Mid-Century Modern, or Eclectic.
Besides that, another way is to look at the home owner community on Instagram to look for an ID. Many home owners have now started an account to detail their renovation journey, and there's lot of little nuggets of information that you can glean from here.
To start, you can search via hashtags like #singaporehdb or #singaporeinteriors or look for design-collated IG accounts and see who is tagged.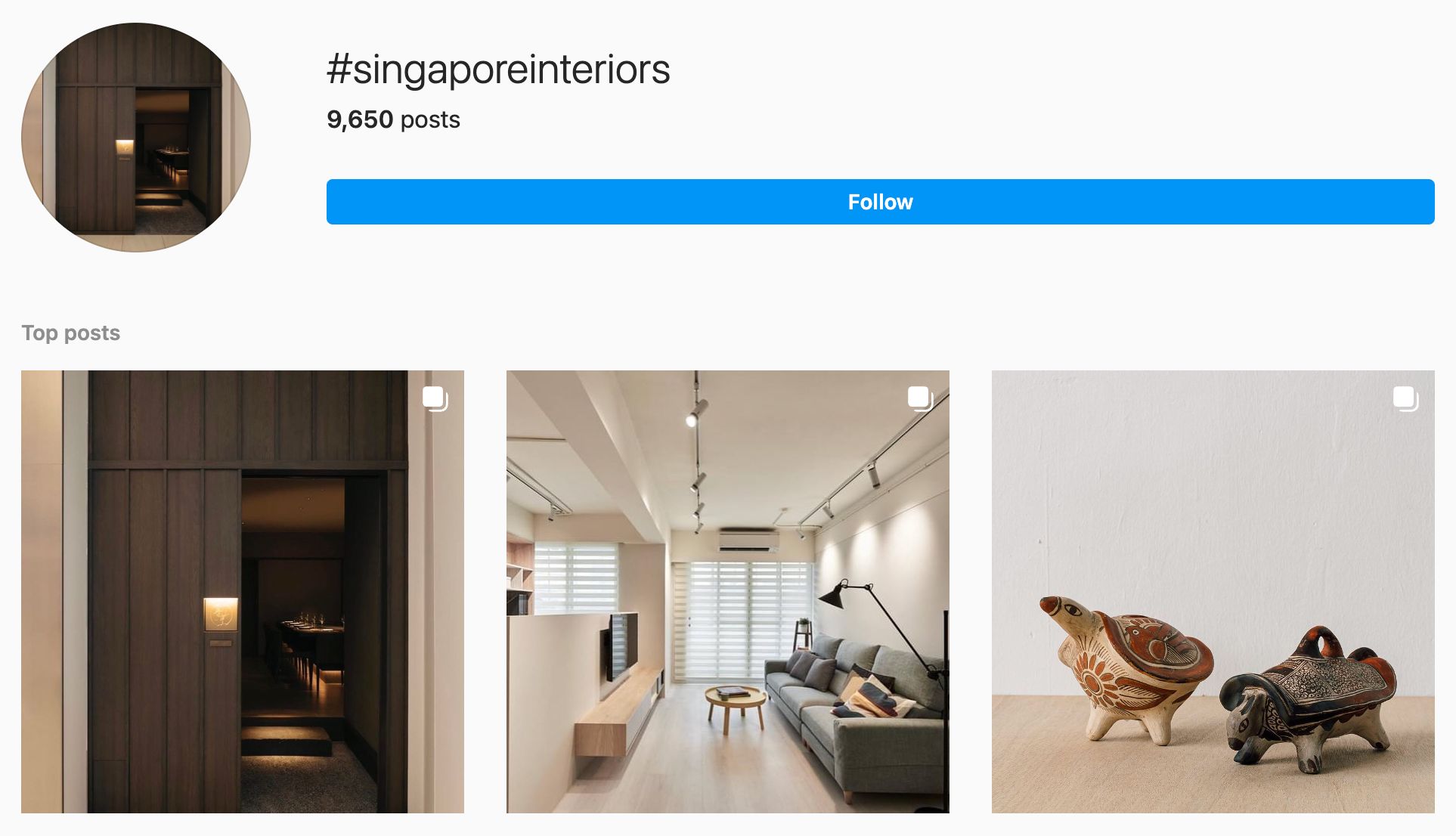 Once you find an account you like, you can also see from the account who is following – there will typically be a lot of home owner accounts following too. It'll be easy to sieve these accounts out, most of the time the name will take some reference to their home (eg. haus, sqm, home etc).
If you find a home that you like the particular look out for, keep a look out if they've saved any IG stories on their profile.
I like to look through them as these are often unfiltered documentations of how the renovation has gone so far. Some home owners also post very helpful content on what to look out for and which ID they've used.
If you can't find it, you could also try commenting on their post to ask!
My last tip is to look for interior photographers. A few well-known ones are Studio Periphery or Patrick Lau. From here you can find the different ID's and architects that they've shot for (and get some design tips along the way!).
Sites With Home Tours
Sites such as Home & Decor, Vogue, and yours truly – our Living In series, can help you find a suitable ID from the home tour pieces or videos. Some of these articles can be pretty descriptive, highlighting the style and the reno process the homeowners went through. And in most cases, it also includes the ID firm that took on the project.
The best way to search through these sites is to identify the type of home design you want first.
So, for instance, if you prefer to style your home with Japandi elements, enter the "japandi" keyword on the site's search functionality – usually the magnifying glass icon. This will spit out all articles that mention the "japandi" keyword, allowing you to choose the home tour with this design.
Social Media Groups
Although not as abundant as those on IG, Facebook groups, as well as Reddit, can be unconventional but great places where you can look for them. These groups are also a great way to get advice and recommendations on other specifics on your reno – before, during, and after the process.
Here are some of the FB groups you might want to check out:
It may not be a 100% foolproof way, but I do find that combing through the posts and comments can sometimes unearth some hidden gems. These may not be the biggest ID companies around, but the smaller outfits can make up for it with better service and a more personalised experience.
Referrals
This may sound very obvious, but it's probably the best way to look for an ID. Ask your family or friends who had their house renovated by an ID. They can give you a firsthand overview of what to expect, not just the outcome of the reno but the experience of working with the ID too.
However, note that what worked for them doesn't necessarily mean it'll be the same for you. Sometimes working with an ID is about the affinity that you may have. So it's still best to find an ID that fits you in terms of communication and working style.
2. How To Study Their Past Works
After you've come up with a list of potential IDs, you need to start narrowing down your options.
Naturally, the easiest way to do so is through their portfolio. You can see from the number of projects that they've done, and how the projects have turned out. Not every project may be displayed online (some clients are private and don't allow the designers to do so), so you'd have to reach out if you want to see the full portfolio.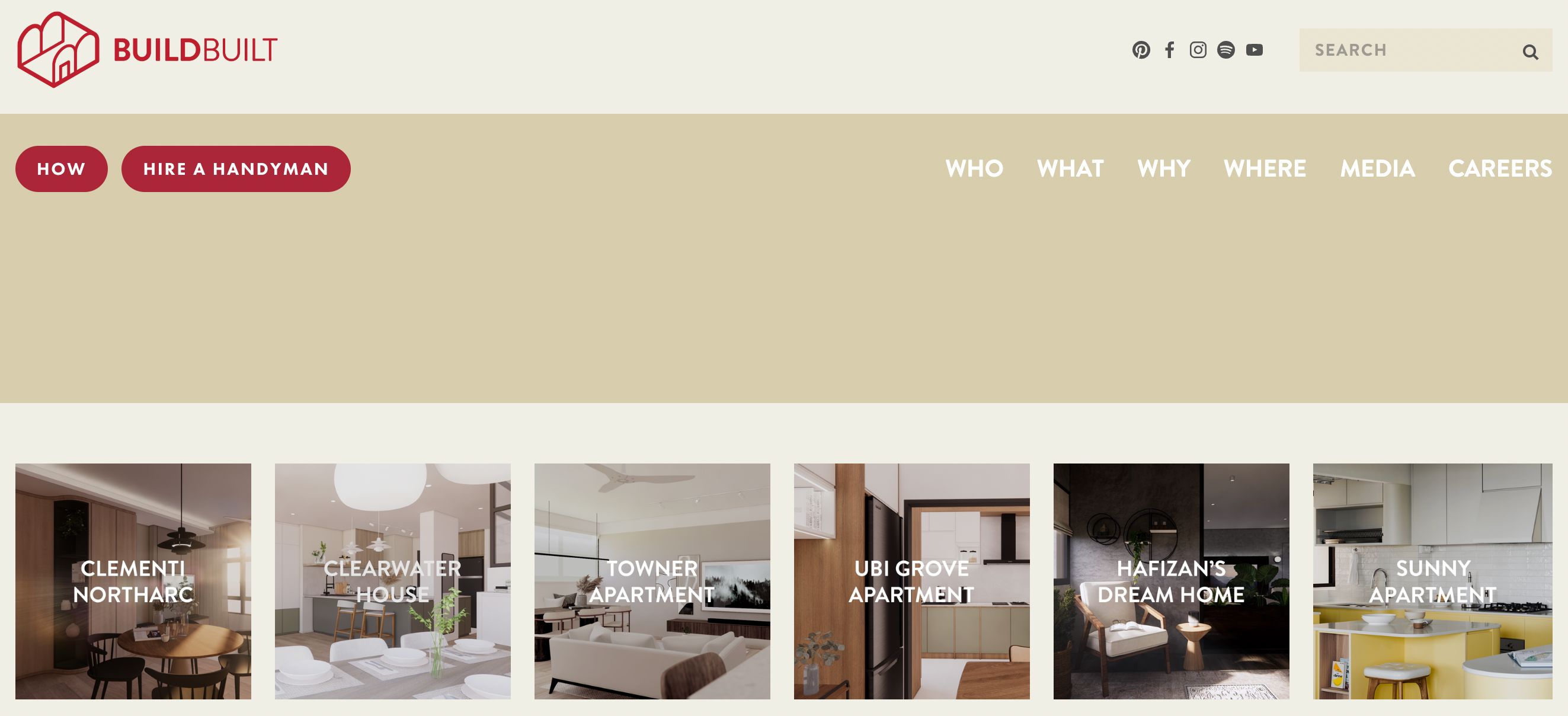 Also, not every ID bothers to update their website or socials consistently, so it's always best to reach out.
You can look at it in a negative and positive light. It's either the ID is so inundated with work that they've no time, or they truly don't have that many projects under their belt.
Remember don't always base your judgement solely on the photos. With today's development in 3D rendering, sometimes you could just be looking at a render instead of an actual shot.
If you want to go one step further, I'd even try looking to see if I can find the house from the portfolio on Instagram.
Going this route also allows you to ask the homeowners directly about their experience and what it was like working with their ID. Of course, remember to be nice about it (neither should you be hounding or expecting a reply).
If you found out about the ID through a home tour article, the homeowners' interview may give you a good overview of the ID's work and ethics.
Still, nothing beats actually visiting a recently completed or ongoing project.
If this is somehow inaccessible to you, request photos or videos of a past project that has similar design and requirements as yours. This way, you're able to determine if the ID will be able to meet your aesthetic requirements and preferences.
3. What To Ask The ID To Learn More About Them
Keep in mind that the questions you need to ask each ID on your list should be consistent. It will help you easily evaluate which one will be best for you. You can create a template document on your device and record each ID's answers for your assessment later.
Here are some questions that I like to ask:
Can you provide a project schedule? Having no schedule is an indication of their management. Even a high-level one should be good enough.
What is the communication protocol? Will minutes be provided after every meeting? These questions will help you determine the ID that offers a communication protocol you're most comfortable with.
How many projects are you currently handling? At which stage are these projects already in? This gives you an idea of whether the ID can realistically manage your project.
How long have you been on this trait? The more project the ID handles following a similar design trait, the more knowledgeable and experienced they are.
Do you have an HDB license and BizSafe class 1? Never assume that the contractor the ID uses has an HDB license. It's only natural for you to ask about these because this is required by law.
Will you be providing renders? If so, how many views and how many amendments? The renders give you a better picture of a reno's possible outcome. It also serves as a visual reference if the project is on the right track.
While talking with the ID, it's essential to have a sense of how detailed the ID will go through the plans. They should give you a good overview of the different materials and their properties, as well as the pros and cons.
For example, a stainless sink is durable, but when you place a frozen item on it to defrost, condensation will occur and cause droplets below the carpentry. A ceramic sink, however, will not condense, but it is prone to breaking and cracking.
Learn about some of the material properties and ask the ID. You'd be surprised sometimes at how some of them may not even know the basics. Remember, it's not all about what looks good – you need a home to be practical as well.
Finally, you should ask the ID how they work. Not every ID will work the same way. Some may help you to choose items like lights and taps, and even accompany you down to the shops to advise on what is best to select.
Others may just give you a list of their recommended shops, and you are expected to go on your own.
So you should ask how the ID works exactly, to determine which working style would be better for you.
4. How To Read Your Quote And What Should Be Included
There's no standard for how the quote should look or be presented to you. However, these should always be clear and understandable.

With the bad rep that the reno industry has been going through about transparency, voicing out about anything unclear on the quote would be a great help. You're not only helping yourself understand it better but could also give your ID an idea of what they should be improving in their future quotes.
In essence, reading your quote should not be hard at all. This means no vague technical terms. They should be in layman's terms and thoroughly explained if not clear at first. If you want to know more, here's an article we did on key details to look out for in the quote.
Have the contract clearly indicate what items are excluded. For example, kitchen sinks and faucets are not provided for, but most IDs fail to inform their clients about this.
The quote should clearly indicate quantities and dimensions. You should also request for wastage percentage for materials. This will help you a better overview if there's a possibility for your ID to order additional quantities. For example, 10% to 15% for normal tiles and 40% for chevron tiles.
Clarify what tile type falls under the tiling line item. You need to know whether there will be additional costs if the tile selection is larger than the standard size and if there is any labour fee difference.
5. Important Terms And Conditions That Are To Be Included
A Terms and Conditions document should always include items such as the statement of work, intellectual property, and termination terms. Some would even include the terms for photographs and publicity of the ID's work.
Aside from these usuals, though, it's also best to have your ID include the following as well:
Variation order terms: This explains the process the responsible parties will need to undertake when there are any changes in scope.
Defects liability period: The standard for this period is usually one year. Look for this item and be sure it states how long and what it covers.
6. Standard Payment Schedule
The schedule of payment can vary, but you typically want to limit the amount of down payment you've put down. If you've read a number of renovation horror stories, a common theme is usually a high percentage of down payment paid at the beginning.
Here's a payment schedule that I personally feel is fair to both the homeowner and the IDs
10% upon confirmation of the contract
20% upon commencement of work
30% progressive payment during renovation
30% upon carpentry measurement
10% upon project handover
However, do remember that the payment schedule can vary base on circumstances and scope of the project. So make sure to have a thorough discussion with your ID regarding this early on.
Final Words
Carrying out due diligence may feel quite a chore, but it's certainly worth it. A renovation journey has many moving parts and variables that are beyond your control. But choosing the right ID but will also ensure lessening the impact of any issues that are bound to happen in any reno project.
SHARE