Units Of The Week

5 Units With Beautiful Unblocked Greenery Views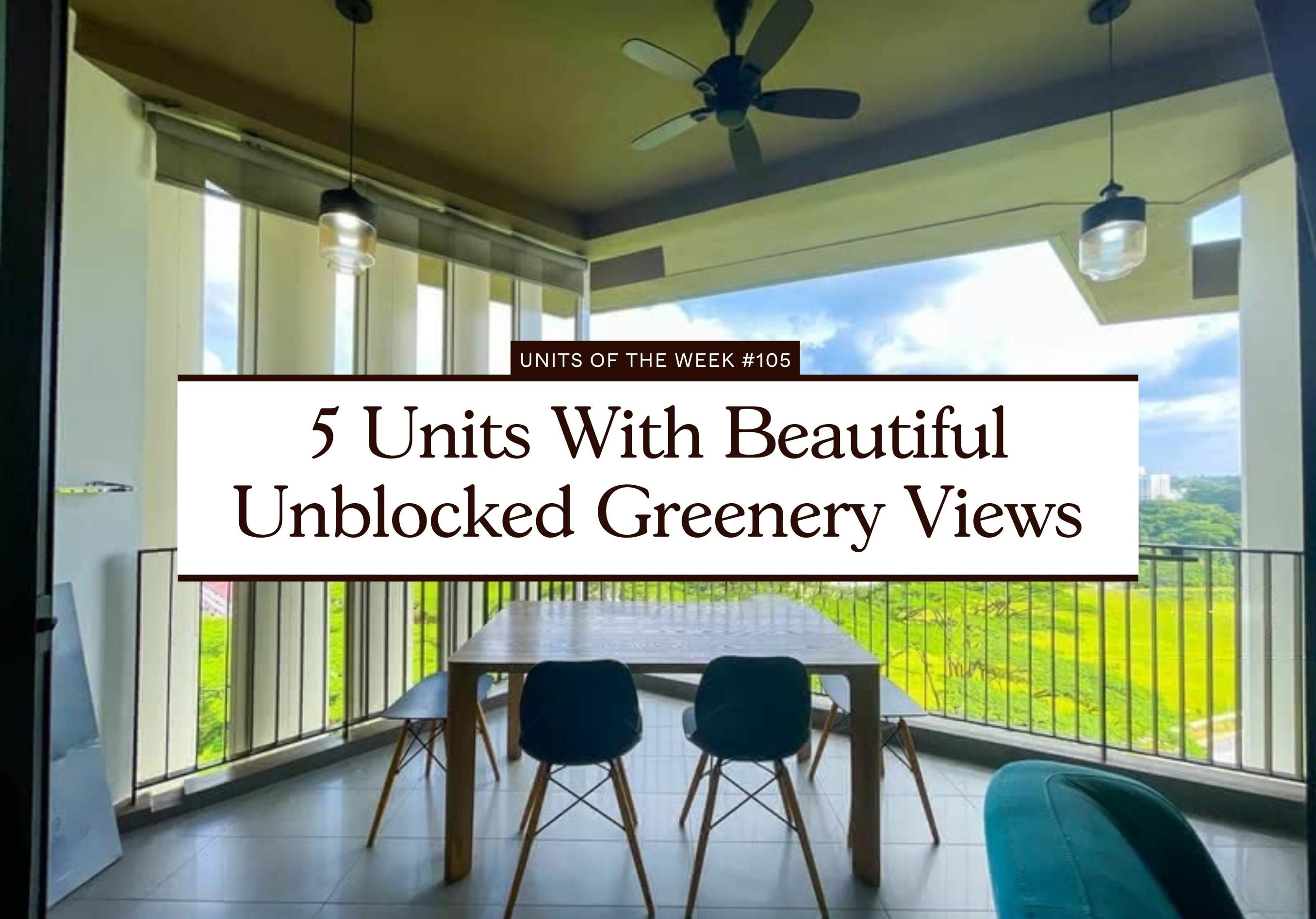 While it seems that many people around us have been traveling and things are opening up, we still aren't out of the woods yet where the pandemic is concerned.
And so there are still a fair number of people working from home for the foreseeable future and are looking out for a home that they can work/play/live at, what better place to do so than one that has peaceful unblocked greenery views? Whether it is from your balcony or bedroom, having an unblocked greenery view doesn't come by very often. As such, here are a few that have caught our eye this week.
Missed last week? You can view the previous issue here.
You can also join our free weekly newsletter so you stay up to date on our latest curations weekly.
Now let's get on with the list of curated units this week!

1

Hillcrest Arcadia
$2,280,000
| | |
| --- | --- |
| Address: | Hillcrest Arcadia |
| Tenure: | 99-year leasehold |
| Size: | 1,712 sqft |
| $PSF: | $1,331.78 PSF |
| Developer: | San Ken Hillcrest Pte Ltd |
| TOP: | 1980 |
Why I like it
We recently highlighted Hillcrest Arcadia in our piece on big developments with a small number of units. And if you're someone that is looking for greenery views, it's hardly surprising that Hillcrest Arcadia would feature among the top few given it is one of the more inconvenient developments to get to if you don't drive. It's located deep into Arcadia Road, but that downside is also one of its biggest strengths as it also does mean that the space is incredibly private.

This is a 3 bedroom 2 bathroom unit that is very generously sized at 1,712 square feet. While the staircase inside means its not as ideal for older people, the upsides here are plain to see with the very spacious bedrooms. And of course, the main highlight of this is the unblocked greenery views that you can enjoy from the balcony and bedrooms as well.

– Ryan

$1,400,000
| | |
| --- | --- |
| Address: | The Skywoods |
| Tenure: | 99-year leasehold |
| Size: | 947 sqft |
| $PSF: | $1,478.35 PSF |
| Developer: | Bukit Timah Green Development Pte Ltd |
| TOP: | 2017 |
Why I like it
Before the Downtown line was constructed, this area at Dairy Farm was definitely not a suitable place if you don't own a car. Today, it is much improved for residents of The Skywoods, with Hillview MRT station a less than 10-minute walk away.

This development was completed in 2017 and has 420 units, which is a sweet spot in today's context of being big enough to have decent facilities, and yet not too many units such that it feels too overcrowded. Of course, the perks of staying here are definitely the lush greenery views that you get over the area. This unit is positioned as such to take advantage, with the angular balcony allowing you to take in that awesome view.

The unit is sized at 947 square feet for a 3 bedroom 2 bathroom, which is on the compact side. Hence, there's no yard or utility room to speak of.

– Druce

$1,680,000
| | |
| --- | --- |
| Address: | Lakeside Tower |
| Tenure: | 99-year Leasehold |
| Size: | 1,981 sqft |
| $PSF: | $848.06 PSF |
| Developer: | Unknown Developer |
| TOP: | 1981 |
Why I like it
I've always been a nature lover, and so this week's topic is a naturally attractive one for me personally. If you haven't been to Lakeside Gardens, you might just be surprised at how gigantic the whole place actually is. And those few apartments that surround it naturally would be the esteemed recipients of the wonderful views of the place. One of which is the Lakeside Tower. It's not much of a looker from the outside, which is understandable given that this project was completed a long time ago in 1981. It has just 144 units, and is a 99-year leasehold one, which while it does mean lease decay is a concern, the prices here are also kept affordable.

As such, this is a spacious 4 bedroom unit with a size of 1,981 square feet (but just 2 bathrooms). The interior does need work if you are looking for something more modern, but the real attraction here is the unblocked views that you get over Jurong Lake Park. The Chinese and Japanese Garden are under construction now, so the views may not be at 100% yet, but once this is done I'm sure it would be spectacular.

– Reuben

4

The Estuary @ Yishun
$780,000
| | |
| --- | --- |
| Address: | The Estuary @ Yishun |
| Tenure: | 99-year leasehold |
| Size: | 603 sqft |
| $PSF: | $1,293.53 PSF |
| Developer: | MCL Land Pte Ltd |
| TOP: | 2013 |
Why I like it
The Estuary @ Yishun is a relatively new development, having been built in 2013. It is predictably a leasehold one, and has a total of 608 units. The estate follows the curvature of Yishun Avenue, and so you get all of the stacks well positioned to take advantage of the view towards Lower Seletar Reservoir and the park. The views truly are very tranquil and peaceful, and that unblocked, open nature is something hard to come by in Singapore. You are also about 9-minutes walk away from Khatib MRT station, so it isn't all that bad. And for leisurely activity and food options, Orto is just across the road.

The unit itself is 603 square feet, which is not too bad for a 1 bedroom unit. That said, it does come with a bomb shelter and multiple planters, which does take up space in the layout.

– Stanley

5

Chestervale
$1,600,000
| | |
| --- | --- |
| Address: | Chestervale |
| Tenure: | 99-year leasehold |
| Size: | 1,475 sqft |
| $PSF: | $1,084.75 PSF |
| Developer: | CapitaLand Residential |
| TOP: | 1997 |
Why I like it
Chestervale is a 99-year leasehold development that was built in 1997. It has a total of 396 units, which is a decent size. While this is a development that definitely isn't close to an MRT station, you are about 5-minutes away from Bangkit LRT station, which is probably adequate enough.

This development faces Zhenghua Park and the huge Nature Reserve beyond. While there is still the BKE to contend with, that massive thick blanket of greenery is a sight to behold and it is very calming on the eyes indeed. The unit itself is a 3 bedroom 3 bathroom unit, with a size of 1,475 square feet – certainly on the bigger side of things. The layout is regular, save for the awkward angles of the common bedrooms. But with a utility room and a yard it is as usable as they come today.

– Sean