Units Of The Week

5 Beautifully Designed Newly MOP BTO Units
Stacked
December 22, 2022

10

min read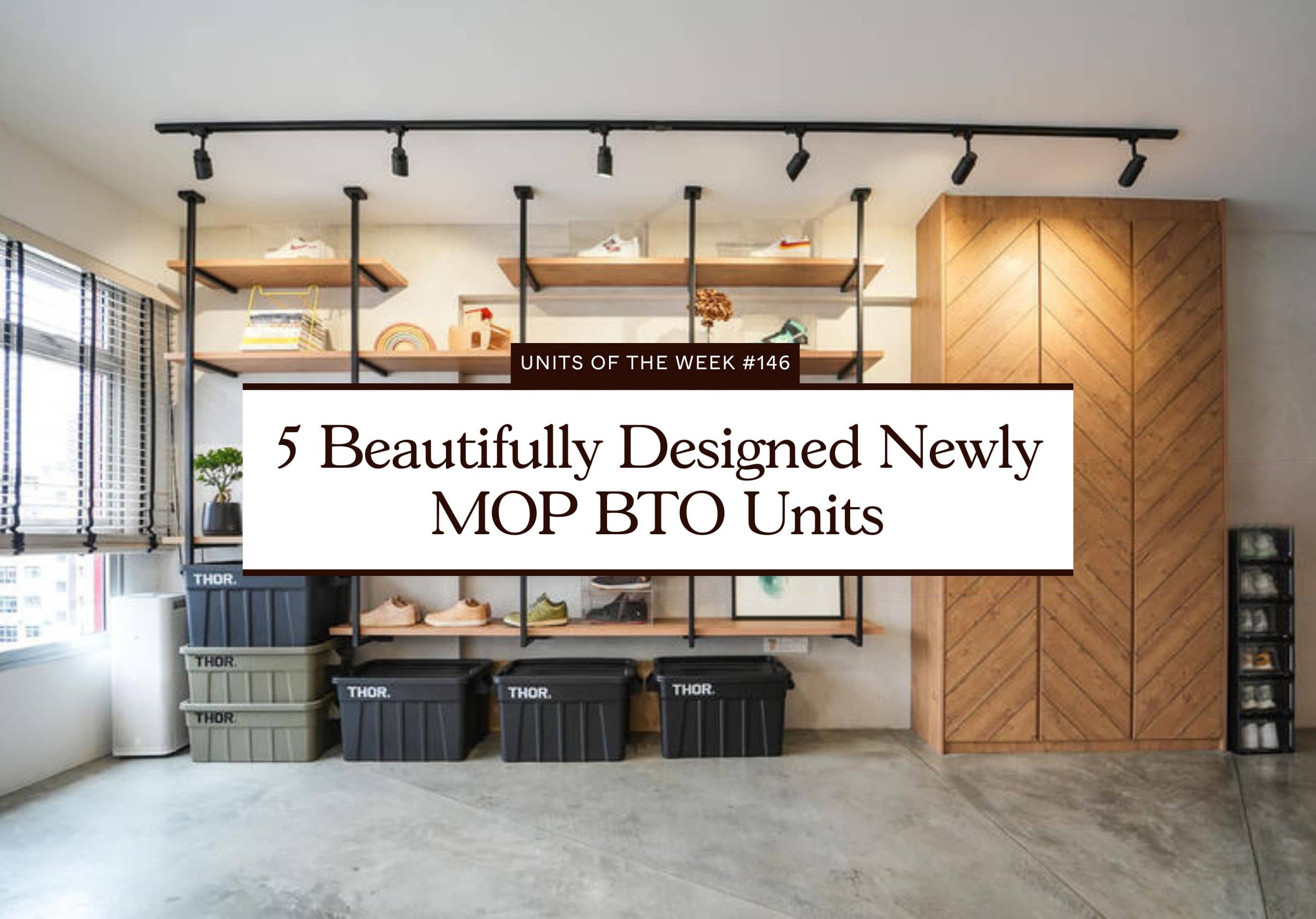 While there will be a bumper crop of BTO units released over the next few years, there is still a ton of demand on the ground for ready-to-move-in units.
It's no surprise then, that for most people (budget aside), getting a just MOP-ed unit would represent the best move as these would have the longest possible lease remaining aside from just waiting for a BTO unit.
Better yet, if the units are well-renovated.
As such, this week we picked out a few recently MOP-ed units that are nicely renovated too, for those who are looking for the best of both worlds.
Missed last week? You can view the previous issue here.
You can also join our free weekly newsletter so you stay up to date on our latest curations weekly.
Now let's get on with the list of curated units this week!

1

442A West Ridges @ Bukit Batok
$795,888
| | |
| --- | --- |
| Address: | 442A Bukit Batok West Avenue 8 651442 |
| Tenure: | 99-year Leasehold |
| Size: | 1,206 sqft |
| $PSF: | $659.94 PSF |
| Developer: | HDB |
| TOP: | 2018 |
Why I like it
For those who envision their home to have a Scandinavian Barnhouse aesthetic, this 5i HDB unit that TOP-ed in 2018 might be the perfect match for you.

At 1,206 sq ft, the previous owners knocked down the walls to one of the unit and it now has 3 bedrooms, 2 bathrooms and a pretty big living room. With the spacious living area, future homeowners have the flexibility to do up an additional study room.

I enjoy the thoughtful details that could be found in unexpected corners of the house, such as the choice of cement screed flooring that comes with expansion joints to prevent cracks from temperature changes. There's also a beautiful glass sliding door installed in the kitchen that allows more natural light to filter into the room. On the same note, the kitchen has a beautiful island table cum dining area that is a great centrepiece for the room.

One of the common rooms have been converted into a walk-in closet for the master bedroom but can be easily converted back into a regular room if future home owners do require it.

Location wise, it is within a walking distance to two future MRT Stations, namely Tengah Plantation and Tengah Park (Jurong Region Line), but do note that they will only be ready in 2028. In the mean time, residents can take a bus down to Bukit Gombak MRT Station or Bukit Batok MRT Station (North-South Line) but it's not great if you need to do that daily.

Amenities within the area includes a food court and 24-hour Sheng Siong Supermarket that is less than a minute walk away. Residents can also head to Le Quest for more dining options (lots of food pick up options here) and grocery shopping at FairPrice Finest.

Of course, this location might appeal the most to young families as it is within a 1km walk to Princess Elizebeth Primary School and even Bukit Batok Secondary School.

– Ryan

2

591A Ang Mo Kio Street 51
$1,000,000
| | |
| --- | --- |
| Address: | 591A Ang Mo Kio Street 51 561591 |
| Tenure: | 99-year Leasehold |
| Size: | 1,001 sqft |
| $PSF: | $999.00 PSF |
| Developer: | HDB |
| TOP: | 2017 |
Why I like it
While its brutaslist design is surely eyecatching, I do appreciate some of this unit's natural advantages.

This newly MOP 4-room unit is located on a very high floor with good ventilation along with unblocked views of Ang Mo Kio Town Garden. At 1,001 square feet, this unit originally had 3 bedrooms, but the owners converted a room into a walk-in closet. Now it has 2 official bedrooms and 2 bathrooms.

Layout wise, the large recess area is also a great outlet for creative endeavours, though I think that the previous owners have exceeded expectations.

This unit is less than a 5-minute walk away from Ang Mo Kio MRT Station (North-South line) and AMK Hub, which gives residents a wide variety of dining and shopping options. Otherwise, there are three other markets and food centres that are under a 15-minute walk for more affordable eats and groceries. Ang Mo Kio Central Market and Food Centre, Cheng San Centre and Chong Boon Market and Food Centre are within a walking distance away.

Nature lovers or pet parents can head over to Ang Mo Kio Town Garden East which is just next door to clock in steps during walks or runs. Not to mention, this is a very family-friendly neighbourhood with multiple schools in its vicinity, including Jing Shan Primary School and Anderson Secondary School.

The monochromatic design element to this unit would definitely appeal to minimalists that enjoys pop of colours in unexpected corners of the house (like the electric blue sliding barn door).

– Druce

3

231B Sumang Lane
$800,000
| | |
| --- | --- |
| Address: | 231B Sumang Lane 822231 |
| Tenure: | 99-year Leasehold |
| Size: | 1,216 sqft |
| $PSF: | $657.89 PSF |
| Developer: | HDB |
| TOP: | 2017 |
Why I like it
While we have two shortlisted units in the Sumang Lane area (since they both TOP-ed at the same time), this 5-room flat is quiet spacious at 1,216 square feet with 3 bedrooms and 2 bathrooms.

Similar to the previous two units, the first owners decided to knock down one of the rooms to convert into a walk-in closet for the master bedroom. It is on a high floor and corner unit that has ample lighting all year round.

The choice of dark wood against white marble gives this particular unit a very luxurious and elegant touch, which somehow lightly resembles elements of a Japanese hotel (think AMAN Tokyo), which can be a very relaxing aesthetic to come home to. The living area is spacious enough to accommodate an additional study room, though the highlight for me would have to be the semi-open kitchen with sliding glass doors.

As for the location, while the nearest LRT (Soo Teck LRT station) is a 12-minute walk away, the bus stop is less than a 3-minute walk and routes towards Punggol Interchange for MRT access on the North-East line. For dining options, a food court and 24-hour Sheng Siong supermarket is located less than a minute walk away. Schools nearby include Yusof Ishak Secondary School and Punggol Green Primary School.

Nature lovers would also enjoy the location since it is near Punggol Park Connector (which leads to Coney Island). It's also a great spot for those who enjoy living in a tranquil environment.

– Reuben

4

224B Sumang Lane
$688,000
| | |
| --- | --- |
| Address: | 224B Sumang Lane 822224 |
| Tenure: | 99-year Leasehold |
| Size: | 1,000 sqft |
| $PSF: | $688.00 PSF |
| Developer: | HDB |
| TOP: | 2017 |
Why I like it
This unit is actually located really near from the previous unit (just a 3-minute walk away), sharing some similar neighbourhood amenities.

It is a 15-minute walk to Punggol MRT Station (North-East Line) and Waterway Point for those looking to shop and eat. Similar to the previous unit, it is about a minute walk away to the nearest food court and 24-hour Sheng Siong Supermarket. Schools such as Yusof Ishak Secondary School and Punggol Green Primary are also nearby.

For outdoor and nature lovers, Punggol Park Connector is perfect for runs and brisk walking.

At 1,000 square feet, this unit comes fully furnished (and very beautifully so) with two bedrooms and 2 bathrooms. It's important to note that the original layout of the home has gone through major alterations, with the two common rooms being hacked to create a big living area.

However, I am sure we can all agree that this intricate Wes-Anderson inspired art deco interior is truly the star of the show for this flat.

The living room has a gorgeous arc that is painted baby blue complemented with cream white walls. Playful pastel hues complemented by lines and curves are common elements in this unit's design. My favourite design element is the door to the common bathroom as the sliding door acts as a bookcase.

The last point to add is that it is almost true North-facing, which many believe is superb Feng Shui (but don't quote me on that).

– Stanley

5

93B Telok Blangah Street 31
$900,000
| | |
| --- | --- |
| Address: | 93B Telok Blangah Street 31 102093 |
| Tenure: | 99-year Leasehold |
| Size: | 1,001 sqft |
| $PSF: | $899.10 PSF |
| Developer: | HDB |
| TOP: | 2017 |
Why I like it
Another beautiful unit to wrap up this week's list, this unit in Telok Blangah boasts a modern Scandinavian design. It has mostly white and light wood furnishing to brighten up the space and make it look bigger than it actually is.

It has sleek industrial and vintage accents that can be spotted throughout the house, with the brick walls used, funky lighting, eccentric furniture and hues of vintage gold and deep green.

It is 1,001 square feet big, with 3 bedrooms, a huge and bright living room and 2 bathrooms. This unit is located on a middle floor, which gives views that quite pleasant. Currently, one of the common bedroom is used as a study that has plenty of built-in storage space, which can come in handy for those who are working from home.

Location wise it is not too bad either. It is about a 7-minute walk to Telok Blangah MRT Station (Circle line), which brings residents just one MRT stop away from Harbourfront MRT Station (Circle and North-East Line) and access to Singapore's biggest shopping mall, Vivo City.

However, for those who prefer to eat and shop within the neighbourhood, there's the option to head to Telok Blangah market, which is a 2-minute walk away. Residents can enjoy affordable hawker eats, a 24-hour NTUC supermarket and even a 24-hour gym (Anytime Fitness).

Nature lovers would probably love this location as it is within walking distance to three nature parks, including Telok Blangah Hill, Mount Faber and Labrador Park.

– Sean